12 College Hoops Teams Set to Start Fast as Conference Play Begins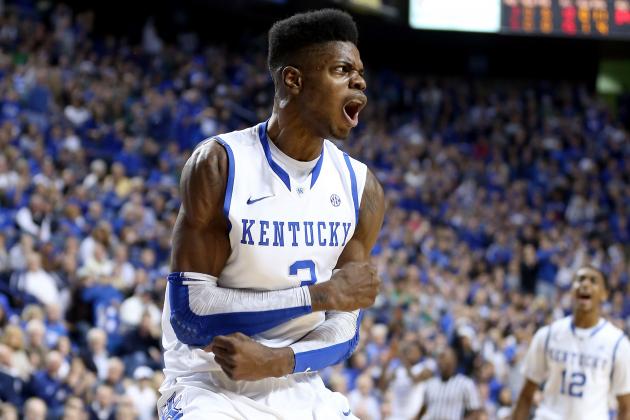 Andy Lyons/Getty Images

The real season starts now.
The non-conference season can bring fans the occasional heavyweight matchup, but it can also force them to sit through ugly blowouts of schools taking big losses for medium paychecks.
Once your team starts making its conference run, however, the games get loud and personal. A league rivalry brings out the students, the alumni and the casual fan alike, all craving the excitement of bragging rights over family members, friends and coworkers.
For the players and coaches, momentum earned in the non-conference schedule, no matter how padded, is a precious commodity that must be sustained through early conference games.
These teams, presented in alphabetical order, may be equipped to get our attention with quick early runs once their conference schedules begin.
Begin Slideshow

»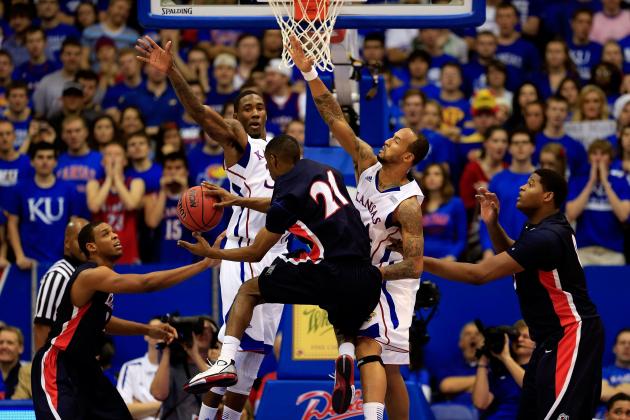 Jamie Squire/Getty Images

The Ohio Valley Conference was a party to a long undefeated run last season when Murray State raced out to a 23-0 start, with 11 of those wins over league opponents.
Now that Belmont has joined the OVC, there could be a different unbeaten streak at hand in 2013. The Bruins are one of Ken Pomeroy's 40 most efficient teams on both sides of the ball, and that's after playing against one of America's 15 toughest non-conference schedules (through games of December 31).
The next-best defensive team in the OVC is Jacksonville State, against whom the Bruins open conference play on January 3. Belmont's well-oiled offense, spearheaded by one of America's best mid-major players, Ian Clark (pictured), should be able to score on all its league opponents.
It's highly likely that Belmont will sit at 10-0 in OVC play on February 7, when it visits Murray State in what could amount to an Ohio Valley title fight.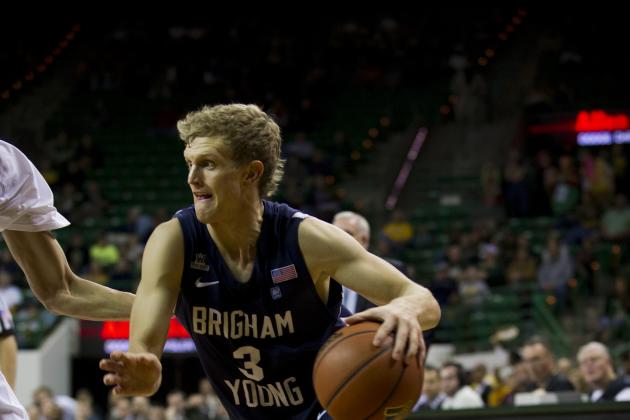 Cooper Neill/Getty Images

The BYU Cougars may seem like an odd candidate, given their struggles against their bigger-name opponents so far. Losses to Florida State, Notre Dame, Iowa State and Baylor still sting, but a 26-point hammering of Virginia Tech may be more indicative of the Cougars' potential in West Coast play.
The thing that separates BYU from WCC opponents like Santa Clara and Saint Mary's, to say nothing of Gonzaga, is that the Cougars get a few games to tune up before taking on Santa Clara, Saint Mary's and Gonzaga.
Meetings with Loyola Marymount, San Francisco and Pepperdine aren't walkovers, but they're not the Broncos, Gaels or Zags, either. The January 12 game between SC and BYU will go a long way toward determining who can mount the best challenge to the Gonzaga/SMC duopoly.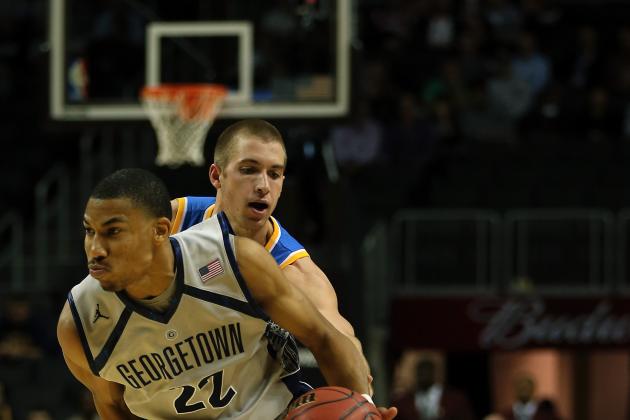 Elsa/Getty Images

The Hoyas' non-conference slate wasn't always pretty. The opponents weren't a Murderer's Row, but Georgetown was strong in what big games it scheduled (Indiana, Tennessee, UCLA).
Heading into Big East play, the Hoyas' stifling defense will begin getting tested on a regular basis, but the early conference matchups are all winnable.
If the Hoyas get past a trip to Marquette and a home meeting with Pitt, the following week holds games at St. John's and South Florida sandwiched around a home game against Providence.
Subsequent games against Notre Dame and Louisville pose serious threats to Georgetown's roll, and those come after a first five in which none should be considered cake. Still, a 4-1 or 5-0 conference start would go a long way toward legitimizing the Hoyas' current top-15 ranking.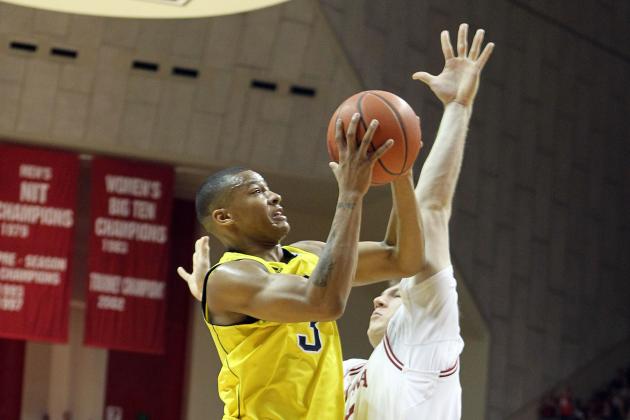 Andy Lyons/Getty Images

Is pairing these two together cheating? So be it, because the Hoosiers and Wolverines won't be the last pair to share a slide in this piece.
Both of these teams could easily be 8-0 in Big Ten play when they tip off at Assembly Hall on February 2.
Indiana's odds of staying unbeaten may be slightly greater, because both teams will face a major stumbling block in Minnesota. The Gophers' New Year's Eve win over Michigan State spoke loudly about their true potential to challenge for the title in 2013.
Indiana gets to host Minnesota on January 12, while Michigan has to step into the Barn to face the Gophers five days later.
Both teams get to face projected strugglers Penn State, Northwestern and Purdue in those first eight games. Now that IU has survived a trip to Iowa, its next toughest road test may come at Mackey Arena on January 30.
Michigan faces tricky trips to Ohio State, Minnesota and Illinois, but the Maize and Blue are more than equipped to survive those challenges.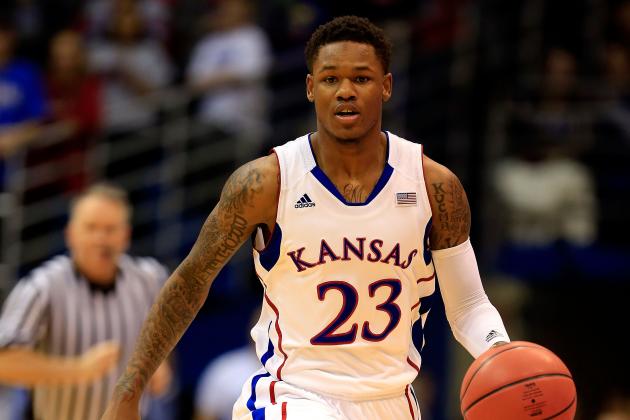 Jamie Squire/Getty Images

The Big 12 has some solid teams this season, but it also still has Kansas. Fortunes have been lost betting on some opponent or another toppling the Jayhawks from their Big 12 throne over the last eight years (and 10 of the last 11).
KU begins Big 12 play with strong opposition like Iowa State, Baylor and Kansas State. This is, however, a team that dropped the hammer on quality non-league opponents like Saint Louis, Colorado and Belmont while also putting together a sturdy win at Ohio State.
Kansas could stand at 4-0 in conference play when it travels to Manhattan to take on KSU January 22. Rivalry games are always tricky to handicap unless one team is vastly overmatched. The Wildcats, hovering around the lower reaches of the Top 25, don't quite fit that description.
Still, it's rarely a good idea to bet against Bill Self before March.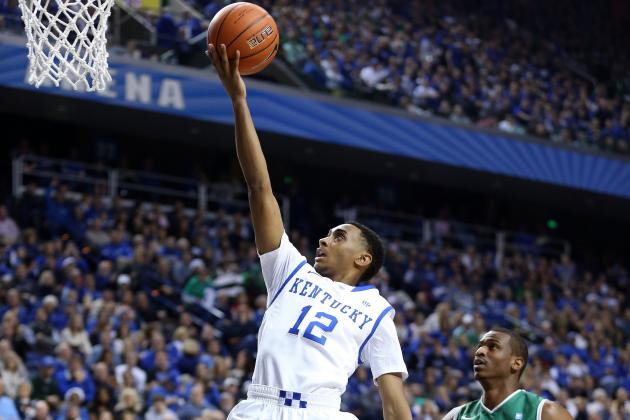 Andy Lyons/Getty Images

The Wildcats have crushed a lot of teams they're supposed to crush. Unfortunately, they struggled against the likes of Duke, Notre Dame and Baylor before falling in a game effort against Louisville.
Fortunately for Big Blue, most of the SEC would also struggle with those opponents this season. UK could conceivably put it together and make a 10-0 run to start SEC play.
Kentucky takes on projected also-rans like Vanderbilt, Auburn and South Carolina in those first 10. The schedule also features teams like Tennessee, LSU and Ole Miss, all of whom have solid records pockmarked with some head-scratching losses and ugly wins.
The Cats' February 12 trip to Gainesville could look like a title fight by the time it arrives. If UK's latest crop of rookies have gained enough cohesion to be undefeated that day, even the Gators will have some cause to be afraid.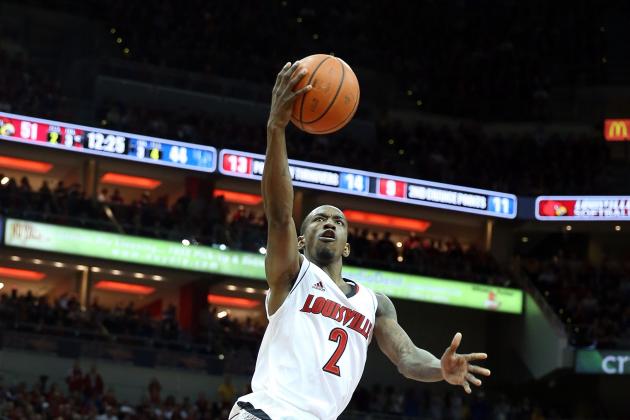 Andy Lyons/Getty Images

Much like Michigan and Indiana, these two Big East powers may be forgiven for looking down the road to a head-to-head matchup.
Louisville welcomes Syracuse to the KFC Yum! Center on January 19, and both teams would love to be 4-0 going into that tipoff.
Both play Providence and South Florida, but Syracuse must take both games on the road while both opponents visit the Cardinals. To balance the scales, Louisville will have to hit the road to face Kevin Ollie's surprising UConn team.
All those opponents will be motivated to claim one of the Big East's two biggest scalps, but the Cards and Orange should both have more than enough talent to stay clean before their meeting.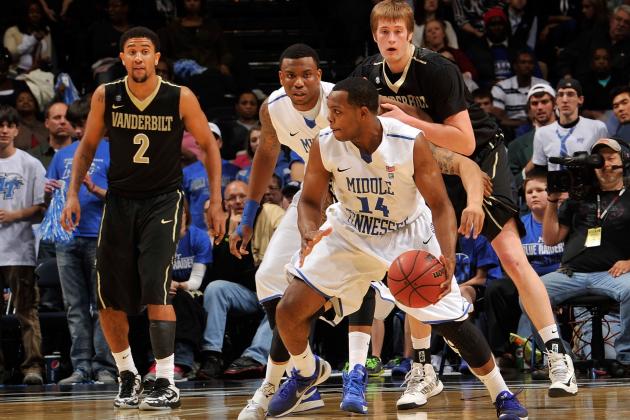 Frederick Breedon/Getty Images

Thanks to the new 20-game conference slate, the Sun Belt has already started league play. Middle Tennessee State was a preseason favorite, and the Blue Raiders have handled business twice.
The second win was especially noteworthy, since it was an 18-point mauling of North Texas, which was expected to be the Belt's other division champion.
After that thorough dismantling, the rest of the Belt may be in trouble when MTSU pulls into town. Through games of December 31, Middle sits 38th in Ken Pomeroy's rankings, more than 100 spots ahead of their closest conference rival.
That nearest rival, Western Kentucky, would love nothing more than to topple an unbeaten Blue Raider squad. MTSU welcomes the Hilltoppers to Murphy Center on January 26.
Arkansas State's aggressive defense could pose a threat on Thursday, but more than likely, Sun Belt basketball fans can circle that Middle-Western game as one of the season's biggest.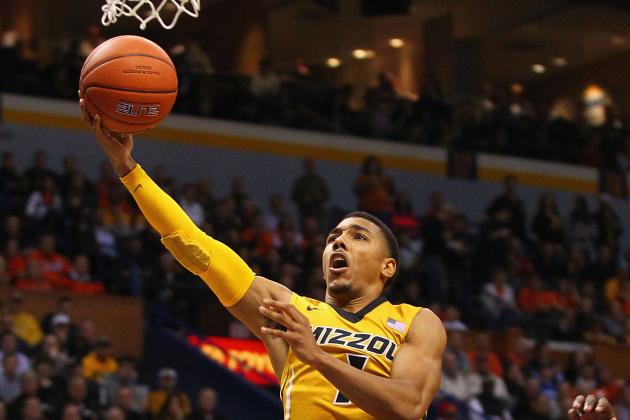 Dilip Vishwanat/Getty Images

Missouri's maiden voyage in the SEC could be a successful one, especially with a friendly early schedule.
The Tigers start off with Alabama and Georgia at home surrounding a trip to Ole Miss. After that game, it's Missouri vs. Florida in Gainesville on January 19.
Even if Mizzou falls in that game, examine what awaits them after that.
South Carolina, Vanderbilt, Auburn and Ole Miss at home.
LSU, Texas A&M, Mississippi State and Arkansas on the road.
The Tigers could very conceivably be 11-1 in the SEC going into their return match with Florida and a trip to Rupp Arena to play Kentucky.
The Arkansas, LSU and Ole Miss games could be threats, but a team that can beat Illinois with Phil Pressey shooting 3-for-19 may not have much to sweat from teams that lost to Arizona State, Boise State and Indiana State.
(Insert comments about Illinois being overrated below, and this writer will agree with most of them).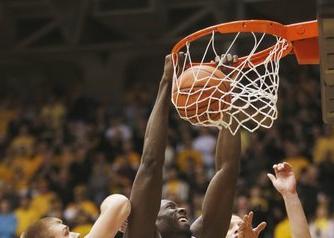 Courtesy Wichita Eagle
The Wichita State Shockers weren't expected to be major achievers this season, thanks to a roster that lost some serious veteran talent. All they did in non-conference action was win at VCU, take a neutral-site victory over Iowa and beat Southern Miss at an alternate venue in Wichita.
WSU is already 1-0 in Missouri Valley play after a convincing 66-41 win over a quality Northern Iowa team. It's likely that the Shockers will stand at 5-0 when they welcome Illinois State to Koch Arena on January 16. Three days later, presumptive conference favorite Creighton comes to town.
In between then and now, the Shockers face Drake, Bradley, Southern Illinois and Evansville. UE actually sports one of the Valley's top talents in guard Colt Ryan, but the 20-PPG man from last season is struggling to get his points this year, scoring 14.7 a night.
The tenacious Shocker defense should be able to control all of these opponents, making the ISU and Creighton games the ones to watch in mid-January.
For more from Scott on college basketball nationwide, check out The Back Iron (now on CollegeBasketballTalk's #NBCMustFollow College Hoop Directory).