UFC Stock Report for December: Who Rose, Who Fell, Who Held Steady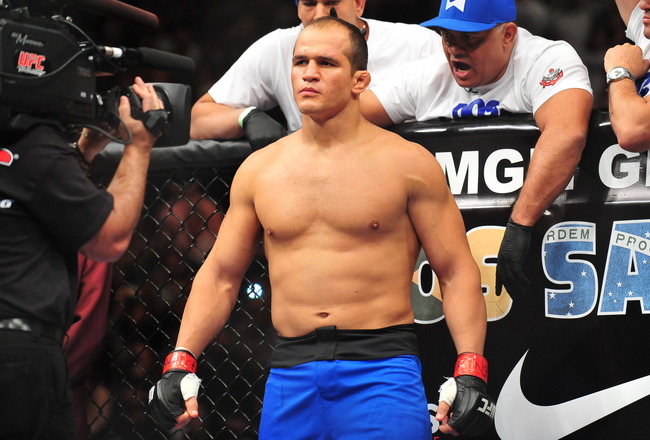 Gary A. Vasquez-USA TODAY Sports
The UFC was very busy in the final month of 2012, holding title fights in both the lightweight and heavyweight divisions.
Benson Henderson successfully defended the 155-pound strap in a dominant showing against Nate Diaz, while Cain Velasquez took back the heavyweight championship by battering Junior dos Santos for five rounds.
Three TUF winners were also crowned in a month that saw plenty of movement in all divisions.
Let's take a look at which direction December's main card competitors are heading in following their most recent appearances.
Matt Brown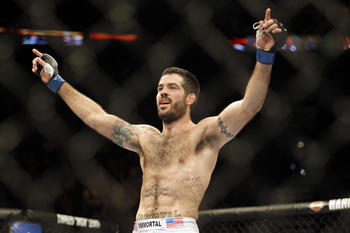 Joe Nicholson-USA TODAY Sports
Stock Report: Rising
At UFC on Fox 5, Matt Brown picked up his fourth straight victory by knocking out Mike Swick.
The win over Swick was unquestionably the biggest of the 31-year-old's seven-year MMA career. It puts Brown in position to possibly fight a fringe contender and make what seems like an improbable run at a welterweight title shot.
In 2011, Brown had lost four of five fights and looked to be hanging onto his UFC roster spot by a thread. Now, Brown has become one of the more recognizable fighters in the welterweight division and should have job security with the UFC for the foreseeable future.
Mike Swick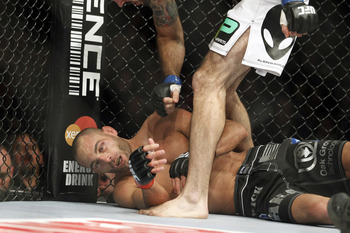 Joe Nicholson-USA TODAY Sports
Stock Report: Falling
In 2009, Mike Swick was one fight away from becoming the top contender in the welterweight division. Now, Swick has lost three of his past four fights and is beginning to show the effects of all the injuries that he has sustained over the past three years.
The second-round knockout loss that Swick recently suffered against Matt Brown was probably the most deflating defeat of his entire career.
At 33 years old, it wouldn't be overly surprising to see Swick hang up his gloves at some point during 2013.
Rory MacDonald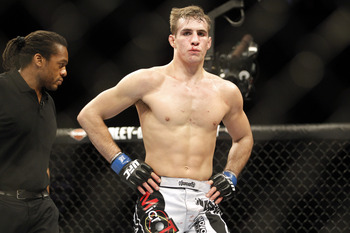 Joe Nicholson-USA TODAY Sports
Stock Report: Rising
At 23 years old, Rory MacDonald already holds a win over an MMA legend, as he defeated B.J. Penn in dominant fashion at UFC on Fox 5.
In defeating Penn, MacDonald has emerged as a serious contender for the first time in his career and will now have the chance to avenge his only loss, which came against Carlos Condit in June 2010.
Should MacDonald beat Condit in March, he may have to start considering a fight with training partner Georges St-Pierre or a move to the middleweight division.
B.J. Penn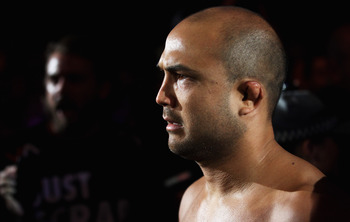 Mark Kolbe/Getty Images
Stock Report: Falling
Unable to deal with the size and youth of Rory MacDonald, B.J. Penn was unsuccessful in his return from retirement. As a result, there's a very good chance the Hawaiian could fade back into retirement quickly.
Penn has only picked up one win in the past three years, and that victory came against a fading Matt Hughes.
It's possible that Penn could still be more than competitive in the lightweight division, but he hasn't given any indication that he's still willing to make the cut to 155 pounds.
Alexander Gustafsson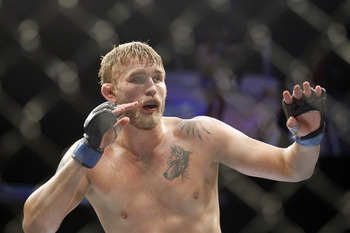 Joe Nicholson-USA TODAY Sports
Stock Report: Rising
Swedish light heavyweight Alexander Gustafsson had his breakthrough moment against Mauricio Rua at UFC on Fox 5, controlling the action and earning a decision win over the former UFC champion on network television.
With a decisive win over Rua, something not even Dan Henderson was able to capture against the Brazilian, Gustafsson is now considered by many to be the top contender in the light heavyweight division.
Unfortunately, with champion Jon Jones on the shelf until April, it's likely Gustafsson will fight again before potentially earning a title shot.
Mauricio Rua
Joe Nicholson-USA TODAY Sports
Stock Report: Falling
With his most recent loss to Alexander Gustafsson, Mauricio Rua has alternated wins and losses over his past eight fights.
Considered one of the top contenders in the light heavyweight division as recently as his previous fight, Rua is beginning to look like a fighter who is declining quickly.
Benson Henderson
Ron Chenoy-USA TODAY Sports
Stock Report: Rising
Benson Henderson's first title defense did not come without controversy. There were many who believed Frankie Edgar should have been awarded the decision win in an immediate rematch that took place in August.
By defeating Nate Diaz in his second fight as lightweight champion, Henderson was able to silence some of his critics. There was no denying Henderson was the superior fighter in that matchup and, with Edgar now competing at featherweight, he is now the best fighter in the world at 155 pounds.
Nate Diaz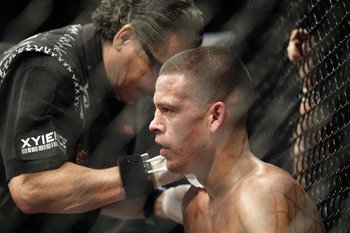 Joe Nicholson-USA TODAY Sports
Stock Report: Steady
Nate Diaz didn't have much to offer Benson Henderson at UFC on Fox 5, but he showed why he's still one of the toughest lightweights out there.
The Cesar Gracie-trained fighter battled through poor vision, resulting from a swollen eye, and lasted all five rounds with the best 155-pound fighter on the planet.
At 27 years old, we probably haven't seen the last of Diaz in UFC title fights.
Hector Lombard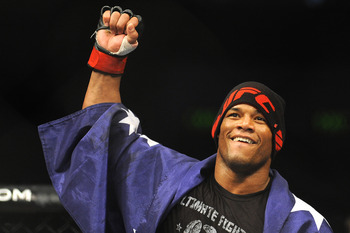 Matt Roberts/Getty Images
Stock Report: Steady
After losing to Tim Boetsch in a disappointing UFC debut, former Bellator champion Hector Lombard was in danger of falling off of the map altogether.
By swiftly knocking out Rousimar Palhares at UFC on FX 6, Lombard ensured that he'd still be talked about in conversations regarding the best 185-pound fighters in the world.
Rousimar Palhares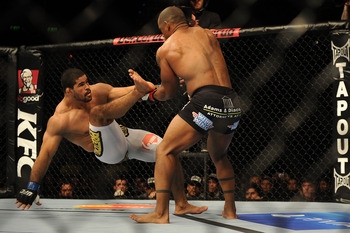 Matt Roberts/Getty Images
Stock Report: Falling
Rousimar Palhares made his presence known by going three rounds with Dan Henderson in 2008. Then, the Brazilian became a borderline contender in the middleweight division by winning six of his following seven fights.
Since then, Palhares has suffered back-to-back losses. Most recently, he was overwhelmed by the the aggressive and powerful Hector Lombard.
One of the most dangerous 185-pound fighters of all on the ground, Palhares has not been able to find much success when his leg locks have been taken away. Unless he become more well-rounded quickly, Palhares could be headed downward in a hurry.
Norman Parke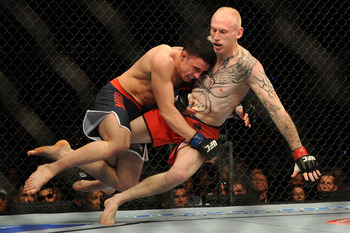 Matt Roberts/Getty Images
Stock Report: Rising
Though not all TUF winners turn into title contenders, there's not a better springboard to the highest levels of the sport than being crowned a champion of the UFC's long-running reality show.
At UFC on FX 6, Norman Parke became the first ever winner of The Ultimate Fighter: Smashes by beating fellow British lightweight Colin Fletcher.
Parke will now have the UFC promotional machine on his side, as long as he continues to perform at a high level.
Colin Fletcher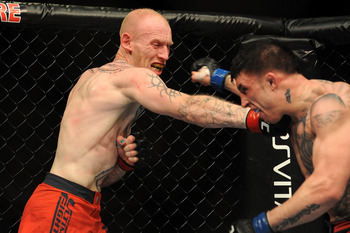 Matt Roberts/Getty Images
Stock Report: Steady
Colin Fletcher lost the biggest fight of his career against Norman Parke, but he's still in a much better position than he was heading into The Ultimate Fighter: Smashes.
Heading into 2012, only the hardest of hardcore fans knew anything about Fletcher. Now, the Englishman finds himself competing on the sport's biggest stage.
Robert Whittaker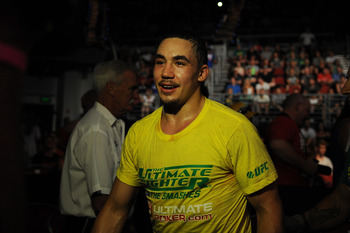 Matt Roberts/Getty Images
Stock Report: Rising
It's not often that a fighter coming off of a loss in a regional organization earns their way onto the UFC roster. However, Robert Whittaker was given a shot to win a UFC contract through The Ultimate Fighter, despite suffering the second loss of his career in May.
This past month, Whittaker won The Ultimate Fighter: Smashes middleweight tournament by defeating Brad Scott at UFC on FX 6.
The 22-year-old now has an extraordinarily bright future ahead of him in the UFC's 185-pound division.
Brad Scott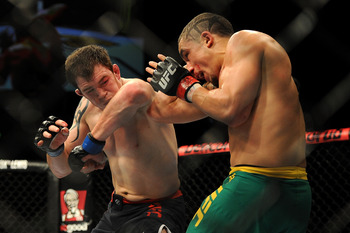 Matt Roberts/Getty Images
Stock Report: Steady
Brad Scott came up short in the middleweight finals of The Ultimate Fighter: Smashes. Nonetheless, the Englishman proved himself to be a fighter to keep an eye on as he continues to progress.
The 23-year-old holds a respectable 8-2 record and has plenty of time to grow as a fighter. Whether he's ready to compete in the UFC or not, he's about to gain some valuable experience that will undoubtedly help him in the future.
Ross Pearson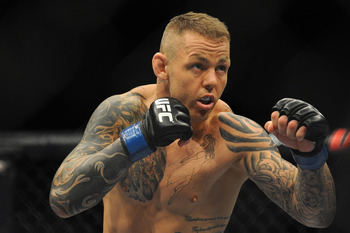 Matt Roberts/Getty Images
Stock Report: Rising
Ross Pearson has had trouble gathering momentum recently, but the British fighter made a big splash in his return to the lightweight division by knocking out opposing TUF: Smashes coach George Sotiropoulos.
Now, the 28-year-old can set his sights on winning back-to-back fights for the first time since March 2010.
George Sotiropoulos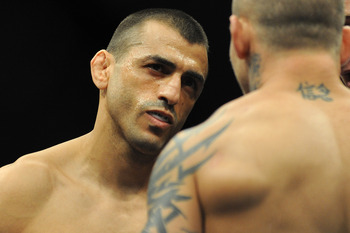 Matt Roberts/Getty Images
Stock Report: Falling
George Sotiropoulos spent 17 months on the shelf prior to his bout against Ross Pearson. Whether that layoff affected his performance or not, Sotiropoulos is stuck in a rut that he needs to get out of soon.
The Australian has lost three straight fights. He'll probably get another chance to compete inside the Octagon if he chooses to do so, but he's gone without a win since November 2010 and will likely have to change that in his next appearance to remain with the world's premier MMA organization.
Dustin Poirier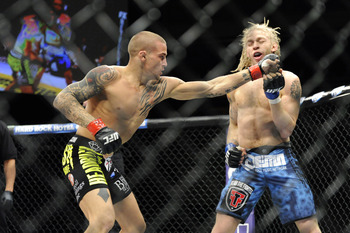 Josh Holmberg-USA TODAY Sports
Stock Report: Steady
After losing to Chan Sung Jung in May, Dustin Poirier bounced back with a win over Jonathan Brookins at The Ultimate Fighter 16 Finale.
While it was important for Poirier to get back into the win column, the victory didn't do much to move him forward in the featherweight division, and it came after a slow start.
Poirier is one of the better featherweights in the world, but this fight was simply one meant to get him back on track.
Jonathan Brookins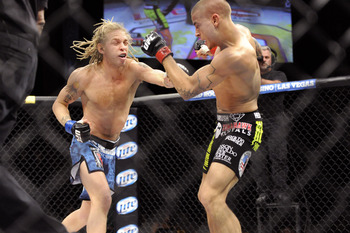 Josh Holmberg-USA TODAY Sports
Stock Report: Steady
Coming off of a loss to Charles Oliveira, Jonathan Brookins was in for a challenge against an even more highly ranked opponent in Dustin Poirier.
While he did end up losing the predictable fight, Brookins put Poirier in some bad spots and showed that he had the potential to compete with featherweight contenders once he completes himself as a fighter.
Pat Barry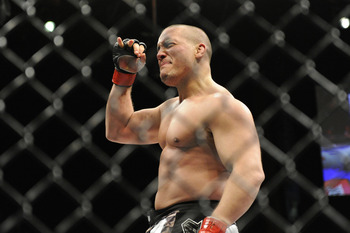 Josh Holmberg-USA TODAY Sports
Stock Report: Rising
Pat Barry is known for his kickboxing, but he was expected to have a rough night ahead of him against a fellow striker in Shane del Rosario after being knocked out by slugger Lavar Johnson, whom Del Rosario had beaten during his time with Strikeforce.
However, Barry picked his shots against Del Rosario and eventually landed a devastating blow that led to his second knockout win of 2012.
Shane del Rosario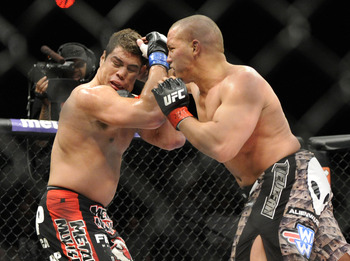 Josh Holmberg-USA TODAY Sports
Stock Report: Falling
Undefeated in his 11 fights prior to joining the UFC roster, Shane del Rosario was supposed to be a bright new prospect in the shallow heavyweight division.
On the contrary, Del Rosario has suffered back-to-back second-round knockout losses and probably finds himself one more defeat away from being let go by the world's top MMA promotion.
Colton Smith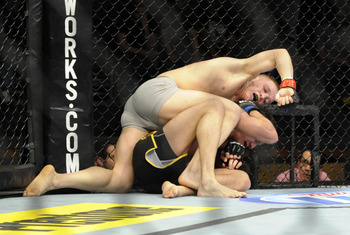 Josh Holmberg-USA TODAY Sports
Stock Report: Rising
Colton Smith didn't make many new fans with his methodical beating of Mike Ricci in the finals of The Ultimate Fighter 16. However, he did win the reality show and guaranteed himself a lengthy future on the UFC roster.
With his aggressive wrestling and excellent top control, Smith could be a fighter to watch as he continues to progress in other areas.
Mike Ricci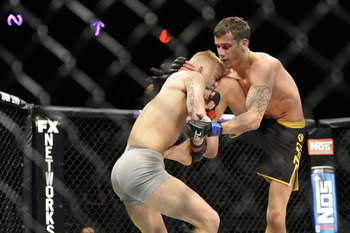 Josh Holmberg-USA TODAY Sports
Stock Report: Falling
Mike Ricci did earn a spot on the UFC roster for now, but he disappointed in his bout against Colton Smith at The Ultimate Fighter 16 finale.
Throughout that season of the reality series, many predicted Ricci would end up winning the show.
Instead, the Canadian was unable to mount any offense against his opponent, and he now finds himself in need of a win to prove that he's a UFC-level athlete.
Roy Nelson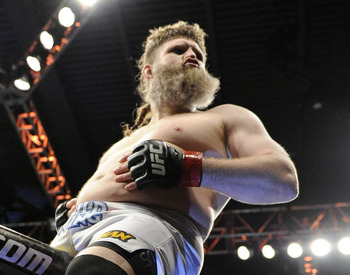 Josh Holmberg-USA TODAY Sports
Stock Report: Steady
After coaching on The Ultimate Fighter 16, Roy Nelson was supposed to get an opportunity to re-establish himself as an elite heavyweight against opposing coach Shane Carwin.
Instead, due to a Carwin injury, Nelson ended up fighting Matt Mitrione.
Nelson knocked Mitrione out with relative ease, but his solid performance didn't move him any closer to the top of the heavyweight class.
Matt Mitrione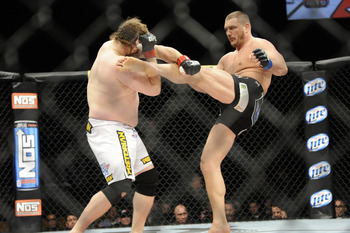 Josh Holmberg-USA TODAY Sports
Stock Report: Falling
Matt Mitrione wasn't expected to beat Roy Nelson, but he still needed the win after sitting out for 13 months.
The former NFL player couldn't get anything going against the much more experienced Nelson, though, and ended up suffering his second straight loss.
Once promising due to his athleticism, Mitrione hasn't won since June 2011.
Derek Brunson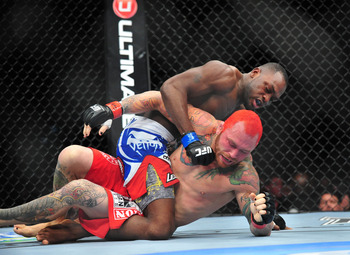 Gary A. Vasquez-USA TODAY Sports
Stock Report: Rising
It wasn't the most exciting showing, but Derek Brunson found a way to pick up a win against a scrappy UFC veteran this past month.
Brunson took Chris Leben down repeatedly and controlled the fight on the ground. Boring or not, it was a big win for a fighter making his UFC debut.
Chris Leben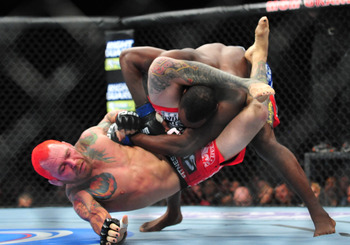 Gary A. Vasquez-USA TODAY Sports
Stock Report: Falling
Having been out of action for more than one year, Chris Leben was given what many perceived as an easy matchup against a UFC newcomer in Derek Brunson.
Instead, Leben had no answer for Brunson's takedowns and suffered his third loss in four fights.
There's a good chance that rust had a lot to do with Leben's loss, but he's never had great defensive wrestling. It's possible that his competition in the middleweight division has advanced much more than Leben did during his time away.
Yushin Okami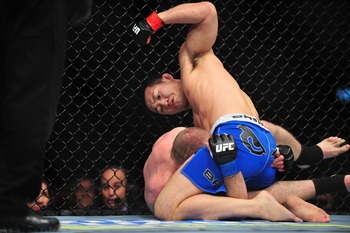 Gary A. Vasquez-USA TODAY Sports
Stock Report: Steady
A loss to Tim Boetsch in February had Yushin Okami looking like a fighter on the decline, but the Japanese middleweight has bounced back with two straight wins to remain in contention for another shot at the 185-pound title.
At UFC 155, Okami out-wrestled Alan Belcher and faced little threat of submission on the canvas. There wasn't anything flashy about his win, but Okami showed that he's still an elite middleweight by getting the best of a very talented up-and-comer.
Alan Belcher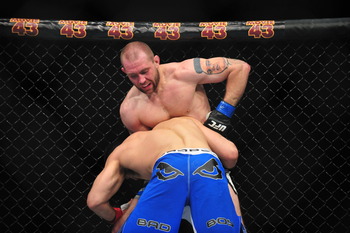 Gary A. Vasquez-USA TODAY Sports
Stock Report: Falling
Much like his first meeting with Yushin Okami, Alan Belcher was unable to keep his opponent at distance and found himself pinned against the fence or on his back frequently.
Prior to UFC 155, it looked as though Belcher was finally ready to become a serious contender in the 185-pound division. However, a lackluster loss to Okami proved that he still has some work to do before he can be considered a title threat.
Costa Philippou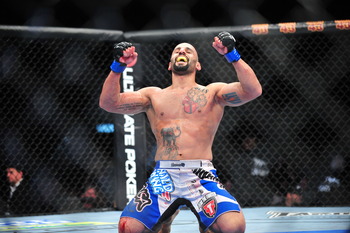 Gary A. Vasquez-USA TODAY Sports
Stock Report: Rising
Whether an accidental eye poke aided him or not, Costa Philippou's win over Tim Boetsch at UFC 155 was a huge one for his career.
Now the owner of a five-fight winning streak, Philippou should be looked at as one of the best fighters in the middleweight division. If he can continue to improve his takedown defense, his boxing could carry him to a title shot in 2013.
Tim Boetsch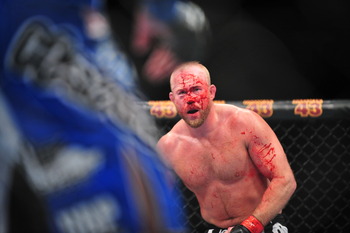 Gary A. Vasquez-USA TODAY Sports
Stock Report: Falling
Tim Boetsch started off strong against Costa Philippou at UFC 155, dropping the Serra-Longo Fight Team member with a front kick at the end of the first round.
However, an eye poke and broken hand seemed to hurt Boetsch as the fight moved along.
The loss to Philippou drops Boetsch slightly in the middleweight rankings, but he deserves another fight with a big name to prove that his injuries contributed to the defeat.
Jim Miller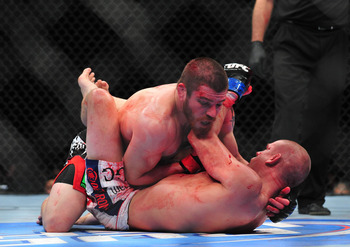 Gary A. Vasquez-USA TODAY Sports
Stock Report: Rising
Losses to Benson Henderson and Nate Diaz in two of his prior three fights left Jim Miller on the outside of the lightweight title picture looking in. However, a brutal victory at the expense of Joe Lauzon's face has Miller back in the running for a shot at the belt.
All four of Miller's losses have come against fighters who have competed for the lightweight championship. At some point, one has to believe Miller will get that chance as well.
Joe Lauzon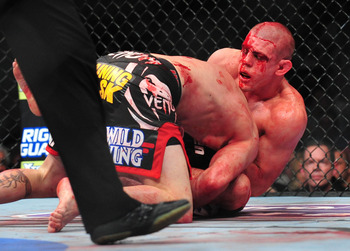 Gary A. Vasquez-USA TODAY Sports
Stock Report: Steady
Heading into UFC 155, Joe Lauzon was a fan favorite on the verge of becoming a serious contender in the 155-pound division. Despite his loss to Miller, Lauzon's standing at lightweight really hasn't changed all that much.
Lauzon still picked up some more fans with another Fight of the Night performance, which he earned by showing a ton of heart in gutting through some serious damage.
Cain Velasquez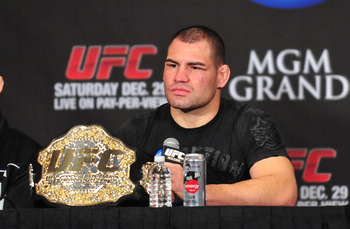 Gary A. Vasquez-USA TODAY Sports
Stock Report: Rising
Obviously, Cain Velasquez moved in the right direction with his showing at UFC 155.
The heavyweight champion regained his belt by avenging the only loss of his career to Junior dos Santos.
It appears that Alistair Overeem will be next for Velasquez should he beat Antonio Silva in February.
Junior dos Santos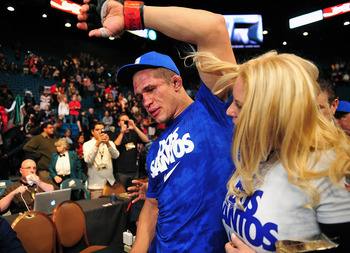 Gary A. Vasquez-USA TODAY Sports
Stock Report: Falling
Junior dos Santos lost his belt to Cain Velasquez at UFC 155, but he won't have to do much to earn a rubber match with the now-champion.
It only took Velasquez one win to earn his rematch with Dos Santos, so the Brazilian could also be one impressive victory away from setting up another bout between the stand-out heavyweights.
Keep Reading