Gator Bowl 2013: Northwestern vs. Miss. State Live Scores, Analysis and Results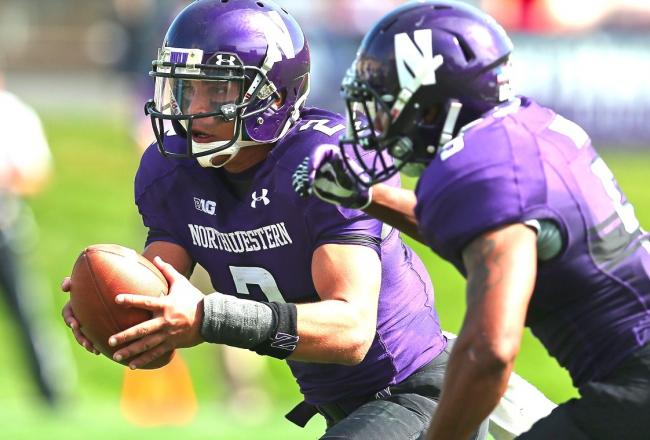 FINAL: Northwestern 34, Mississippi State 20
The drought is over for Northwestern, which won its first bowl game since the 1949 Rose Bowl, being crowned the 2013 Gator Bowl champions with an impressive victory over SEC foe Mississippi State.
After 64 years without a bowl win, NU used a bevy of turnovers and overall strong defensive play to suffocate MSU in the win.
Offensively, the Wildcats put together a strong team performance utilizing multiple quarterbacks, receivers and running backs in an impressive victory from top to bottom.
Keep it here with us for a full in-depth recap and feel free comment below with your thoughts on Northwestern's monumental Gator Bowl triumph.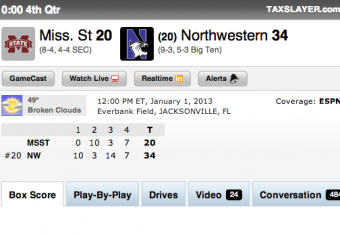 Here's a final box score shot from ESPN:
Thanks for following along! Full recap to come.
Northwestern deserved this win 100 percent. MSU started its season with a ton of promise, but simply fell off in the end.
Northwestern will finish 10-3, while MSU will fall to 8-5.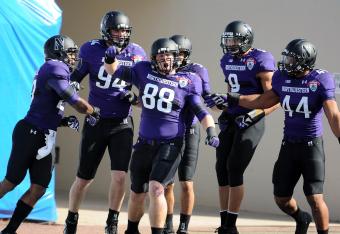 MSU Turnover on Downs
Another sack as Russell is brought to the ground one final time. NU just pinned its ears back on that last drive and the already struggling Russell had no chance.
The drought will end for Northwestern!
Wildcats are the 2013 Gator Bowl champs.
Fourth and Starkville for MSU. This one's over.
A draw play?
Might as well take a knee.
Another big play from the NU defense, this one another sack from Scott.
Northwestern Punt—Fourth Quarter, 2:54
Well, MSU comes up with the stop but they don't have a whole lot of time.
Dawgs do have two timeouts left, but with less than three minutes to go, they need a miracle.
Wow! Nearly a pick six from MSU, but Siemian completes the first down.
The game in a nutshell for the Bulldogs. They've had their opportunities.
Huge third down here. A conversion would all but end this game.
Mississippi State Punt
No go on the interception as Russell still only has four picks today.
He did, however, follow it up with his 16th incompletion and the ball will go back to Northwestern. Another score by the Wildcats will surely sink the Dawgs.
ESPN providing us with some pretty poor angles on this replay. If the refs are seeing what we're seeing, I'm not sure they can overturn the incompletion call.
Almost No. 5 right there.
As MSU takes over, Russell is in the midst of just his second multi-interception game of the year.
He only had six picks all year long and now has four today.
That is touchdown No. 12 for Mark, tying him with Colter for the team lead in rushing scores this season.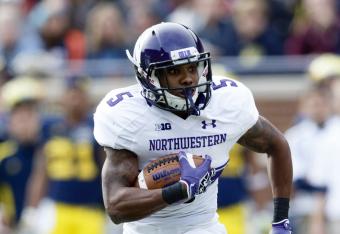 Northwestern Touchdown
Northwestern 34, Mississippi State 20—Fourth Quarter, 8:10
Turning the ball over probably wasn't the main concern on the minds of the Bulldogs going into this one. But Tyler Russell is having arguably the worst game of his career.
Venric Mark adds the touchdown and NU has a two-touchdown lead once again.
As I said earlier, one mistake would be enough to sink MSU—and a big mistake it was.
Bulldogs in trouble now.
Haha wow, that was ridiculous. Five MSU players ran off the field and only two came off.
I hate when the announcers say the same thing as me.
I think MSU had about 15 defenders on the field there. It's no wonder that pitch went nowhere.
Mississippi State Interception
Wow, I haven't the slightest idea what Russell was doing on that play.
He just chucked that ball up in the air and NU's Nick VanHoose was the only one near the ball for the interception.
Just a dreadful throw and decision.
Too bad. Not the way Banks wanted to close his career:
I'm told Banks has a bruised nerve and is doubtful to return. Tough break to end an all-American career. Thanks #13. #HailState

— Joe Galbraith (@joestate) January 1, 2013
Impressive numbers:
With nine tackles today, Cameron Lawrence has become the first @mstatefb player since 1988-89 with 120+ tackles in back-to-back seasons.

— Kyle Niblett (@KyleNiblett) January 1, 2013
Northwestern Punt
Cowbells are clanging now as MSU comes up with an enormous stop. Dawgs nearly gave up a huge play on first down but bounced back to force a three-and-out.
Bumphis with the fair catch on the punt and the Bulldogs will have 90 yards to go to tie this game up.
Wooooo! Tricky, tricky. MSU with a surprise onside kick, but came about one yard away from recovering the ball in bounds.
However, Northwestern will take over, as it was caught just out of the white lines.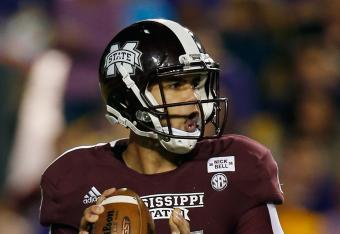 Mississippi State Touchdown
Northwestern 27, Mississippi State 20—Fourth Quarter, 11:42
Exactly what MSU needed: a quick touchdown drive.
Russell looking like a different player from the first half on that drive, as he completed a few nice passes on the way to the score.
The drive culminated his 14-yard TD strike to Malcolm Johnson.
This article is
What is the duplicate article?
Why is this article offensive?
Where is this article plagiarized from?
Why is this article poorly edited?