Dos Santos vs. Velasquez: Power Ranking the UFC's 2012 Title Fights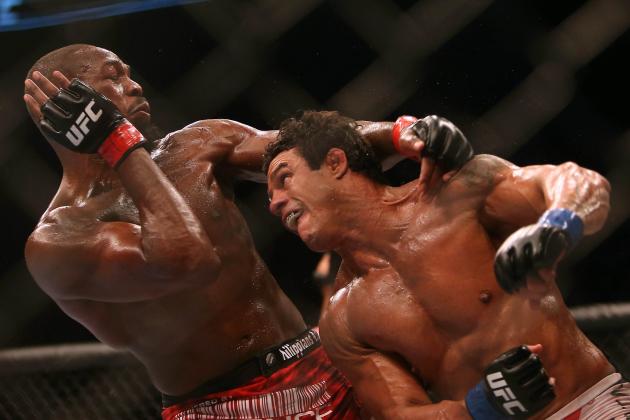 Tom Szczerbowski-USA TODAY Sports

While 2012 might be remembered as the year of the dreaded injury plague, there were lots of magnificent moments and tantalizing title fights to satisfy even the most stubborn of pessimists.
At UFC 155, Cain Velasquez captured the UFC heavyweight championship when he soundly defeated champion Junior dos Santos in the final title fight of 2012. With all of the excitement surrounding the rematch, fans will talk about the contest for years to come.
But how does it match up with the other title fights of 2012?
Here is a look at the UFC's top 10 title fights of 2012.
Begin Slideshow

»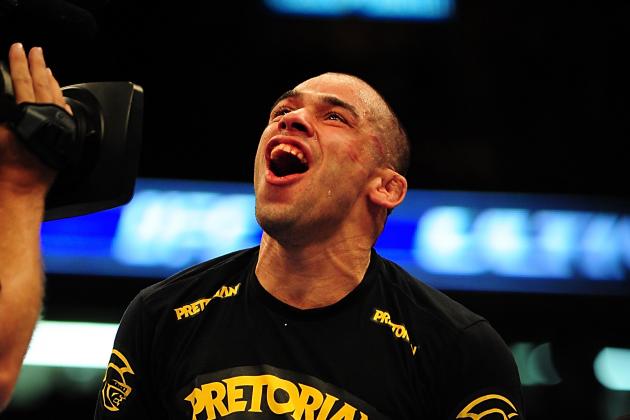 Anne-Marie Sorvin-USA TODAY Sports

As a big believer in interim championships, it was great to see new belts created in divisions where champions were amid extended absences. That being said, neither Carlos Condit vs. Renan Barao vs. Urijah Faber belongs on this countdown.
The reason for this lies in the purpose of an interim title: to keep the division moving while the real champion recovers. With both Condit and Barao unwilling to defend their belts in 2012, they negated the validity of their own temporary championships.
Thankfully, Barao has changed his tune now that bantamweight champion Dominick Cruz is looking at an even longer vacation on the sidelines. The Nova Uniao prodigy meets Michael McDonald at UFC on FUEL 7.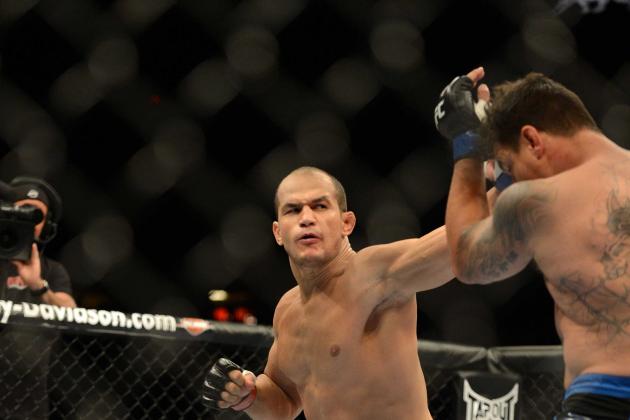 Ron Chenoy-USA TODAY Sports

It was the perfect ending to a knockout-filled night of heavyweight battles. When Alistair Overeem failed a pre-fight drug test and was removed from his UFC 146 title fight with Junior dos Santos, his replacement was none other than former champion Frank Mir.
In a roundabout way, Mir and dos Santos had some history. "Cigano" is a friend student of Antonio "Minotauro" Nogueira, and Frank has both knocked out and submitted the PRIDE legend.
The fight itself was fairly one-sided, as Mir couldn't implement his game plan due to JDS' takedown defense. Meanwhile, the champion easily out-boxed his foe en route to a second round stoppage via TKO.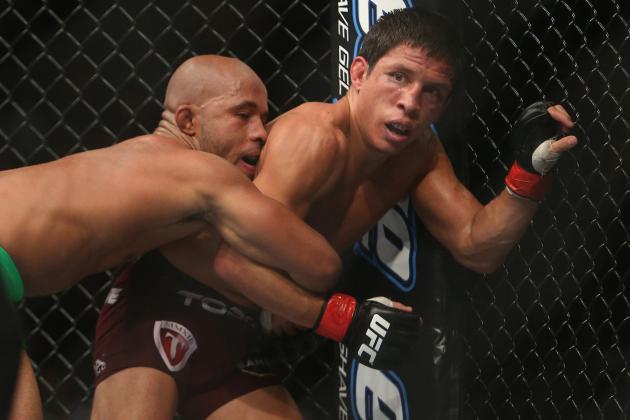 Tom Szczerbowski-USA TODAY Sports

In 2012, the UFC began offering us fast-paced entertainment from the newly-minted Flyweight division. At 125 pounds, these guys flew across the cage at a pace that had not been seen, and although the action was occasionally too fast for the human eye to truly comprehend, it was great to see a home for any fighter who was forced to fight in a division too big for his frame.
The division was introduced with a four-man tournament, and at UFC 152, former bantamweight title contenders Demetrious Johnson and Joseph Benavidez fought to secure his place in history.
Despite a live audience who seemed unappreciative of the action in front of them, these two battled with incredible technique and tremendous heart en route to a decision victory for Johnson, who became the inaugural UFC Flyweight champion.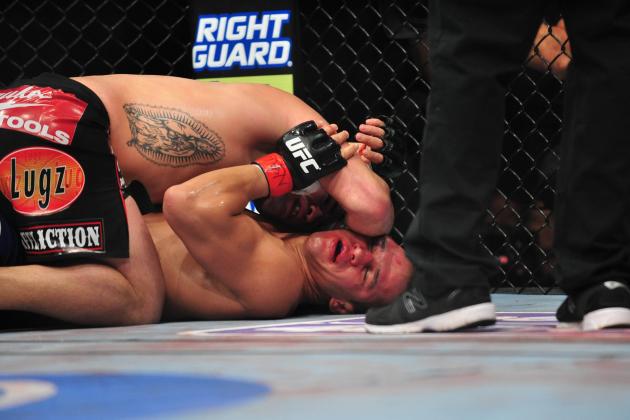 Gary A. Vasquez-USA TODAY Sports

In the first meeting between Cain Velasquez and Junior dos Santos, "Cigano" scored a knockout victory only one minute into the first round. When the duo met again at UFC 155, the old adage "history repeats itself" started to sound like a myth.
The opening frame saw Big Daddy Cain land an overhand right that floored the champion. Smelling blood in the water, Velasquez followed his opponent to the canvas and unleashed a heavy ground and pound.
Although unsuccessful in getting the stoppage, Cain was content with hammering the champion over and over again until the judges unanimously awarded him the belt.
This was not an easy fight to watch, regardless of who you were rooting for. The beatdown was so unrelenting that I actually found myself hoping the referee would stop it simply so dos Santos could go home without taking any more damage.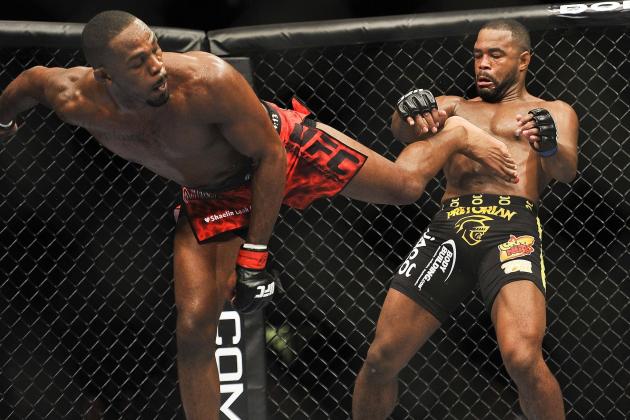 Paul Abell-USA TODAY Sports

Jon Jones was the 2011 Fighter of the Year. In fact, his record of 4-0 during that year was the most talked about run in years. As he dominated former champion after former champion, Bones knew that there was only one man who stood in his path as a potential roadblock to greatness: Rashad Evans.
Evans was a training partner of Jones under the tutelage of Greg Jackson. In their previous sparring sessions, there is no denying that "Suga" had his days where he outscored the reigning champion. It's a perk of getting to work with a fighter day after day, because you get to learn his tendencies and recognize his movements.
The Ultimate Fighter star and former champion was simply no match for Jones, who handily ravaged him in the main event of UFC 145. This marked the fifth fight in 14 months for Jonny Bones and moved him one step closer to cleaning out the division.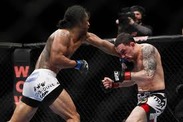 Photo: MontrealSportScene.com
In 2012, Frankie Edgar and Benson Henderson clashed for 10 rounds of championship action. Their first fight, taking place at Japan's UFC 144 event, was a close battle between the two men, with Henderson taking a lead with a big upkick in Round 2 and never looking back.
"Smooth" picked Edgar apart in several instances of the fight, although the Little Engine That Could who lives inside of "The Answer" was certainly in attendance.
Overall, it was a very close fight that was ultimately decided by how you score the second round. Henderson was losing the round up until landing his vicious kick from a prone position: It appeared to many that he stole the round.
Although two judges scored this bout 49-46, I felt that the dissenting judge who marked it 48-47 was more accurate.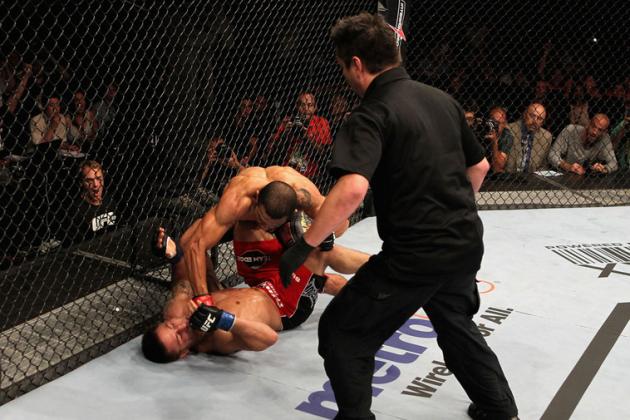 Photo: UFC.com
When the UFC gave its initial showing in 2012, fans were treated to a night of epic knockouts and dazzling submissions across the entire card. Befitting the night of killer action, Jose Aldo and Chad Mendes delivered a similar finish in the main event.
After the undefeated Mendes used heavy pressure and consistent takedowns to control Aldo, the reigning champion started to figure out the timing of his Team Alpha Male challenger.
With only seconds remaining in the first round, Mendes shot in for a takedown. However, Aldo expected this to come and threw a jaw-jacking interceptor knee that sent "Money's" consciousness flying into the third row.
In one of the year's best moments, Aldo ran out of the cage immediately after the win and celebrated in the arms of his beloved Brazilian fans.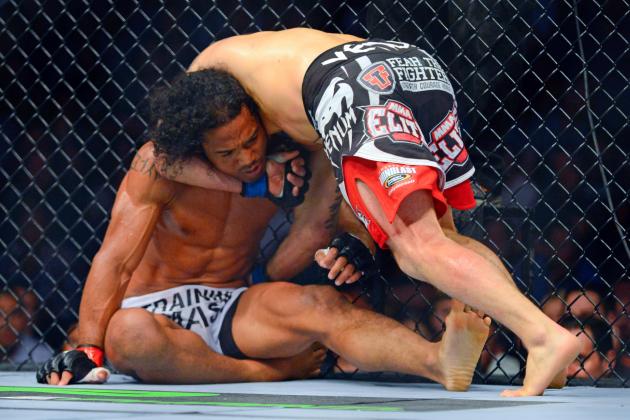 Ron Chenoy-USA TODAY Sports

After wins over BJ Penn and Gray Maynard, then-champion Frankie Edgar granted immediate rematches to each of his fallen foes. It wasn't something that he was contractually obligated to do, however, "The Answer" isn't the kind of guy to say no to a request from Dana White.
So when Edgar lost his title at UFC 144 in a close contest, his only request was that the UFC President pay it forward and grant him the same opportunity.
White hesitated at first, insisting that Frankie might be better suited by a drop to featherweight and immediate title shot in that division. However, when Edgar didn't back down, UFC 150 was booked with a rematch in the main event.
In a fight that was somehow even closer than their first, Bendo and Edgar spent five rounds jockeying for a finish that never came. It was an excellent fight and one that could have gone either way on the scorecards.
Henderson would be the benefactor of a split decision, although countless fans are still vocal about the decision being wrong.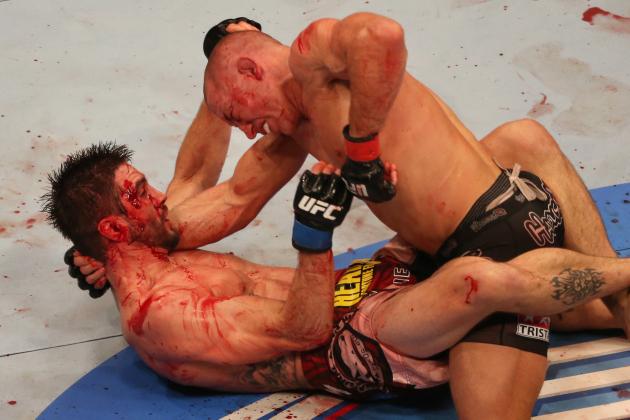 Tom Szczerbowski-USA TODAY Sports

Welcome back, GSP!
After 18 months of sitting on the sidelines, Georges St-Pierre made his long-awaited return to the Octagon at UFC 154. The man standing across the cage from him was none other than fellow Greg Jackson student and interim UFC champion Carlos Condit.
Although the two men had briefly trained together under Jackson, the world's most brilliant MMA strategist stood in neither corner for this title unification bout.
St-Pierre looked solid in his standup (aside from the headkick that dropped him in Round 3), but his best moments came as a product of takedowns that are simply too much for any man to overcome.
Five rounds of action later, Condit became just another victim of St-Pierre, however, it was the best that any man had done against "Rush" ever since Matt Serra scored an upset win over him back at UFC 69.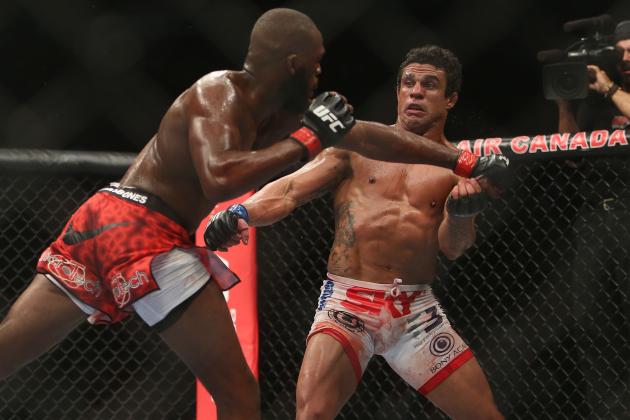 Tom Szczerbowski-USA TODAY Sports

Considering that Jon Jones might be the most dominant light heavyweight that the division has ever known, it's a shock that a late-notice middleweight such as Vitor Belfort could do enough in the fight to earn a place in this countdown.
Then again, the fact that Belfort was widely expected to be squashed in this contest lends itself to being the penultimate moment in our countdown.
In the first round, Belfort was on his back with Jones looking to inflict some damage from top position. It was what everyone expected to see, until the unexpected happened.
A longtime jiu-jitsu black belt, Belfort snatched up an arm in the blink of an eye and fully extended the lengthy appendage of his foe. Jones knew he wasn't going to tap out, but he admitted that he thought his arm was going to break from the hold.
Eventually, he shook Belfort loose before earning a fourth round victory by way of Americana.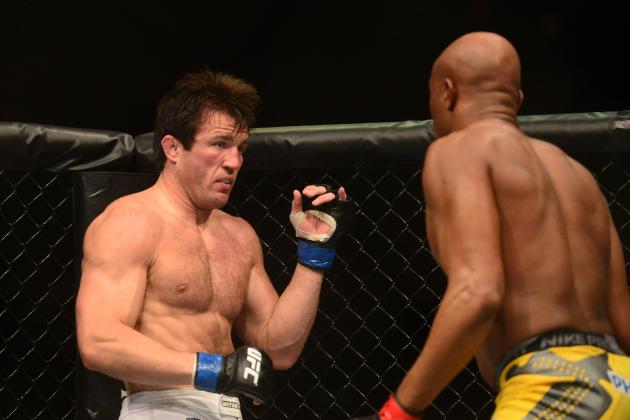 Mark J. Rebilas-USA TODAY Sports
The look on Sonnen's face tells us that he realized the world of hurt that he was about to experience.
While it's true that some contests never live up to their pre-fight trash talk, it should come as no surprise that the most anticipated fight of the year tops this list.
At UFC 148, the rivalry between longtime middleweight kingpin Anderson Silva and "the Emperor of Instigation" Chael Sonnen came full circle.
The two had previously met at UFC 117, where Sonnen famously out-struck and out-wrestled Silva for 22 and a half minutes before ultimately succumbing to a triangle choke in the final round. The champion escaped with his belt, but left the arena looking exposed and vulnerable.
When the rematch started, it looked like fans had more of the same in store, as Sonnen quickly snatched up a takedown and easily earned the first round. However, things changed drastically in Round 2 when "The American Gangsta" decided to get flashy in his striking.
In a moment that will haunt him for the rest of his career, Sonnen attempted to throw a spinning back fist at the champion. He ended up missing by a country mile and falling to the floor like a drunk girl in heels trying to do the Wobble.
Silva looked like a lion staring at a 62 ounce porterhouse that has just been flung onto his dinner plate. Seizing the moment, he threw a devastating knee into the solar plexus of Sonnen before throwing in a few fight-ending punches for good measure.
It was an incredible way to cap off the biggest feud that MMA has seen in years.