2013 NFL MVP: Adrian Peterson Deserves Presitigious Honor After Historic Season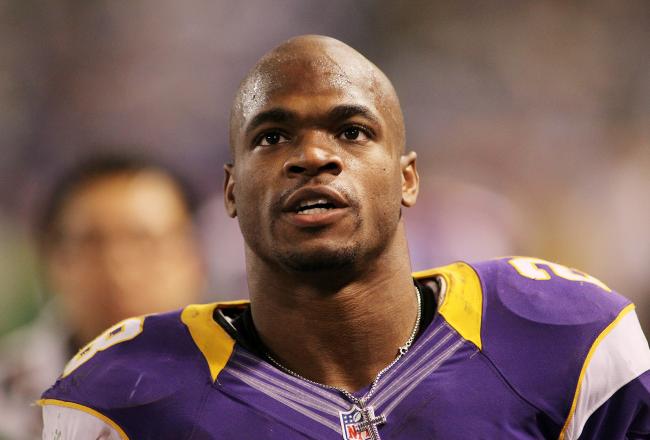 Andy King/Getty Images
As we know all too well, narratives drive awards voting in sports. Too often the best and most valuable player doesn't actually win the MVP because of some ad-hominem argument, rather than using the evidence presented from performance on the field.
That should not be the case with the NFL MVP award this year, which belongs to Adrian Peterson after running for 2,097 yards, 12 touchdowns and almost literally carrying an entire franchise on his back into the postseason.
Also, if you are a fan of the whole narrative thing, Peterson's story of coming back from a torn ACL suffered on the last day of the regular season in 2011 is a nice trump card to have in your back pocket.
The only other legitimate candidate in the race, it seems, is Denver Broncos quarterback Peyton Manning, who also has a compelling story to back up his case. He missed all of 2011 after undergoing multiple neck surgeries, went from the only franchise he had ever known and led his new team to the best record in the AFC.
In addition to the story, Manning posted incredible numbers. He finished in the top 10 in completions, completion percentage, passing yards, yards per attempt, touchdowns and quarterback rating.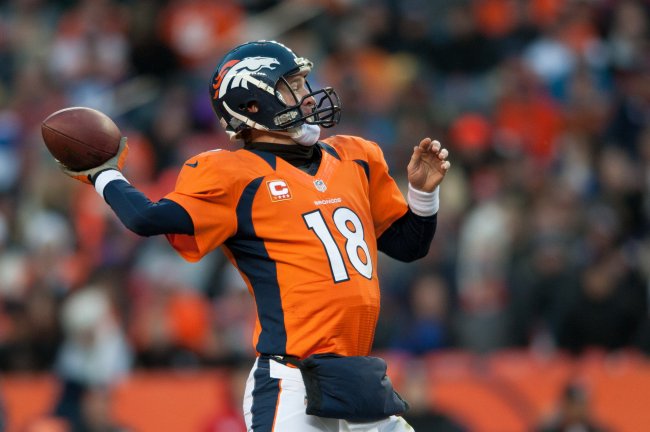 Dustin Bradford/Getty Images
Even in today's pass-first, quarterback-driven league, those are impressive stats. To find some separation between Manning and Peterson takes some work, but the signs are clearly pointed in favor of the Vikings' running back.
First, we need to look at competition. The NFL is an unbalanced league, with teams playing far more games against their division and in conference that it can skew the stats one way or the other.
The Broncos only played six games this season against teams that ranked in the top half of the league in pass defense (Pittsburgh, Houston, Cincinnati, Carolina and Kansas City twice). Of those five teams, only Pittsburgh and Cincinnati ranked in the Top 10.
Who Should Win The MVP Award?
As much as we talked about the Broncos' schedule being brutal, they wound up playing just five games against teams that had a winning record in 2012. They went 3-2 in those games, with Manning throwing for 1,403 yards, 10 touchdowns and five interceptions.
The Vikings played nine games against teams that had a record over .500. They also played nine games against teams that ranked in the top half of the league in run defense (San Francisco, Washington, Detroit, Tampa Bay, Seattle, Detroit, Chicago, Houston and St. Louis).
Of those nine teams, San Francisco, Washington, Tampa Bay, Houston, Chicago and Seattle all finished in the Top 10 in run defense. In those games, Peterson had 148 carries, 818 yards and five touchdowns.
Then, in a game the Vikings absolutely had to win to make the playoffs, against a division rival playing for a first-round bye who just got torched for 210 yards by him four weeks ago, Peterson ran for 199 yards and a touchdown in Week 17.
Oh, and by the way, the Vikings had the 31st-ranked passing offense in the NFL this season. So the game plan teams had to follow each week was load up the box and stop Peterson, yet no one could do it.
Don't talk about team record, because Manning came into a situation where the team was already very good. The Vikings don't have nearly as much talent around Peterson as the Broncos do Manning.
The Most Valuable Player Award is supposed to go to the player who adds the most value on the field. No one affected games more this season than Peterson. He has the stats and narrative to support his case. Remember, numbers never lie.
This article is
What is the duplicate article?
Why is this article offensive?
Where is this article plagiarized from?
Why is this article poorly edited?