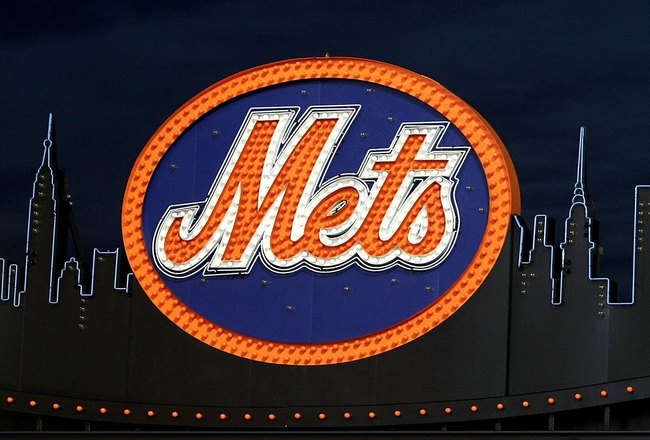 Nick Laham/Getty Images
A very happy new year to all you sports enthusiasts out there, and welcome to 2013! The year prior saw some amazing (no pun intended) things in the world of baseball. There were surprise teams, momentous comebacks and hundreds of jaw-dropping plays.
The 2012 season in Flushing, Queens was somewhat unspectacular. The New York Mets finished with a sub-par 74-88 record, though the first month or so of the season managed to give some fans hope.
Now that the calendar has flipped to 2013, some expectations of the Mets will remain the same as last year. The payroll is roughly the same, and the personnel hasn't changed a whole lot either (aside from one noticeable offseason trade).
As Mets fans everywhere prepare for another season at Citi Field, here's a look at some of the things we are hoping to see come out of Queens in '13.
Johan Santana: A Full Season
Elsa/Getty Images
In 2012—the 50th year of the team's existence—the Mets' left-handed ace, Johan Santana, achieved all-time greatness. On June 1, he tossed the franchise's first ever no-hitter. He needed 134 pitches in what was almost excruciating for Mets fans (and manager Terry Collins) to watch.
But he did it. He held the St. Louis Cardinals hitless while walking eight batters.
But the toll of this achievement loomed large for the southpaw. Santana missed all of the 2011 season recovering from left shoulder surgery. And while Santana pitched as well as ever had before, there were growing concerns about how this performance would effect his health.
He made 10 more starts after that game in 2012, finishing more than six innings just once. His last start came on August 17, a game in which he allowed six earned runs to the Nationals. He was shut down for the remainder of the season.
Mets fans (and management) are hoping for a nice rebound season from the ace of the staff. Overall in 2012, Santana mustered a 6-9 record with a 4.85 ERA and 111 strikeouts—his poorest pitching line since joining the Mets in 2008. Not many people at this point (Santana will be 34 years old on Opening Day) are expecting a return to his '08 season, when he finished third in the Cy Young Award voting. But still, it would be very uplifting, to say the least, to see him have a prosperous 2013 season.
Daniel Murphy: Breakout Season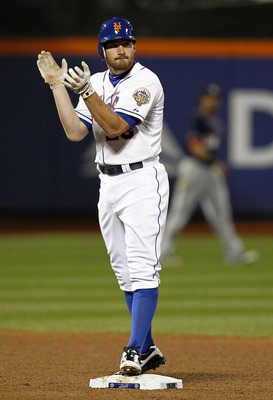 Jeff Zelevansky/Getty Images
Daniel Murphy had somewhat of an enigma season in 2012 at the plate. He hit just six home runs all year, with his first not coming until the end of June (a two-homer game on June 27). Of course, Murphy has been somewhat of an enigma for the Mets since he debuted in 2008.
At times, the Jacksonville native has shown full capability of being a prolific hitter. In 2009, he smacked a career-high 12 home runs while driving in 63 runs. After he sat through an injury-plagued 2010 season, he returned in 2011 to a .313 batting average, but his home run total cut in half.
The Mets have had a tough time finding a place for the left-handed hitter in the field. He seems to have made a home at second base, though some may argue he does not have the build for a typical second baseman.
But his power, or lack thereof, is conducive to his position. In the minor leagues, Murphy never hit more than 13 home runs. And while Mets fans have been hoping for a 20-home run outburst by Murphy, perhaps expectations this season should be shifted to another .300-plus clip with some stolen bases mixed in (he swiped 10 bags in 2012).
He will likely be batting from the second slot in the Mets lineup in 2013, so he will be expected to get on base regularly in front of David Wright and Ike Davis.
The Young Kids Contribute in 2013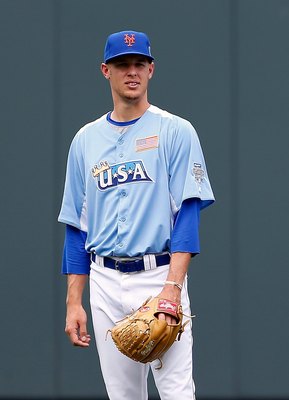 Jamie Squire/Getty Images
In case you haven't heard, the Mets officially traded their 2012 Cy Young Award winner, R.A. Dickey, to the Toronto Blue Jays in a package deal. It was a debatable deal indeed, but what can't be debated is the young return the Mets got. Included were names like Travis d'Arnaud and Noah Syndergaard which, according to Baseball America's Jim Callis, has boosted the Mets' farm system into the top 20 in baseball.
For years, the Mets have been notorious for having one of the worst farm systems in the game. But now with d'Arnaud and Syndergaard, along with blue-chippers like Zack Wheeler and Brandon Nimmo, the Mets' system is finally starting to be recognized as promising.
The thought now is, when (and how well) can these youngsters start producing in the big show. Of course, Mets GM Sandy Alderson and the rest of the front office will be very careful in promoting these prospects to ensure both that they are ready for the big leagues, and to make sure their arbitration clocks don't start prematurely.
But there's no question that Mets fans are anxiously waiting to see what these youngsters have to offer. And seeing at least some of their top prospects in Queens this year is certainly well within the realm of possibilities.
Ike Davis: Breakout Season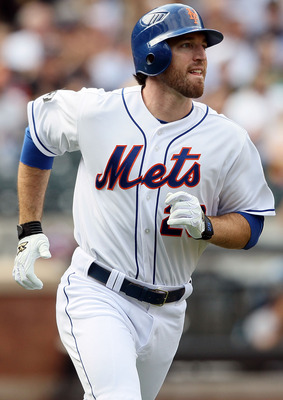 Alex Trautwig/Getty Images
In 2012, we saw some incredible breakout campaigns around baseball. Players such as Chase Headley in San Diego and Pedro Alvarez in Pittsburgh had tremendous seasons, setting up higher expectations for themselves going forward,
The Amazin's have long awaited similar production from Ike Davis, a season in which he puts it all together for an entire campaign.
After suffering through a disappointing and injury-shortened 2011 season, Davis returned in 2012 to hit a career-high 32 home runs (consider he only had hit 12 prior to the All-Star break). And while the power stroke was certainly encouraging to see, Davis' batting average was a dismal .227, and his on-base percentage just .308.
What Mets fans are looking for is something closer to his 2009 minor league performance, in which he belted 20 home runs and hit nearly .300 for the season. Coming into his 26-year-old season in 2013, expectations for the former first-rounder are going to be pretty lofty. If the Mets stand any chance to compete in one of the toughest divisions in baseball, Davis will need to put together an All-Star-caliber season to help compliment David Wright in the lineup.
Competitive Season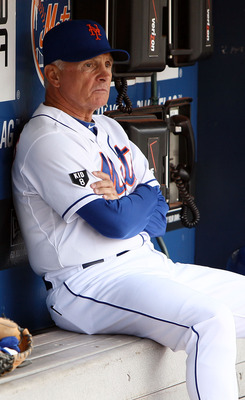 Alex Trautwig/Getty Images
Mets fans ought to be pleased by the job Terry Collins has done since taking over as the team's manager prior to the 2011 season. Though the results don't look so pretty on paper, given what Collins has had to work with, his tenure so far has been admirable, if nothing else.
In the two seasons under Collins, the Mets have yet to finish a campaign with a .500 record. Of course, they play in the NL East, with tough rivals such as the Philadelphia Phillies and the Atlanta Braves, which doesn't make life any easier for Collins.
But this team is getting better. The farm system is improving, and there are some stars in the making within the organization. It would be unrealistic to expect the team to compete for the division in 2013. But a run at a .500 record is not so far-fetched, maybe even a third-place finish. It would be great to see this team earn some respectability around the game, and with a couple of additional role players, this team can be more competitive than some may expect.
Keep Reading

New York Mets: Like this team?
Load More Stories