Kansas City Chiefs: Blueprint to a Perfect 2013 Offseason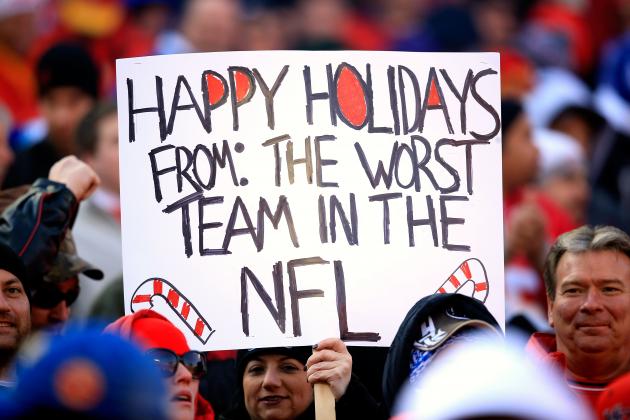 Jamie Squire/Getty Images

It is a new year, but Kansas City Chiefs fans are still asking the same question.
Why is Scott Pioli still employed by our football team?
While news has come via ESPN's Adam Schefter that the team has fired Head Coach Romeo Crennel, Pioli remains for the moment.
With a critical offseason ahead, the team needs to bring in talent both on and off the field. If they are not able to do this, fans will likely see a repeat of this season.
Luckily a blueprint exists that can lead to the perfect offseason the Chiefs need. The first step involves deciding Scott Pioli's fate.
Begin Slideshow

»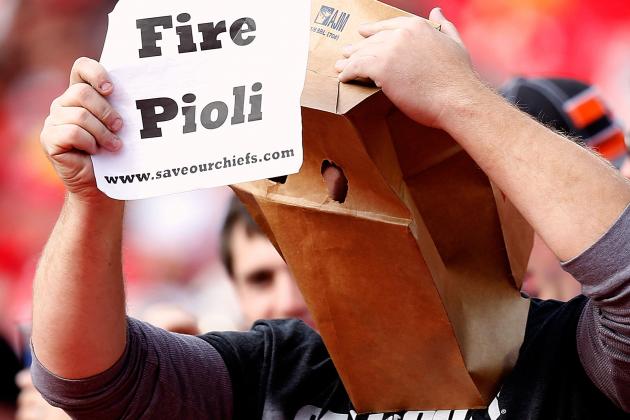 Jamie Squire/Getty Images

What is Clark Hunt waiting for?
While he is rumored to be close to Scott Pioli, he is facing a full scale fan riot if he brings him back. Pioli's incompetence even sparked the rise of the Save Our Chiefs movement, which flew banners over the Kansas City Chiefs games throughout the year calling for the dismissal of Pioli and Crennel.
This also is a results oriented business and Pioli has not produced. He is only 23-41 in his four seasons as head coach. The only impact player he has drafted is Justin Houston. He has also refused to bring in quality quarterbacks for competition as well.
It has been four years, and the Chiefs are a worse 2-14 team that the one Pioli took over. Draft busts, and poor free agent decisions have made Pioli's bed. He has no case to be retained, and if Clark Hunt does not realize this, it bodes poorly for the team's future.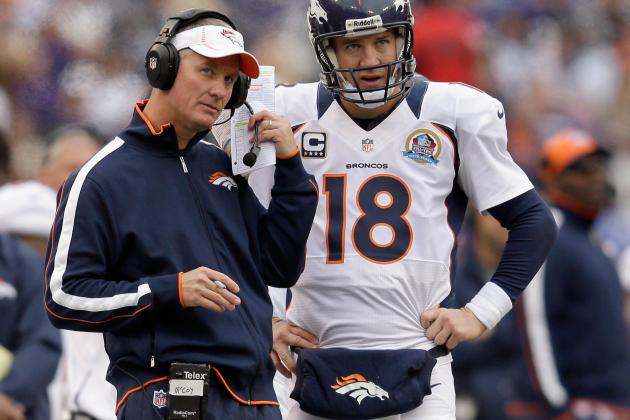 Rob Carr/Getty Images

Sure the names Bill Cowher and Jon Gruden will be brought up, but they are not realistic options for Kansas City.
Recently fired coaches Lovie Smith and Ken Whisenhunt would be a good choice as well, but likely would not be interested in coaching the Kansas City Chiefs either.
So who is the best of the up and comer crowd?
Broncos Offensive Coordinator Mike McCoy can make a strong case for the honor.
Many people will claim that McCoy's success this year can largely be attributed to Peyton Manning's arrival in Denver. This is a legitimate concern, but McCoy's 2011 performance is even more impressive. During the 2011 season McCoy remade his offense mid-season to fit the strengths of Tim Tebow. By installing a zone-read package McCoy put Tebow in a position to take Denver to the playoffs.
After seeing Brian Daboll stubbornly refuse to adapt his scheme to the Chiefs personnel, McCoy's flexibility and outside-the-box thinking would be a breath of fresh air. It also would greatly help the new quarterback Kansas City will certainly draft.
This means the Chiefs should…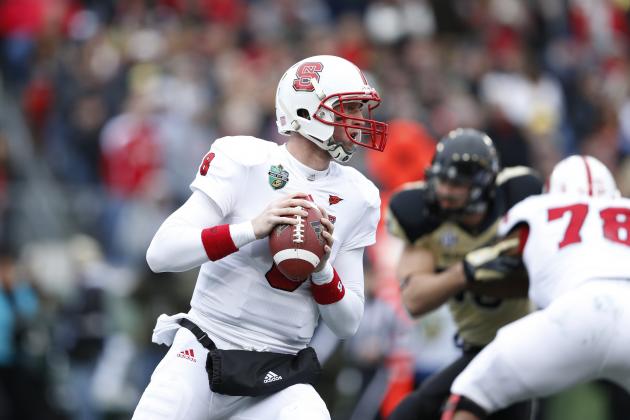 Joe Robbins/Getty Images

Yes, the same Mike Glennon that just threw three interceptions against Vanderbilt today.
Glennon is far from the perfect quarterback, but he has the best physical tools of any quarterback in this draft besides possibly Tyler Bray. In a class where all the quarterbacks have warts, Glennon presents the most upside.
The first thing to mention with Glennon is that his North Carolina State team is putrid. His receivers drop balls, his line can't pass block, and the running game only came along later in the season. Despite all this Glennon managed to guide his team to a bowl game.
How?
Well, Glennon brings elite size—he is 6'6"—and elite arm strength to the table. He can easily drive the ball from the opposite hash to outside the numbers to complete the out route that separates NFL stars from NFL starters. He also shows an advanced understanding of a pro-style offense, as Glennon often is forced to make multiple reads and check down. He looks boring moving his team down the field, but it is effective.
The big thing that causes Glennon to turn the ball over is footwork. The fact that his offensive line seldom gives him a clean pocket has caused Glennon to develop bad footwork habits. He will often throw off his back foot or not step into his throws, which explains his inaccuracy at times.
Footwork can be cleaned up though, and a coach like Mike McCoy, who was forced to work with Tim Tebow, will likely find Glennon an easier project. If these two are paired together Kansas City stands its best chance of developing a franchise quarterback.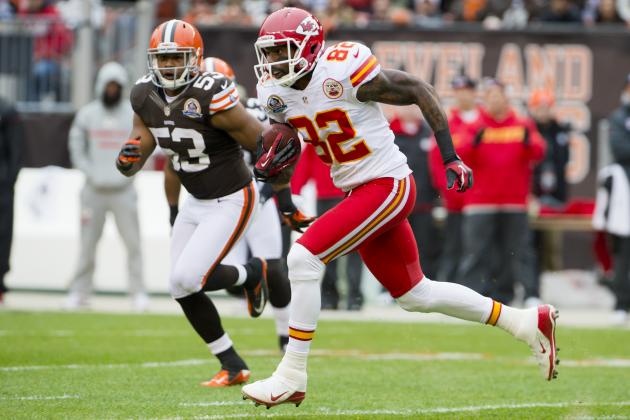 Jason Miller/Getty Images

If the Kansas City Chiefs get a new quarterback they shouldn't make the mistake of getting rid of their best pass-catcher again. Matt Cassel was brought in right after Tony Gonzalez was traded away and subsequently struggled in his first year.
Having a playmaking receiver like Dwayne Bowe would help the new Chiefs quarterback, Mike Glennon in this scenario, to adjust to his surroundings more easily. Some might argue that Bowe does not deserve the money he is requesting, and they may be right.
But can a team with so little depth really afford to waste a high pick on bringing in a receiver, and hope that receiver contributes right away? The team already needs another wide receiver opposite Bowe, so why turn a need into a gaping hole? The team has the cap space, so resigning Bowe should be a no-brainer.
The Chiefs also cannot afford to let their blind side protector go. Branden Albert has taken a major step forward this season and is a top ten tackle in all of football. He had his struggles to start his Chiefs career, but his best days look to be ahead of him.
If Kansas City intends to invest in a young quarterback, keeping Albert is essential to protecting that investment. He may end up costing quite a bit on the free agent market, but Branden Albert is an irreplaceable part of the Chiefs offensive line, and one of the few bright spots on this year's team. He must be re-signed.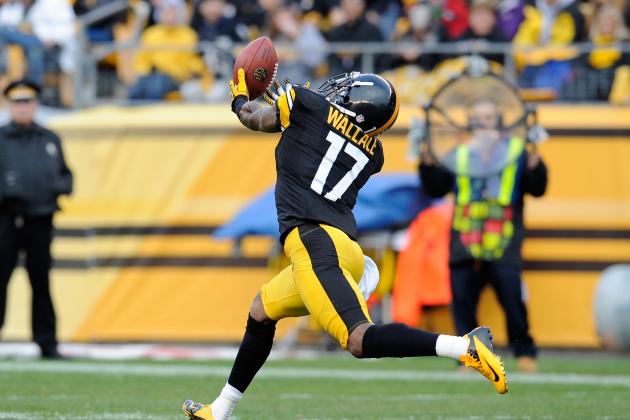 Joe Sargent/Getty Images

The Stanford Routt experiment failed miserably.
The Kansas City Chiefs were left wishing they still had Brandon Carr, and were forced to play Javier Arenas extensively as the second corner. The Chiefs must upgrade here if they hope to complete their perfect offseason. They could look into a free agent corner with scheme versatility like Aqib Talib of New England, or even take North Carolina State's David Amerson in the second round of the draft. Either way they must upgrade at cornerback to keep up in today's NFL.
On the offensive side of the ball Kansas City must realize they can no longer wait on Jon Baldwin. Baldwin was given ample opportunities this season, and failed to emerge for more than one sporadic play at a time.
Steve Breaston rarely saw the field this season, so he cannot be depended on for next year either, and is better suited for a slot receiver role anyways. An elite free agent would be the best fit here, as Mike Wallace seems poised to walk away from Pittsburgh. Wallace will want top tier money, but the Chiefs must open the checkbooks if they want to turn this thing around. Wallace's ability to stretch the field fits perfectly across from a good possession receiver like Dwayne Bowe.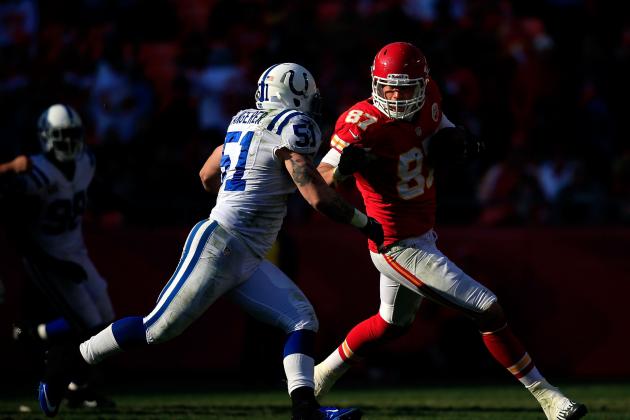 Jamie Squire/Getty Images

Not every position can be filled by a top draft pick or star free agent.
That being said, the lack of depth Kansas City had this season was sickening. Undrafted rookie Tysyn Hartman saw extensive time at safety with injuries to Kendrick Lewis, and Steve Maneri was the only active tight end at one point.
This is unacceptable, as players of this caliber should never be depended on to play extensively.
The Chiefs must add depth on the offensive and defensive line, at safety, and at tight end. This is the least exciting part of building a championship team, but if guys like Hartman and Maneri see playing time next year the Kansas City Chiefs certainly will have deviated from their perfect offseason blueprint.