The Definitive Blueprint to the Atlanta Falcons' Perfect Offseason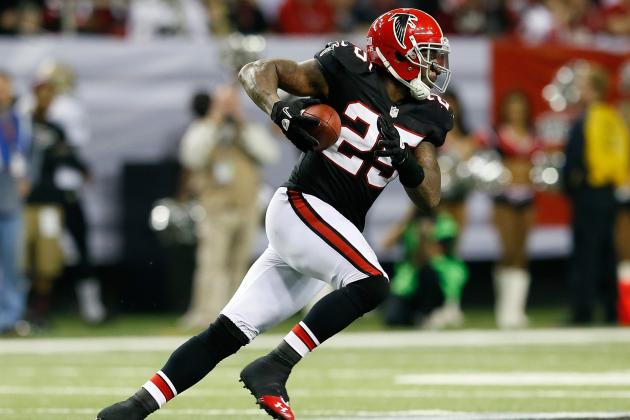 Kevin C. Cox/Getty Images

With preparations underway for what many Falcons' fans hope will be the best three-game winning streak in franchise history, the last thing that anyone wants to think about is the offseason.
However, NFL general managers like Thomas Dimitroff operate in parallel universes. Even at the start of a playoff run, Dimitroff and his staff will simultaneously concern themselves with the team's present and future.
With Tony Gonzalez still 95 percent sure that he will retire when the season ends, and core veterans like Todd McClure and Mike Peterson at retirement age themselves, Atlanta is sure to have some holes to fill on its roster.
In addition, the team must make important decisions regarding the futures of Brent Grimes, Michael Turner and Sam Baker. Star safety William Moore is also set to become an unrestricted free agent.
In coming up with this definitive blueprint for Atlanta's 2013 offseason, my theme was retention. Absent a blowout loss in the NFC Divisional Playoff Round in two weeks, there will be no reason to make drastic changes to a team whose core has now won 56 games over the past five years.
Join me as I guide you chronologically through my ideal 2013 offseason for the Falcons, starting with the end of the season in January/February and finishing with the opening of training camp in July.
Begin Slideshow

»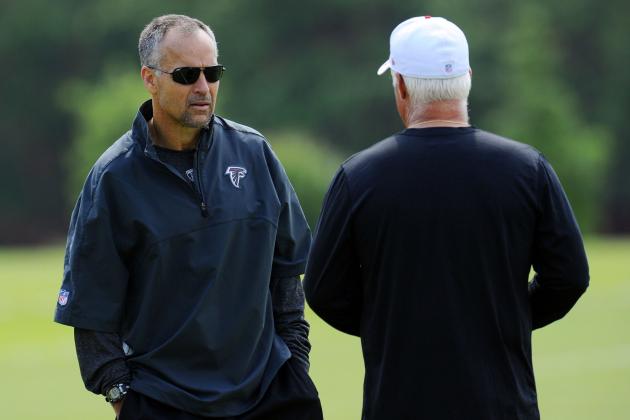 Dale Zanine-USA TODAY Sports

There is a price to pay for success in the NFL. Both offensive coordinator Dirk Koetter and defensive coordinator Mike Nolan have been mentioned as potential candidates for one of several NFL head-coaching vacancies that now exist after the NFL's Black Monday. Also, special teams coach Keith Armstrong will reportedly interview with the Bears.
Anyone who watched Atlanta play this year after following the team from 2008 to 2011 surely recognizes the impact that both Koetter and Nolan have had on their units. Furthermore, the fact that Keith Armstrong is getting an interview for arguably the most attractive coaching vacancy on the market speaks to his own reputation as a quality coach.
Because Koetter and Nolan's units are on the field more than Armstrong's, the emphasis should be on retaining both of them if at all possible. However, NFL head-coaching opportunities don't come around that often, so seeing Koetter or Nolan cash in on their success with the Falcons wouldn't be a huge shock.
If Koetter leaves, first-year Falcons quarterbacks coach Glenn Thomas is a good choice to replace him due to his familiarity with Matt Ryan and the rest of the offensive personnel (Thomas was an offensive assistant with the team from 2008-2011).
If the team decided to look outside of Flowery Branch, ex-Cardinals coach Ken Whisenhunt would be worth a look if he doesn't get another head coaching job. When he had Ben Roethlisberger and Kurt Warner playing quarterback, Whisenhunt's offenses did an excellent job of throwing the ball downfield while effectively blending in the run as well.
Should Mike Nolan get another opportunity as a head coach, current Falcons' defensive line coach Ray Hamilton may get an opportunity to replace him.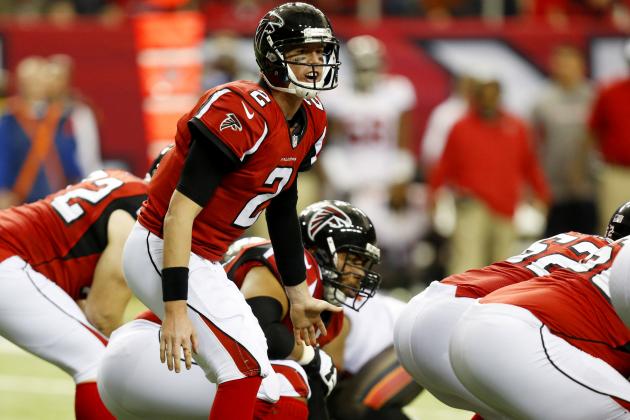 Josh D. Weiss-USA TODAY Sports

Matt Ryan put up MVP caliber numbers in 2012 (32 touchdowns, 4,719 yards, 68.6% completion rate), and he will be entering the last year of his rookie contract in 2013.
Thomas Dimitroff would be wise to negotiate Ryan's long-term deal early in the spring to avoid Ryan's contract status being a distraction when the 2013 season starts.
All player stats obtained from ESPN.com, all player contract information provided courtesy of Spotrac.com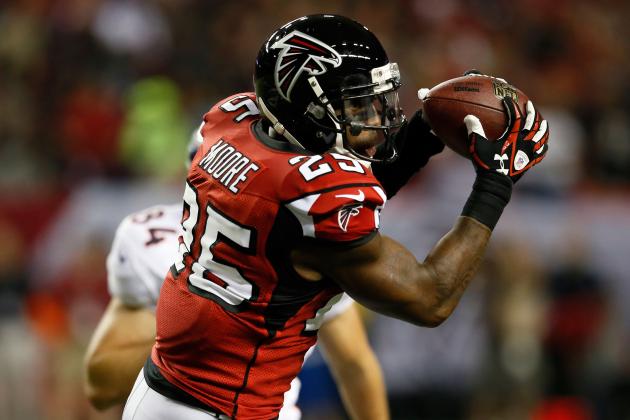 Kevin C. Cox/Getty Images

Starting strong safety William Moore is the most important unrestricted free agent in Atlanta's 2013 class. At 27, Moore is in the prime of his career and he put together one of his finest seasons (75 tackles, 4 interceptions) as a pro in 2012 before missing the last four games with a hamstring injury.
Because of his physical prowess and playmaking ability, Moore would probably be a highly valued free agent if Atlanta allows him to hit the open market. The Falcons need to make sure that Moore stays in red and black.
All player stats obtained from ESPN.com, all player contract information provided courtesy of Spotrac.com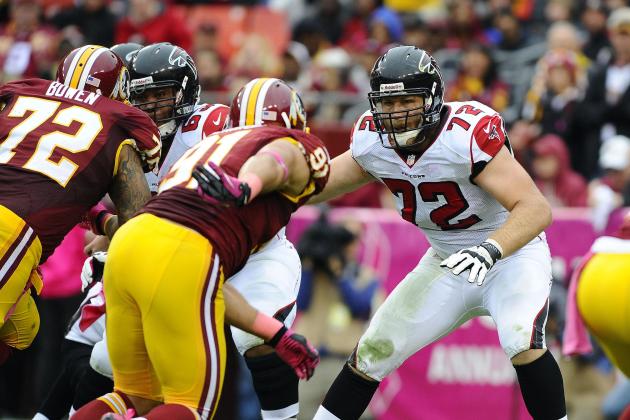 Brad Mills-USA TODAY Sports

Sam Baker bounced back from an awful 2011 season with a solid campaign in 2012. Baker may not ever be a franchise left tackle, but he has been effective at his job when healthy. Like William Moore, Baker will be an unrestricted free agent after this season.
If Baker's asking price is reasonable, he probably earned a second contract with his play in 2012. Should they choose to re-sign Baker, the Falcons should make sure the contract provides them with some flexibility in case Baker returns to his 2011 form.
All player stats obtained from ESPN.com, all player contract information provided courtesy of Spotrac.com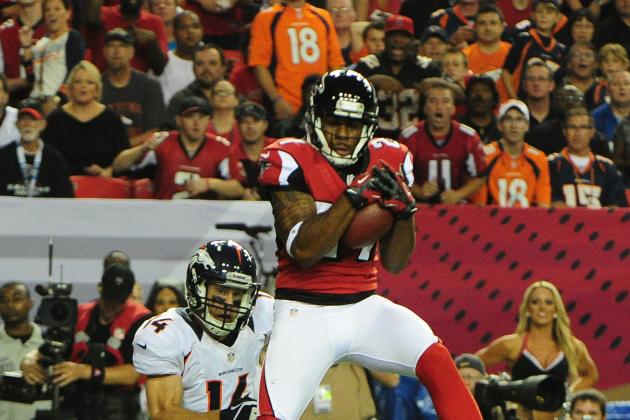 Scott Cunningham/Getty Images

Brent Grimes was franchised prior to this season when he and his representatives couldn't come to an agreement with the Falcons on a contract extension. Prior to his season-ending injury in Week 1, Grimes had already lost some leverage when Atlanta acquired Asante Samuel from Philadelphia. Now Grimes may not have any leverage at all after the way Robert McClain performed in his absence.
McClain, who displayed the kind of ball skills that made fans fall in love with Brent Grimes, will be a restricted free agent in 2013 after making around $540,000 in 2012. The Falcons would be wise to reward McClain with a contract extension this offseason at the expense of Brent Grimes.
All player stats obtained from ESPN.com, all player contract information provided courtesy of Spotrac.com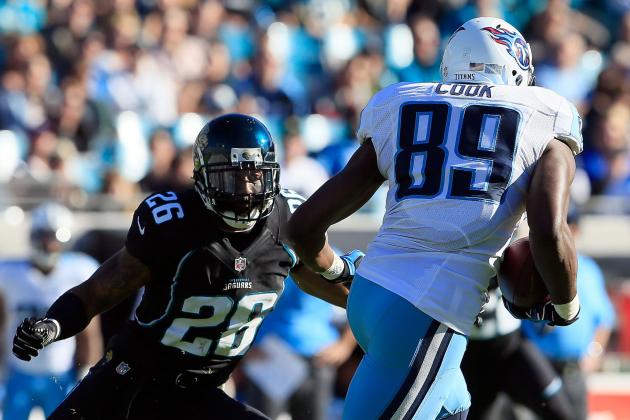 Sam Greenwood/Getty Images

Atlanta may not have enough cap room to be major players in free agency once they extend Matt Ryan and re-sign William Moore, but Tennessee Titans tight end Jared Cook (44 receptions, 523 yards, 4 touchdowns) is an intriguing option.
Cook is coming off of a rotator-cuff injury, so the 6'5, 248lbs Georgia native could be in Atlanta's price range. Signing a pass-catching tight end like Cook could negate the necessity to spend a draft pick on a tight end to replace Tony Gonzalez if he retires.
All player stats obtained from ESPN.com, all player contract information provided courtesy of Spotrac.com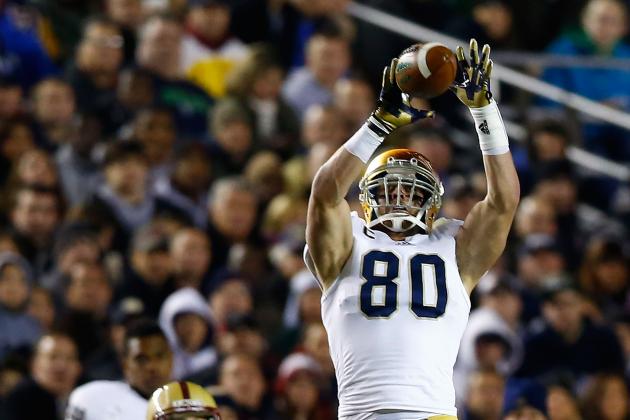 Jared Wickerham/Getty Images

Tony Gonzalez, Todd McClure and Mike Peterson may retire after the season. In addition, running back Michael Turner will turn 31 in February, and he will be entering the final year of his contract. John Abraham is not getting any younger either.
With that in mind, the Falcons will most likely need to add players at tight end, center/guard, running back, defensive end and outside linebacker in the draft if those positions are not addressed in free agency.
The need to draft a center/guard may surprise some fans who point to Peter Konz and Joe Hawley's presence on the roster, but Konz has struggled a bit recently at guard and neither Joe Hawley and Garrett Reynolds were overly impressive in that spot either. If Todd McClure retires and Konz moves to center, Atlanta should bring in another guard prospect to compete for playing time.
Nevertheless, since Atlanta will be picking at towards the back of every round in the draft, they should not be afraid to take the best player available regardless of any perceived "need."
All player stats obtained from ESPN.com, all player contract information provided courtesy of Spotrac.com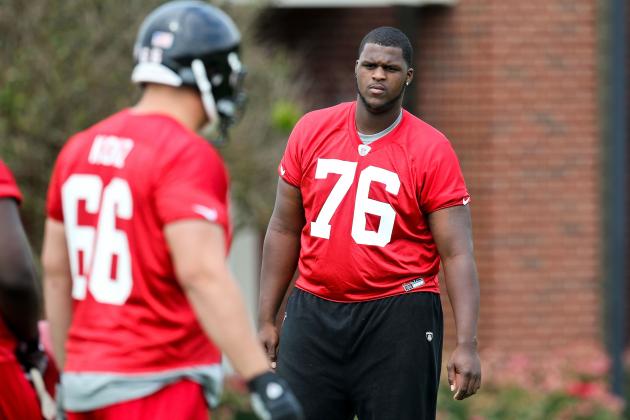 Daniel Shirey/Getty Images

The Falcons have several intriguing young players on their roster. 2012 third-round pick Lamar Holmes didn't get on the field much during this past season, but the mammoth offensive tackle should get a better opportunity in 2013 if he can stay healthy in camp. Atlanta needs to find out if Holmes can play tackle in the NFL, or if he is better suited to play inside at guard.
Defensive end Cliff Matthews played well in spots after Ray Edwards was cut, and Jonathan Massaquoi has the kind of athleticism that could really help Atlanta's pass rush. In addition, tight ends Michael Palmer and Chase Coffman could both get more playing time if Atlanta elects to replace Tony Gonzalez with a "tight end by committee" approach.