The Definitive Guide to the Perfect Philadelphia Eagles Offseason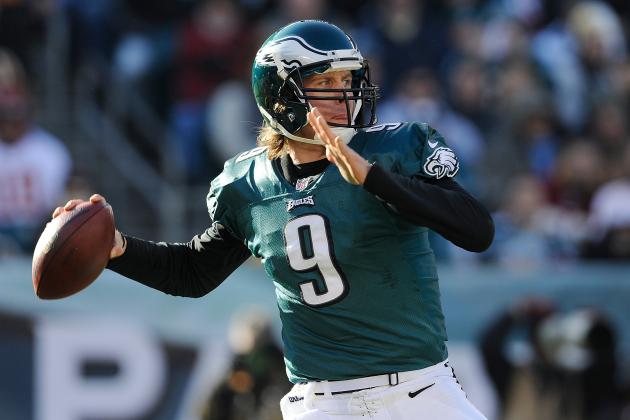 Patrick McDermott/Getty Images

The 2012 Philadelphia Eagles campaign will undoubtedly go down as one of the worst seasons in franchise history.
Just when it seemed as if things could not get worse than the "Dream Team" debacle, 2012 happened. The Eagles started the season 3-1, winning games despite a high number of turnovers. Then disaster struck and Andy Reid's squad dropped 11 of 12 contest.
That included an eight-game losing streak, the longest the franchise has seen in over 40 years. It ended up costing Reid his job, as the team parted ways with their 14-year coach earlier today.
Restoring order to Philadelphia will be no easy task. There were reports of the players quitting on their coach this season, and the numbers speak for themselves. The secondary reached a level of ineptitude never before seen, and the injured reserve list was overflowing by Week 17.
Fixing the Eagles is not a one or two-year deal. It is a project; one that could take a new head coach several offseasons before the results are evident. But the following moves would be a step in the right direction for the franchise.
Begin Slideshow

»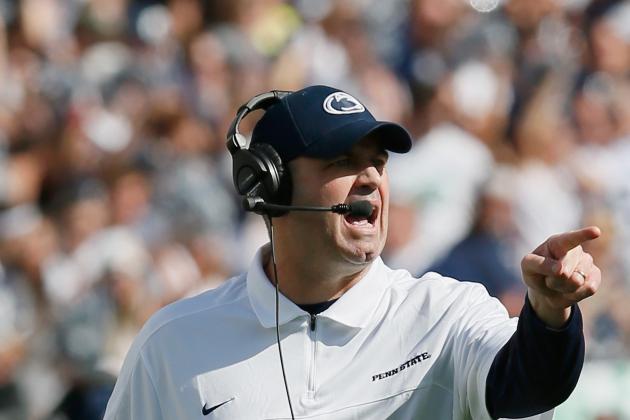 Rob Carr/Getty Images

Nearly every possible head coaching candidate has been linked to the Philadelphia Eagles.
Management could go with an intriguing coordinator like Denver's Mike McCoy or Atlanta's Dirk Koetter. There's the option of a former Super Bowl champion a la Jon Gruden or Brian Billick. And then there's a former head coach flop who could resurrect his career with the Eagles (Mike Nolan or Josh McDaniels).
But Bill O'Brien would fit better than any of those guys. O'Brien's resume speaks for itself. He took over a depleted Penn State program and led them to an 8-4 record in year one, earning the Big Ten Coach of the Year award.
Before that, O'Brien was the quarterback coach and offensive coordinator for the New England Patriots; helping the team to two Super Bowls in five years. He is just 43 years old still and he instantly turned around the Penn State Nittany Lions in 2012.
O'Brien coaxed a career season out of Penn State quarterback Matt McGloin in 2011. McGloin went from a 54.1 completion percentage and eight touchdowns against five picks in 2010 to a 60.5 completion rate, 24 touchdown passes, and still just five interceptions.
If O'Brien could work his magic with Nick Foles, that would really help the young quarterback. The most impressive part of O'Brien's year with Penn State was the instant success he saw, winning games immediately in year one.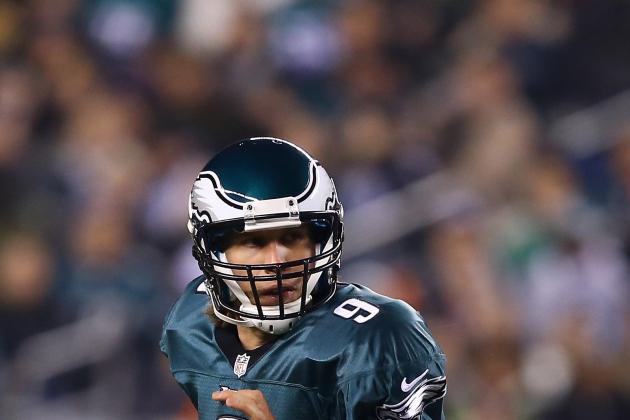 Al Bello/Getty Images

It's way too early to know for sure if Nick Foles is the guy in Philadelphia. He was just a third-round rookie playing behind a makeshift offensive line, and he did much of his work without LeSean McCoy and DeSean Jackson.
But the results bode well for Foles' future. He completed 60.8 percent of his passes, the fifth-highest total by a rookie in NFL history. He threw more touchdowns than interceptions and pulled off a dramatic walk-off win over the Tampa Bay Buccaneers.
More than his numbers, Foles looked confident and poised in the pocket, far beyond his years. He should fare significantly better in 2013 with an entire offseason as the starting quarterback.
If he doesn't make it, the Philadelphia Eagles can move on. But they have to give the Foles era a legitimate chance.
As for the backup signal-caller behind Foles, the Eagles should bring in a guy that won't challenge Foles at all. It's no use trading for a player like Kirk Cousins or Colt McCoy. Foles needs to know he is the quarterback of this team. Possible options for the backup position include Matt Leinart, Byron Leftwich, or Tarvaris Jackson.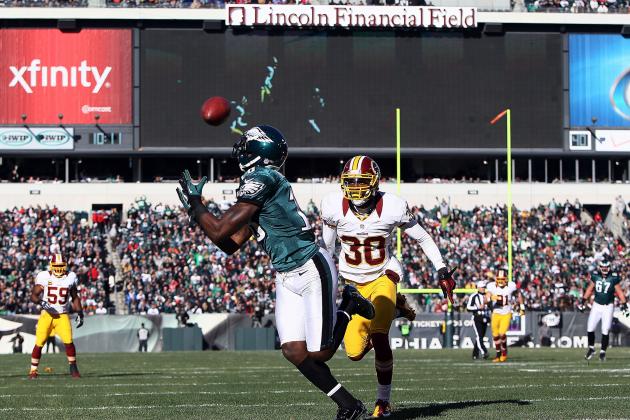 Alex Trautwig/Getty Images

There has been talk about the Philadelphia Eagles trading Jeremy Maclin this offseason. After all, he's set to become a free agent after the 2013 campaign, and the team already has $51 million invested in DeSean Jackson over five years.
But Maclin is every bit as good of a wide receiver as Jackson already, and he's due just $4.2 million against the cap in 2013. That's an extremely favorable price to pay for a receiver of Maclin's caliber.
Maclin has never had a breakout season or even totaled 1,000 receiving yards. But he has averaged 64 catches for 860 yards and six touchdowns since he was drafted in 2009. He's one of just five receivers in NFL history with 250 receptions, 3,500 yards, and 25 touchdowns before his 25th birthday.
Al Bello/Getty Images

When the Philadelphia Eagles added Dominique Rodgers-Cromartie and Nnamdi Asomugha in the 2011 offseason, they expected to have the NFL's stingiest pass defense.
After all, that unit already included Asante Samuel, a ball hawking playmaker in his own right. But it backfired dramatically.
The Eagles ranked just 10th in passing defense, 11th in net yards allowed per attempt, 17th in interceptions, and 24th in touchdowns. The team was even worse in 2012, ranking 30th in interceptions, 31st in passer rating, and 32nd in touchdown passes allowed.
DRC has a ton of talent but he's set to hit the open free agent market. Retaining a 25-year old with a Pro Bowl on his resume would likely cost every bit of $50 million over five years. That's a ridiculous amount to pay for a corner that plays when he wants to.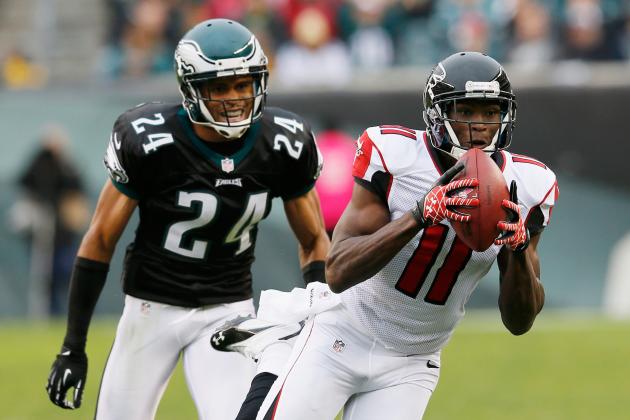 Rob Carr/Getty Images

Nnamdi Asomugha is a tricky situation. He's an extremely talented corner who has vastly disappointed in two seasons with the Philadelphia Eagles.
Asomugha was burned for five touchdown passes and a 120.6 passer rating this season. That's the sixth-worst mark among 112 qualifiers at the cornerback position.
Asomugha is due to earn a base salary of $15 million in 2013, which is an absurd amount of money to pay for a corner that isn't particularly good. Releasing Asomugha would cost the Eagles a $4 million cap penalty, but as ridiculous as it sounds, it's worth the money to get Asomugha off the squad.
He's notoriously known as a poor tackler, he's already 32 years old, and he's now a terrible cover corner.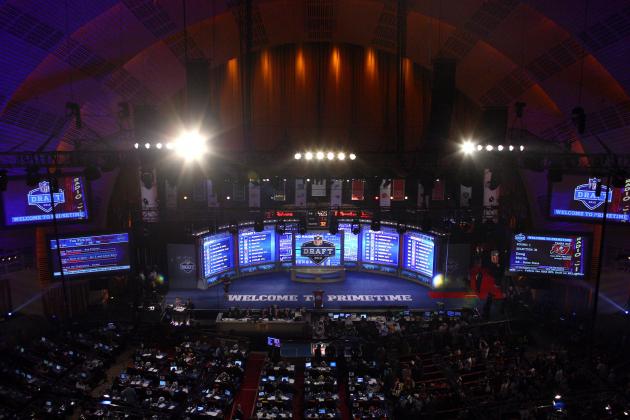 Chris Chambers/Getty Images

The Philadelphia Eagles are slated to pick the highest they've picked since the 1999 NFL draft. Unfortunately, the talent pool is as thin as it's been in recent years, and there's no standout player at the top of the board.
Geno Smith may go to the Kansas City Chiefs at pick one, but then again, a quarterback may not go in the top several picks. The Eagles could certainly use a talent like Manti Te'o or Luke Joeckel, but either one could be gone by pick four.
At this point, the best strategy for the Eagles would be to try to sell out of their pick. Teams are always looking to trade up to get in position for their player, and the Eagles may be able to get the fourth overall pick for a pair of lower first round picks (St. Louis Rams, anyone?).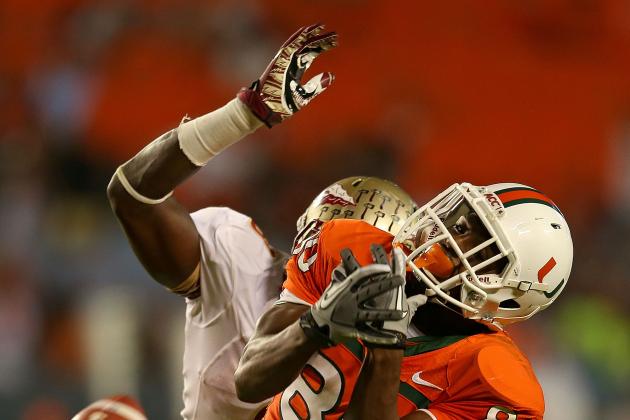 Mike Ehrmann/Getty Images

Andy Reid's most underrated NFL draft was 2002, when he selected Lito Sheppard, Sheldon Brown, and Michael Lewis with his top three picks (plus Brian Westbrook at pick four).
Those three established the foundation of a Philadelphia Eagles secondary that was ferocious for a number of years. The Eagles would be wise to repeat their strategy in 2013, picking a cornerback (Johnthan Banks or Xavier Rhodes) with one selection and a safety (Kenny Vaccaro or Matt Elam) with their other pick.
Those two would be starters from day one for the Eagles, first because of necessity but also because of their natural talent. Spending the team's second round pick on a corner again would be adding depth (or even another 2013 starter) to the positional group.
Brandon Boykin and Curtis Marsh would be the veterans of the 2013 cornerback team, although neither appears to be ready to start yet.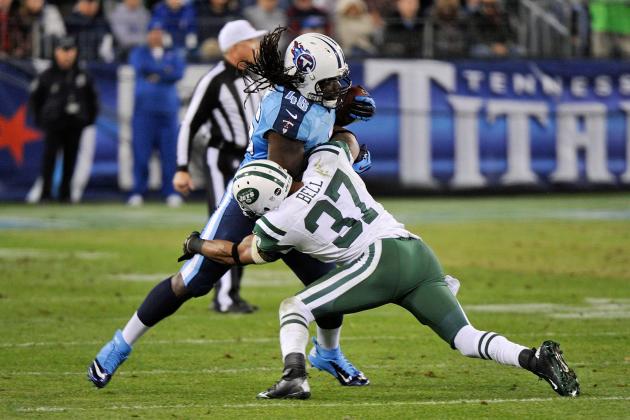 Frederick Breedon/Getty Images

Kurt Coleman and Nate Allen just aren't starting safeties at the NFL level. The Philadelphia Eagles have struggled to find a leader and playmaker at safety since they let Brian Dawkins and Quintin Mikell go.
Countless draft picks like Allen, Coleman, Jaiquawn Jarrett, and Macho Harris have failed miserably. Veterans like O.J. Atogwe and Marlin Jackson were busts as well.
Hopefully Yeremiah Bell won't join the group. He played well on a one-year stint with the New York Jets. Rex Ryan went with a pair of aging safeties on one-year deals (LaRon Landry was the other). Considering Landry made the Pro Bowl, it's likely the Jets will re-sign him.
Bell wouldn't be the long-term answer at all for the Eagles. But he would provide a two-year stopgap or so along with the other first-round starter. Bell is a solid player in run defense, he tackles well, and he's a veteran leader. That's worth trying out for a free agent contract.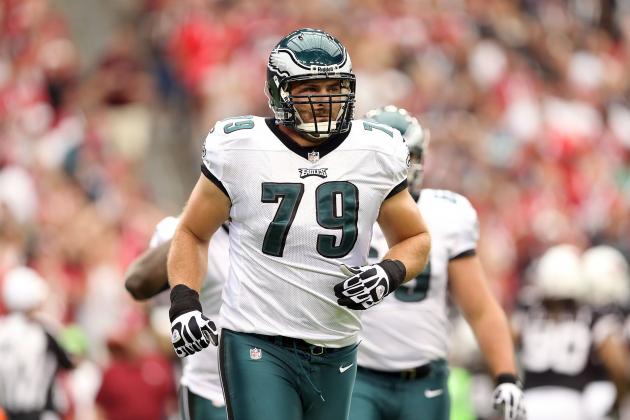 Christian Petersen/Getty Images

The Philadelphia Eagles' offensive line was a mess in 2012, surrendering the fifth-most sacks in the league. Jason Peters' injury was absolutely devastating but the team was also dealt tough blows with the losses of Jason Kelce and Todd Herremans.
Assuming everyone returns to full health in 2013, this unit should be much-improved. Peters played at an All-Pro level in 2011 and Evan Mathis was arguably the best guard in football this past season. Kelce is an up-and-coming center and Herremans is a quality right tackle.
The only blemish on the line comes in right guard Danny Watkins, the 2011 first-round pick who hasn't lived up to his billing. Watkins may need a change of scenery though and will spend 2013 under the tutelage of a different offensive line coach.
If Watkins flops, it might be a good idea for the Eagles to bring back veteran Jake Scott. Signing a center/guard like Green Bay's Evan Dietrich-Smith would also add depth to the line.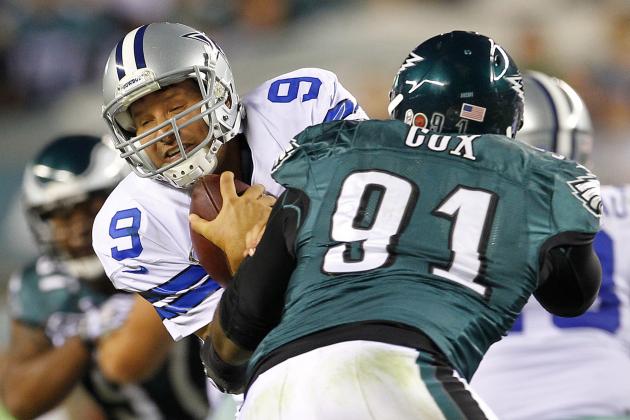 Rich Schultz/Getty Images

Whatever the Philadelphia Eagles tried with their defensive line this year, it didn't work.
The wide-nine was a colossal bust. Gone is Jim Washburn and that scheme, along with its product Jason Babin, who was a one-trick pony, if there ever was one. Following Washburn and Babin out of town should be players like Derek Landri, Phillip Hunt, Darryl Tapp, and even Cullen Jenkins.
The first three simply didn't make plays in 2012. Jenkins is still a talented player but he's costing the Eagles $6.5 million against the cap in 2013. Fletcher Cox is the future of the defensive line and Mike Patterson may have a few years left in him. The Eagles also like Cedric Thornton a lot on the interior line.
Trent Cole's play really dropped off in 2012, but he's still a terrific player against both the pass and the run. Brandon Graham broke out this past season and second-round rookie Vinny Curry showed flashes of strong play.
Adding another lineman in the fourth round would be a good move, and this should at least put the Eagles back near the middle of the pack in sacks.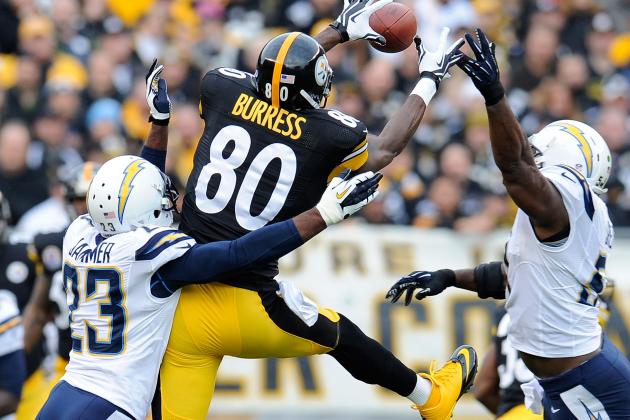 Joe Sargent/Getty Images

As tempting as it may be for the Philadelphia Eagles to sign a slew of free agents, it's not a good idea. Sure, Anthony Spencer would help the outside linebacker corps immediately. William Moore or Jairus Byrd would be a Hall of Famer next to Kurt Coleman and Nate Allen. And Plaxico Burress would be a big red-zone target next to Jeremy Maclin and DeSean Jackson.
But remember what happened when the Eagles tried to build their own dream team two offseasons ago? It failed miserably, costing Andy Reid his job.
The Eagles may not be competitive next year. There were a lot of holes on this team and it's a quarterback-driven league. If Nick Foles isn't good, the Eagles won't be good. The new head coach needs a window of time to make the Eagles competitive again.
Bill Belichick went 5-11 in his first year with the New England Patriots. Mike Shanahan went just 8-8 with John Elway and the Denver Broncos. Even the great Vince Lombardi was just 7-5 and missed the playoffs.
The ideal plan would be positive signs in 2013 that the franchise is going in the right direction, a playoff appearance in 2014, and a deep postseason run in 2015.