The Biggest Winners & Losers of NFL's Black Monday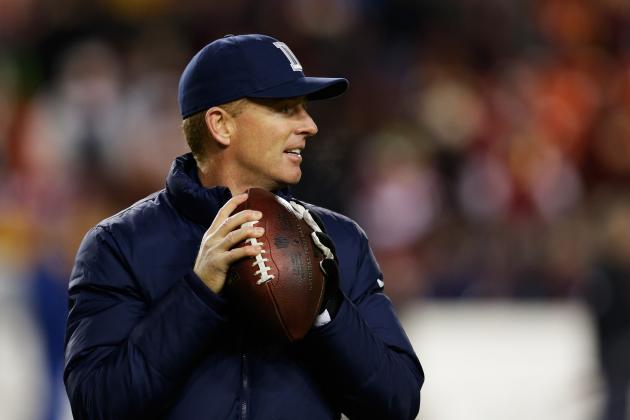 Rob Carr/Getty Images

Black Monday is full of winners and losers. The first day after the end of the regular season is the first day of the rest of many NFL head coaches' lives. Some will be lucky enough to land one of only 32 available positions at the top of their profession; others will spend the foreseeable future honing their golf games full-time.
For teams having mildly disappointing seasons, it can come as a shock.
For teams having poor seasons, a lack of change can come as a shock.
For NFL teams with outstanding assistants, or college teams with outstanding head coaches, it could mean the end of their successful tenure.
For NFL teams making a change in coaching staff, front office or both, it means a huge amount of uncertainty and stress.
For those getting hired, it's the opportunity of a lifetime
Who are the biggest winners and losers of Black Monday 2012? Click "Next" to find out.
Begin Slideshow

»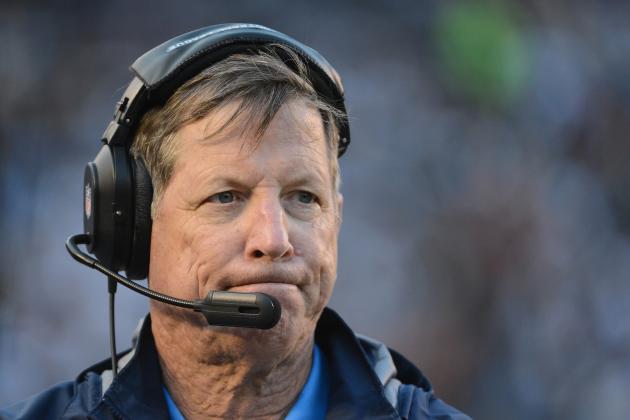 Harry How/Getty Images

The Chargers franchise got a big boost when it dumped head coach Norv Turner and general manager A.J. Smith.
Turner's teams were always less than the sum of their parts, and A.J. Smith's recent drafts haven't made up for his hard-to-work-with reputation.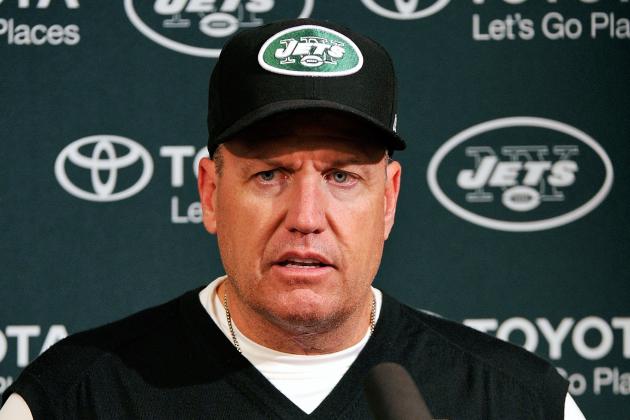 Frederick Breedon/Getty Images

Rex Ryan couldn't get it done in 2012. Now, he'll have to do it without his general manager Mike Tannenbaum, his offensive coordinator Tony Sparano and, likely, any of his three current quarterbacks.
Maybe he'd have preferred to be fired.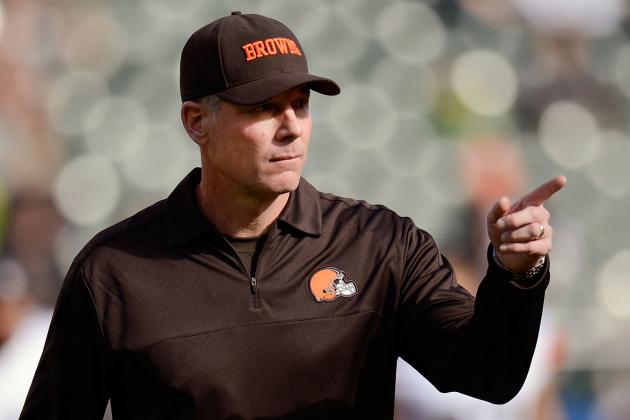 Thearon W. Henderson/Getty Images

Yeah, Pat Shurmur technically got fired by the Cleveland Browns. But really, he was released from a dead-end job, free to return to his true calling in life: offensive assistant.
Shurmur should have no problem finding a quarterback coach or offensive coordinator job he'll excel at.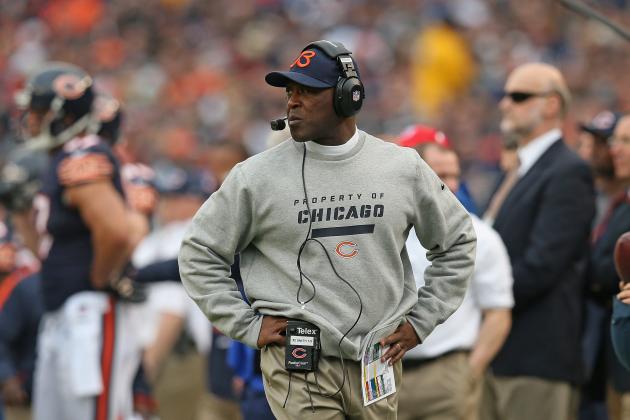 Jonathan Daniel/Getty Images

After about six consecutive years of mortgaging the future to win now, the Bears missed the playoffs in 2012—and now, the future Lovie Smith and the Bears mortgaged is here. Time to pay the bill.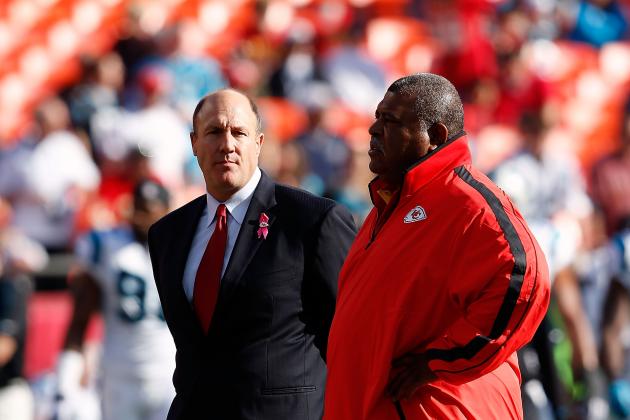 Jamie Squire/Getty Images

Kansas City Chiefs general manager Scott Pioli managed to avoid the Black Monday axe, but not Romeo Crennel—the second coach Pioli has hired.
General managers typically aren't afforded the luxury of hiring three coaches; if Pioli is truly safe, he's truly a big winner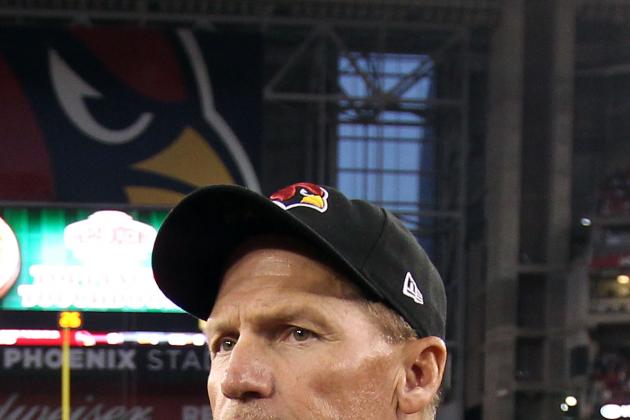 Christian Petersen/Getty Images

When the perennially laughable Cardinals hired Ken Whisenhunt away from the perennially successful Pittsburgh Steelers, it was supposed to be the end of the Cardinals' woes.
When Whisenhunt led the Cardinals to three straight not-losing seasons, including two playoff berths and the franchise's only Super Bowl appearance, the future was supposed to have arrived.
But after three straight not-winning seasons Whisenhunt is gone; the Cardinals look much like they did when he arrived.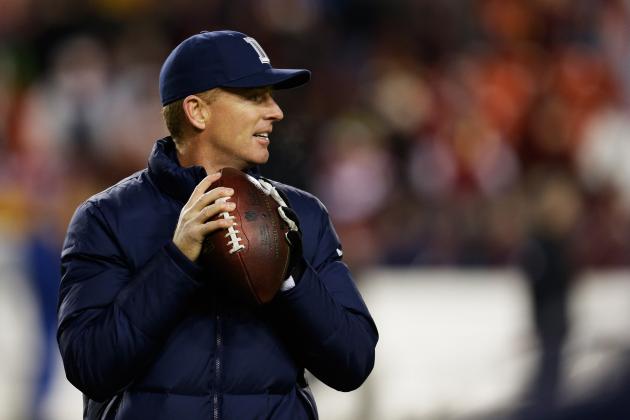 Rob Carr/Getty Images

Every season, the Cowboys seem to generate a lot of Super Bowl hype. But often, they end up hovering around .500; they've only netted double-digit wins three times since the turn of the century.
Despite never following Super Bowl hype with a winning season in the two-and-a-half years at the helm, Garrett's survived.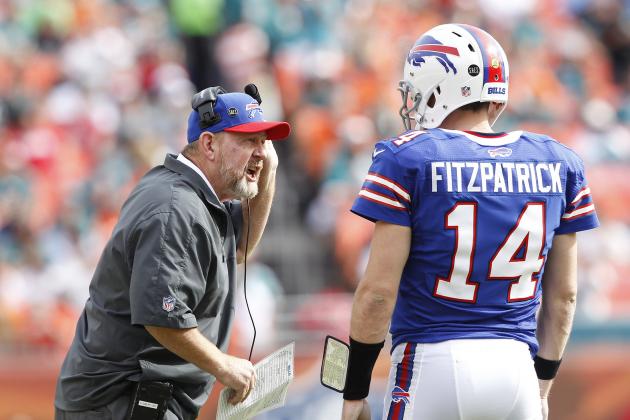 Joel Auerbach/Getty Images

Fitzpatrick, a whiskered Harvard grad, has always been an odd duck of an NFL quarterback. His ex-head coach, Chan Gailey, has always been an odd duck of an NFL head coach.
Now that Gailey's been fired, Fitzpatrick might be the odd duck out.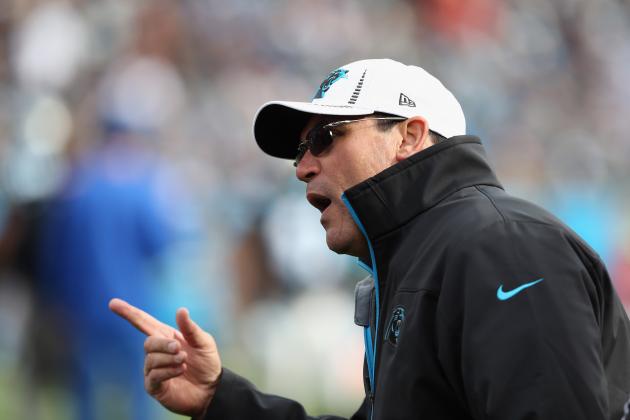 Streeter Lecka/Getty Images

Ron Rivera was riding high last season, after his No. 1 overall pick quarterback, Cam Newton, looked like a Hall of Famer in the making. When Newton looked like, well, a rookie at the beginning of 2012, Rivera seemed a sure bet for the unemployment office.
But Newton recovered his form down the stretch, and the Panthers closed the season on a 5-1 tear. Rivera gets another shot to carry that momentum into 2014.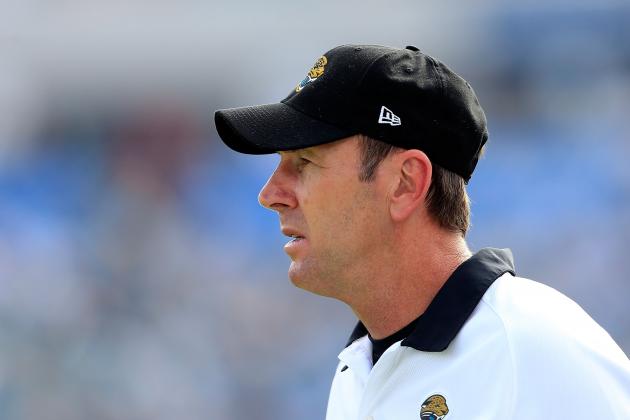 Sam Greenwood/Getty Images

Mike Mularkey didn't walk in to the best situation in Jacksonville. He inherited a second-year quarterback coming off an awful first year and a new owner determined to put his stamp on the franchise.
Mularkey couldn't make lemonade out of lemons, going 2-14, and general manager Gene Smith got the axe. Mularkey wasn't granted the same release; now he'll have to twist in the wind until either the new GM hires a new head coach, or Black Monday 2014.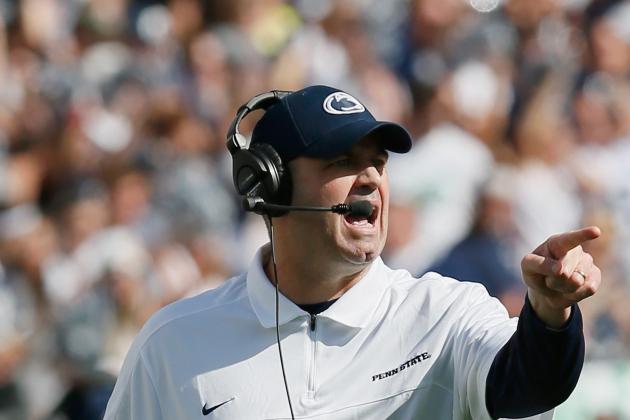 Rob Carr/Getty Images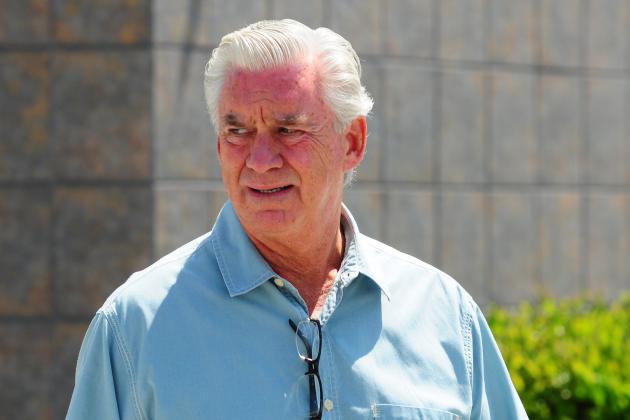 Kent Horner/Getty Images

Former Chargers general manager A.J. Smith, famous for identifying talent in the draft and being difficult to work with, reversed course on both of his two most famous traits: he seemed to work well with now-fired head coach Norv Turner, and he stopped identifying talent in the draft.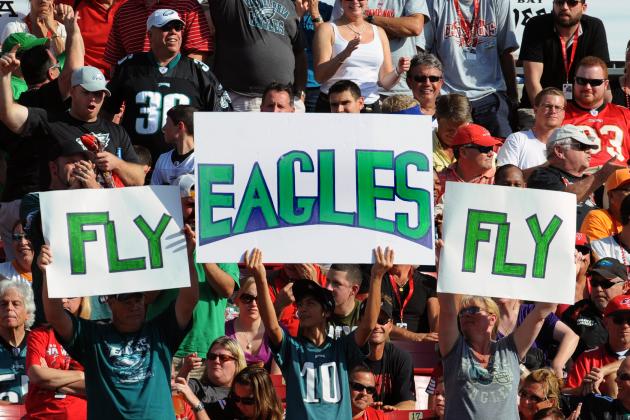 Al Messerschmidt/Getty Images

Head coach Andy Reid is gone after 14 seasons. He oversaw eight double-digit-win seasons, seven division titles, a Super Bowl appearance and just three losing seasons. Eagles fans should celebrate his tenure.
But Reid has lost whatever magic he had in Philly; 2012 was an awful season for him—personally and professionally. Eagles fans should celebrate the beginning of a new era.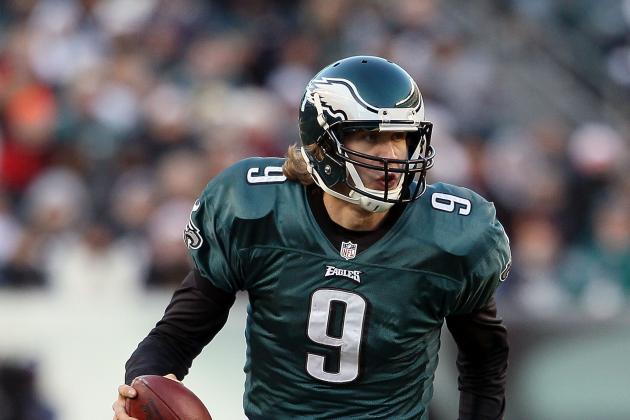 Alex Trautwig/Getty Images

Rookie quarterback Nick Foles was off to a great start under deposed head coach Andy Reid; now he's got Quarterback of the Future pressure on him when the future is murky at best.
A change in coach or offense can derail any young quarterback's career; Foles can only hope for a quick, auspicious hire.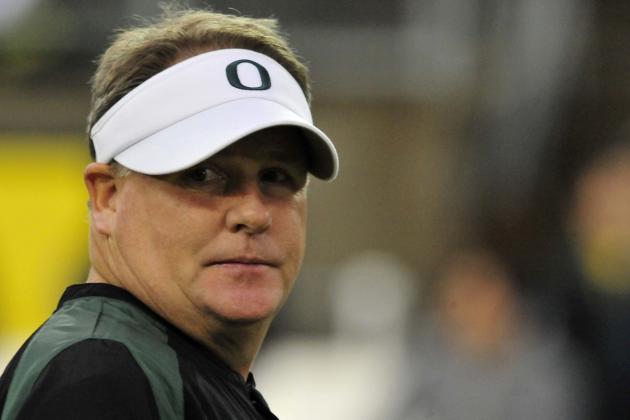 Steve Dykes/Getty Images

Oregon head coach Chip Kelly has been a hot name for several years running. This year, Kelly's name is the hottest among potential head coaching prospects—and a lot of great franchises with talent at quarterback just happen to be in the market, including the Chicago Bears and Philadelphia Eagles.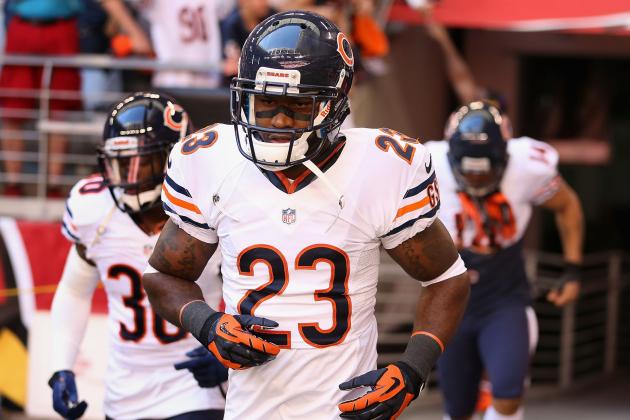 Christian Petersen/Getty Images

When the Minnesota Vikings defeated the Green Bay Packers in Week 17, Hester and the Bears knew they'd be staying home for the playoffs. They didn't know their head coach, Lovie Smith, would soon be sent packing.
Hester, according to ESPNChicago.com, was so surprised and upset Monday he's considering retirement. Bears captain Brian Urlacher downplayed the comment, saying "We're going to say some things that we don't mean."
Even if he plays next season, though Hester and the rest of the Bears are facing the end of their era.