NHL Season 2013: Players Who Will Benefit Most from Lockout-Shortened Season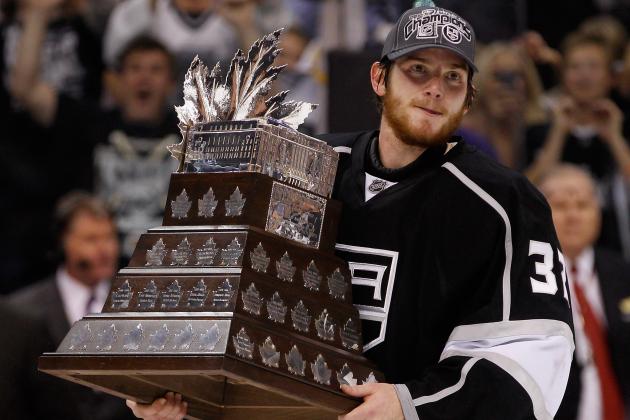 Bruce Bennett/Getty Images

The NHL lockout has lasted for almost four months, and while the game and sport have been damaged as a result of the recent tentatively ended labor dispute, a number of players will benefit from the late start to the 2012-13 season.
Players who will benefit from the shortened season include upcoming free agents, aging veterans, young prospects who played in the AHL/overseas during the lockout and players recovering from injuries.
Let's look at the players who will be helped the most from a lockout-shortened season.
Begin Slideshow

»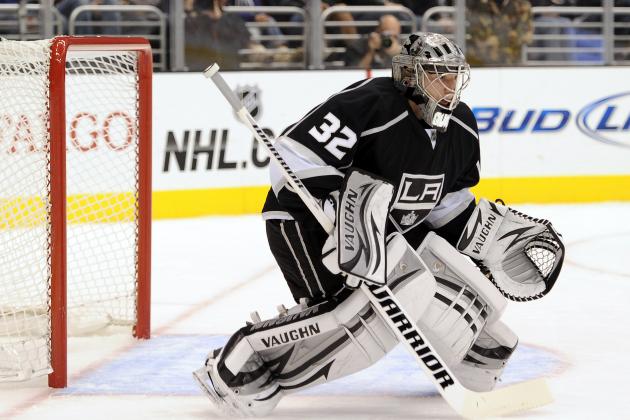 Harry How/Getty Images

Jonathan Quick led his Los Angeles Kings to the team's first-ever Stanley Cup triumph last season with a remarkable postseason performance that resulted in him winning the Conn Smythe Trophy as playoff MVP.
He started 69 games for the Kings last year because the team was struggling offensively for much of the season and needed his strong goaltending. It was the second most games he had ever started in a regular season.
Quick then played all 20 of the Kings' playoff games, bringing his games-played total to 89, 11 more than his previous career high. He had never played beyond the first round of the playoffs before last season, so going through a grueling four-round playoff run was unfamiliar to Quick.
Not only was that experience tiring mentally and physically, he also underwent back surgery in August. Craig Custance of ESPN has the latest update on Quick's situation:
Jonathan Quick heading to LA tomorrow to have his back examined by doctors in hopes of getting cleared medically.

— Craig Custance (@CraigCustance) January 2, 2013
Having some extra time off due to the lockout will benefit Quick tremendously because if he had to rush back from back surgery to start the season in net, that would have been a risky situation for the Kings.
For the Kings to avoid the "Stanley Cup hangover," they need a healthy Quick to start the year. The lockout has allowed Quick to recover from surgery and not miss a large portion of the season.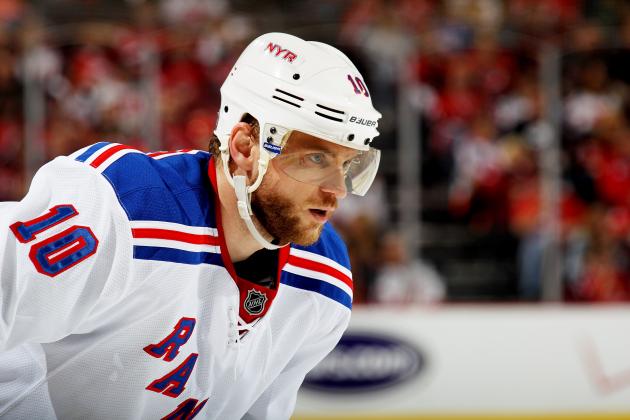 Bruce Bennett/Getty Images

Marian Gaborik is one of the New York Rangers' most valuable players, and even after the team acquired star winger Rick Nash from the Columbus Blue Jackets in the summer, head coach John Tortorella will need a healthy Gaborik for a successful playoff run.
Gaborik battled a shoulder injury throughout last year's playoffs, and it was clearly preventing him from playing consistently at a high level.
He had surgery on his shoulder during the offseason and wasn't expected back until sometime in December or January.
The lockout has given him plenty of time to recover from surgery without having to rush back to the Rangers lineup.
A healthy Gaborik to start the season would be a major boost to a Rangers team that needs his goal-scoring after losing some forward depth in the Nash trade.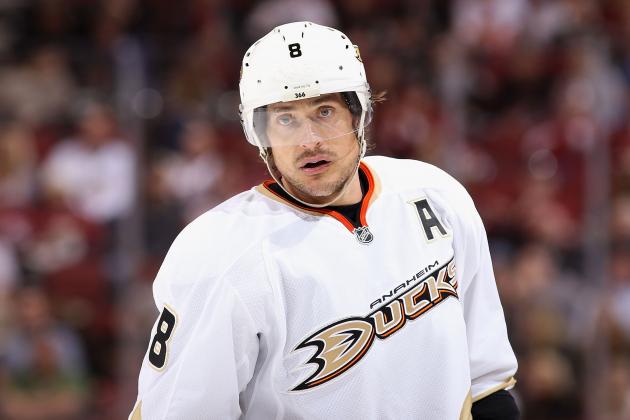 Christian Petersen/Getty Images

Teemu Selanne is 42 years old and has played 19 NHL seasons, so having an extended offseason will help him come into the 2012-13 season healthy and ready to lead the Anaheim Ducks in scoring for the second consecutive season.
Selanne's offensive production dropped 14 points last season, which wasn't a surprise given his age.
However, with a few more months to prepare for what could be his final NHL season, Selanne will enter this year very motivated to finish his career as a top-tier player, not someone on the decline.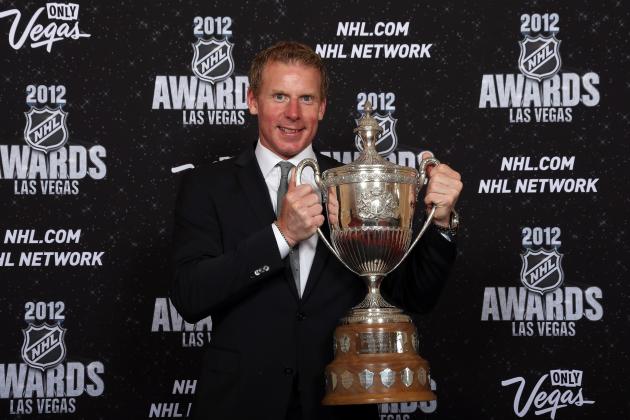 Bruce Bennett/Getty Images

If a cancelled season due to the lockout forced Ottawa Senators captain Daniel Alfredsson to retire, it would have been one of the saddest stories of the year.
Now that we will have hockey this year, Alfredsson can leave the the sport the right way, and receive the standing ovation he deserves when the season ends and his career comes to a close (if he chooses to retire).
Alfredsson hasn't made an official decision on whether or not he will retire, but since he's had a few extra months to be with his family because of the lockout, he might as well come back for one more season.
Even at age 40, Alfredsson can still be a productive offensive player for a Senators team that should make the playoffs for a second straight year.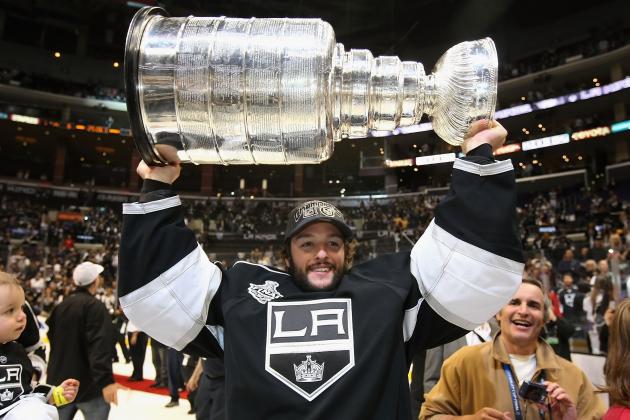 Christian Petersen/Getty Images

Playing more games per week than in a normal schedule will be tough for all players, but for goaltenders, the compressed schedule could be even more demanding.
Since Jonathan Quick is so important to the present and future success of the Los Angeles Kings, head coach Darryl Sutter would be wise to use talented backup Jonathan Bernier more often this year to give Quick enough rest to ensure he's ready for another lengthy playoff run.
Bernier should have extra opportunities to showcase his talents this season, which would help him in two ways.
If he performs at a high level, the increased playing time would boost his trade value so he could go to a team and be the starter. It would also strengthen his chances in free agency of making the most money possible as an RFA.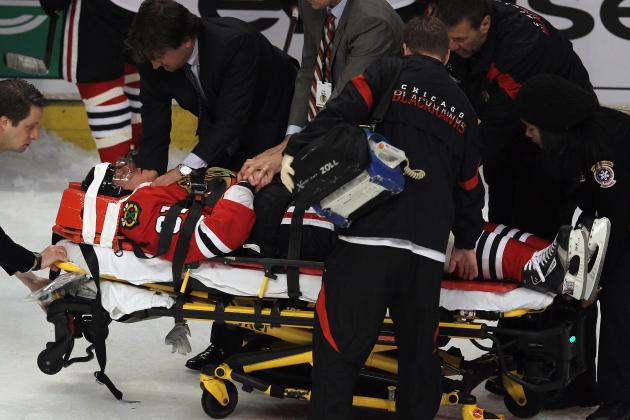 Jonathan Daniel/Getty Images

Marian Hossa suffered a concussion in Game 3 of the Chicago Blackhawks' first round playoff series against the Phoenix Coyotes last season when Raffi Torres hit him in the head illegally.
Hossa hasn't played in an NHL game since that hit, and if there wasn't a lockout, he would have missed quite a few regular season games because he was just given the OK to play last month (via Chris Kuc of the Chicago Tribune):
According to a source, #Blackhawks winger Marian Hossa has been medically cleared by team following recovery from concussion.

— Chris Kuc (@ChrisKuc) December 12, 2012
Now that he has had plenty of time to fully recover, Hossa will be ready to build off his impressive 2011-12 season, which was his best as a member of the Blackhawks.
He scored 77 points in 81 games last year and also improved his points total in each of the last two seasons.
Having extra time off to prepare himself physically for another important season in Chicago will benefit Hossa tremendously.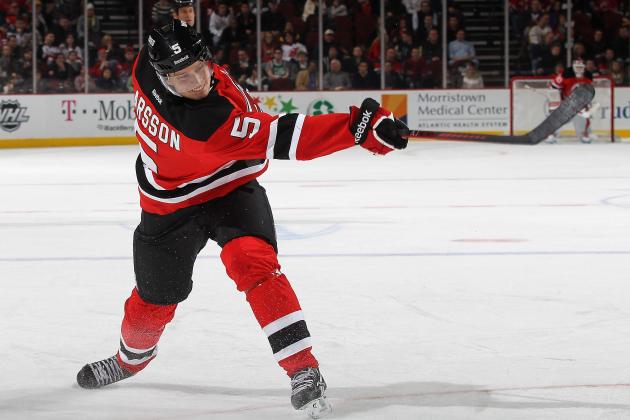 Bruce Bennett/Getty Images

This is a huge year for Adam Larsson because he has an opportunity to establish himself as one of the top young defensemen in the NHL.
The 20-year-old might have made his NHL debut a bit earlier than he should have, but there's no question that Larsson's two-way game is quite impressive.
After forwards Zach Parise and Alexei Ponikarovsky left the team in the summer, Larsson became a player who needs to improve his offensive production this season.
During the lockout, he has been able to work on the small things that help make a great defenseman as a member of the AHL's Albany Devils. He has also provided the Devils with consistent scoring, with 16 points in 29 games (3rd most points on the team).
The last few months have been crucial for Larsson's development, and his AHL experience will benefit him when he steps into a larger and more important role on the New Jersey blue line this season.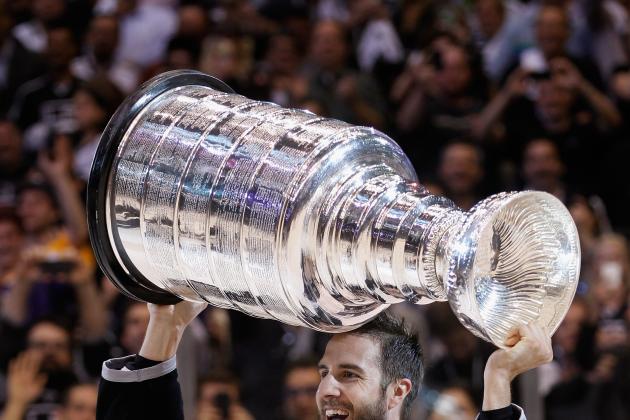 Bruce Bennett/Getty Images

Simon Gagne battled a concussion last season and was only able to play in 34 games, but he worked hard during his recovery and was able to return to the Los Angeles Kings and play in five postseason games.
He enters the 2012-13 season healthy and needing a fantastic season to earn what could be the last major contract of his career when he's eligible to become an unrestricted free agent in the summer.
When healthy, Gagne is a highly skilled top-six forward who can score 25-plus goals in a full season. He's also scored many clutch goals throughout his playoff career, and has 37 goals in 59 career playoff games.
Having some extra time off will allow Gagne to start the new season healthy and with an opportunity to show general managers that he can stay healthy.
If Gagne can be a productive offensive player and prove his durability this year, he will be a coveted player in free agency.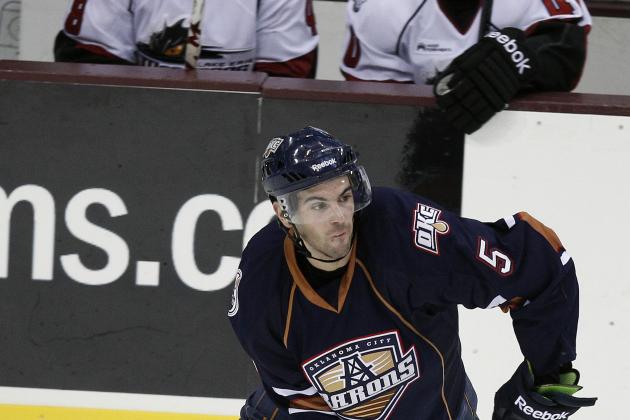 David Maxwell/Getty Images

Justin Schultz will benefit from the lockout-shortened season because he has been able to get to know many of his Edmonton Oilers teammates on the AHL's Oklahoma City Barons.
Playing with several of his future teammates and developing some important chemistry with them before his rookie season begins will help him make a smooth transition to the NHL.
Learning how to play with a new team is difficult in a shortened season because the intensity and importance of every game is increased compared to a regular year.
That said, adjusting to the NHL game will be a bit of a challenge for Schultz, but the experience he has earned in the AHL during the lockout with Taylor Hall, Ryan Nugent-Hopkins and Jordan Eberle will really benefit him in 2012-13.
Judging by his performances in the AHL thus far, he is definitely ready to begin his NHL career, and should be a Calder Trophy candidate.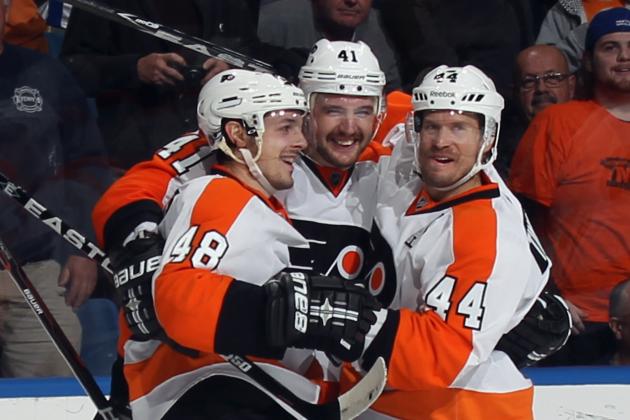 Bruce Bennett/Getty Images

There are a number of defensemen around the NHL who have benefited from the extra time off to recover from offseason surgeries and injuries suffered last season, but the Philadelphia Flyers blue line will benefit more than any other team.
Flyers defensemen Kimmo Timonen, Erik Gustafsson and Andrej Meszaros are all trying to recover from injuries before the season starts.
According to Tim Panaccio of CSNPhilly.com, it appears that Gustafsson and Meszaros could both be ready for the upcoming year:
good news on Erik Gustafsson: x-rays of foot negative after taking a shot there ... Giroux fine; MeszAros could play if a season in JAN

— Tim Panaccio (@tpanotchCSN) December 19, 2012
Timonen should also be ready for the new season, according to CBS Sports.
The Flyers need these three defensemen to be healthy because Chris Pronger still hasn't recovered from concussion-like symptoms (and probably will never return to the NHL).
The lockout will likely allow the Flyers to have their blue line intact for the most part to begin the season, which wouldn't have happened if the season began on time.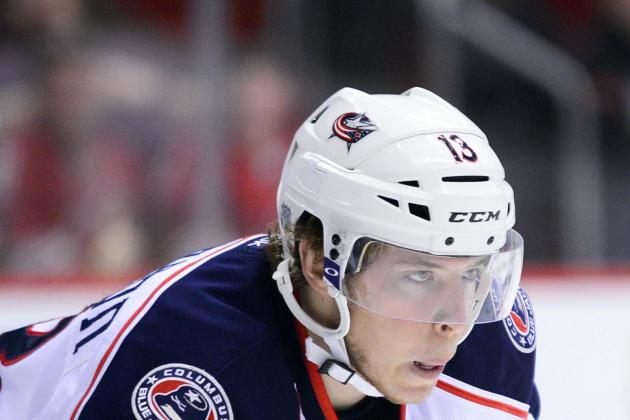 Matt Kartozian-USA TODAY Sports

The Columbus Blue Jackets are looking for the next "face of the franchise" after trading Rick Nash to the New York Rangers in June, and it's possible that top prospect Cam Atkinson could be that player.
Atkinson struggled at the beginning of last season but ended the year strongly with 10 points (five goals and five assists) in his final six games.
During the lockout, Atkinson has played in the AHL for the Springfield Falcons, and performed at a high level. He scored 17 goals with 21 assists in 32 games for the Falcons, and will leave the AHL to join the Blue Jackets as the league's third highest scorer.
Playing in the AHL against a lot of NHL players really gave Atkinson an opportunity to further improve his impressive offensive skills, which include a great wrist shot and playmaking ability.
When Atkinson arrives in Columbus for the new season, he will be ready for a top-six role because of the experience and improvement he made in Springfield. This is an important year for Atkinson as he prepares to play an important part in the Blue Jackets offense.
Matt Kartozian-USA TODAY Sports

Nashville Predators goaltender Pekka Rinne is one of the most valuable players in the NHL, and the lockout has given him a much-needed rest because he has played a ton of games over the last three seasons.
The total number of games that Rinne has played over the last four seasons has increased each year.
| | | | |
| --- | --- | --- | --- |
| Year | Regular Season | Playoffs | Total GP |
| 2008-09 | 52 | 0 | 52 |
| 2009-10 | 58 | 6 | 64 |
| 2010-11 | 64 | 12 | 76 |
| 2011-12 | 73 (T-1st in NHL) | 10 | 83 |
Rinne also played the second-most minutes of any NHL player last year.
Rinne's backup last season was Anders Lindback, who was traded to the Tampa Bay Lightning in the summer.
Without a top-tier backup, in addition to the large number of games he's played in recent seasons, this lockout has given Rinne a nice opportunity to rest and recharge for what should be a tough season for the Predators after losing star defenseman Ryan Suter in free agency.
The lockout has also allowed top Predators' defensive prospects such as Ryan Ellis and Roman Josi to develop as players and get ready to become NHL regulars. Both players will likely be expected to help replace Suter at some point this season.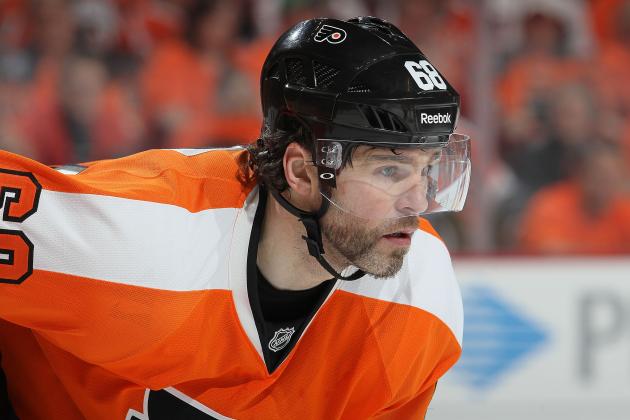 Jim McIsaac/Getty Images

Not only does Jaromir Jagr need a shortened 2012-13 season to help himself earn a new contract in the summer if he doesn't retire, but the extra time off should also help him finish this season better than he did last year.
He scored 12 points in the final 23 games (.52 points per game) of the 2011-12 season after scoring 42 points in his first 50 games (.84 points per game) for the Philadelphia Flyers.
Jagr also scored just one point in the Flyers' final six playoff games last year, and one assist and no goals in the five-game second-round series loss to the New Jersey Devils.
With additional time to prepare for his 19th NHL season and get to know his new Dallas Stars teammates, Jagr should have a better chance to finish the season strongly and help the Stars end their four-year playoff drought.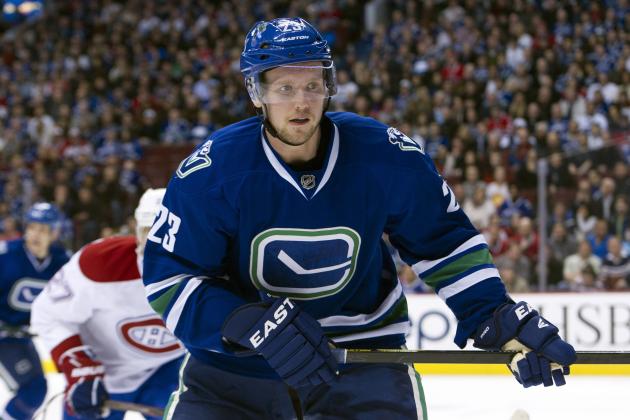 Rich Lam/Getty Images

Alexander Edler is going to be the best defenseman on the free agent market this summer if he doesn't re-sign with the Vancouver Canucks before July 1.
Edler is a top-tier offensive defenseman, but he needs a great season to earn a yearly salary of at least $5.5 million in his next contract.
Playing on a Stanley Cup contender such as the Canucks alongside some talented defensemen like Kevin Bieksa and Jason Garrison should help Edler have another productive season to strengthen his free agent resume.
Edler rose his points total by 17 last season and proved that he can be durable by playing in all 82 games. A similar year in 2012-13 would really help him earn a major payday in free agency.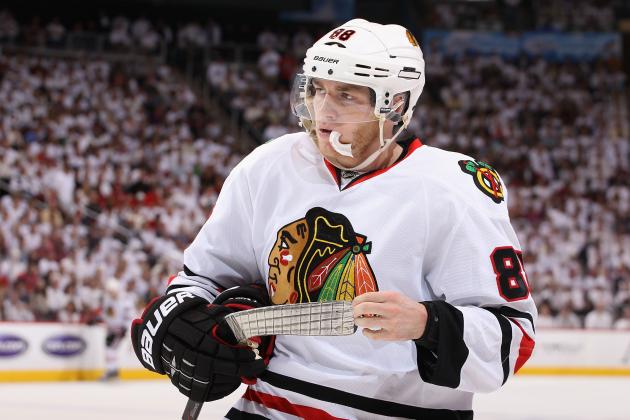 Christian Petersen/Getty Images

Patrick Kane is hoping to have a bounce-back season in 2012-13, and after scoring 11 goals in 19 games for Swiss team EHC Biel during the lockout, he should come into the year with a lot of confidence. Kane was also a valuable part of HC Davos' run to the 2012 Spengler Cup Final at the end of December.
The Chicago Blackhawks winger's points, goals and assists totals all declined in each of the last two seasons. For the Blackhawks to make another deep playoff run, they need Kane to regain his status as a point-per-game kind of player.
Having more time to focus on the upcoming season and prepare himself physically will only help Kane for what will be a very important year for him.