Updated Phoenix Suns Player Power Rankings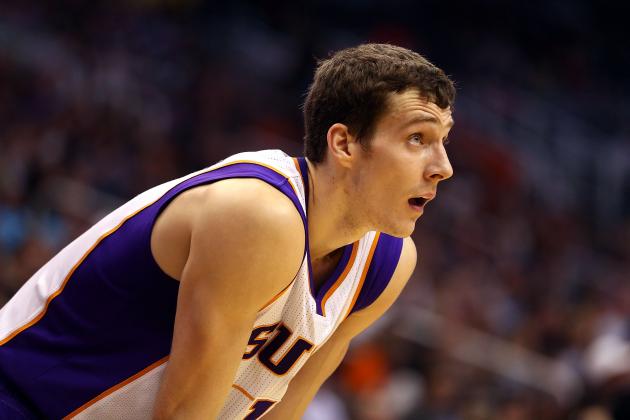 Christian Petersen/Getty Images

With two months of the regular season gone, who is the best Phoenix Sun?
The Suns have struggled early on, as their 11-20 record is only good for last place in the Pacific division. Still, while some players have failed to produce, others have flourished.
Now, let's take a look back at the first couple months of the season to determine who the best players on the roster truly are.
Begin Slideshow

»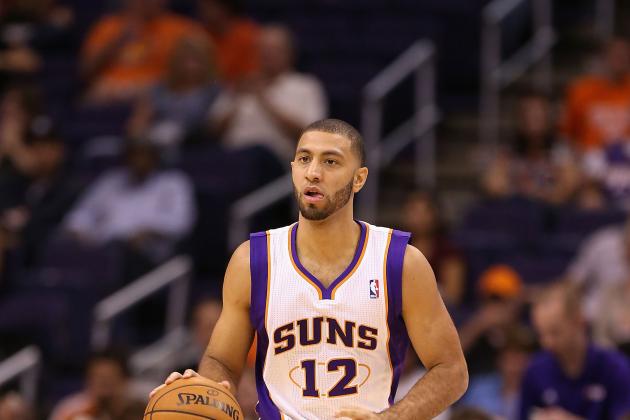 Christian Petersen/Getty Images

First, we start with the team's bench warmers.
Since none of these four players have gotten a significant amount of playing time, it's impossible to rank them against each other.
Wesley Johnson has played the most among this group. He has appeared in 12 games this season, posting averages of 2.3 points and 0.8 rebounds a game while shooting 33 percent from the field. Johnson is definitely a talented young player with some potential, but it seems unlikely that he will ever have a larger role with the Phoenix Suns this season unless someone else suffers a major injury.
Kendall Marshall was drafted by the Suns back in June, and many expected him to be the team's future point guard. However, Marshall is currently the third string point guard, and he has appeared in just eight games for a total of 46 minutes. In that time, he has shot 3-11 from the field and has dished out six assists, but has also committed four turnovers.
Luke Zeller is another player who hasn't seen much playing time this season, as Luis Scola and Markieff Morris are both ahead of him in the depth chart. Zeller has appeared in nine games this season and has shot 6-16 from the field.
Finally, there is Diante Garrett. Garrett joined the team just before the season started, but he rarely gets any playing time. He has appeared in just six games for a total of 30 minutes, and he has five points and seven assists in that time.
These players do occasionally get to play, but none will likely see their role with the team increase in 2013. Let's move on to the rotation players.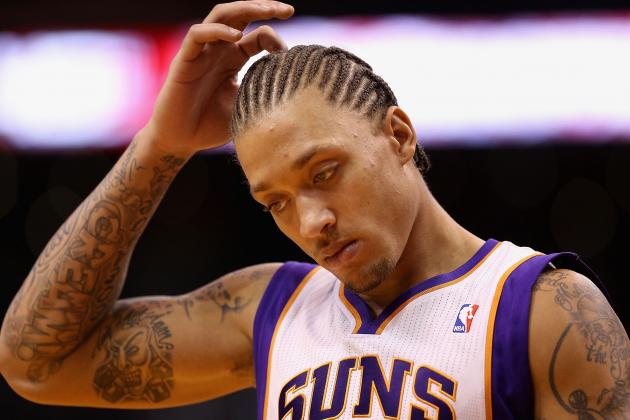 Christian Petersen/Getty Images

When the Phoenix Suns signed Michael Beasley to a three-year, $18 million contract this offseason, they certainly didn't expect him to be so awful.
Beasley is averaging 10.2 points and 3.5 rebounds a game this season, and he has also shot just 37 percent from the field and 32 percent from downtown. He also has a PER of just 10.0.
It would be nice if there was an encouraging part of Beasley's game to point to, but there doesn't appear to be anything positive. He has struggled consistently throughout the year. So much so that he has been moved to the bench and is playing just 15 minutes each game for the last 10 games.
Beasley is clearly not living up to expectations. He was supposed to be a promising young player with the potential to be the team's next go-to scorer, but instead he has just been a liability on both offense and defense.
But even so, Beasley has found success in the past. After all, he averaged almost 20 points a game for Minnesota just a couple of seasons ago. Perhaps he can't be a star, but hopefully he will be able to improve and climb up these rankings in 2013.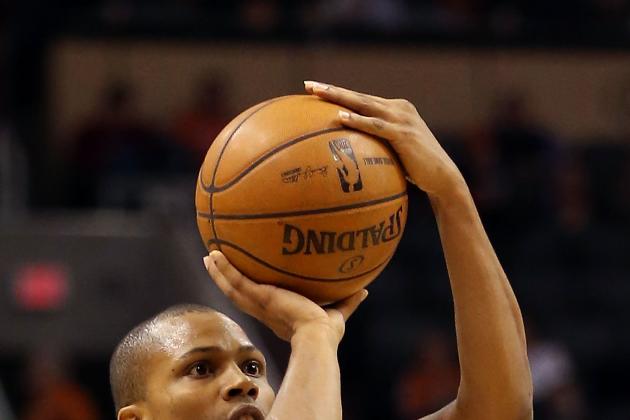 Christian Petersen/Getty Images

Nobody really expected Sebastian Telfair to play so many minutes with Kendall Marshall on the roster, but he has made the most of it.
Telfair is playing about 19 minutes a game as the team's backup point guard, and he's averaging 6.3 points and 2.8 assists a game, which is pretty good. Telfair is also a much better perimeter defender than Marshall, and that appears to be why he has won the respect of head coach Alvin Gentry.
However, Telfair also has plenty of flaws. For one, he is shooting a career low 37 percent from the field this season. He also shoots 74 percent from the free-throw line, which is subpar for a point guard.
Overall, Telfair has had a decent season thus far. He has had some nice performances, such as a game against the Indiana Pacers in which he put up 19 points and six assists, but Telfair often struggles to score, which is why he is so low on this list.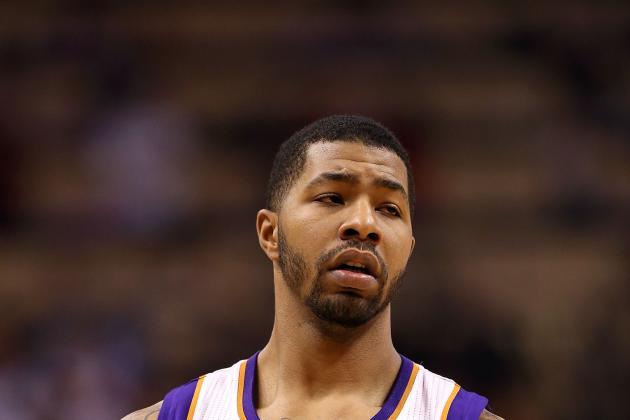 Christian Petersen/Getty Images

Last year Markieff Morris had a great rookie season, especially considering he was one of the bigger surprises of the draft. But now, Morris has failed to take the next step and take his game to the next level.
Right now, Morris is averaging 8.3 points and 4.6 rebounds in 21.4 minutes a game. He has especially struggled recently, averaging 6.1 points and 3.5 rebounds a game in his last 10 games while shooting 43 percent from the field and a dismal 17 percent from behind the arc.
Morris started for a stretch of 11 games earlier this season, and although he shows a lot of promise, he is still extremely inconsistent. He has had 20-point performances and double-doubles this season, but he can also go through weeks where he is completely incapable of making a shot.
Morris is clearly not ready to take the starting spot from Luis Scola, or at least not yet. First, he has to be able to perform on a consistent basis. If that happens, the Phoenix Suns could have a truly special talent for the future.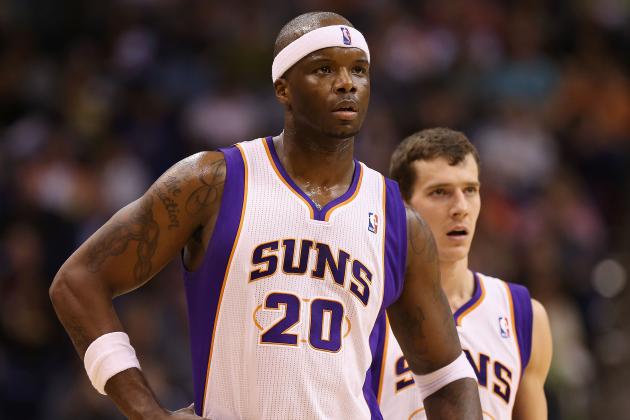 Christian Petersen/Getty Images

The Phoenix Suns are consistently praised for their world-renowned medical staff. Grant Hill, Steve Nash and Shaquille O'Neal are just a few players who likely had their careers extended by playing in Phoenix.
Now, Jermaine O'Neal might be the team's latest success story.
Coming into this season, O'Neal looked washed up. Although he was a multiple time All-Star for the Indiana Pacers, he played just 49 games total in his two seasons for Boston, and he struggled on the court even when he was healthy.
He may not be a superstar anymore, but O'Neal is definitely looking a lot better. This year he is averaging 7.1 points, 4.6 rebounds and 1.5 blocks in just 16.7 minutes a game, and he's also shooting 51 percent from the field.
O'Neal's value to this team has skyrocketed since the beginning of the season. Not only is he a veteran who can teach the younger players, but he has produced both offensively and defensively and has become one of the team's greatest and most consistent bench players. O'Neal has given Phoenix more than they could have asked for, and they should definitely look to re-sign him at the end of the season.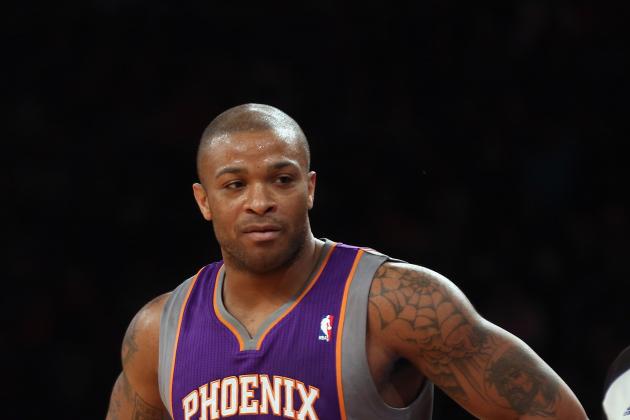 Bruce Bennett/Getty Images

Speaking of success stories, P.J Tucker's return to the NBA is an even more intriguing story than Jermaine O'Neal's.
The last time Tucker played in the NBA was in 2007, when he played 17 games for the Toronto Raptors. Since then, Tucker has played in both Europe and the D-League.
But with the way he has been playing this season, it looks as if Tucker may have found a more permanent home in the NBA. Tucker is averaging 4.4 points and 3.2 rebounds while shooting 52 percent from the field this season, but he has accomplished much more than that.
Tucker's incredible defense is immeasurable in the stat sheet. He is by far the team's best perimeter defender and is one of the only defensive-minded players on the roster. Sometimes, as in the case of J.R Smith, great defense is outdone by great offense, but Tucker's energy, hustle and effort in every single game is extremely valuable to the Phoenix Suns and often underrated.
Since the beginning of the season, Tucker has worked his way up the depth chart and he is continuing to earn more and more minutes for himself. He has established himself as the most valuable player on the bench, and if he continues to play like this, he may even earn a starting spot sooner or later.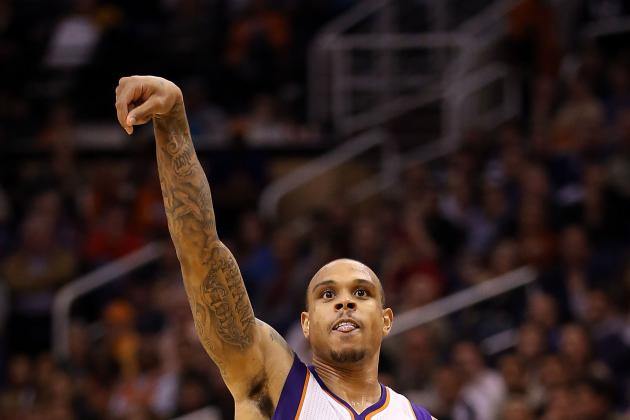 Christian Petersen/Getty Images

Shannon Brown is an interesting player. Sometimes you criticize him for being a black hole on offense, but as soon as he has a game in which he sinks six consecutive threes to lead the team to a victory, you can't help loving him again.
Overall, Brown has had a pretty good season, and he's been great recently. Brown has averaged 15.2 points and 3.9 rebounds over his last 10 games, but you have to accept that his hot streaks come and go. He has ridiculous games every once in a while, but he's shooting just 30 percent from deep this year, and the fact that he leads the team in shot attempts per game while shooting a low percentage often only hurts the offense.
So, while Brown does occasionally have his moment in the spotlight, he isn't really one of the team's best players. He will win a few games for the Phoenix Suns because of his clutch shots, but he just as easily loses the same amount of games because of his poor decision making, which is why he can't be placed in one of the top spots.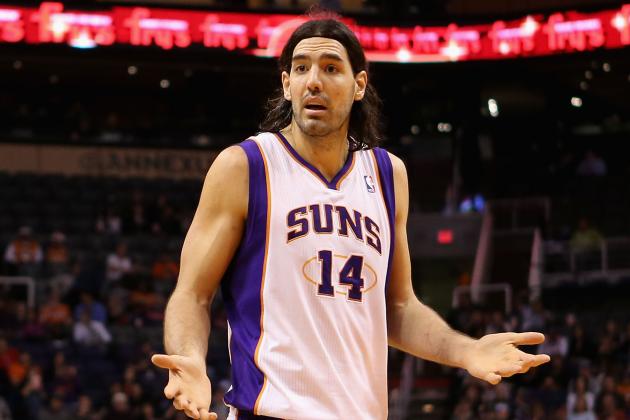 Christian Petersen/Getty Images

Luis Scola may not be having a fantastic season, but with such a cheap contract he can't be considered a disappointment.
Scola is averaging 12.4 points and 6.3 rebounds a game this season, but he's only playing 26.6 minutes a game and was benched for 11 games earlier this year. Based on his per 36 minute stats, Scola appears to be just as productive as he was last year.
Although Scola does appear to be fairly inconsistent, he generally performs very well when he is given a lot of minutes. Scola averages 18.6 points and 8.4 rebounds in games where he plays more than 30 minutes this year, and as shown by his 33 point performance against Minnesota, he can occasionally step up and be the team's go-to scorer.
Generally, Scola hasn't given Phoenix Suns fans much to complain about. However, his drop in field goal percentage is slightly worrisome. This is the fourth straight season that Scola has seen a drop in his field goal percentage, and he is now shooting 48 percent from the field, down from 53 percent a few years ago.
But again, Scola has definitely played to expectations this season. He's no superstar, but his contribution on offense appears to be one of the few bright spots for the team this year.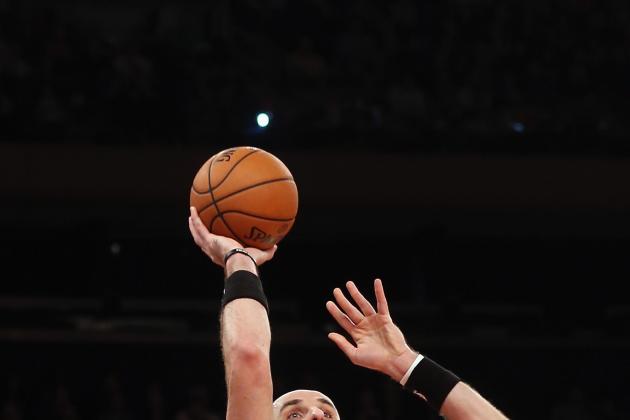 Bruce Bennett/Getty Images

It's obvious that Marcin Gortat has declined this year. He is averaging 11.3 points and 8.4 rebounds right now, down from 15.4 and 10.0 last season. But there have been plenty of positive aspects of Gortat's game too.
He may not be quite the same offensive player, but Gortat is the quarterback of the Phoenix Suns defense in the low post. While Luis Scola may be the main offensive post option, Gortat has been blocking a lot of shots down low and is a great defensive anchor for a mainly offensive-minded team.
But Gortat is definitely not a liability on offense either. Part of the reason his numbers are down is simply because he isn't being used as much on offense. Gortat is taking 9.1 shots a game, down from 11.7 last season, and his usage rate has gone down as well. But he is still shooting 53 percent from the field, and he has still been able to post double-digit scoring numbers 20 times this season.
Last season, Steve Nash's passing ability almost made Gortat an All-Star. While it's become apparent that he just may not be that All-Star caliber player Suns fans hope for, he has definitely been one of the biggest assets to this roster.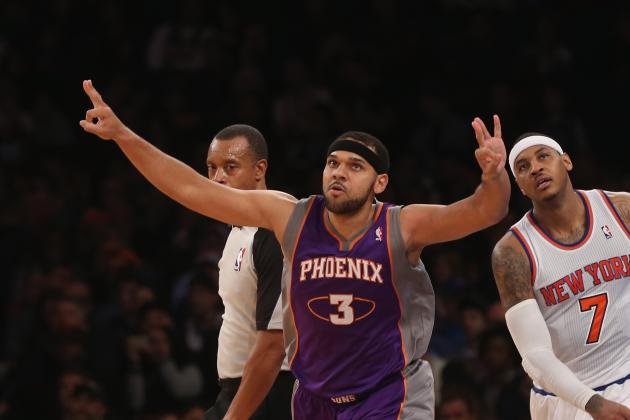 Bruce Bennett/Getty Images

Jared Dudley might have struggled at the beginning of the season when he started at shooting guard, but he has been on fire recently, and hopefully that trend should continue for the rest of the season.
Ever since he was inserted back into the starting lineup at small forward, Dudley has been fantastic. In his last 10 games, Dudley is averaging 18.4 points, 5.0 rebounds, 4.5 assists, and 1.5 steals a game while shooting 53 percent from the field. During this hot streak, he also put up a career-high 36 points against the New York Knicks.
Dudley has also seen a huge increase in minutes this month, showing that he has really earned the respect of Alvin Gentry. Dudley has logged over 40 minutes in three games this month, and he averages 24.3 points and has shot 63 percent from the field in those games.
Dudley is by no means a primary scoring option, but he can be lethal from long range and he has proven over the last month that he can be counted on to score 20 or more points every so often. He has been such a great scoring boost for a team in desperate need of a go-to scorer.
Unfortunately, Dudley did not really show up until December. Because of his poor performance at the start of the season, he can't be crowned MVP of the Phoenix Suns so far. But if he can continue this level of play for another couple of months, maybe he can climb up and steal the No. 1 spot on this list soon enough.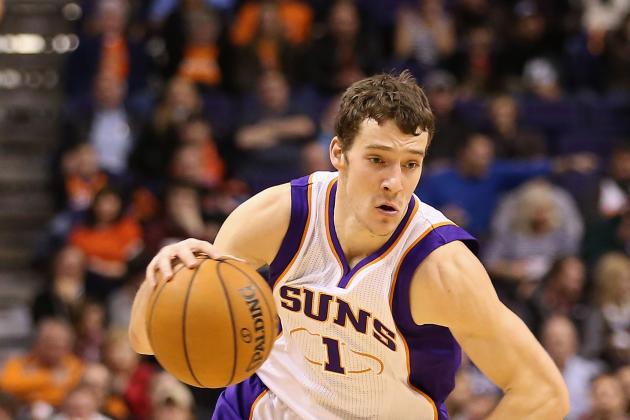 Christian Petersen/Getty Images

Goran Dragic might not be Steve Nash, but he's just about the best replacement the Phoenix Suns could have asked for.
This season, Dragic is averaging 14.2 points, 6.4 assists and 1.6 steals a game. He is also shooting 45 percent from the field and 35 percent from downtown, and he's been able to maintain a high assist percentage while having a career-low turnover percentage.
However, it remains to be seen if Dragic can maintain a high level of play for an extended period of time. He was great at the start of the season, but he is averaging just 11.9 points, 6.6 assists and .8 steals in his last 10 games. He has also struggled to score as of late, shooting 40 percent from the field, 27 percent from downtown and 65 percent from the line in those games, which are all awful numbers for a point guard.
But for now, Dragic remains crowned as the team's MVP. He's the closest thing to a go-to scorer the Suns have, and he's a hard worker who contributes on both ends of the floor. Yes, Dragic is definitely not the next Steve Nash in this franchise's history.
But he is the first Goran Dragic.