LSU vs. Clemson: Postgame Grades for Clemson's 2012 Chick-fil-A Bowl Victory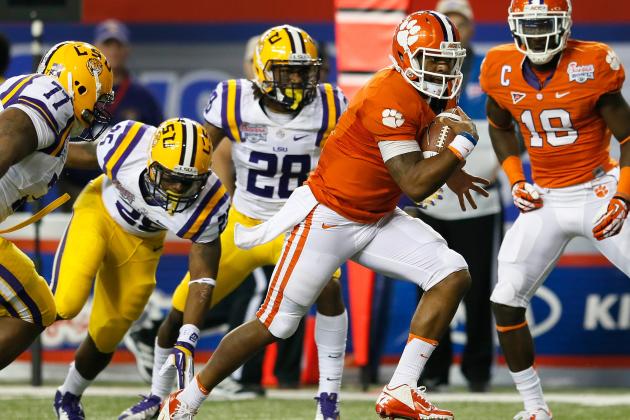 Kevin C. Cox/Getty Images

Entering the fourth quarter of the Chick-fil-A Bowl, the Clemson Tigers trailed the LSU Tigers by two possessions, and an all too familiar taste crossed their tongues.
It was the taste of bowl defeat that had been on their palate since their humiliating loss at the hands of West Virginia to cap the 2011-12 season. Over the final frame in Atlanta on Monday night, quarterback Tajh Boyd and DeAndre Hopkins hooked up over and over again to bring Clemson from the jaws of defeat to a bowl victory over SEC juggernaut LSU.
Much of the comeback credit also goes to the Clemson defense, which forced eight three-and-outs in the contest and kept LSU off the scoreboard over the final 15 minutes.
In the end, it was kicker Chandler Catanzaro who nailed the game-winning kick to make up for an otherwise shaky performance from the Tigers special teams unit.
Here are the in-depth position grades for both LSU and Clemson from Monday night's Chick-fil-A Bowl.
Begin Slideshow

»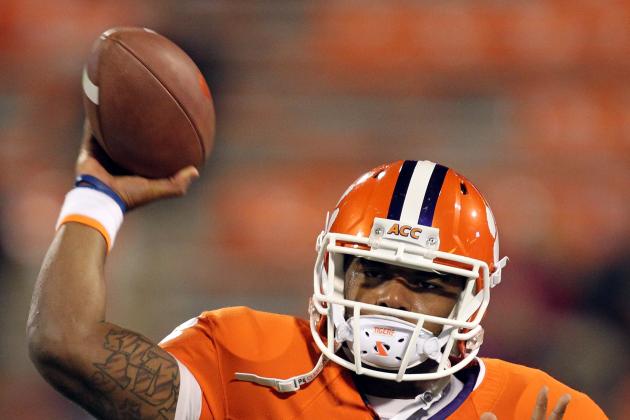 Streeter Lecka/Getty Images

Zach Mettenberger, LSU: F
Monday night was the 2012 season in a nutshell for LSU quarterback Zach Mettenberger. At times, he displayed flashes of the arm and talent that had Tiger fans so excited to see him under center.
However, at other times, the junior made poor decisions, poor throws and generally crumbled under the pressure applied by Clemson.
Mettenberger finished just 14-of-23 with 120 yards, one touchdown and one interception.
His lackluster performance wasn't so obvious over the first three quarters, as LSU held a lead thanks to some excellent running from Jeremy Hill. However, Mettenberger had plenty of opportunities to ice the game in the final frame, but he squandered those chances, unable to connect with his receivers.
Boyd nearly tripled his output and, as a result, Clemson accumulated double the total yardage and more than triple the amount of first downs that LSU managed. Mettenberger wouldn't have had to do much to put the Tigers over the top, but he really didn't do anything in this game at all.
Tajh Boyd, Clemson: A+
While Mettenberger put forth an incredibly dull performance, Clemson's Tajh Boyd shined as bright as any player so far this bowl season.
He was pressured, battered and bruised for four straight quarters, but continued to fight for a truly amazing performance.
He put the entire Tiger offense on his back and, with some help from DeAndre Hopkins, carried them to victory. He ended up 36-of-50 for 346 yards and two touchdowns, and 22 net rushing yards and a touchdown on the ground.
No. 10 made some unbelievable throws on Clemson's final two drives, including threading the needle to Hopkins over LSU's All-American safety Eric Reid on 4th-and-16.
On those last two drives, he connected with Hopkins five times to record a touchdown and set up the game-winning field goal.
That performance easily earns him MVP of this bowl season to this point.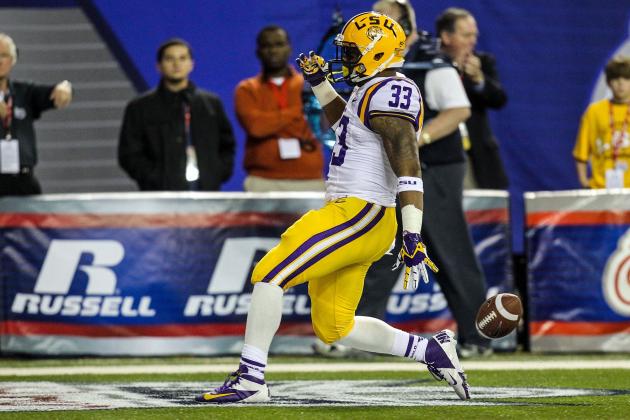 USA TODAY Sports

LSU: A
Jeremy Hill accounted for 60 percent of LSU's total offense and 12 of its 24 points—not including extra points off his touchdowns. His 124 yards on the ground not only led all rushers, but were also more than the entire Clemson Tigers offense attained on the ground.
He had two long touchdown runs, which as just about the extent of what LSU was able to do on offense. There are a few facets that can be pointed to when looking at the Tigers' loss, but the performance of Hill is definitely not one.
Clemson: B
Andre Ellington and Roderick McDowell weren't spectacular, but they each had some nice plays that helped to move the chains for Clemson and keep the LSU defense off balance.
Ellington had 11 carries for 50 yards, while McDowell tallied 26 yards off seven carries. The two were also involved in the passing game, which really helped Boyd as often as he was pressured by LSU.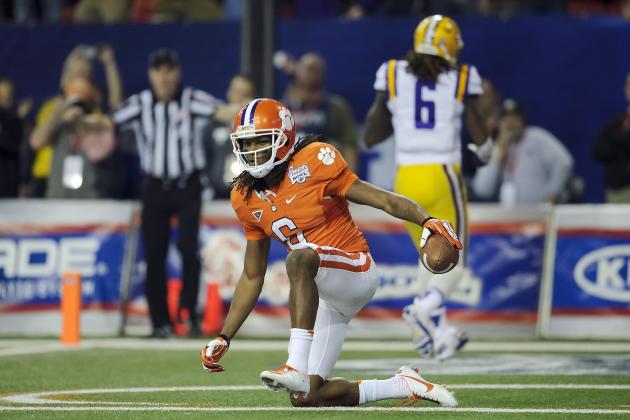 Paul Abell-USA TODAY Sports

LSU: C
It was a rough day for the LSU receivers, who saw the entire Tiger passing game suffer because of the pressure applied by the Clemson defense.
Jarvis Landry had a decent performance, hauling in four receptions for 37 yards and a touchdown. Odell Beckham Jr. added three catches for 40 yards as well.
Overall, none of the LSU receivers were able to make enough plays to help out Mettenberger or the offense as a whole, which has been a somewhat common theme this year. Landry was the most dangerous target but, with Mettenberger off, didn't have a great game outside of the touchdown reception he brought in off a fade route.
Clemson: A+
On the second play of the game, Clemson lost a vital member of its receiving corps—Sammy Watkins—who left the game with an ankle sprain. As a result, someone had to step up and carry the load. DeAndre Hopkins was that someone.
He set a Chick-fil-A Bowl record with 191 yards off 13 receptions for two touchdowns. He was instrumental over the last two drives and hauled in an unbelievable reception on 4th-and-16 that ended up propelling the Tigers to victory.
Tight end Brandon Ford also contributed nine receptions for 69 yards. In replacement of Watkins, Adam Humphries also had eight catches for 27 yards, including the nine-yard grab that put Clemson safely inside field-goal range in the fourth quarter.
Considering the loss of Watkins, this was a fantastic performance from this group.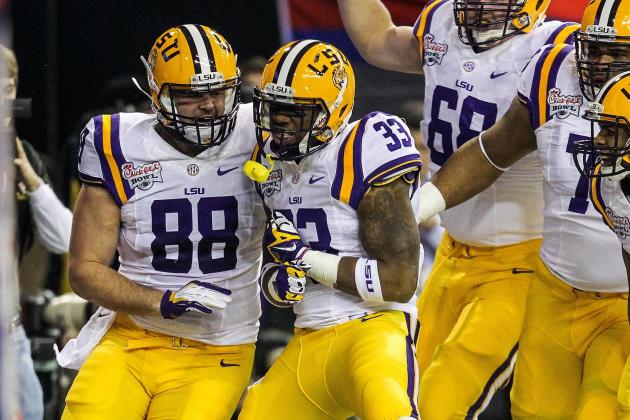 USA TODAY Sports

LSU: D
A huge root of Mettenberger's struggles came from the offensive line. This line was beat up, which didn't help, but there is really no excuse for six sacks.
Mettenberger had no time to throw all night, and at 6'5" was even having his passes batted down in the pressure. He was certainly off, but a lot of those issues came because of the poor protection in front of him.
Saving the grade for LSU's line was Jeremy Hill, who used a few long runs to give the Tigers a respectable rushing average, as he notched 10.3 yards per carry by himself.
Clemson: D+
As bad as LSU's line was, Clemson's was equally embarrassed. These Tigers receive a slightly higher grade for a couple of reasons.
The first is the incredible talent of the LSU defensive line, which put the Clemson blockers at a disadvantage from the start.
Another reason this group gave up five sacks compared to LSU's six was the athletic ability of Boyd. If it weren't for his elusiveness, he could have been sacked 10 times easily.
Regardless, not a good night for either of these lines.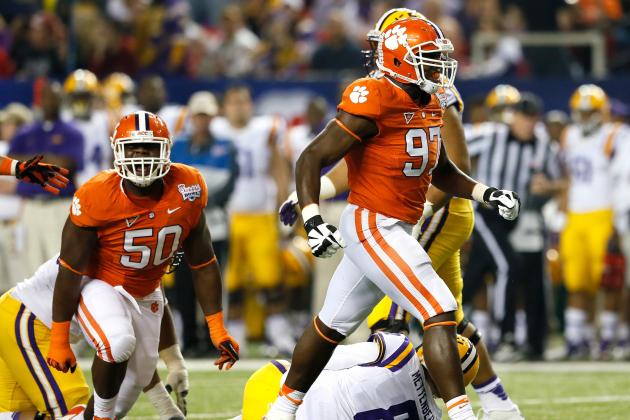 Kevin C. Cox/Getty Images

LSU: A
Barkevious Mingo and Sam Montgomery showed yet again why some believe them to be the top pass-rushing tandem in college football.
They teamed up for 10 tackles, four tackles for a loss, two sacks and two forced fumbles.
The duo essentially set up shop in the Clemson backfield forcing Boyd out of the pocket time and time again. The only problem: Boyd just kept on making plays despite their best efforts.
Regardless of what Boyd did, the LSU defensive front did everything within their power to disrupt the Clemson offense.
Clemson: A

The Clemson defensive line flew under the radar with Mingo and Montgomery highlighting the pass-rushing bill for this game.
However, Malliciah Goodman showed that he too is an elite pass-rusher. The senior recorded a game-high three sacks on the night and had an enormous batted pass on LSU's final drive in the fourth quarter.
He was huge in this game and played a big role in keeping the LSU offense off the field. This lack of snaps for LSU caused the Clemson defense to be fresher in the end, compared to an absolutely gassed LSU defense that saw Clemson snap the ball 100 times.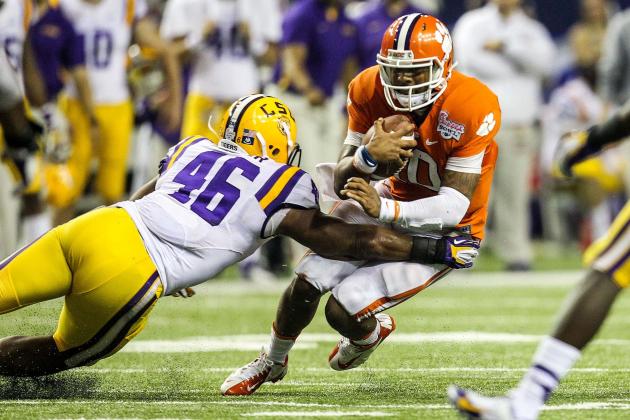 USA TODAY Sports

LSU: A
Kevin Minter was an absolute tackling monster for LSU on Monday. The junior recorded an incredible 19 tackles—more than any two Clemson defenders combined. He was making plays all over the field.
Joining him was fellow junior Lamin Barrow, who had 12 tackles including two for a loss. They both played an extremely tough game and had their hands full shadowing Boyd all night.
By the time the fourth quarter rolled around, it's no wonder these two and the rest of their teammates were so tired, as Clemson ran twice as many offensive plays as LSU on the night.
Clemson: A-
The Clemson linebackers didn't play quite the role that the LSU unit did; however, they did help out in the plan of pressuring Mettenberger.
Spencer Shuey led the way for the Clemson linebackers, tallying seven tackles and a sack. Jonathan Willard added a sack of his own and four tackles.
Though it may not show up on the stat sheet, these guys also did an excellent job of plugging up the running lanes, particularly in short-yardage situations. Clemson forced eight three-and-outs on the night, and many of them came from stuffing LSU runs in 3rd-and-short scenarios.
Heading into the game, it looked like that situation would heavily favor LSU, but a huge part in the victory came when Clemson won those battles.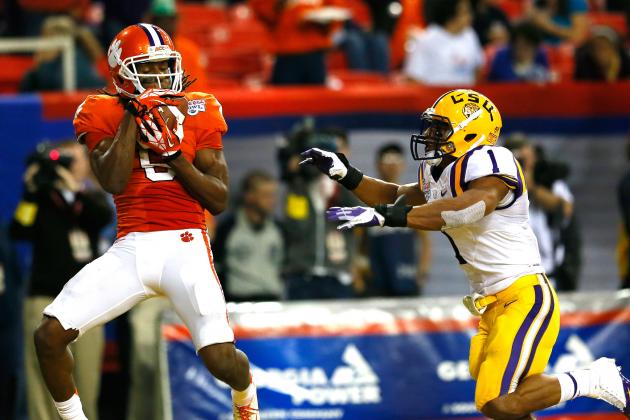 Kevin C. Cox/Getty Images

LSU: B+
The LSU defensive backs were put through a gauntlet at the Georgia Dome. Not only did Boyd attempt 50 passes, but he also scrambled constantly, running it 29 times by himself.
This kept the Tigers defensive backs on constant guard, which made staying in coverage very difficult. This was especially evident at the end of the game after 90-plus snaps had taken their toll physically on this defense.
In the end, DeAndre Hopkins and the Clemson receivers managed to beat out the tired LSU secondary, which is an absolutely brutal ending to an otherwise solid game for this talented unit.
Clemson: B+
Clemson's defensive backs didn't have to deal with those issues. As Mettenberger struggled with the pressure, they didn't have to worry so much about him escaping the pocket and making plays.
As a result, Mettenberger's numbers were awful, making the Clemson secondary look much better. The biggest concern for the Clemson defensive backs was trying to tackle Jeremy Hill once me made it through the first levels of defenders.
That was their biggest flaw, allowing him to break away for a couple of long plays. However, Rashard Hall, Xavier Brewer and Jonathan Meeks ate up a lot of tackles—22 out of the 57 for Clemson on the night to be exact.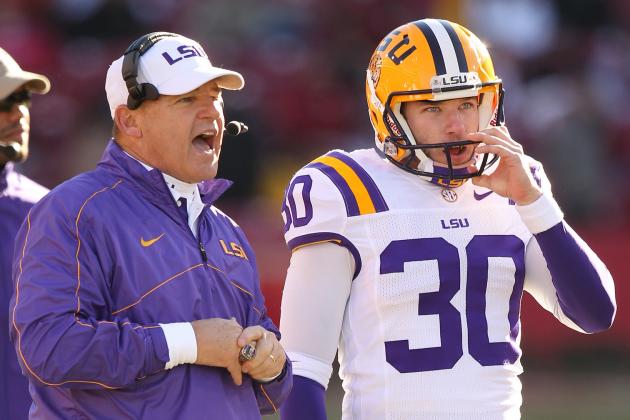 Nelson Chenault-USA TODAY Sports

LSU: A
LSU was down one of its key special teams players in punter Brad Wing, who was suspended for the game. His replacement was sporadic, making some beautiful punts, but also booting a few ugly punts as well.
Despite that, LSU was strong in the punting game, which didn't have much overall impact.
Meanwhile, LSU also controlled the return game with the ball in its hands, recording 116 total return yards compared to just 22 from Clemson.
This unit also blocked an extra point that nearly was enough to win the game, while kicker Drew Alleman knocked home his lone field-goal attempt—a 20-yard chip shot.
Clemson: C
As previously mentioned, Clemson was awful in kick coverage and had an extra point blocked—which is simply inexcusable and nearly lost the game.
If it weren't for kicker Chandler Catanzaro, the Tigers special teams grade would be terrible. Alas, Catanzaro was 2-of-2 kicking and just so happened to kick the game-winning field goal.
He hit from 26 yards out early in the fourth quarter and from 37 yards out as time expired to give Clemson the win. That has to count for something.
Streeter Lecka/Getty Images

LSU: C
LSU's biggest downfall was offensive play-calling. The defense was solid and simply fell victim to fatigue and some incredible plays made by Tajh Boyd and Co.
On the other side, LSU remained conservative all game long. For three quarters, it looked like that philosophy was going to work. Then, once Clemson mounted a comeback, Les Miles did something strange.
With less than three minutes to kill from the clock, LSU threw three straight passes, rather than sticking to the run.
The first pass call looked (and was) brilliant, as the Tigers gained eight yards and were right on the cusp of salting the game away. Then, two incompletions later, Clemson was receiving a punt with just less than two minutes on the clock and three timeouts to spare.
LSU should have put the ball on the ground at the end of the game and at the very least forced Clemson to use a timeout or two.
Clemson: A
As outstanding as Boyd and Hopkins were, Clemson's success started on defense, where coordinator Brent Venables dialed up some intense pressure on Mettenberger and also put a lot of heat on the LSU run game.
Clemson recorded six sacks and also made some key plays against the tough LSU running game. All of this kept the LSU offense off the field and gave Clemson twice the amount of offensive opportunities.
In the end, it was Clemson's speed that won the war of attrition, not LSU's power as expected.
All around, Clemson had an excellent game plan and executed it to perfection, which resulted in the Chick-fil-A Bowl title.