Houston Rockets vs. Atlanta Hawks: Postgame Grades and Analysis for Houston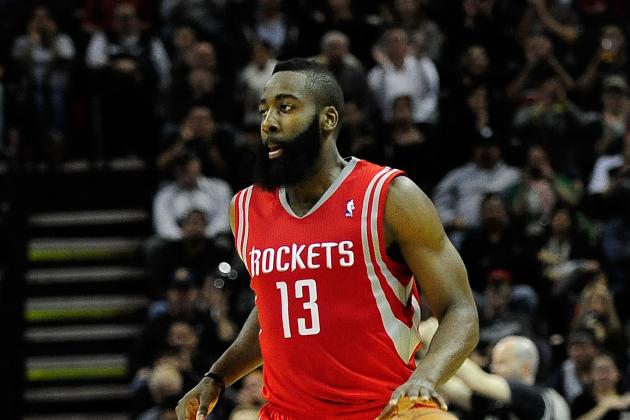 Stacy Revere/Getty Images

If you aren't ready to run, the Houston Rockets will probably beat you. They sprint up and down the court, only passing up open shots if they directly lead to an even better look (that's also even more open).
On New Year's Eve against the Atlanta Hawks, Houston did all these things and more, winning the game 123-104. At one point in the second quarter, Houston had extended their lead to 21 points on a flurry of transition baskets at the rim and wide-open three-pointers. Their offense looked sublime.
The Hawks managed to make it respectable by cutting Houston's lead down to five with just over five minutes remaining in the game, but the Rockets stayed calm and continued to combine Carlos Delfino's hot hand from the outside with efficient shots from the likes of James Harden and Jeremy Lin. The result was something that's fast become the norm down in Houston: a 120-plus point effort.
Begin Slideshow

»
Jeremy Lin
Lin did a great job of keeping his dribble alive all night, finding open teammates as he did Marcus Morris beneath the basket early in the fourth quarter. Lin was an efficient scorer in the first half, making five shots and missing three, and finishing the game with 16 points and eight assists.
He all but ended the game with three from the corner that extended Houston's lead to 18 points with just under three minutes to go.
Grade: B+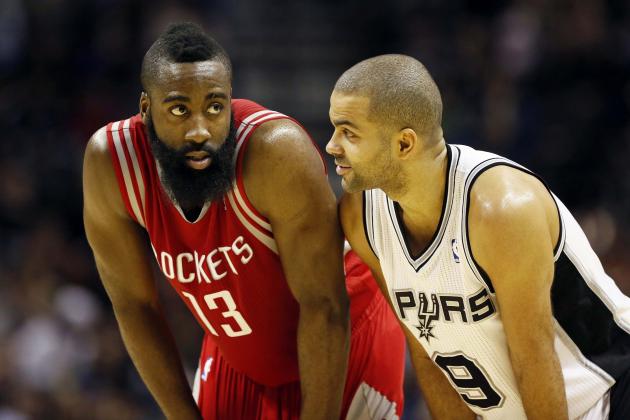 USA TODAY Sports

James Harden
Is any body in the NBA more consistent and predictable than James Harden? If he's dribbling the ball in transition, it's on a bee-line to the rim. If he sees more than three feet of space between him and his man, and his feet are behind the three-point line, a shot is going up, and probably in.
Harden scored a game-high 28 points tonight, making an incredible 12 free throws, and looking like an unsolvable riddle yet again.
Grade: A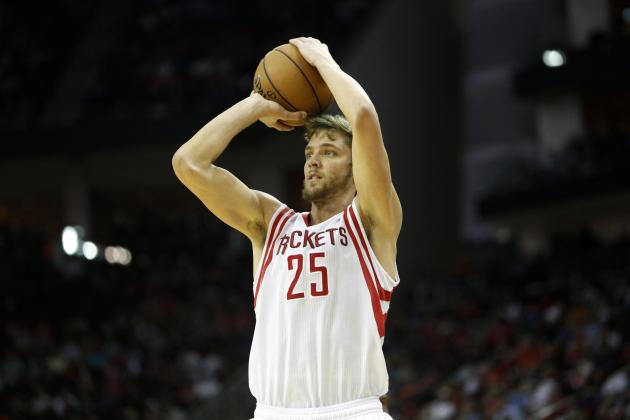 Thomas Campbell-USA TODAY Sports

Chandler Parsons
Parsons' low playing time can be attributed to Carlos Delfino's brilliant effort. It didn't make sense to take the veteran off the court, and Rockets head coach Kevin McHale correctly chose to ride the hot hand.
Parsons finished 2-9 from the floor for four points in just 20 minutes of action.
Grade: C
Thomas Campbell-USA TODAY Sports

Marcus Morris
Morris began the game making his first two three-point attempts, continuing his ever-hopeful trend of one day becoming a serious threat from the corner.
On the other end, however, he remains undersized at his position. And tonight, Morris went up against an engaged Josh Smith, who had him with three fouls by halftime.
It's an unsolvable problem in certain matchups, but when Morris is knocking down threes and stretching the floor as well as he did tonight, taking him out of the game is a mighty difficult decision.
Grade: B+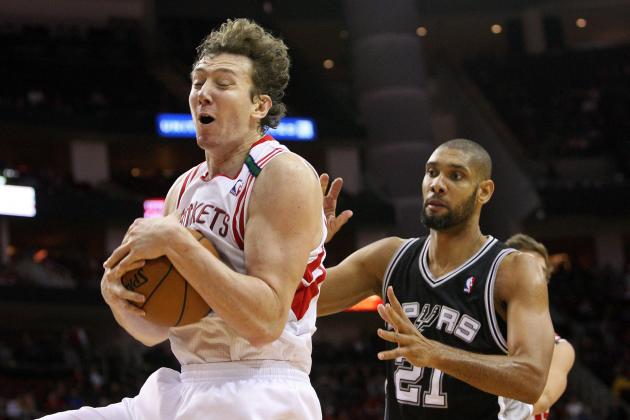 USA TODAY Sports

Omer Asik
Asik showed difficulty early on defending Al Horford out on the perimeter, allowing several open shots and driving lanes to the paint. (Horford began the game 4-4 before breaking his first sweat.)
On offense, he continued his ugly trend of attempting—and badly missing—wild reverse layups. But still, Asik finished the game with 11 points and 17 rebounds for his 14th double-double of the year. Not a bad overall effort.
Grade: B+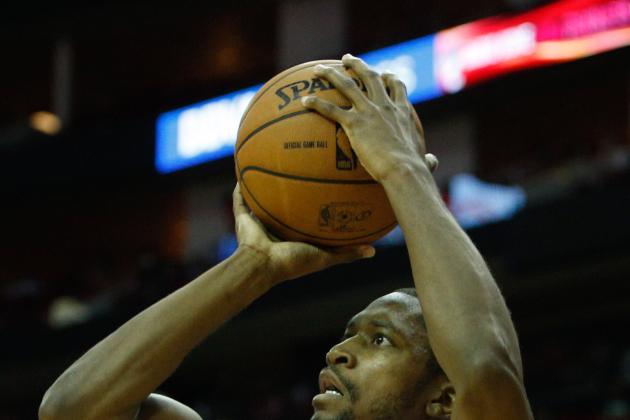 Thomas Campbell-USA TODAY Sports

Toney Douglas
Douglas has been like a mosquito against opposing point guards all season long, and against the Hawks, his behavior was especially irritating. (Toward the end of the first quarter, Douglas stole a basic baseline inbound pass from Zaza Pachulia and drew a shooting foul.)
On offense, he's just now beginning to do more than create action behind the three-point line (for both himself and others). Douglas finished in transition on a contested layup or two and continues to deserve his increased playing time.
Grade: A-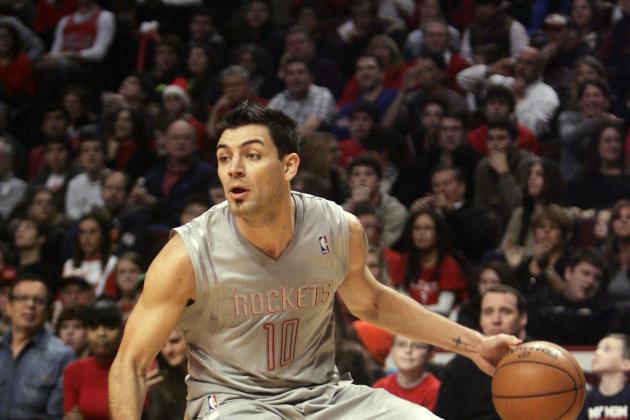 USA TODAY Sports

Bench
Carlos Delfino showed off his sweet stroke with a few sharp makes early on, finishing with six three-pointers in the game. Every single time the Hawks made a run, as they did when John Jenkins cut it to five on a three-pointer with five minutes left in the game, Delfino would arrive with an answer, as he did in the form of a three-pointer from the left wing.
This was, without a doubt, his best performance as a Houston Rocket.
Also worth noting, with just over a minute to go, Donatas Motiejunas knocked down the first three-pointer of his career.
Grade: A