The 10 Best MMA Submissions of 2012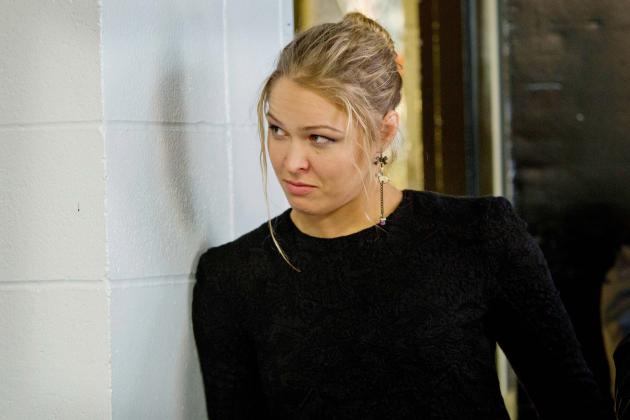 Bruce Kluckhohn-USA TODAY Sports

Submissions. They're one of the most underrated aspect of mixed martial arts, at least to the bloodthirsty crowds that seemingly pack most MMA events these days.
But a good submission, when done right, is like a perfectly aged glass of scotch: refined, tasteful and incredibly beautiful.
We saw our share of great submissions in 2012, and fellow lead writer Jonathan Snowden and myself are here to give you our top 10 for the entire year. Whether you agree or disagree with our list, be sure your voice is heard in the comments below.
Let's get started.
Begin Slideshow

»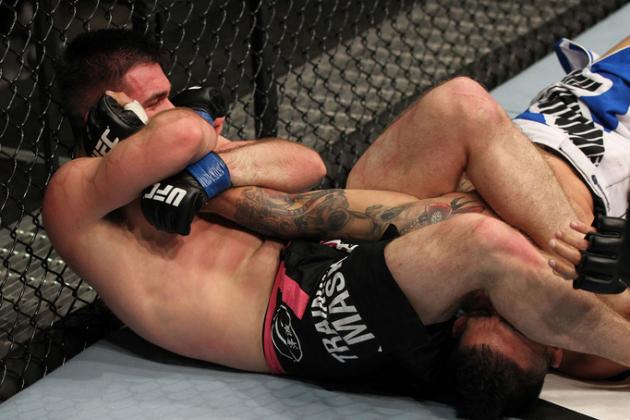 Photo by Josh Hedges, Zuffa LLC via Getty Images
John Maguire came out of nowhere, scoring a decision against Justin Edwards at UFC 138. For his next trick, the British grappler with a gypsy background would go toe-to-toe with longtime UFC veteran DaMarques Johnson, a tough veteran of The Ultimate Fighter reality show.
Maguire showed the world why Joe Rogan was so high on his grappling game, using deft reversals and outstanding positional awareness, finally securing the slick armbar you see above to end the fight in the second round. Though Maguire would go on to lose his next two fights, he made his mark in this one, earning Submission of the Night in the process.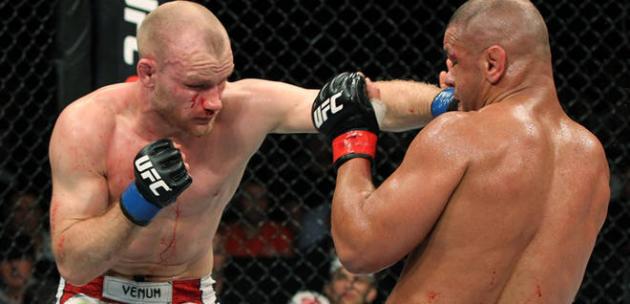 Photo by Josh Hedges, Zuffa LLC via Getty Images
Thiago Alves was beating Martin Kampmann. I mean, he was beating him bad.
In their UFC on FX 2 main event, it seemed like a matter of time before Alves either finished Kampmann or rode out a unanimous decision.
Instead, Kampmann rebounded from the edges of consciousness, securing a mounted guillotine and putting Alves away with less than a minute remaining in the round. It was a stellar comeback for Kampmann and one of the most memorable submissions of the year.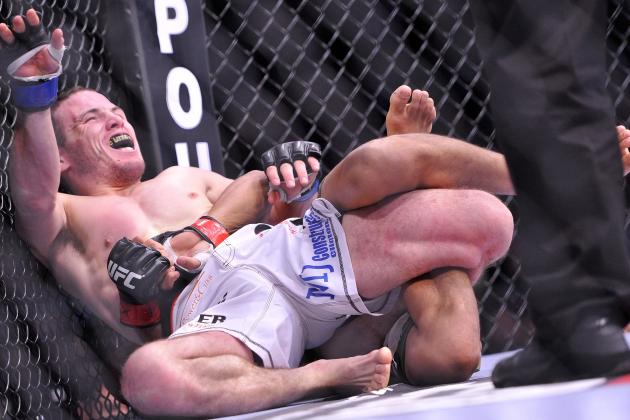 Mike Dinovo-USA TODAY Sports

Look at that submission in the picture above. Just look at it. Look at it, and imagine how painful it must be.
Eric Wisely knows how painful the calf slicer is; after all, he had the thing applied to him by Charles Oliveira at UFC on Fox 2. I'd never seen a calf slicer—only heard vague whisperings about how brutally painful it can be—and it lived up to its billing.
Photo by Josh Hedges, Zuffa LLC for Getty Images
Rousimar Palhares is a terrifying man.
Made of muscle and seemingly nothing else, Palhares is much shorter than the rest of his counterparts at middleweight. But he's also made of a lot more muscle, making him a short, scary, squat little man with the ability to rip off limbs at will.
That's pretty much what he did to poor Mike Massenzio, hooking his opponent in a nasty heel hook. There's a reason that heel hooks and other leg locks scare even the most seasoned BJJ competitors, and they're even more nerve-wracking when they come from Palhares. Massenzio found this out the hard way at UFC 142, much to the delight of the Brazilian fans.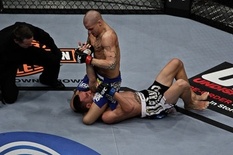 Photo courtesy Josh Hedges, Zuffa LLC
There are two versions of the triangle choke that are infinitely more awesome than the plain old triangle: the inverted triangle and the mounted triangle.
Dustin Poirier used the latter quite effectively against Max Holloway at UFC 143, squatting on his opponent's chest and snaking his legs around the neck in perfect execution. The nifty little move earned Poirier a Submission of the Night bonus, and rightly so.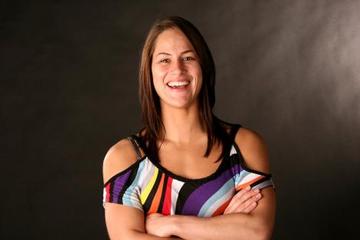 Photo courtesy Cleveland.com
If I had to name my all-time favorite submission move, it would be the arm triangle. There's just something simple yet awesomely refined about it, and I've always enjoyed it. Not so much having it applied to me, specifically, but more so watching others execute it.
If you could make the arm triangle even better, what would you do? You'd execute it standing up, of course. And that's precisely what petite smasher Jessica Eye did to Zoila Gurgel, submitting her with a sweet standing arm triangle at Bellator 83.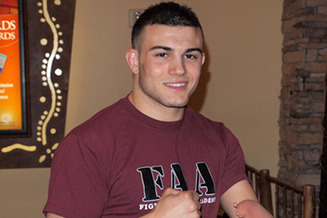 Photo courtesy of MMAjunkie.com
Nick Newell's submission of Eric Reynolds at XFC 21 was a simple rear-naked choke, seen all the time in mixed martial arts contests. But what Newell's submission so great was the fact that his left arm is amputated just below the elbow, which means a rear-naked choke—or any other kind of submission, for that matter—is infinitely harder to execute.
Newell's making waves in mixed martial arts. Dana White remains non-committal on his prospects in the UFC, but if Newell is able to continue his winning ways, it should be just a matter of time before we're seeing his inspirational story play out on the big stage.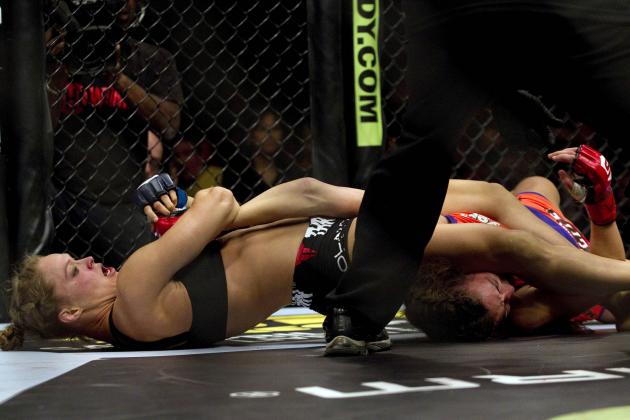 Greg Bartram-USA TODAY Sports

Every time I look at that photo of Ronda Rousey wrenching Meisha Tate's arm in half, I get chills. Disgusting, terrifying chills.
Rousey's armbar cemented her as the top female fighter in the world, and made possible everything that came after: the ESPN, TMZ and local news stories, as well as her jump to the UFC and the addition of female fighters to the UFC's roster for the first time.
As Dana White says, it's a Ronda Rousey world, and we're all just living in it. Five years from now, we'll be able to look back at this specific armbar and know that this is where it all started.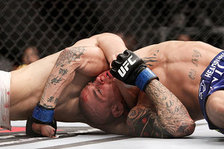 Photo by Josh Hedges, Zuffa LLC for Getty Images
It was a back-and-forth affair between Chan Sung Jung and Dustin Poirier in a five-round main event at UFC on Fuel 3. Really, it was one of the best fights of the year, but we'll get into that in the coming days.
The thing we want to focus on here is the slick, fight-ending D'Arce choke by Jung that scored a submission win. It was set up perfectly; despite taking an inhuman amount of punishment throughout the fight, the Korean Zombie was still able to maneuver into perfect position for the submission.
Jung showed why he's one of the most dangerous featherweights in the world with this slick move.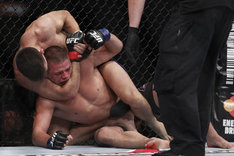 Photo by Esther Lin for MMAFighting.com
When I talk about submissions being a brutal thing of beauty, this is what I'm talking about.
Maia's deftly-applied neck crank at UFC 153 squeezed Rick Story's head and neck so hard that blood spurted out of Story's nose. I repeat, the submission squeezed so hard that Story bled from his nose.
It was both disgusting and beautiful, and it showed why Maia is still one of the most feared submission artists in the game. It also vaulted him up the rankings in his new welterweight division, making him a threat for contention.
That's why it's our 2012 submission of the year.