Barcelona: 5 Ways to Avoid Complacency with Such a Commanding La Liga Lead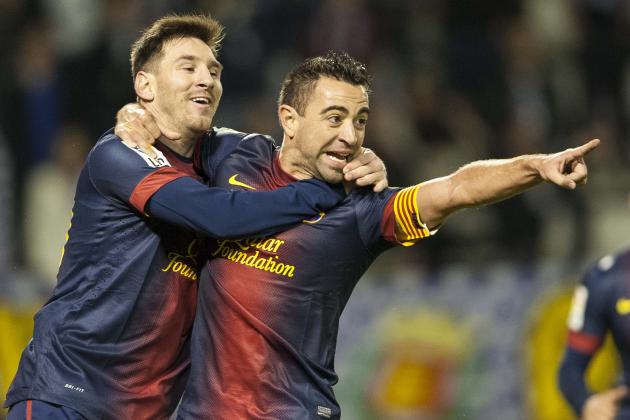 Victor Fraile/Getty Images

The 2012/13 La Liga season might only be 17 weeks old, but already, Barcelona is running away with the title and will be incredibly tough to run down in the new year.
Nine points clear of second-place Atletico Madrid and a phenomenal 16 points clear of last year's champions and fierce rivals, Real Madrid, La Blaugrana have simply been in devastating form this season—reaping the rewards of their strong success and dominance.
But starting the new year with such a commanding lead can be a curse as much as it is a blessing. Complacency, laziness and assumptions of victory can creep in to even the best of teams, and a lead can disappear as quickly as it might have appeared.
How can Barcelona avoid that type of performance in 2013? Read on to find five ways in which they can continue to push toward the La Liga title this season.
Begin Slideshow

»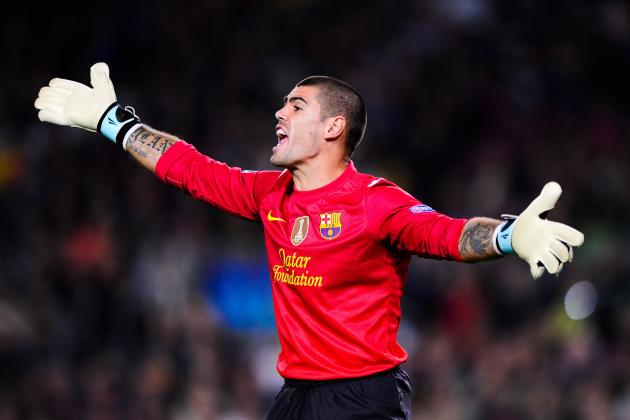 David Ramos/Getty Images

There is little doubting the current success and ability of this Barcelona squad—at their best, they have been simply unstoppable so far this season.
So to introduce another big name into the squad over the upcoming January winter transfer window seems somewhat ridiculous; it's a move that could turn out to be disastrous for the Spanish giants if it upsets the balance of the squad in any way.
As it is with any transfer, they will take significant playing time and opportunities to understand the particular system and styles of a certain team, and in Barcelona's case, they do not have the time to dabble around with secondary formations and lineups.
They should be (and will be) playing their best lineup to continue to build on their strong lead and consolidate on their strong position on top of the table.
Yes, new players are needed—perhaps a replacement for Victor Valdes is in order some time in the neat future if he keeps up his current performance level—but not over the upcoming transfer window. It would do nothing but rock the boat for the Catalan club at the moment.
If it ain't broke, don't fix it.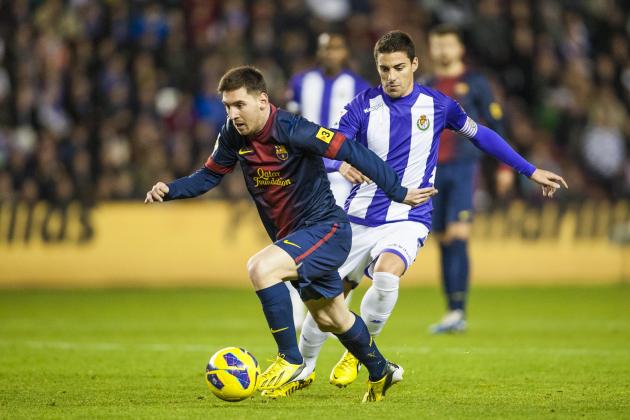 Victor Fraile/Getty Images

Lionel Messi needs no introduction other than to say that every adjective possible does not describe the season and current form that he is currently in.
The striker has become the heart and soul of the Catalan side, and rightly so, for it is his goal-scoring ability and attacking brilliance that has led them to where they have been over the past few seasons.
However, Messi may very well not have as brilliant 2013 as he has done 2012 and there will be games—shock! horror!—that he does not score goals simply at will. You might want to be sitting down for this one, but the truth is that Lionel Messi is human and he cannot thrive in every single game.
Yes he will come close, but La Blaugrana need to find ways to help Messi score goals throughout the remainder of the season for the times when he is shut down.
Barcelona's work on the wings has been poor to date, as have their other options up front, and the likes of Alexis Sanchez and Pedro must perform better over the latter half of the season to ensure that the Catalan side have other goal-scoring options than Messi.
Not that he will get shut down too often.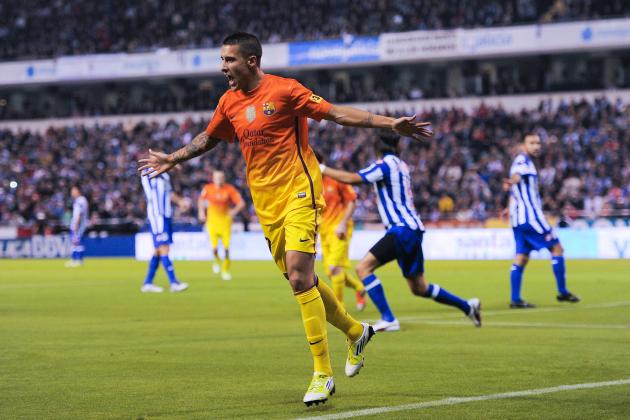 David Ramos/Getty Images

Watching the likes of Christian Tello and Thiago thrive in La Blaugrana this season has been both a joy and a testament to the youth system that the Calatan club currently have in operation.
Their youngsters have been solid both in attack and defense, and whilst Barcelona don't want to be changing their starting side and tactics with every passing week, they need to continue to give good opportunities to their youngsters through the back half of the season.
Tello in particular has been strong out on the left and will continue to see quality starting opportunities, whilst the likes of Martin Montoya and Marc Bartra provide good defensive alternatives should injury or suspensions force their inclusion from Tito Vilanova.
Continuing to give their younger players good minutes will not only be good for the team, but it will also be greatly beneficial for the development of the players themselves—which, in the long run, will hopefully put Barcelona in a stronger place in a few years' time.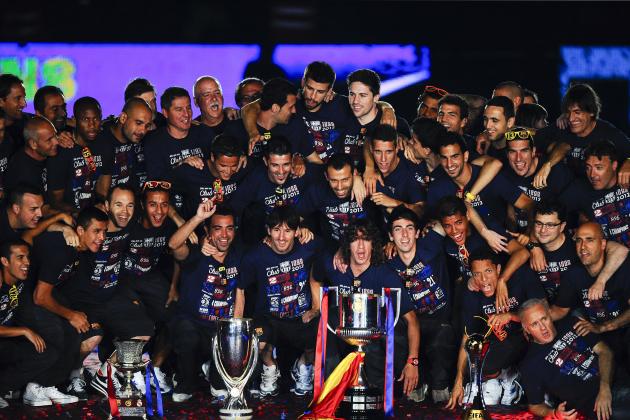 David Ramos/Getty Images

Perhaps the best way for Barcelona to ensure that they do not fall into complacency and become content with their lead in La Liga is to continue to push on to better and bigger things this year, as we'll touch on over our final two points.
The first part of that focuses in on the great opportunity that the Spanish giants have to not only ensure their Spanish domination but also to establish themselves as the European conquerors as well by winning the treble in 2013.
Barcelona have done it before, so winning La Liga, Copa del Rey and the UEFA Champions League all in the back half of the this year is a real possibility for the Catalan club. They have essentially already won the domestic competition, so in reality, they are only chasing two titles throughout the back of the season—a very plausible outcome for La Blaugrana.
Most likely, Barca will face Real Madrid at some point in the Copa del Rey, which will no doubt make for another fascinating installment of the Clasico. But to win the trophy, beating Madrid is usually a given over the past few years, and they are no doubt capable of doing so this year.
The players themselves know that the treble is a real possibility this year, and if they continue to focus on that, they will surely help avoid complacency in 2013.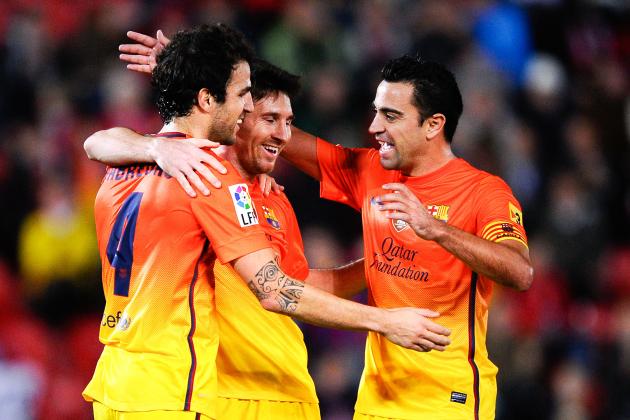 David Ramos/Getty Images

Taking that point about pushing on for bigger things one step further, Barcelona can continue to create individual and team history in La Liga to ensure that they do not drop off in the competition.
The Catalan club have already broken a plethora of records this season—proving that they can do whatever seems like being impossible or unbreakable—and with such a commanding lead, it has the freedom to push on and try to break more records.
And not just now Lionel Messi's goal-scoring record, either.
Barcelona have started the season by picking up 49 of a possible 51 points—undefeated through their opening 17 games of the season. Can they press on then and break a number of other single-season records for La Liga this year?
Most wins in a single season. Most points in a single season. Most home wins, most away wins. Most points in a season home, most points in a season away.
Most consecutive league games without conceding. Most goals in a season—home, away and total. Best goal difference in a single season.
The list of records that could possibly fall for Barcelona this year is seemingly endless and by pursuing further success and attempting to rewrite the history books even more so than they have already done, Barcelona will continue ensure that they do not squander their commanding lead.
Pushing on for further success is the best way to ensure that Barcelona do not fall into complacency in the new year and make sure that they still win the La Liga title.
What do you think 2013 holds in store for Barcelona?
Comment below or hit me up on Twitter: Follow @dantalintyre