Ole Miss Football: BBVA Compass Bowl vs. Pittsburgh Panthers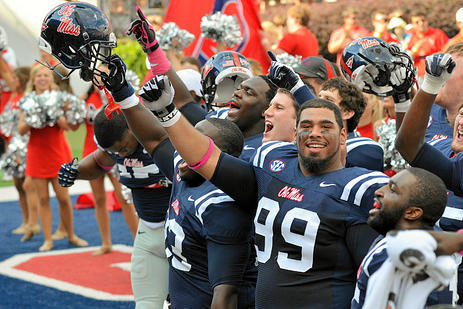 Via @bentleybreland.
Ole Miss coach Hugh Freeze has reached a bowl in his first year after a two-win fallout for the Rebels in 2011. While the team has struggled at times, getting to six wins is a major accomplishment.
Facing attrition from a coaching change, injuries and playing a large number of young players, Ole Miss won three SEC games against Arkansas, Auburn and instate rival Mississippi State. The Rebels held leads in the fourth quarter against Texas A&M, Vanderbilt and LSU.
First-year Pittsburgh coach Paul Chryst has seen his team make some strides, and the Panthers were able to take Notre Dame to the wire near the end of the season. Chryst is the third coach in as many years, and he has Pitt fans excited about a consistent presence in the future.
In addition to nearly beating Notre Dame on the road, the Panthers also beat ranked teams Rutgers and Virginia Tech at home. They did have some bad losses with Youngstown State early and Connecticut in November, though.
Continue reading as we evaluate the individual units in this first-ever meeting between Ole Miss and Pittsburgh.
Begin Slideshow

»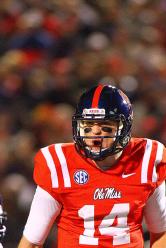 Spruce Derden-USA TODAY Sports

Ole Miss' offensive line has been a work in progress throughout the year, trying to find the right combination of players to protect Bo Wallace and give him time to throw.
The Rebels also had to get in better shape to run a faster offense under Hugh Freeze. The front line is performing well enough, but it is still not where the coaching staff would like it to be, giving up 33 sacks.
Pitt has a veteran offensive line and has done a good job late in the year in the run game.
While there have been growing pains during the season adjusting to a third coaching change, the group has looked solid and will feel confident coming into the bowl game. The unit has given up 34 sacks, however.
This looks like a push to me, as both are playing about the same for the system they are running.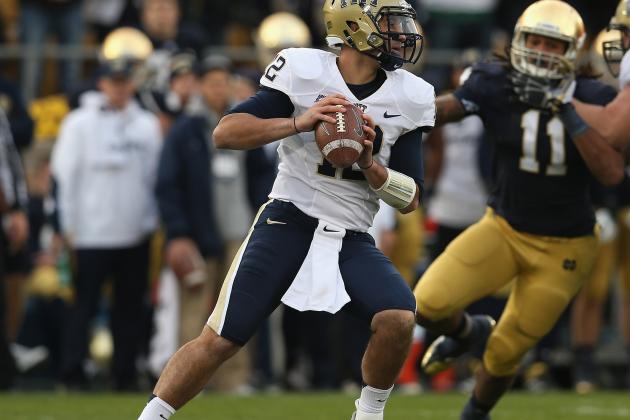 Jonathan Daniel/Getty Images

Will Bo Wallace be 100 percent? That is the big question for Ole Miss fans entering bowl season.
Since injuring his shoulder in a midseason game against Tulane, Wallace has limped through the season, unable to throw the deep ball. That has led to Ole Miss using a multiple-QB approach.
That didn't affect the outcome of many of the games, as the Rebels used a lot of intermediate crossing patterns and timing plays to get big yardage.
Even with his injury that has likely contributed to his 15 interceptions, Wallace has been able to torch SEC teams. He has 2,843 yards passing and 27 combined touchdowns on the season, and he poses a logger-head matchup for a good Pitt secondary.
Fifth-year senior Pitt QB Tino Sunseri leads the nation with 270 consecutive passes without an interception. He has passed for 3,103 yards and 19 touchdowns.
Sunseri is obviously very efficient and protects the ball, going nine games without an interception. Ole Miss will have to play tight coverage downfield and keep all the short routes in front of it.
This is a tough call. Wallace has been productive, even with the injury, but it may be a ligament tear that can only be repaired with surgery.
Pitt gets a slight edge on this category.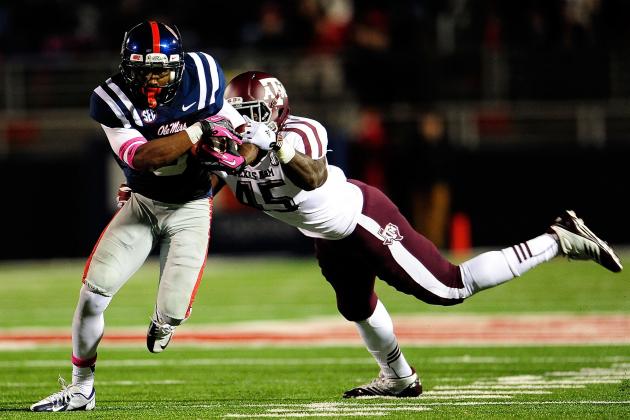 Stacy Revere/Getty Images

Comparing this group means comparing the offensive approach.
Both teams run the ball well, but Ole Miss is somewhat unconventional compared to Pitt, which uses a straight-forward, pro-style offense. The Panthers have a single-back system with senior Ray Graham (1,042 yards, 11 touchdowns).
Ole Miss uses multiple backs and a lot of screens and speed sweeps to get its yardage.
While Pitt has more rushing yards from its starter (Jeff Scott: 828 yards, six touchdowns), the teams are close in average yards gained per carry (4.7 YPC, Pitt; 4.33 YPC, Ole Miss).
Based on the multiple approach and more bodies (including Bo Wallace and Barry Brunetti), I will give the edge to Ole Miss.
Ole Miss has found a star in the making with sophomore Donte Moncrief (60 catches for 948 yards and 10 TDs). Even going back to the early part of the season, Moncrief has been unstoppable, only going one game without a catch.
Pitt counters with 6'5" Mike Shanahan (926 yards and five TDs). He will pose a matchup problem for Ole Miss.
The Panthers have a couple of quality options, but Ole Miss will use as many as 10 different targets in the Hugh Freeze offense. With a bigger star in Moncrief, I've got to give Ole Miss the edge in this category.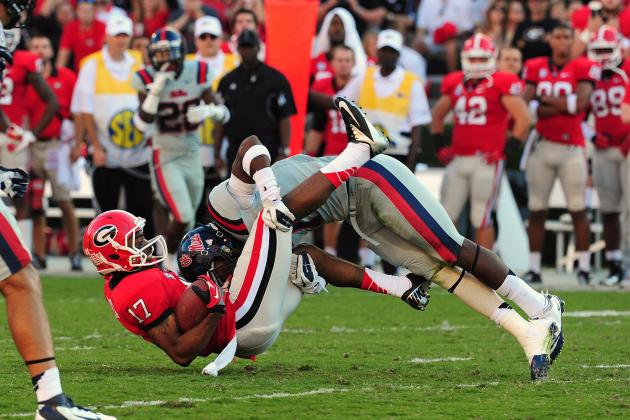 Scott Cunningham/Getty Images

The defensive line is an area of great improvement for Ole Miss in 2012 compared to 2011.
Using a combination of junior college seniors and young speed, Ole Miss has been able to blow through some of the best offensive lines in the nation. Ole Miss finished second in the SEC with 34 sacks.
The Pittsburgh defensive line has improved in scheme and production as the year went along, but it doesn't have the explosiveness or speed of Ole Miss. Pitt only racked up 23 quarterback sacks.
The edge here goes to the Rebels.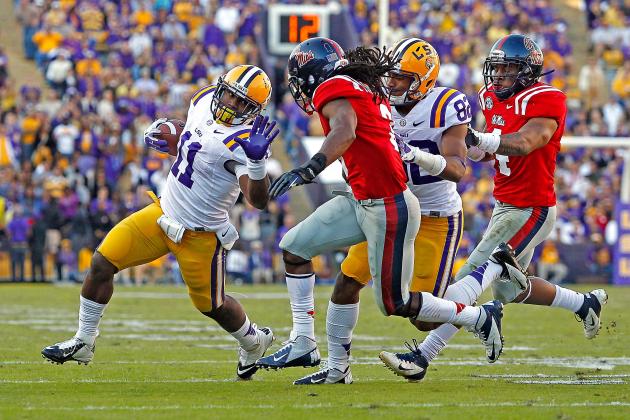 Crystal Logiudice-USA TODAY Sports

The run defenses may be the difference in the game.
Statistically, Pittsburgh gives up 196.8 yards per game, but it has played much better lately. The Panthers held Rutgers and South Florida to a combined 58 net rushing yards.
Ole Miss, yielding 133 yards per game, has also improved late in the year, only giving up 30 yards on the ground to division-rival MSU.
I give the edge to Ole Miss on this one based on the stats and difference in competition.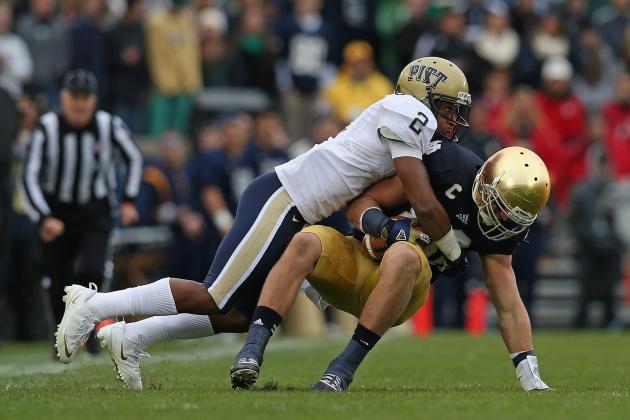 Jonathan Daniel/Getty Images

If any unit has been a detriment to Ole Miss this year, it has been the secondary.
It's just a function of the lack of depth and inexperience, and it really wont be addressed without additional recruiting and experience.
It has even affected the offensive game plan and prevented Coach Freeze from running the up-tempo offense that he plans to install, forcing him to run the ball more and keep the ball out of opposing teams' hands.
Pittsburgh has had more success, only giving up around 200 yards a game compared to Ole Miss' 250.
The nod goes to Pittsburgh in the secondary.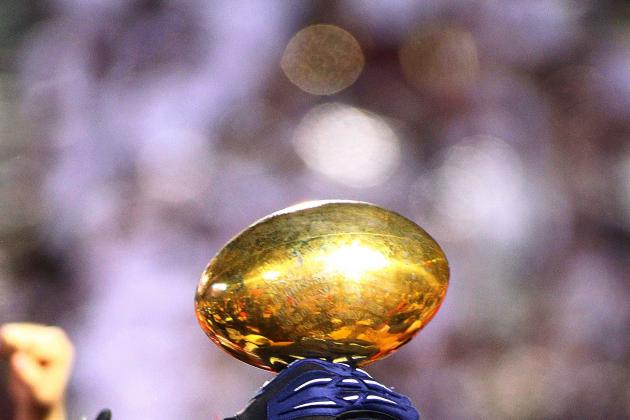 Spruce Derden-USA TODAY Sports

Ole Miss will win this game based on the skill players, even though many of the head-to-head units are similar.
While the SEC provides much better competition than the Big East, the Panthers have more depth along the lines and the secondary.
If Ole Miss can get the running game going and keep Sunseri from picking its secondary apart, the Rebels will add another chapter in their long bowl history.