Adrian Peterson is the 2012 NFL MVP.
That statement is a bit premature, but no one deserves to take home the league's highest individual honor more than the Minnesota Vikings' runningback.
There have been quarterbacks and even defensive studs that could be named the most valuable player in 2012. Even a wide receiver provides a legitimate argument.
But when all is said and done, Peterson should be crowned with the hardware.
For starters, the award is given to the most valuable player for his team. The Vikings would not be going to the playoffs without having "Purple Jesus" on their side.
Minnesota boasts the 31st ranked passing attack in the league. Christian Ponder had an 81.2 quarterback rating on the season, good for 43rd place in the NFL. He averaged 183.4 yards-per-game. That number places him 34th, just one spot behind much-malinged quarterback Mark Sanchez. He had a 62.1 competition percentage and 2,935 yards on the season. That ranks him 25th in the league. At least he beats Sanchez in that stat.
The Florida State product didn't have a horrible year, but it is very clear that even with a good runningback, this team would not be going anywhere.
Thankfully for owner Zygi Wilf, he didn't have a good runningback. He didn't even have a great one. In Peterson, Wilf had an elite runningback.
Speaking of backs, "All Day" carried the Vikes on his all season.
There will be much talk about how Peterson missed Eric Dickerson's single season rushing record and how that one fact eliminates him from the MVP race.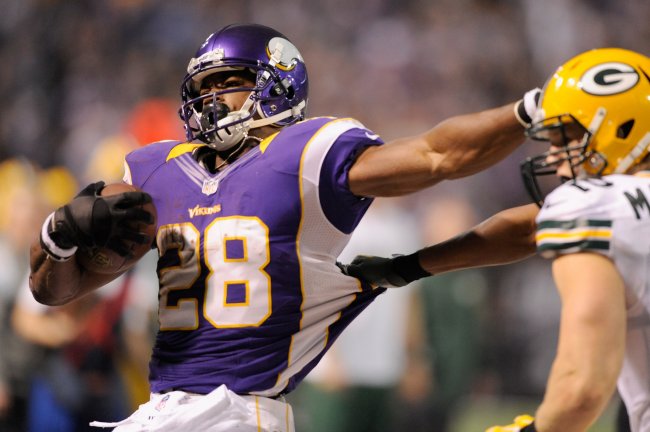 Hannah Foslien/Getty Images
Get real.
Peterson missed the mark by nine yards. He also finished the season averaging six yards-per-carry. So, if he had gotten at least two more carries this would have been a different story.
Furthermore, his 2,097 rushing yards this year is good for the second-best season by a runningback in NFL history. Only six other runningbacks have eclipsed 2,000 rushing yards in a single season.
But the rushing yards only tell one side of the story. Last season, Minnesota was picking fourth in the draft. This season, they are spending January playing football instead of scouting college kids.
The roster hasn't varied much since last season. Sure, there have been some changes, but the biggest differences between 2012 and 2011 is that Peterson is healthy and decided to have his greatest season ever.
Then there is that whole injury business.
When I was ranking my top male athletes of the year, I had Peterson at No. 5. This is what I had to say about his famous injury.
On Christmas Eve 2011, the Vikings were playing the Washington Redskins in a meaningless late-season game. But the attention of the whole NFL quickly turned to that matchup as "Purple Jesus" was helped off the field early in the third quarter.

On December 26, 2011, one of the greatest runningbacks of all-time was placed on the injured reserve due to a torn ACL and MCL.

Joe Robbins/Getty Images

Peterson spent the early parts of 2012 recovering from that gruesome injury in a way that only someone nicknamed "All Day" can do. He wasn't expected to make it back for the start of the season. After all, the superstar runner had just suffered one of the most horrible injuries in sports.

But here we are, almost a year later.

Peterson, leading the NFL in rushing yards, has his lowly Vikings in playoff contention and is almost a shoe-in for the MVP trophy.

Seasons like the one that AD is enjoying don't happen often.

Recoveries like the one that AD went through don't happen often.

That is because athletes like AD aren't around often.
It is true that we are experiencing possibly the greatest season by a runningback ever.
The Oklahoma product has eight runs of 40 yards or more and 27 carries for 20 yards or more. Both of those numbers lead the NFL.
His 131.1 rushing yards per game also lead the league.
The Vikings aren't supposed to still be playing football. After his injury, Peterson wasn't supposed to still be playing football.
But they both are because of the dedication and will-power of one man.
The heart and soul of the Vikings has been explosive, formidable, tenacious, unshakable and exceptional this season.
Who deserves to win NFL MVP?
Use whichever buzz-word you want, but Peterson has been playing at a dizzying level.
And he has been doing it all alone.
Peyton Manning is firmly entrenched in the MVP conversation as well. But he is blessed with a defense that ranks third in the NFL when defending the pass and the run.
Willis McGahee and Knowshon Moreno make up the 16th ranked rushing attack in the league. Manning has a plethora of weapons to throw to and is being blocked by an offensive line that ranks second in the league in pass protection.
Similarly, Peterson is running behind a Minnesota offensive line that ranks 12th in the league in run blocking.
Manning has had a great season, but Denver is one of the most balanced offenses in the league. Everyone knows that the Vikings aren't going to throw the ball and teams routinely stack defenders in the box.
Still, Peterson has been running wild.
There is no doubt in my mind that Peterson has been the most valuable player for the Minnesota Vikings this year.
Without him the Vikes would be nowhere as great as they are now.
He has been the MVP in the Twin Cities and the MVP in the NFL.
Hands down.