Miami Heat vs. Orlando Magic: Live Score, Results and Game Highlights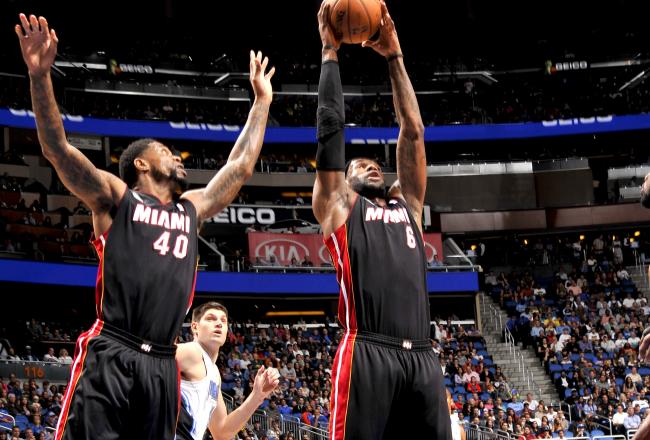 The Miami Heat edged the Orlando Magic 112-100 in overtime Monday night.
LeBron James led the Heat with 36 points, while Nikola Vucevic was a standout for the Magic, finishing with 20 points and an NBA season-high 29 rebounds.
Scroll down for updates from throughout the game.
LeBron with a New Year's Eve reminder: He's still the MVP. Enjoy whatever you have planned for tonight, everyone.

— Zach Lowe (@ZachLowe_NBA) January 1, 2013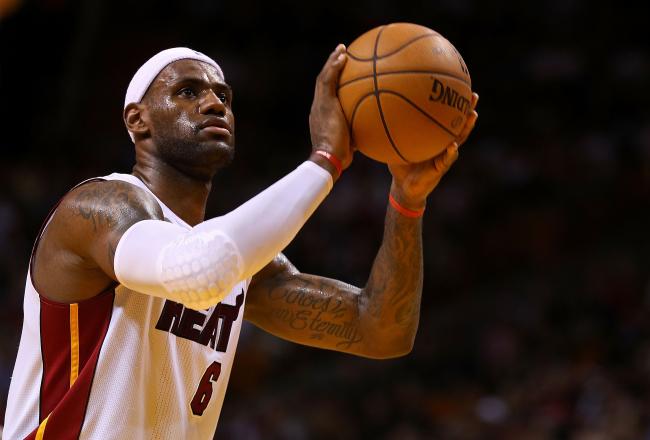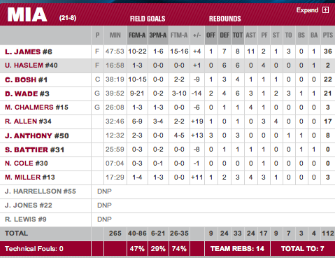 All it took was 36 points, 11 assists and eight rebounds from LeBron James and an impressive steal from Dwyane Wade in overtime to help the Miami Heat sneak past the Orlando Magic, 112-110.
This one wasn't pretty for the Heat, as they trailed for a majority of the game. But in the end, LeBron took over, hitting 15 of his 16 trips to the charity stripe.
LeBron hit the Heat's first two shots in overtime to set the pace, and let the Magic know that he wasn't willing to end 2012 with his third-straight loss.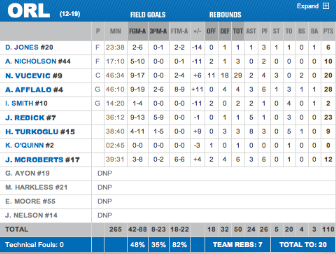 Nikola Vucevic had the game of his life, with 20 points and 29 rebounds, and yet, it wasn't enough to dethrone the reigning NBA champs.
Arron Afflalo had the second-best outing of his 2012-13 campaign with 28 points, and while his defense was staunch, it wasn't enough to help the Magic get a much needed win.
Chris Bosh and Dwyane Wade added 43 points combined, and Ray Allen finally woke up from his coma, with 17 much needed points off the bench.
It wasn't pretty, but the Heat got it done and if we learned one thing, it's that LeBron James is the Heat's leader.
He took clutch shots and led in clutch possessions. If 36 points, 11 assists, eight rebounds and 15-16 shooting from the free-throw line isn't an MVP performance, I don't know what is.
The Heat forced 3 straight turnovers to close game, last a Wade steal & dunk and they look like they'll get this game.

— Brian Windhorst (@WindhorstESPN) January 1, 2013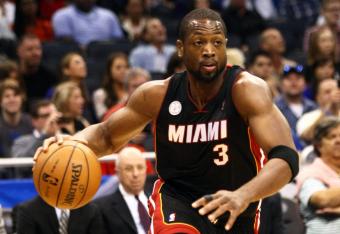 Dwyane Wade with the steal heard round Florida.
He intercepted Redick's cross-court pass and throws it down to give the Heat a four-point lead. Doesn't Redick know only LeBron can make cross-court passes?
Heat 110, Magic 106—6.2 remaining in OT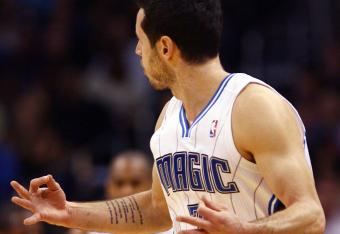 Well fans couldn't have asked for a better way to end 2012. Heat are up two points, with 17 seconds left and the Magic have the ball.
Heat 108. Magic 106—17:7 remaining in OT
Wade is willingly giving the ball up to LeBron in the clutch. #ChangofCulture
Heat 108, Magic 106—50.3 remaining in OT
Vucevic just out-rebounded Shaq in the Magic's record books
Vucevic has tied Shaq's Orlando Magic record with 28 rebounds.

— J.A. Adande (@jadande) January 1, 2013
For a team that dominated the glass for 50-plus minutes, they really bailed the Heat out there by giving them two second chances, and finally sending Wade to the line.
Magic 106, Heat 105—1:51 remaining in OT with Wade on the line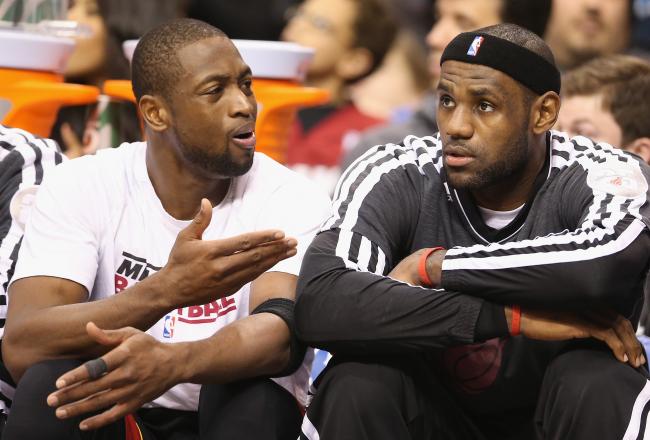 Difference between Wade and LeBron tonight—LeBron 13-14 from the line vs. Wade 2-8 from the line.
Magic 106, Heat 105—2:11 remaining in OT
Not a good time for Dwyane Wade to clank a wide-open slam dunk. Bailed out by a weak foul call, but clanks both free-throws.
Wade, that's why the Heat don't have nice things.
Heat 105, Magic 104—2:26 remaining in OT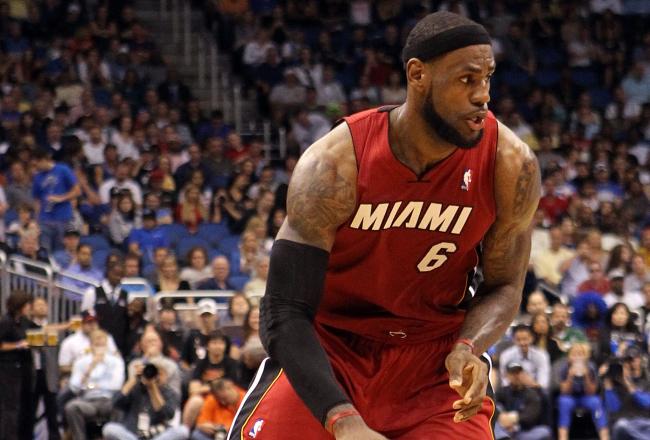 I'll give credit to Nikola Vucevic for his rebounding and scoring, but his defense on LeBron leaves much to be wanted.
Heat 105, Magic 100—3:19 remaining in OT
LeBron just decided to take over overtime, he's got the Heat's first four points if the extra period.
Heat 103, Magic 99—3:37 remaining in OT
Bosh has been dominated on the boards so much I didn't notice he was shooting 10 for 14 before that last jumper in regulation

— J.A. Adande (@jadande) January 1, 2013
Four rebounds and LeBron has a triple-double.
That's clearly why this one went to overtime.
Heat 101, Magic 99—4:33 remaining in the OT
Nikola Vucevic heads to OT with 27 rebounds; in last 2 seasons, only Andrew Bynum has more in game (30 vs Spurs last April).

— ESPN Stats & Info (@ESPNStatsInfo) January 1, 2013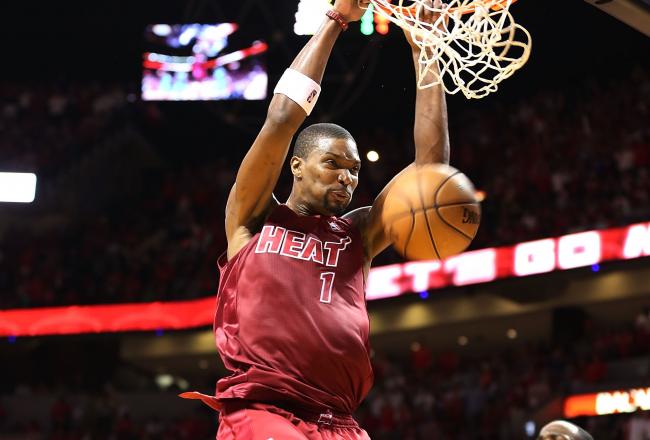 Well, Chris Bosh got that one and absolutely blew it.
Nice shot off the side of the backboard for the Raptor.
Heat 99, Magic 99—heading into OT
Who's getting this shot—Wade, LeBron, Bosh or Allen?
It's all tied up, courtesy of some aggressive play Chris Bosh and LeBron James.
Magic 99, Heat 99—3.6 remaining in the 4th quarter
LeBron gets fouled on the floor with 3.6 remaining. #CLUTCHTIME
I'd be impressed by Nikola Vucevic's 19 points if not for the fact I'm blown away by his 27(!!!!) rebounds. ORL 99 MIA 95 with 1:07 left

— J.A. Adande (@jadande) January 1, 2013
I guess it's comforting for the Heat to know that they're beatable mainly when their opponents are having career nights—bad part is that it seems to happen all too often.
Nikola Vucevic—19 points, 27 rebounds (11 offensive)
Arron Afflalo—26 points, 4 rebounds
Magic 99, Heat 95—1:07 remaining in the 4th quarter
The Heat aren't going away without a fight.
That sounds really odd, considering that they are playing the Orlando Magic. Three-ball drained by the Magic, and the lead extends, like Nikola Vucevic's arms.
Magic 97, Heat 93—1:42 remaining in the 4th quarter
Nikola Vucevic has Go-Go Gadget rebounding arms.

— Bleacher Report NBA (@BR_NBA) January 1, 2013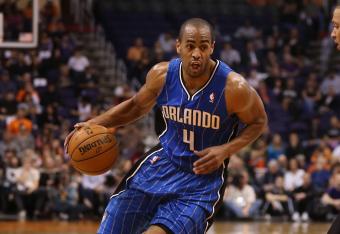 Arron Afflalo has been a revelation tonight—pouring in 22 points on 8-15 shooting.
His defense on Wade/LeBron has been a difference maker too.
Magic 93, Heat 91—2:45 remaining in the 4th quarter
This article is
What is the duplicate article?
Why is this article offensive?
Where is this article plagiarized from?
Why is this article poorly edited?