Oklahoma Football: Projecting the Sooners' 2013 Defensive Depth Chart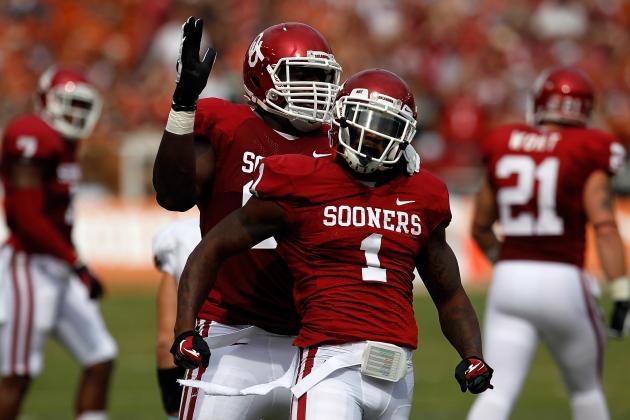 Tom Pennington/Getty Images
Free Safety Tony Jefferson is the star of the Sooner D.
Oklahoma football loses several key defensive players heading into 2013. Sooner fans will miss seeing names like Demontre Hurst, Javon Harris and David King on the gridiron.
However, the Sooners also retain key components of the defense. Barring premature exits to the NFL draft, Tony Jefferson, Aaron Colvin and Tom Wort should all return. These playmakers will be key to the team's defensive success.
Broadly, next year's defense will have plenty of new faces, but the unit has considerable potential. The key will be for returning leaders to perform at high levels to ease the transition for their raw teammates.
Here is an early look at the 2013 defensive depth chart for the Sooners.
Begin Slideshow

»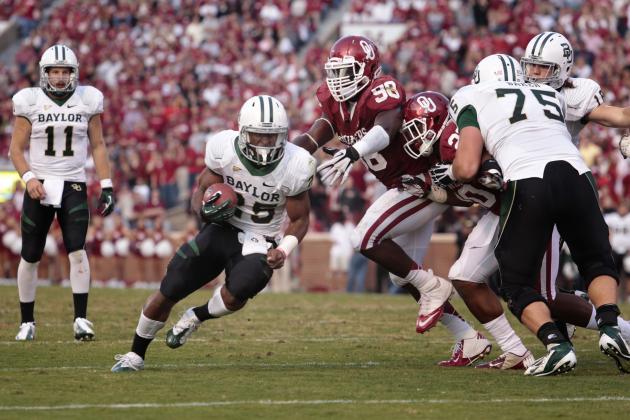 Brett Deering/Getty Images
Chuka Ndulue tied for the team lead with six tackles for loss in 2012.
Starter: Chuka Ndulue
Backup: Rashod Favors
Chuka Ndulue will bring valuable experience to the D-line in 2013. The sophomore has made 18 total appearances, including nine starts in 2012. He is most experienced returning player on the unit.
Ndulue turned in an impressive sophomore season, leading the Sooners with five sacks. His ability to follow up that performance with a solid junior season will be one of the key questions for an unproven defensive line that loses key players David King, Jamarkus McFarland and R.J. Washington.
Backing up Ndulue should be Rashod Favors. The redshirt sophomore has played both defensive end and linebacker in his 10 appearances.
Favors will be among the more seasoned returning defensive ends. Considering the lack of established players at the position, his experience will put him in good position to earn the backup role entering spring practice.
Other players to keep an eye on in the depth chart competition include Mike Onuoha, Charles Tapper and incoming recruit D.J. Ward.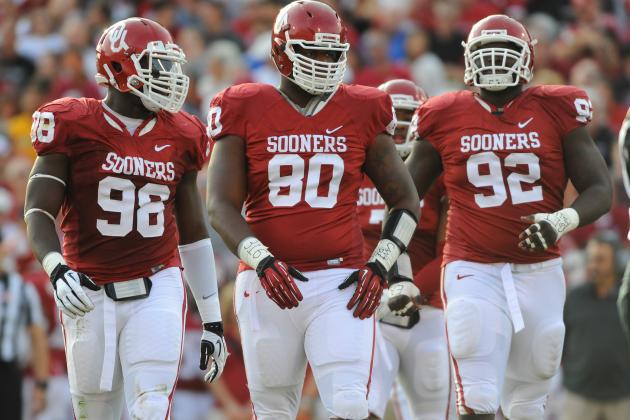 Denny Medley-USA TODAY Sports
Jordan Phillips (80) is one of the most massive players on the OU roster.
Starter: Jordan Phillips
Backup: Quincy Russell
Jordan Phillips, a former 5-star recruit according to Scout, saw action in 10 games this season as a redshirt freshman.
At 6'6", 318 pounds, Phillips is a formidable obstacle. His considerable height means he could be a valuable asset for batting down passes and generally disrupting the offense.
With Jamarkus McFarland, Casey Walker and Stacy McGee leaving, no returning defensive linemen stand out as heirs to the starting position. Phillips played in 10 games this season and seems most poised to earn the spot. Hopefully for Sooner fans, he lives up to his potential.
Right behind Phillips should be JUCO transfer Quincy Russell. Bob Stoops labeled the 6'3", 300-pound tackle a "huge difference maker" (via NewsOK.com).
Based on the head coach's praise, it's likely Russell will see considerable playing time. He may even become the starter. It will be interesting to see how the competition progresses in preseason camp.
Also keep an eye on freshman Jordan Wade and sophomore Damon Williams.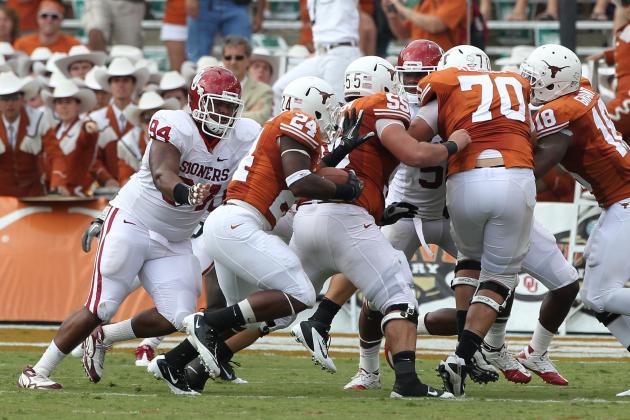 Matthew Emmons-USA TODAY Sports
Torrea Peterson will take advantage of departing talent at defensive tackle.
Starter: Torrea Peterson
Backup: Marquis Anderson
Torrea Peterson saw action in five games as a freshman in 2011, making three tackles as well as a tackle for a loss. Oddly, he didn't get any game experience this season.
However, he is in good position to earn a starting job next year based on his relative experience. Other defensive tackles on the roster are lacking in this area.
The No. 2 position should be Marquis Anderson's. The redshirt freshman tallied five tackles and a sack this season and has a bright future. The former U.S. Army All-American played in four games this season.
Incoming freshman Kerrick Huggins could also work his way into the rotation and compete for the No. 1 spot.
Matthew Emmons-USA TODAY Sports
Geneo Grissom is hoping to make his first start in 2013.
Starter: Geneo Grissom
Backup: Chaz Nelson
Provided he stays healthy, expect to see Geneo Grissom earn the starting defensive end spot opposite Chuka Ndulue. Grissom, who has also seen action at tight end, has appeared in 16 games, including 11 in 2012.
The D-line will take a hit with several seniors leaving after this season. Entering spring camp, Grissom will be one of the most experienced players on the D-line and will be poised to seize a leadership role.
Chaz Nelson will be in the discussion as well. The JUCO All-American will be a senior in 2013, and it'd be silly for the coaching staff not to utilize his talent.
Nelson didn't see any game action this season, but the defensive end position was a crowded with the likes of Ndulue, Grissom, R.J. Washington and David King.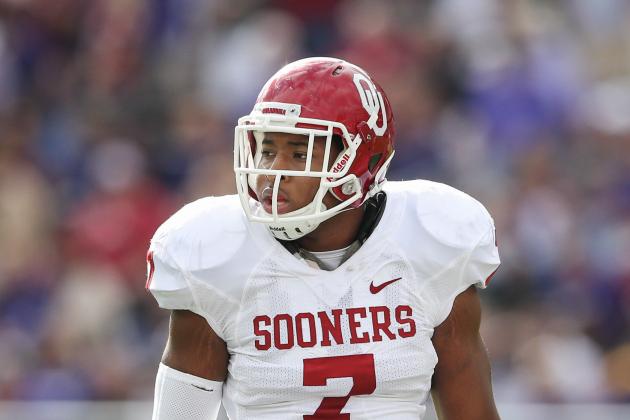 Kevin Jairaj-USA TODAY Sports
Corey Nelson brings size and athleticism to the linebacker postion.
Starter: Corey Nelson
Backup: Aaron Franklin
The linebacking corps figures to be a strength for Oklahoma in 2013. Corey Nelson has started 21 games in three seasons, including 10 in 2012. The junior turned in another notable campaign this season with 45 total tackles and a sack.
Nelson has played in every game since he arrived in Norman. His experience and reliability make him a key strength in the returning lineup.
Aaron Franklin is currently second on the depth chart, and it appears he'll maintain this role in 2013. The sophomore has made 22 appearances in two seasons. With the departure of senior Joseph Ibiloye, expect Franklin to see more action next season.
Matthew Emmons-USA TODAY Sports
Hard hitting is a staple of Tom Wort's game.
Starter: Tom Wort
Backup: Frank Shannon
Tom Wort should be the starter at middle linebacker unless he forgoes his senior season for the NFL draft.
Although he had a relatively quiet 2012 season, he was still a defensive leader. He tallied 52 tackles, tied for fourth on the team.
Wort's relative lack of visibility is partly attributable to Mike Stoops' schemes. Stoops utilized defensive back-heavy formations against pass-happy opponents like West Virginia and Oklahoma State, limiting Wort's opportunities.
Backing up Wort should be current freshman Frank Shannon. He played in 11 games this season and started the final two. He has considerable potential with three seasons ahead of him.
Shannon may even give Wort competition for the starting job. Regardless, he should get plenty of game experience.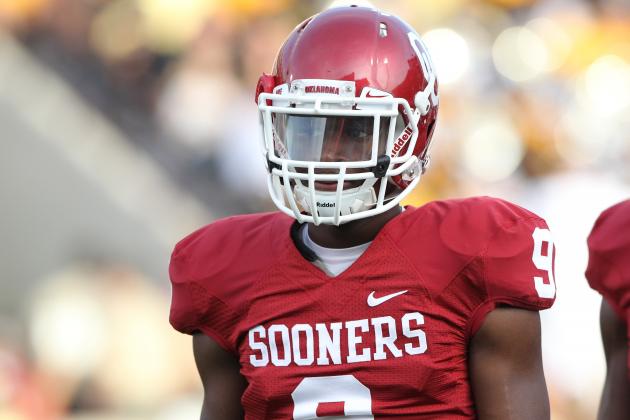 Matthew Emmons-USA TODAY Sports
Gabe Lynn has played in 30 games in three seasons.
Starter: Gabe Lynn
Backup: Julian Wilson
Gabe Lynn also appears to have the starting role under wraps. The junior has shown steady improvement since his freshman season, raising his season tackle total to 34 and starting 10 games.
The decorated recruit has the chance to have a huge senior season in 2013. He has plenty of experience in big games and rounds out a talented veteran secondary.
Next season could also be a breakout year for current sophomore Julian Wilson. He turned in a commendable 29 tackles and saw action in all 12 games this season, providing crucial depth for the overworked secondary. He should see more playing time in his junior season.
Together, Lynn and Wilson have the ability to make nickelback a forte for the Sooner defense. Consistency and reliability will be key for them against pass-heavy Big 12 offenses.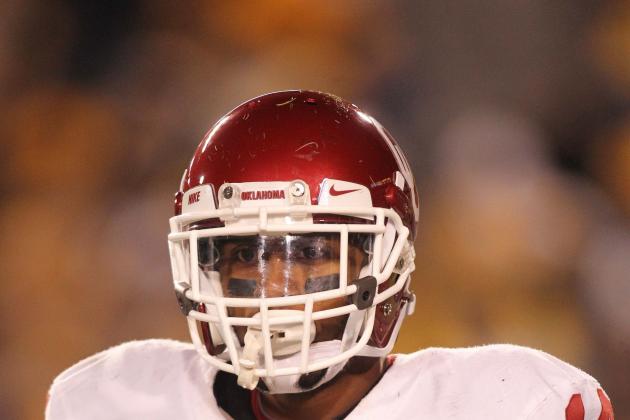 Charles LeClaire-USA TODAY Sports
Aaron Colvin's leadership will be crucial for Oklahoma in 2013.
Starter: Aaron Colvin
Backup: Gary Simon
Barring an unexpected early departure, Aaron Colvin will be a starter at cornerback next season.
The junior has been nothing less than a stud at OU. He's started 24 of 25 games the past two seasons. After an impressive sophomore season, he intercepted four passes en route to a first-team All-Big 12 selection in 2012. Expect another superb year from him next fall.
Colvin's current backup is freshman Gary Simon. He hasn't seen much action thus far, but he gets the benefit of the doubt for maintaining his position next season. As the backup to one of the best players on the team, it's unlikely he'll see considerable game action, barring injury.
Of course, shadowing one of the best cornerbacks in the nation is an invaluable experience for Simon, and he'll be in good position to earn a starting job after Colvin departs.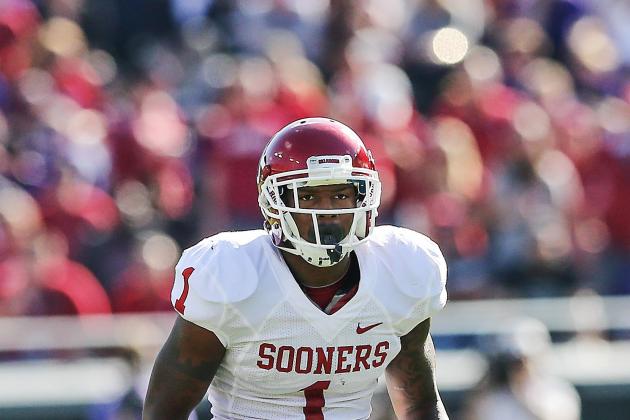 Kevin Jairaj-USA TODAY Sports
At 5'11", 212 pounds, Tony Jefferson possesses an enviable combination of size and agility.
Starter: Tony Jefferson
Backup: Quentin Hayes
Granted, it's far from certain that first-team All-Big 12 safety Tony Jefferson will return to OU for his senior season. Hopefully he does because he is the team's best defensive player and brings valuable athletic ability and experience to what will be an uncertain defense.
Jefferson continues to impress Sooner fans with his versatility. He is the team's leading tackler this season and impressive in coverage.
With current second-string safety Jesse Paulsen departing, in comes Quentin Hayes, who will be a junior next season.
Hayes is another unproven player. He has only played in eight games, all in 2011, but he will ultimately be one of the most experienced returning players.
The Texan native and high school teammate of fellow defensive back Demontre Hurst will have a key role as Jefferson's backup. He could also see time at cornerback.
The sophomore will probably need to bulk up (he's currently listed at 6'0", 181 pounds) in order to play safety.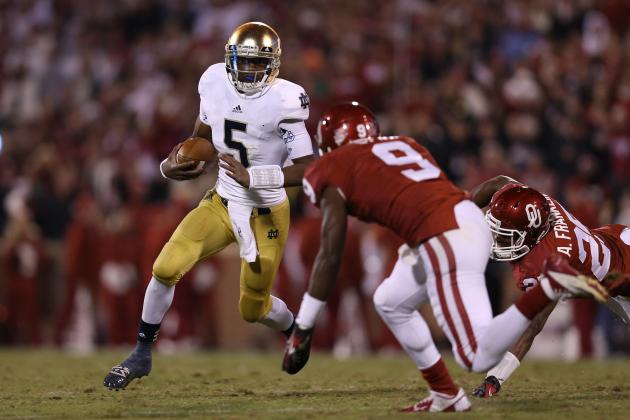 Matthew Emmons-USA TODAY Sports
Gabe Lynn will be a reliable backup to newcomer Hatari Byrd.
Starter: Hatari Byrd
Backup: Gabe Lynn
Unfortunately for Sooner fans, starting strong safety Javon Harris is a senior. However, expect incoming freshman Hatari Byrd to wow coaches and steal the starting job.
Byrd, a 4-star prospect ranked 14th nationally by Scout, has the tools to succeed. He is listed at 6'2", 200 pounds, and described as a hard-hitting defensive back with cover skills. Regardless of his role in 2013, he will be one to watch in upcoming seasons.
As for the backup, Gabe Lynn is currently listed as second-string. He may shift from outside linebacker/nickelback to safety to spell Byrd, leaving Julian Wilson at the former position.
Other potential backup safeties include incoming freshman Ahmad Thomas and current freshman Eric Doughtie.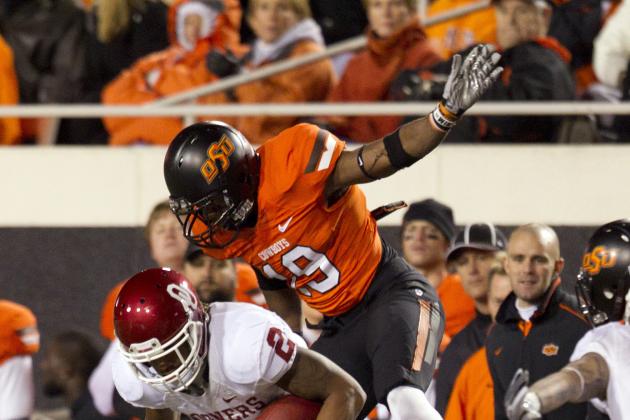 Richard Rowe-USA TODAY Sports
Joe Powell, a former wide receiver, brings valuable catching ability to the cornerback role.
Starter: Kass Everett
Backup: Joe Powell
Kass Everett, a JUCO transfer, is in good position to take over for departing senior Demontre Hurst at cornerback. Everett played in 10 games this season and enters his senior year with a promising outlook after adjusting to Big 12 football.
Joe Powell will also be a senior in 2013. He has seen action in nine games since 2010 and is still a bit of an uncertainty. Depending on how things progress in preseason camp, he could compete with Everett for the starting role. If Everett beats him out, he should be the most likely player to fill the backup role.
Also, expect to see incoming freshman Stanvon Taylor, a 4-star prospect according to Scout, in the mix at cornerback.