Kentucky Basketball: Ranking the Most Disappointing Wildcats So Far
Mark Zerof-USA TODAY Sports

It's been a disappointing year thus far for Kentucky basketball and head coach John Calipari.
They have four losses heading into the new year, or roughly double the number of losses they had last year in their championship run. Kentucky dropped a 55-game home winning streak when Baylor defeated the Wildcats at Rupp Arena.
Most recently Kentucky fell to archrival Louisville for the first time in five games.
However, who has been the most disappointing Wildcat player so far this year? Well that is up for debate, and if you ask someone in Big Blue Nation, you'll most likely get seven different answers—one for each player in the rotation.
I do believe the jury is out on a lot of Kentucky players, but this is my list for the most disappointing Wildcat, starting with the least.
I'm sure many of you will have an opinion on my list, so make your voice heard in the comments section.
Begin Slideshow

»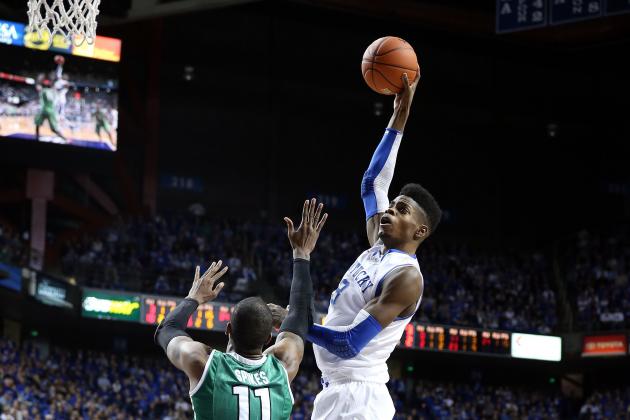 Andy Lyons/Getty Images

If there's been one consistent this year, it's been the play of Nerlens Noel for Kentucky.
He is currently averaging 10.5 points per game, nine rebounds per game and close to four blocks per game. A lot of people want to compare Noel to last year's Player of the Year, Anthony Davis, which might be unfair.
But let's compare Noel's current stats to Davis' from last year.
In 32 minutes of play Davis averaged 14 points per game, 10 rebounds per game and more than four blocks per game.
Pretty comparable to me.
Noel has finally found his home around the basket on both the offensive and defensive side and has proven to be a force. He has been the one person Calipari has been able to count on for a consistent effort so far this year.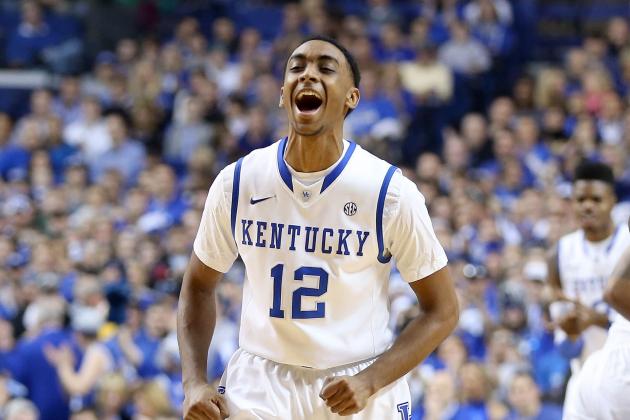 Andy Lyons/Getty Images

Harrow will be knocked for missing a handful of games to start the season due to an illness and then a family problem that forced him to return home.
However, since his return, Harrow has proven to Big Blue Nation and the rest of the country that Kentucky has another star at point guard.
Most recently, in Kentucky's loss to Louisville Harrow played 39 minutes, scoring 17 points, dishing out three assists and pulling down five rebounds. Most importantly, he committed zero turnovers against Louisville's press-and-trap defense.
Harrow is averaging less than a turnover per game in his eight appearances this season. That is easily the best stat for any point guard under Calipari during their first eight games.
The North Carolina State transfer also seems to be figuring out his role and knowing when to attack and when to throw the lob to Noel and Willie Cauley-Stein.
Harrow is only going to get better as the season goes on. He is a star in the making for the Wildcats.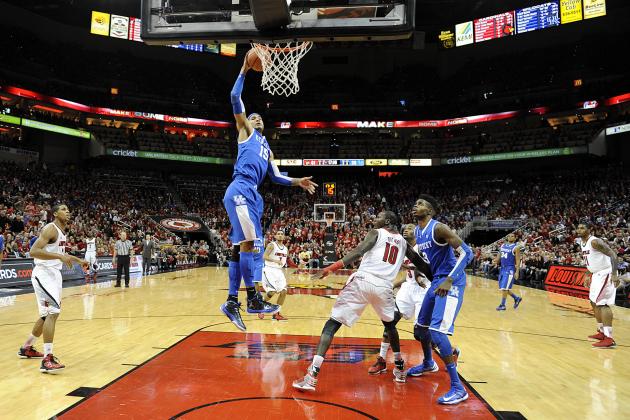 Jamie Rhodes-USA TODAY Sports

Freshman Willie Cauley-Stein might make the most of his time on the court for Kentucky.
He is currently averaging more than seven points, five rebounds and two blocks per game in just 20 minutes of action. Serving as the backup to Noel, Cauley-Stein comes in as the energy guy for the Wildcats and can often be seen diving after loose balls.
Being the lowest recruit out of this class, ranked No. 40 by Rivals, there wasn't as much hype coming into the season for him. But he's a rising NBA prospect due to his athletic ability.
If you haven't watched a Kentucky game all year, you haven't heard it yet, but he was a receiver in high school at 7'0". A lot of the time you can see him using his football skills when it comes to rebounding. Cauley-Stein does a good job of getting body position, then going to get the ball at its highest point.
Most importantly, he's provided a spark off the bench and the ability to give Noel rest when needed.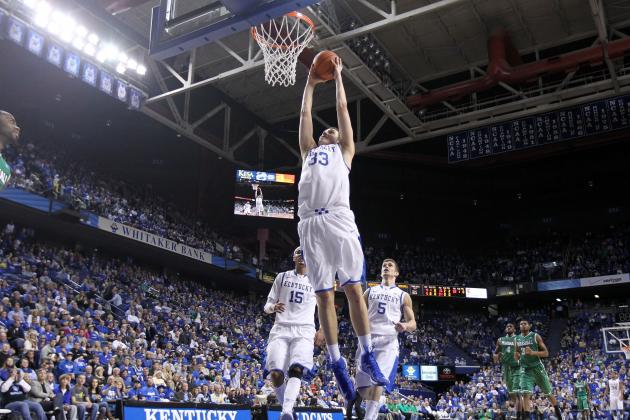 Andy Lyons/Getty Images

Kyle Wiltjer is the grizzled veteran for this year's Kentucky squad. The sophomore, yes, sophomore, has found his shooting touch again and is providing the Wildcats with the offense they expected out of him this season.
Wiltjer is currently shooting 42 percent from behind the arc and over 45 percent from the field so far this year while averaging 11 points per game.
After suffering a cold stretch to start the season, Wiltjer has rounded back into form, scoring 23 points against Lipscomb and 14 points against Louisville, including hitting 11 three-pointers in the two games.
While Wiltjer is limited defensively, Big Blue Nation needs to realize who Wiltjer is as a player. He is a deep threat with the ability to play in the post. He is not good at finding his own shot outside of the paint and isn't strong defensively.
When it comes to living up to his expectations, Wiltjer is doing just that, as he is third on the team in scoring and starting to hit his long-range shots again.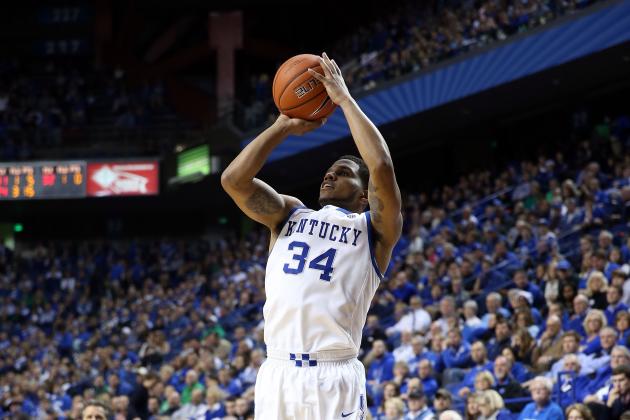 Andy Lyons/Getty Images

Julius Mays has been struggling lately when it comes to shooting. It doesn't help he was labeled as a sharpshooter before the season when it comes to feeling let down by his play so far.
But the thing with Mays is he was essentially a second-tier player for Calipari and Kentucky. The Wildcats needed a shooter on the wing, but the elite shooters that are two-guards wouldn't commit to Kentucky due to Archie Goodwin already committing as well as the uncertainty of who would return from last year's team.
Mays is doing what he was brought in to do: be a volume three-point shooter. He may not make all of them, but he is a shooter.
He has excelled defensively, however, usually guarding a bigger wing player than him and holding his own. Mays should pick his shooting, but for now he's ranked as the third-most disappointing player until he gets hot from the three-point line again.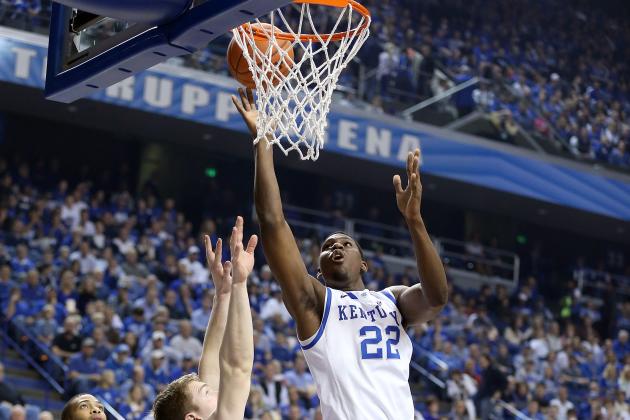 Andy Lyons/Getty Images

Alex Poythress has all the tools to be the No. 1 overall pick in the NBA draft. At 6'7" with the ability to step back and shoot the three as well as defend four positions, the physical tools are there.
However, much like Darius Miller and Terrence Jones were asked, is the killer spirit in Poythress? Can he turn on his switch to get it and attack the rim and be the beast that Calipari once called him?
So far this season he is averaging 13.8 points per game and more than six rebounds per game. Both are good for second most on the team. Also good for second most on the team is the fact he is averaging almost three turnovers a game.
However, you never know what Poythress is going to show up. Against Louisville he played 15 minutes, including only three in the second half, and scored seven points. Whereas against Duke he played 37 minutes and logged 20 points and eight rebounds.
Kentucky fans need to hope that Poythress finds a consistent game because he holds the key to Kentucky returning to the Final Four. But for now he's been wildly frustrating.
But much like his rebounding and scoring, he's only second in that category too. There's only one more Wildcat more disappointing than Poythress.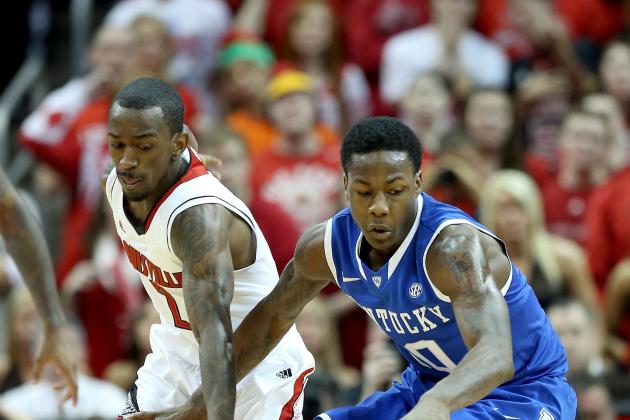 Andy Lyons/Getty Images

Freshman Archie Goodwin is the most disappointing Kentucky player so far this season. To me, it's not even a question.
People will argue about his scoring. Yes, he leads the team with more than 16 points per game. But where is he in big games? Where is his defense? Where is his ability to handle the ball? Where is his decision-making?
Playing out of position at point guard when Harrow left the team means a lot of the turnovers and bad decision-making can be chalked up to that. But with Harrow back on the team now and Goodwin returning to his shooting guard position, a lot of the same mistakes are still being made.
Goodwin, whose play reminds me of Eric Bledsoe from a couple of years ago, is committing more than three turnovers per game while shooting 46 percent. As a slasher and someone who likes getting to the rim, his shooting percentage needs to increase.
Defensively he has been a mess in big games. Against Baylor, Pierre Jackson could do whatever he wanted against Goodwin and recently against Louisville, Russ Smith looked like an All-American candidate while Goodwin guarded him.
As I mentioned in the opening slide, the jury is still out on most of these players as Kentucky gets ready for SEC play, and Goodwin is one of them. He is a freshman, a talented freshman, and can turn it around, but I think Goodwin is who we have seen so far: flashes of brilliance with a lot of question marks in between. If he can put together those brilliant times, he will be the best player on the Kentucky team.
I'm just not sure it can happen.