The Biggest MMA Winners from the Month of December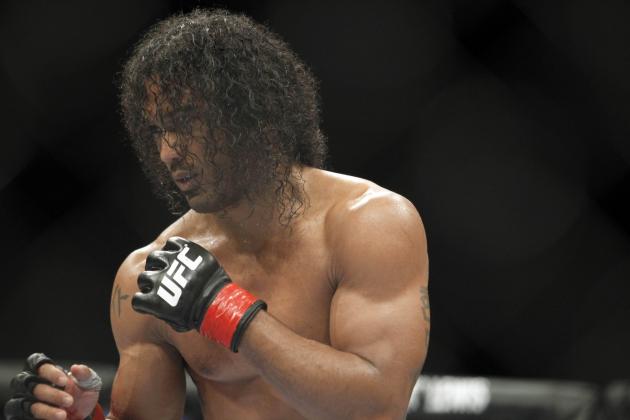 Joe Nicholson-USA TODAY Sports
Benson Henderson
December was a busy month for MMA. Four UFC events led the way, but other promotions like Bellator were active as well. In addition, the official word finally came that Strikeforce, previously considered the last major bastion of competition to the UFC, will permanently shutter its windows after its Jan. 12 event.
So who were the big winners from the month? Why don't we take a look.
Begin Slideshow

»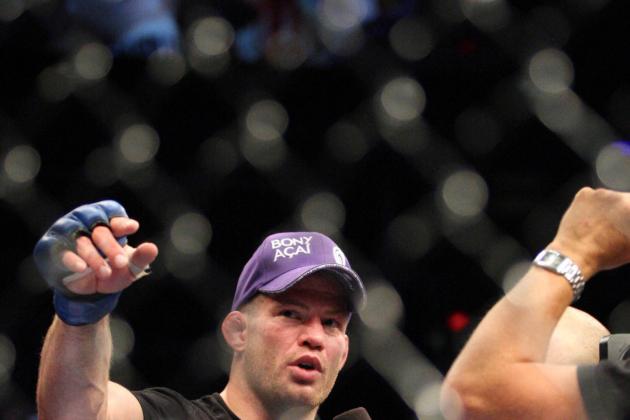 Scott Olmos-USA TODAY Sports

Nate Marquardt, in a somewhat surprising move, is returning to the UFC after his final Strikeforce fight Jan. 12. The Strikeforce champ was abruptly booted from the Octagon in June 2011 following a kerfuffle over his use of testosterone replacement therapy. But apparently, it's all forgive and forget now.
It's certainly good news for Marquardt, one of the good guys of the sport and a heck of a good fighter.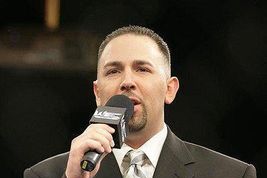 Joe Martinez (Photo credit: JoeAMartinez.com)
Longtime WEC ring announcer and general public-address jack of all trades Joe Martinez took the UFC microphone for the first time at UFC on FX 6 (which doubled as the finale of The Ultimate Fighter: The Smashes) in Australia. (Incumbent Bruce Buffer was working The Ultimate Fighter 16 finale in Vegas the same weekend.)
When it was announced right before UFC 155 that regular UFC play-by-play man Mike Goldberg was taking some time off, B-teamer Jon Anik stepped up and made the call alongside longtime color man Joe Rogan.
Both performed admirably in their roles. Here's hoping we'll see them in those roles again.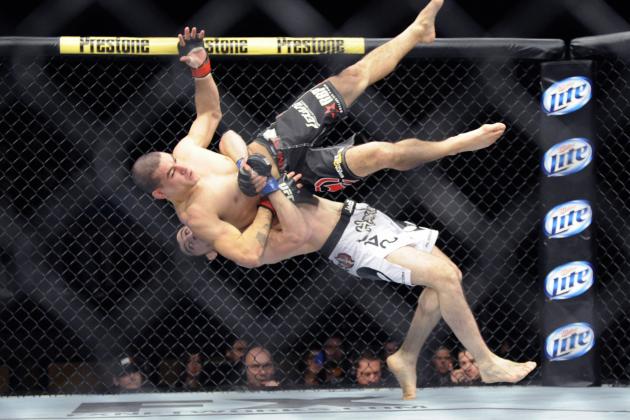 Josh Holmberg-USA TODAY Sports

Other Russian prospects may get more column inches or discussion threads, but Rustam Khabilov and his world-class sambo gave an unlikely kick to the undercard of The Ultimate Fighter 16 finale when he knocked out Vinc Pichel with a series of suplexes.
It's arguable that no other fighter made a bigger statement at the event, and that includes Roy Nelson.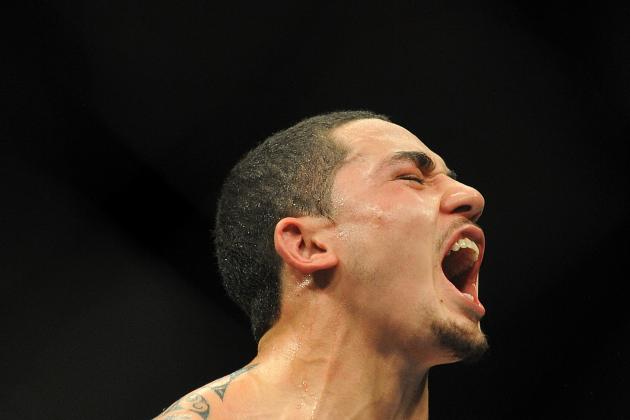 Matt Roberts/Getty Images

There were some good fights this month. But you know what? There were some pretty darn bad ones, too.
Robert Whittaker and Brad Scott's tangle at UFC on FX 6 fell into the former category. And good thing, too, as several other fights on the card (including the other TUF final fight) were less than stellar. The back-and-forth striking demonstration from these two was a bit wild at times, but Whittaker did enough to win the UFC contract.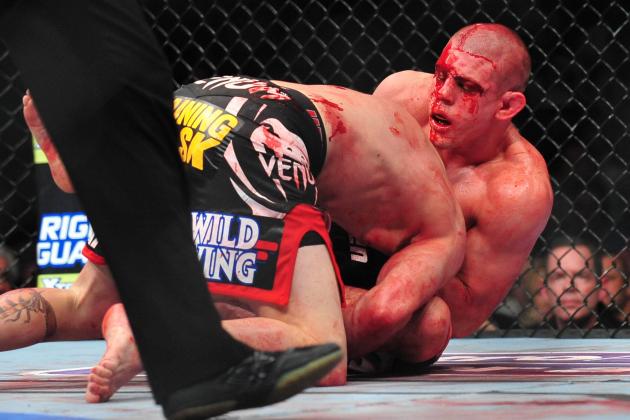 Gary A. Vasquez-USA TODAY Sports

This ground is well trod by now, but the accolades are more than well-deserved. I watch a lot of MMA, and the more I think about it, the more I think Joe Lauzon and Jim Miller staged the Fight of the Year Saturday night. (Dustin Poirier and Korean Zombie probably get the runner-up nod.)
And that was thanks to Lauzon's willingness to fight through head wounds that bled so badly they obscured his vision. The blood was pouring down his face in sheets. And he still almost stole a win at the end with a heel hook.
I think I read somewhere once that the UFC brass like that kind of effort. As do fans.
Alexander Volkov beat outspoken opponent Richard Hale at Bellator 84 to win the promotion's vacant heavyweight belt. It wasn't the world's most scintillating fight (see for yourself) and was overshadowed by a bizarre (and, honestly, rather silly) last-second postponement of Marcin Held and Dave Jensen. But Bellator still crowned a new champ, and that means we have a winner.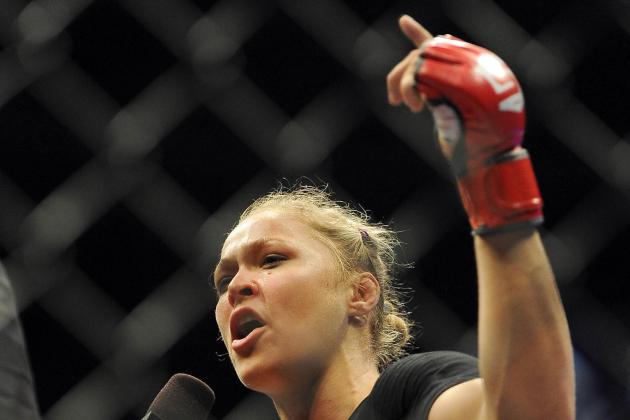 Jayne Kamin-Oncea-USA TODAY Sports

Early in the month, Ronda Rousey became the first female UFC champion. Of course, no woman has ever fought in the UFC before, but don't bother me with details!
The decision was somewhat controversial, but was not without precedent (see Jose Aldo). Regardless of one's feelings on the decision, there's no question Rousey is a pioneer in the sport. And she and Liz Carmouche set a new mark when it was announced they'd headline UFC 157 in February.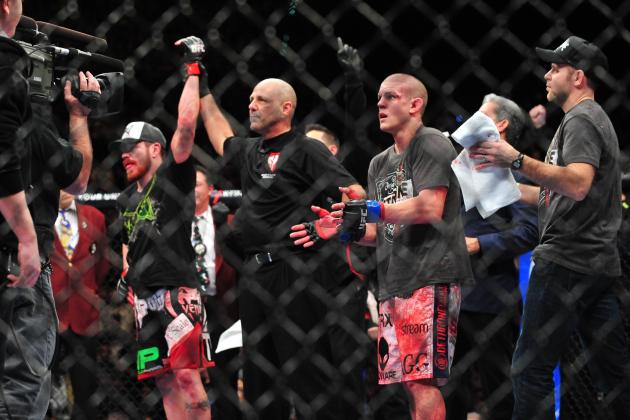 Gary A. Vasquez-USA TODAY Sports

The winning half of the Fight of the Year. Not only that, but Jim Miller and Lauzon helped salvage what to that point had been a decidedly dull event.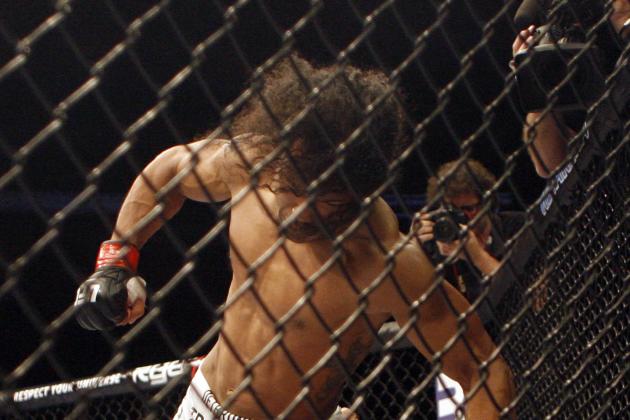 Joe Nicholson-USA TODAY Sports

In five masterful stanzas, Benson Henderson wrote himself into the history books as a lightweight champion to remember.
Coming into UFC on Fox 5, Nate Diaz was the hottest lightweight going, carrying an impressive three-fight winning streak in his pocket. But Bendo was unimpressed and smothered Diaz's boxing attack with the clinch and ground and pound. Diaz had no answer, and it became one of the sport's great title defenses in 2012.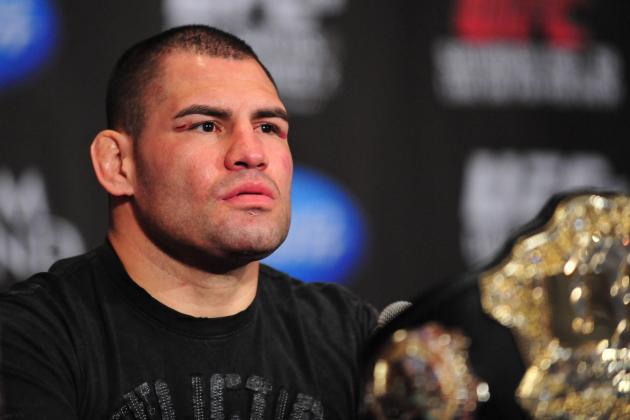 Gary A. Vasquez-USA TODAY Sports

Kind of a no-brainer on this one. Cain Velasquez beat Junior dos Santos worse than Dos Santos had ever been beaten before in a cage. Junior dos Santos was tough, he was brave and he was outclassed. Velasquez was aggressive from horn to horn and established himself, in my mind, as the best heavyweight fighter on planet Earth today.
Follow Scott Harris on Twitter.