5 Things We Want to See from the NY Knicks in 2013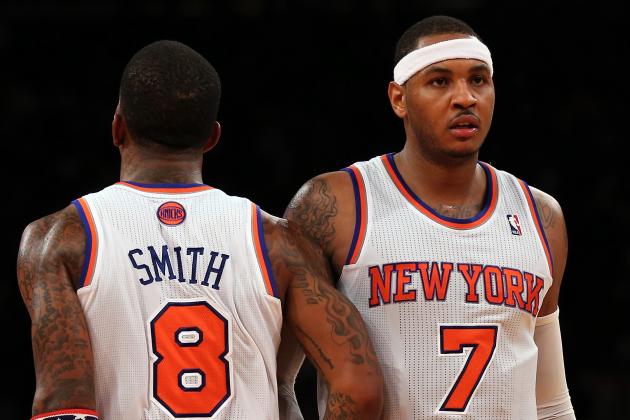 Elsa/Getty Images

A new year is upon us, and as ever, fans have a lot of hopes for the New York Knicks.
After their showing in late 2012, there's reason for hope for the Knicks organisation and ultimately a chance to compete for a title if they continue to play at a high level.
Though the last couple of years have been disappointing on the whole for the Knicks, 2013 offers a chance for redemption which would go a long way to helping make up for past faults.
Let's go through the top five things we want to see from the Knickerbockers over the course of the year.
Begin Slideshow

»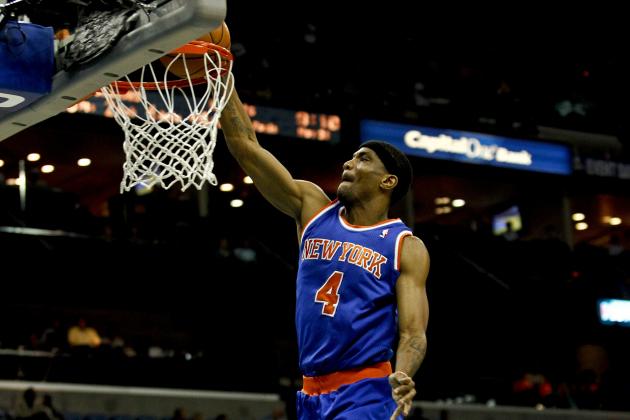 Derick E. Hingle-USA TODAY Sports

After last year's rather underwhelming events, All-Star Saturday might not be quite exciting as it once was, but for Knicks fans, that could all change in 2013.
There are not one, but two Knicks players likely to compete in the events, as according to the New York Post, James White has been nominated by the NBPA to compete in the dunk contest, and Steve Novak is reportedly likely to be there too, in the three-point shootout.
Though we've seen very little of White this year, he has a history as a fantastic dunker. According to Kevin Durant, he's the "best dunker ever."
As we all know, Novak is also one of, if not the best at his craft in the entire league, so both are worthy candidates for Saturday's events.
It's a minor thing looking at the overall picture, but there's no doubt that White and Novak could bring a much-needed spark to the All-Star Weekend.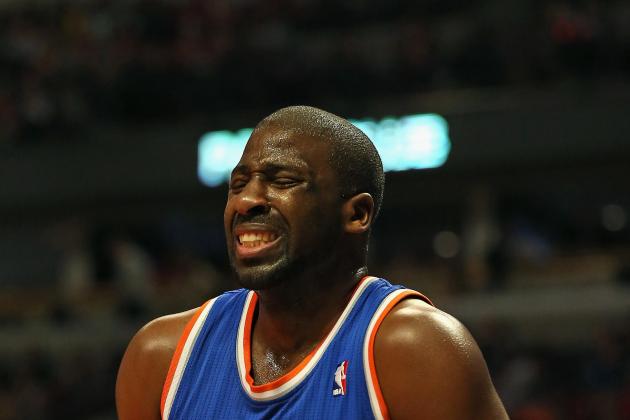 Jonathan Daniel/Getty Images

If you had to point out the one thing that hurt the Knicks the most in 2012, it was definitely injuries.
Plenty of players, including Amar'e Stoudemire, Iman Shumpert, Jeremy Lin and Baron Davis suffered long-term injuries over the course of the year, with more than a few niggling injuries hitting the rest of the roster.
Even now, entering the new year, Raymond Felton, Rasheed Wallace and Shumpert find themselves out of action, with Stoudemire only recently returning from his own injury.
As they have done through the first third of the season, the Knicks can survive without a completely healthy roster, but when it comes to playoff time they'll need to be much nearer to full health.
In both the 2011 and 2012 playoffs, injuries hurt the Knicks in a big way, and they can't afford to let it happen again this year. The championship window is much too small to let this start to the regular season go to waste.
It will require some careful management of minutes by Mike Woodson, but if he can ensure he has his roster ready to play by April (with the exception of maybe a few minor injuries) the Knicks will be in a good position.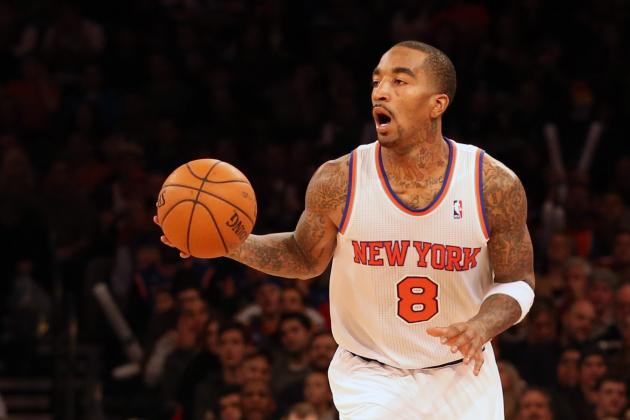 Anthony Gruppuso-USA TODAY Sports

It took a while, but this season we are finally seeing J.R. Smith turn into the player we all knew he could be.
Smith has always had the talent and athleticism to do big things in the NBA, but until joining up with Mike Woodson last season, the mental side had always eluded him.
What we are seeing now is a more focused J.R. than the one we saw in Denver and New Orleans, and it's resulting in a strong run for the Sixth Man of the Year award.
Defense is no longer an issue—you could even argue that he's been a difference maker on that end of the floor this season—and offensively, his shot selection has improved tenfold. It has been a delight to watch after a frustrating first eight seasons in the league.
We knew Smith had improved based on his play in the opening weeks, but his performances in late-December in the absence of Carmelo Anthony (for the most part) are what should really be catching people's eye.
Over his last six games, Smith has averaged 25.5 points, 7.3 rebounds and 4.0 assists, which are undoubtedly All-Star numbers. He is contributing across the board and becoming a major part of this Knicks team.
It may sound reactionary, but if Smith can continue his development into the new year, we may just be talking about a Big Four in New York rather than a Big Three.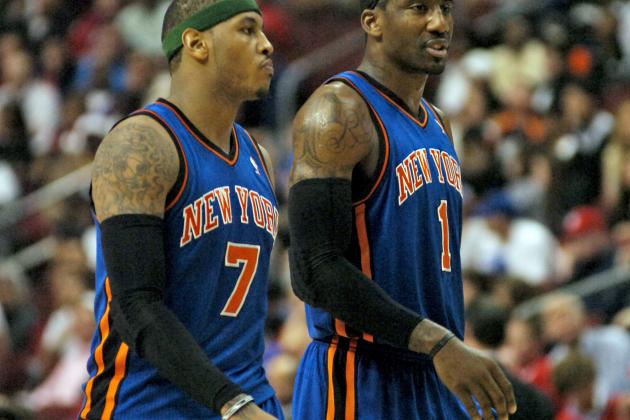 Eric Hartline-USA TODAY Sports

The main criticism of the Knicks over the past few years has been that Carmelo Anthony and Amar'e Stoudemire cannot play together effectively.
Whilst that may be more relevant to the Knicks under Mike D'Antoni (they have a 9-3 record together under Mike Woodson), they are hardly what you'd call a dynamic duo in the NBA.
Over the past two seasons, the two haven't really had a chance to mesh, but now that both are healthy, they have an opportunity to come together and do something special.
Stoudemire is coming off the bench for the time being, and if he does so when fully healthy, will likely only be on the court for around 15 minutes a game alongside Melo. The pair just need to make sure they dominate together.
Though both have had success at the power forward position, moving Stoudemire over to center whilst he plays with Melo is the best bet, with Chandler being given a rest in those minutes.
That would give both players plenty of space to work with and would also set up the pick-and-roll, which has actually worked very well in the rare instances the two have used it.
With an unstoppable scorer like Melo as the ball-handler and a fantastic pick-and-roll player in STAT as the screen-setter, they could be a dangerous pairing utilizing that play.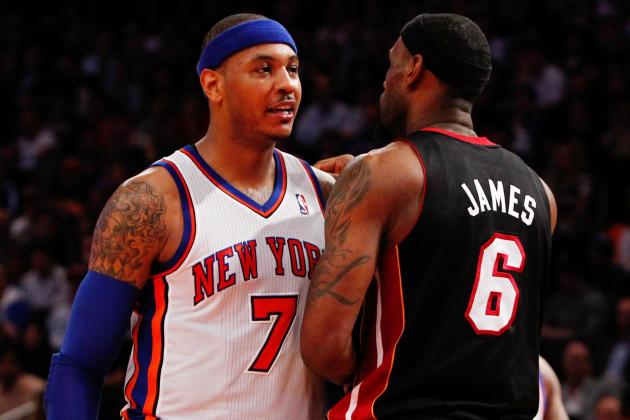 Debby Wong-USA TODAY Sports

Since acquiring Carmelo Anthony, the Knicks are 1-8 in the postseason. There have been injuries and tough circumstances in the past, but this season there will be no excuse for another first-round exit.
In fact, when you look at the depth of the Knicks roster, and the success they've had so far in the regular season, there's no reason that this team shouldn't at least make the Eastern Conference finals.
The East is weaker this year than it was last year, and if they can play consistently until April, the Knicks will be guaranteed a high seed. That gives the Knicks a great chance of advancing deep into the postseason.
New York has played too well this season with injuries for that to be an excuse in 2013. With the age of this roster, the franchise simply cannot afford for another season to go to waste without a significant improvement when it counts.
With Melo playing at an MVP level and plenty of playoff-tested veterans joining him on the roster, the Knicks have the makeup of a quality playoff team.
When we get to the postseason, though, that needs to all come together because without at least one or two series victories, the Knicks will be going into the offseason with some huge questions.