Boxing's Biggest Winners in 2012: Your Year-End Awards Edition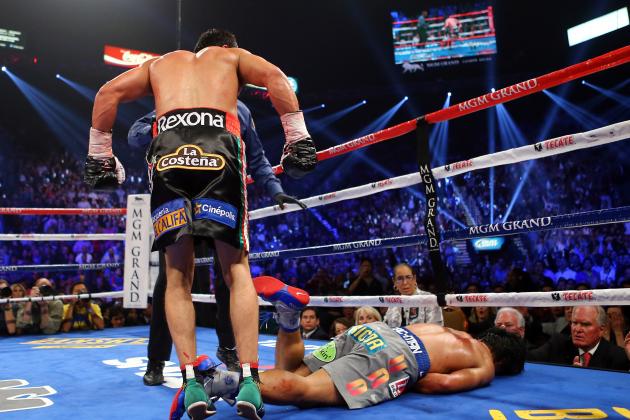 Al Bello/Getty Images
This most be the most iconic sports image of 2012.
It's that time of the year already. All the presents have been unwrapped, all the big fights have ended and the new year is right around the corner.
So you know what that means?
It's time to dish out the hardware to the best of the best from this past year in boxing.
Read on as we award our fighter of the year, fight of the year, round of the year, upset of the year, breakout fighter of the year and prospect of the year for 2012.
These awards are a collaboration between myself and fellow boxing featured columnists Briggs Seekins, Zachary Alapi, Justin Tate and Michael Walters.
Begin Slideshow

»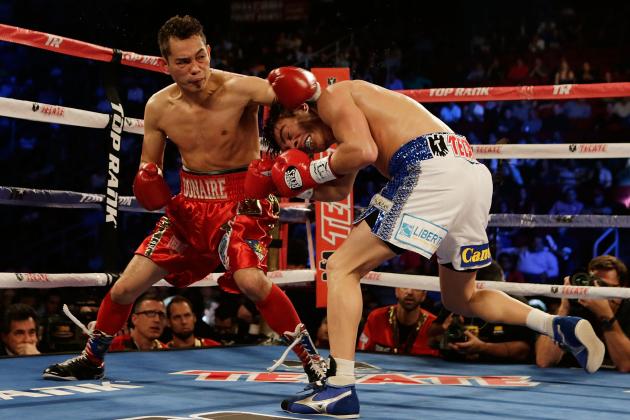 Scott Halleran/Getty Images
Donaire impressively dispatched four world-class opponents.
Justin Tate tells us why it's Nonito Donaire:
No one fights twice a year. Rarely do fighters fight three times a year. Nonito Donaire fought four times and against world-class competition.
Mathebula was the IBF champ. Vazquez was the former WBO champ. Nishioka was the former WBC champ and Arce is a multiple-division champ.
It just doesn't get much better than that. Hopefully we'll see either Donaire-Rigondeaux or Donaire-Mares next year. If we can see both fights next year, Donaire may find himself in this position again this time next year.
Zachary Alapi takes a slightly different, but no less important angle:
Donaire was incredibly active for an elite, championship fighter in 2012. He went 4-0 with all his wins coming in world title fights, and he firmly established himself as the world's best fighter at 122 pounds.
Donaire's wins over Wilfredo Vazquez Jr., Jeffrey Mathebula, Toshiaki Nishioka and Jorge Arce were ofthe highest quality, and his knockouts of Nishioka and Arce were spectacular.
With his commitment to year-round drug testing and in-ring results, Donaire is an easy choice for Fighter of the Year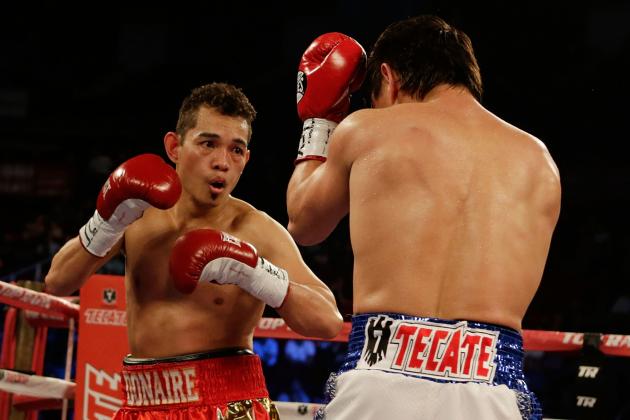 Scott Halleran/Getty Images
Donaire accomplished more than anyone in 2012.
It's obviously Nonito Donaire. The Filipino Flash had some year, fighting four times, all against world-class opposition and easily dispatching of all of them.
Donaire opened his 2012 campaign with a WBO super-bantamweight title win over the rugged Wilfredo Vazquez Jr. and then unified the division, by capturing the IBF title over the Summer, with a dominant win over Jeffrey Mathebula.
Not content to sit back on his laurels, as most fighters would do, the Filipino sensation would go on to stop former super-bantamweight champion Toshiaki Nishioka and multi-division world champion Jorge Arce to close out the year.
And he did it all while being a clean fighter, having voluntarily chosen to participate in the strict VADA PED testing protocol, and should serve as an example for the rest of the sport.
Votes: Donaire 4, Leo Santa Cruz 1
Al Bello/Getty Images
Pacquiao-Marquez IV was one for the ages.
For Briggs Seekins the choice was obvious:
There are some other worthy contenders, but I think the historical significance along with the back and forth action and multiple knockdowns and the sudden shocking ending make it the clear cut choice.H
Historical significance was also on the mind of Justin Tate:
No fight had as great a storyline as this one.
No fight had as much drama and intrigue along with shock and awe produced in this six-round clash of two multi-divisional titans whose rivalry runs the chance of toppling the very best fight series in the sport's long, storied history.
Zachary Alapi says it was the dramatic moments and stunning outcome that give Pacquiao-Marquez the nod:
It's hard to vote again Brandio Rios-Mike Alvarado, but Marquez-Pacquiao IV was the more significant event.
The fourth installment of this all-time great rivalry featured compelling shifts in momentum, furious exchanges, three total knockdowns and the most shocking ending to a fight in recent boxing history.
Marquez scored his first ever knockdown of Pacquiao with a booming overhand right, only to find himself on the canvas from yet another straight left hand from Pacquiao in Round four.
Round five was a round-of-the-year candidate, and Pacquiao carried positive momentum into Round six and appeared to be gunning for a stoppage.
Then, Pacquiao ran into a perfect straight right hand that knocked him out cold with only one second left in the stanza. Simply stunning and breathtaking stuff.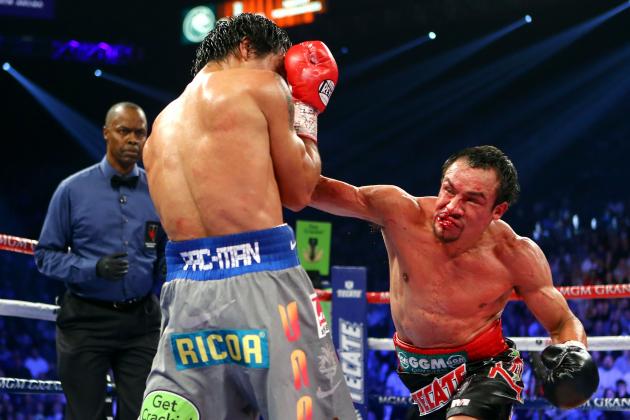 Al Bello/Getty Images
Hands down the fight of the year...and that's saying something.
If you asked people in the immediate aftermath of Brandon Rios vs. Mike Alvarado if there was a chance another fight would steal fight of the year honors you'd have heard the crickets.
But that's exactly what happened when Juan Manuel Marquez and Manny Pacquiao engaged in a brutal, back and forth war on Dec. 8.
Both men were down, both men were badly hurt, both men left nothing on the table in a high-drama grudge match with a spectacular ending.
You can't ask for anything more in a fight, and this one delivered big-time.
Votes: Pacquiao vs. Marquez IV 4, Rios vs. Alvarado 1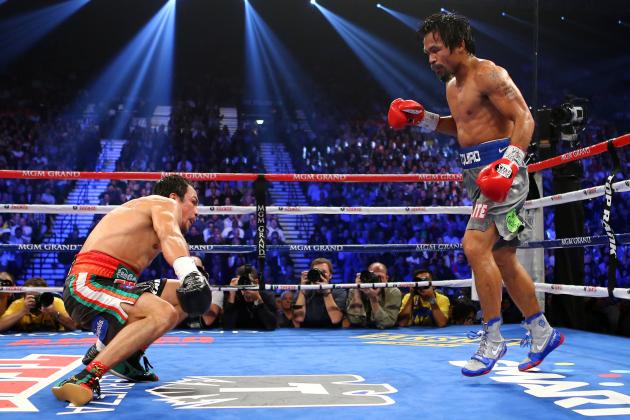 Al Bello/Getty Images
So many choices...even within this fight.
There was some tremendous debate over this award. Here are some of the highlights.
Zachary Alapi says hold it with all the Pacquiao-Marquez talk. It may be fight of the year, but round of the year? No:
I always find it difficult and maddening to remember which rounds stood out in a given year, but the last stanza of Martinez-Chavez immediately came to mind. Martinez, of course, had dominated the fight for 11 rounds, so the last frame saved what had been an utterly one-sided fight.
Chavez dropping Martinez so early in Round 12 made for high drama, and Martinez incredibly stood his ground and rallied after falling to the canvas.
Instead of holding, Martinez traded with Chavez, backing him up after Chavez appeared poised to score a stoppage.
Also, one can't help but notice the parallels between what Chavez nearly did and what his father did in the final round of his fight against Meldrick Taylor. To put it simply: 3 minutes of boxing has apparently justified Martinez-Chavez II.
Justin Tate on the other hand favored round six of the epic rematch:
Round six of Pacquiao-Marquez IV. In a round where Marquez's nose was bloodied and looking broken and Pacquiao was coming on strong to make up for the knockdown he received in Round three and to capitalize on what he hoped was a hurt Marquez from the knockdown in Round five, we saw a completely unexpected outcome when Marquez dropped Pacquiao facefirst to the canvas.
The knockout came after a series of exchanges that would leave the observer to think that Pacquiao was at least winning the round if not the fight thus far.
Briggs Seekins says right fight, wrong round:
I am tempted to think that there would be better choices in terms of back and forth action, since this round was all Pac.
But it was a huge momentum swing back in his direction and the way Marquez hung on at the end of the round is something pretty much no other fighter could have done.
Again, historical significance has to give this round the edge.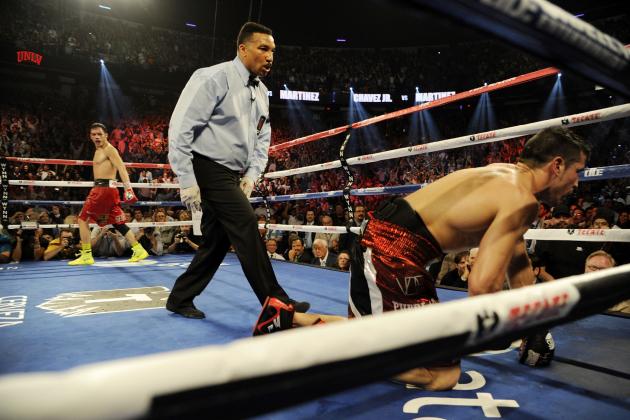 Jeff Bottari/Getty Images
Chavez Jr. nearly pulled a rabbit out of his hat as his father did years earlier.
This was by far the most hotly debated topic in all of the year-end boxing awards. Literally any of the rounds mentioned, plus round nine of Orlando Salido's win over Juan Manuel Lopez, could easily take the hardware.
But in the end the final round between Julio Cesar Chavez Jr. and Sergio Martinez takes the nod, albeit narrowly.
For 11 and a half rounds Sergio Martinez made Julio Cesar Chavez Jr. look every bit of the overhyped, overprotected fighter that many speculated he was coming into the fight.
Martinez boxed circles around him, hurt him whenever he wanted to, and left his opponent seemingly clueless as to what to do. It was up to that point one of the most epic big-fight mismatches in history.
And then bang! Chavez Jr. out of nowhere not only dropped Martinez, he hurt him, badly. It looked at the time that he could be on the way to one of the most stunning, and improbable comebacks in boxing history.
To his credit Martinez, despite being badly hurt and on the verge of possibly being stopped, never backed down. He traded with Chavez Jr. from the minute he rose to his feet until the final bell.
It was an epic and stunning finish.
Votes: Martinez vs. Chavez Jr. Round 12 2, Pacquiao vs. Marquez IV Round 5 1, Pacquiao vs. Marquez Round 6 1, Salido vs. Lopez Round 9 1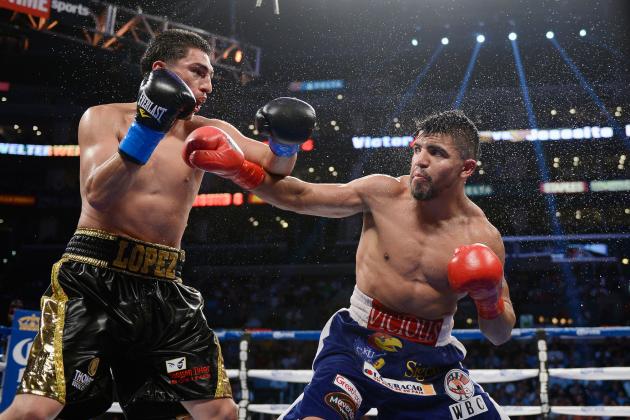 Kevork Djansezian/Getty Images
Ortiz vs. Lopez is certainly a contender.
Michael Walters explains how Garcia's upset of Khan propelled his career:
Upset was a toss up for me between Garcia vs. Khan and Lopez vs. Ortiz but I guess I am going with Garcia because that win has propelled him to the top of the sport.
Briggs Seekins on the other hand feels Lopez over Ortiz was the bigger upset:
Honestly, after watching it, I'm not sure how much it was an upset and how much it's just Lopez coming into his own and having a perfect fight. At the time it was a pretty big surprise and it certainly upset Golden Boy's biggest plans for the fall.
Justin Tate agrees that Lopez win was more shocking:
It was apparent that Lopez was supposed to be fed to Ortiz so Ortiz could look good before being fed to Saul Alvarez.
Lopez, a fighter who had never ventured into welterweight territory, made the journey well and packed a lot of heart, courage and determination with him and loaded it into his fists.
That determination broke Ortiz's jaw and created what has to be the biggest upset of the year.
Zachary Alapi, as he so often does, thought outside the box with his pick going with Sonny Boy Jaro's win over Pongsaklek Wonjongkam:
Jaro, who had come up short in his two other bids for world titles, scored a shocking stoppage over Thai legend Wonjongkam to capture the lineal and WBC flyweight titles.
Wonjongkam had made 17 defenses during his first reign, and in 2010 he had regained the title with an age-defying performance against Koki Kameda.
To see Wonjongkam lose so definitively against a fairly pedestrian opponent was a major surprise, and it proved a sign of things to come as Wonjongkam would again get stopped--this time by a sub-.500 fighter--in November.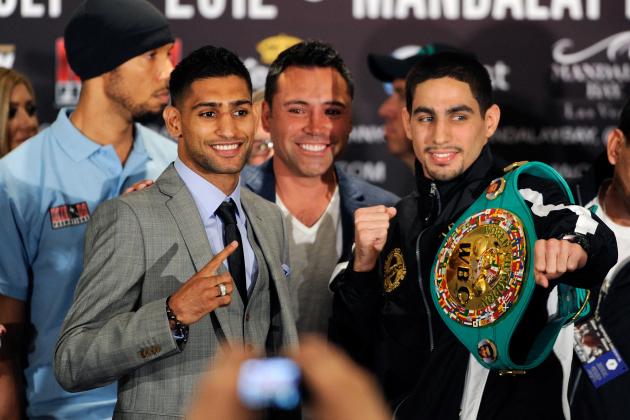 David Becker/Getty Images
Garcia over Khan was shocking.
Ladies and gentlemen after twelve months of boxing...we have a draw!
We simply couldn't settle this one. Both Danny Garcia and Josesito Lopez received equal support for their stunning knockout victories over better known opposition and both deserve credit for using their wins to propel their careers.
Danny "Swift" Garcia certainly deserves credit for elevating himself from opponent status against Amir Khan, to rising superstar with his crushing knockout of the British star. Few people knew his name before the fight but most know it now and his star will continue to grow with impressive performances.
Lopez, who was perhaps even more unknown than Garcia, broke Victor Ortiz's jaw and in the process derailed a potential big-fight showdown with Canelo Alvarez. Both Lopez and Garcia were behind in the fight at the time of the stoppages making them all the more impressive.
Votes: Garcia KO 4 Khan 2, Lopez RTD9 Ortiz 2, Sonny Boy Jaro KO 6 Pongsaklek Wonjongkam: 1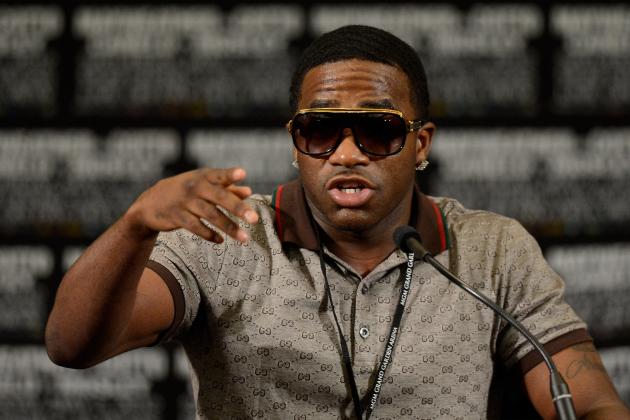 Ethan Miller/Getty Images
Did "The Problem" do enough to be breakout fighter of the year?
Zachary Alapi makes the case for Danny Garcia being breakout fighter of the year:
It's hard to argue against Garcia for this award. 2012 was the year where Garcia became a world champion for the first time, and he consistently improved throughout his 3-0 campaign.
His decision win over Erik Morales was gutsy, and his 4th round stoppage of Amir Khan was shocking and devastating. It was Garcia's win against Khan that propelled him into the public's consciousness, and he only furthered his momentum by scoring a sickening KO of Morales in their rematch at the inaugural boxing card at the Barclays Center in Brooklyn.
Briggs Seekins on the other hand says not so fast, it's Adrien Broner and it's a no-brainer:
No explanation necessary. I don't agree he deserves to be ranked as high as Ring has him right now, but it seems like he will inevitably end up there.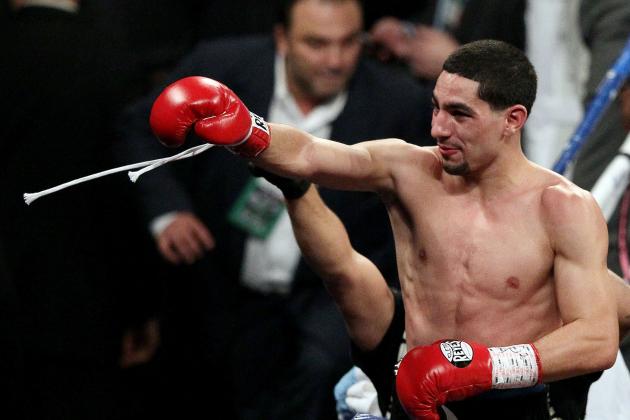 Alex Trautwig/Getty Images
Garcia had the most impressive campaign in 2012, given he came out of nowhere.
You could go in several directions with this award. Adrien Broner had a very impressive 2012 campaign with dominant victories over Vicente Escobedo and a lightweight title win over Antonio DeMarco.
But Broner has been hyped as a top-prospect for some time now. Danny Garcia was a relative unknown coming into 2012.
He elevated himself from blip on the radar screen to the unified junior welterweight champion in just three fights this past year.
Garcia scored two spectacular knockouts, over Amir Khan and Erik Morales, and also decisioned "El Terible" earlier in the year.
Not bad for a guy who was an opponent before those fights. Don't forget, Garcia was chosen to face Khan simply because it was felt he was an easy mark for the Brit to regain a title belt.
He's poised or a big 2013 with a bout with Zab Judah already lined up for February at the Barclays Center.
Votes: Danny Garcia 3, Adrien Broner 1, Leo Santa Cruz 1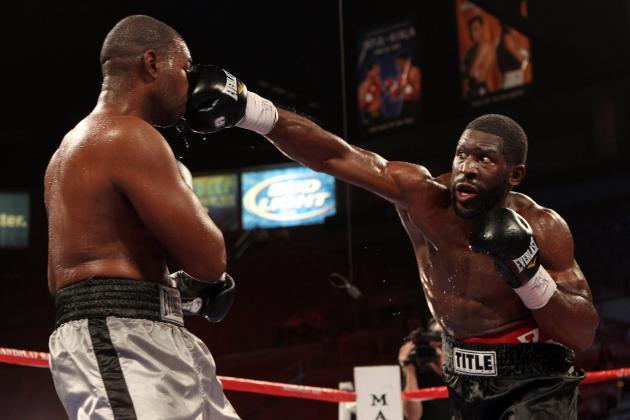 Scott Heavey/Getty Images
With Seth Mitchell's loss will more people be hearing the name of Bryant Jennings?
Justin Tate is impressed with Keith Thurman's jump from relative unknown to super-prospect:
A welterweight who no one knew began the year a mere 8-round fighter and ended the year with a massive KO win over a sturdy veteran former champ in Carlos Quintana.
For Thurman, the journey from prospect to contender is complete.
Michael Walters also felt that the win over Quintana drastically increased Thurman's stock and made him prospect of the year:
For the way he destroyed former titleholder and Paul Williams conquerer Carlos Quintana.
Zachary Alapi travels across the pond for his pick of Irish super-bantamweight Carl Frampton:
It's somewhat hard to define the term prospect in boxing. Should one focus on age, experience, level of opposition, in-ring performance or some combination of all four? And when does a fighter officially graduate from "prospect" to "contender" status?
Semantics aside, my choice is Northern Ireland's Carl Frampton (15-0, 10 KO). In 2012, Frampton went 4-0 with 3 knockouts, culminating with a dominating sixth round TKO of former world champion Steve Molitor.
Frampton currently owns the Commonwealth and IBF Inter-Continental super bantamweight titles. With poise, power and classy boxing skills.
If you know Briggs Seekins, you know he loves the heavyweights, which is where he gets his pick:
I'm going with heavyweight Bryant Jennings. I don't feel like he has crossed over to full contender/alphabet soup belt status, like Keith Thurman or Leon Santa Cruz have.
But Jennings looked very impressive in 2012 and with Mitchell losing, he has to move up to number two behind Deontay Wilder for most exciting young American heavyweight of the moment.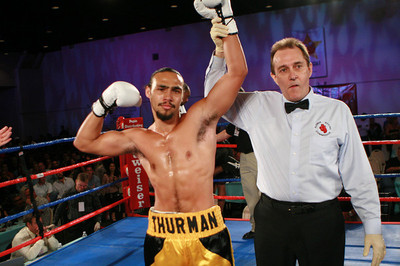 http://konews.net/index.php?p=1_487
Keith Thurman is a knockout machine who doesn't like his opponents hearing the final bell. At the end of 2012 he has accumulated an impressive 18 knockouts in 19 wins including 15 within the first three rounds.
While his ceiling has yet to be determined, as he hasn't faced high-level challenges yet, his impressive destruction of former welterweight champion Carlos Quintana in November gives reason for optimism.
It set the stage for the 24-year-old Clearwater, Florida prospect to burst onto the scene in a big way in 2013.
It's very exciting to see what this power-punching kid can accomplish when he really comes into his own.
Votes: Keith Thurman 3, Bryant Jennings 1, Carl Frampton 1