Premier League: Best XI for 2012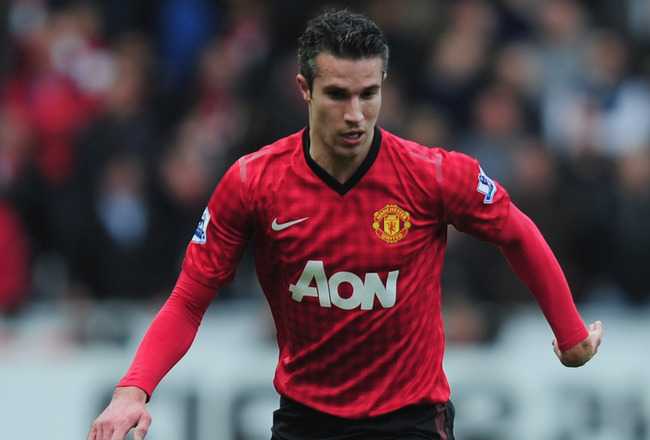 Is Robin Van Persie The Best Striker in 2012?
Jamie McDonald/Getty Images
2012 has been a fantastic year in the Premier League with goals and drama aplenty. There have been some incredible moments and some exceptional players, so I've decided to compile what I think is the best starting XI in the Premier League for 2012.
Criteria
The main rule that I have applied is that the player has to have been playing in the Premier League from the 1st of January 2012 until the 31st of December 2012.
I have also tried to build the team into what I think would be a cohesive starting XI rather than just randomly assembling the best XI players in the League (it always bugs me when people do these things and just start shoving players out of position just to accommodate them).
Also this list is based on form in 2012 in the Premier League. Cup, European and International form has not been taken into account and the key word is FORM. It is not necessarily the most talented XI players in the League, but XI players whom I believe have been playing the best throughout the 12 months.
Have a look and let me know what you think, and please feel free to disagree with me.
GOALKEEPER: Asmir Begovic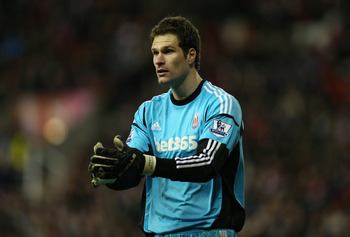 Asmir Begovic
Bryn Lennon/Getty Images
Club: Stoke City
Age: 25


Asmir Begovic finally cemented his place as Stoke City's number one goalkeeper in the past year after some excellent displays in the Europa League and occasional league games at the back end of 2011. He is now first choice after a couple of years in which Tony Pulis preferred to rotate him with former first choice Thomas Sorensen.
Begovic has strung together a series of fine performances and has managed 11 clean sheets in 31 appearances in 2012, a very impressive tally for a mid table side. His performances have been at the heart of Stoke's very impressive defensive record in 2012, and aged just 25, he has the potential for an exceptional future in the Premier League.
Special Mentions

Joe Hart: His form has just fallen away slightly at the tail end of the year, which means he was just ousted by Begovic in the end.
John Ruddy
Tim Howard
RIGHT-BACK: Kyle Walker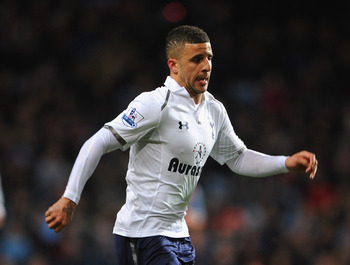 Kyle Walker
Michael Regan/Getty Images
Club: Tottenham Hotspur
Age: 22


Right-back was probably the most tricky position to pick as there has been such a dearth of them in the league for some time now.
Probably the finest right-back in the Premier League, Bacary Sagna, has had an injury hit year, and the top three clubs in the League at the moment, Manchester United, Manchester City and Chelsea have all been rotating the position throughout 2012.
Kyle Walker has been the best of an average crop and is probably the only top right-back who has played that position consistently well throughout. He has had a couple of dodgy games, but has been pretty good overall, making the spot his own at Tottenham Hotspur.
Special Mentions
Rafael da Silva: He had a very good start to the 2012/13 season for United, becoming United's first choice right-back until his recent injury. Didn't do enough at the start of the year to warrant a selection in the best of 2012.
LEFT BACK: Leighton Baines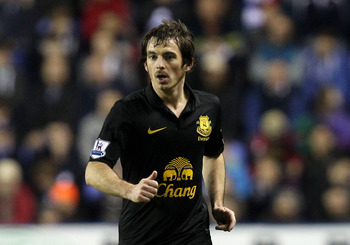 Leighton Baines
Jan Kruger/Getty Images
Club - Everton
Age - 28

Everton have had a fine 2012, and Leighton Baines has been arguably their finest performer throughout.
His link-up play with Steven Pienaar has been exceptional down Everton's left-hand side and his delivery from set pieces is consistently brilliant. Undoubtedly the best attacking full back currently plying his trade in the Premier League.
It is a shame for him that his England career has been stunted by Ashley Cole, the best full back of his generation. Also if it weren't for his admirable loyalty to Everton and David Moyes he would probably be playing Champions League football by now.

Special Mentions

Neil Taylor - He would have certainly been in the running for this were it not for his terribly injury in August that ruled him out for the rest of the season. He was brilliant at the start of 2012, and for Great Britain during the Olympics, definitely deserving of a mention.
CENTRE-BACK: Vincent Kompany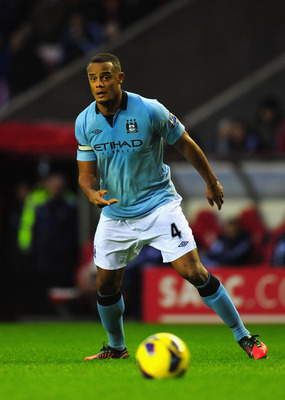 Vincent Kompany
Stu Forster/Getty Images
Club: Manchester City
Age: 26

Vincent Kompany has been the bedrock of Manchester City's success in 2012.
With Nemanja Vidic struggling with injury, the big Belgian is the best centre-back in the league at the moment and City don't look the same team when he is not in the side. There isn't much to say other than that.

Special Mentions
Ryan Shawcross: He has had an excellent year for Stoke City, brilliant in both boxes and an excellent captain. May be important to England in years to come, despite his slightly disappointing international debut against Sweden in November.
CENTRE-BACK: Ashley Williams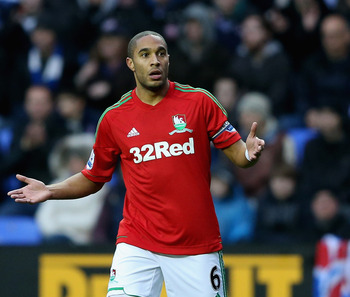 Ashley Williams
Warren Little/Getty Images
Club: Swansea City

Age: 28

The Swansea and Wales captain made the step up to the Premier League brilliantly at the end of 2011 and he has carried that form throughout 2012.
He is a fine defender but is also excellent with his feet and is pivotal in helping to maintain Swansea's style of football, comfortable in receiving possession in the way that many centre-back's aren't and is an excellent passer of the ball. A stalwart for Michael Laudrup and Brendan Rodgers before him.


Special Mentions
Fabricio Coloccini: He was excellent in helping to a 5th placed finish at the end of last season, and has been one of only two Newcastle players (alongside Demba Ba) to have performed consistently well so far this season. He is a top performer and has been let down by the players around him so far in this campaign.
DEFENSIVE MIDFIELDER: Yaya Toure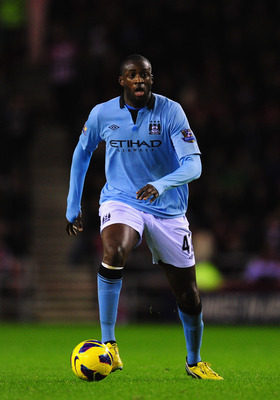 Yaya Toure
Stu Forster/Getty Images
Club: Manchester City
Age: 29

Yaya Toure is by no means a conventional defensive midfielder. In fact, he doesn't always play this role for Manchester City, often being pushed further forward to provide support for Manchester City's attacking play. His two goals against Newcastle United on the penultimate day of last season were a prime example of his attacking brilliance being used to good effect.
Despite the fact that this is not his only position, he is still the best at playing this role in the Premier League. The fact that he is so good going forward as well is a bonus for Manchester City, and for all those who take pleasure in watching him bomb forward.

Special Mentions
Michael Carrick: He has been the fulcrum of Manchester United's midfield all year, providing consistency in an area of the pitch that United have sorely lacked.
CENTRAL MIDFIELDER: Moussa Dembele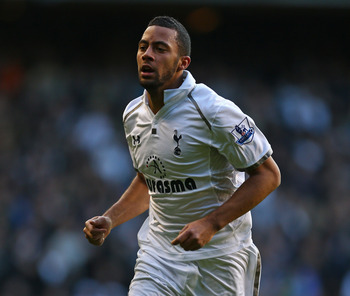 Moussa Dembele
Paul Gilham/Getty Images
Club(s): Fulham, Tottenham Hotspur
Age: 25

Originally signed for Fulham in the summer of 2010 as a striker/winger but was converted last season by manager Martin Jol into a devastating creative central midfielder.
His powerful runs and incisive play earned him an August move to Tottenham Hotspur, for me he could be playing at an even higher level, he has been to Old Trafford twice already this season, and completely destroyed United's shaky midfield on both occasions.
Another fabulous player part of the Belgian invasion of the Premier League.

Special Mentions
Ramires: He is possibly the hardest working player in the league and a dynamic runner who was just ousted by Dembele as the criteria is based on Premier League performances, and a lot of Ramires' best displays came in the Champions League at the back end of last season.
Also counting against him is the fact that he has played a lot of his football on the right-hand side of midfield this season, so doesn't quite fit into the formation I have selected.
CENTRAL MIDFIELDER (ATTACKING): Marouane Fellaini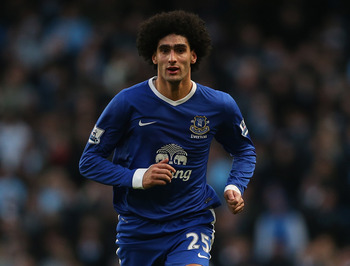 Marouane Fellaini
Clive Brunskill/Getty Images
Club: Everton
Age: 25

Playing just ahead of his Belgian counterpart Moussa Dembele is the big-haired Marouane Fellaini. Tall, strong, composed and an excellent finisher, the Everton midfielder has enjoyed an excellent 2012, in particular a brilliant start to the 2012/13 season.
He suffered a disappointing end to the year with a three game ban for headbutting Ryan Shawcross, but his performances before that more than earned him a place in the best team of 2012.


Special Mentions
Yohan Cabaye: The Frenchman was excellent last season in Newcastle's run to fifth spot and had a good start to this season, but his form dipped towards the end of the year and it is no surprise that Newcastle have been struggling so badly since he has been injured.
Michu: He has only been in the League since August so he didn't qualify, but he still deserved a mention due to his exceptional form. He has played a lot of this season as a lone striker but looks at his best when tucked in behind a front man. Much like Fellaini. Best buy of 2012 by a mile.
RIGHT-WINGER (RIGHT FORWARD): Juan Mata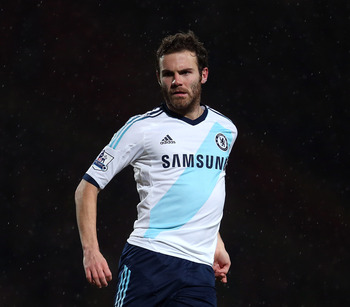 Juan Mata
Julian Finney/Getty Images
Club: Chelsea
Age: 24

Perhaps the most amazing thing about Juan Mata in 2012 is that he still can't get a game for Spain.
He was excellent in Chelsea's Champions League win last season but he was also their standout performer in their average League campaign, which is what 'mata's' (sorry) for this list.
The start of this season has seen him in supreme form, revelling in a role just behind the striker. In my team he is playing on the right, giving him the freedom to cut inside where he can influence the play with his keen eye for a pass and ability to get into the box and score important goals.

Special Mentions
David Silva: He was sublime in City's title charge in the first half of 2012, but his form has dipped slightly towards the end of the year after another busy summer with Spain. Mata's overall form throughout the year means he just pipped him.
LEFT-WINGER (LEFT FOWARD): Steven Pienaar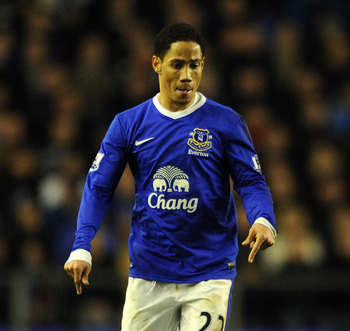 Steven Pienaar
Chris Brunskill/Getty Images
Club: Everton
Age: 30

After a disappointing 2011 trying to break into Spurs' first team, after a move he never should have made, 2012 saw the return of Steven Pienaar to Merseyside, and he hasn't looked back since.
His partnership with Leighton Baines on the left-hand side is probably the best full-back—winger partnership in the league at the moment (except maybe Rafael-Valencia at Manchester United) and his sharpness in the final third is something that Everton sorely lacked whilst he was away.
He is not the most naturally talented player of his position in the Premier League, but form-wise there has been no one better in 2012.

Special Mentions
Gareth Bale: The Welshman has been fantastic in 2012 but Pienaar just about edges him for his overall level of performance this year.
STRIKER: Robin Van Persie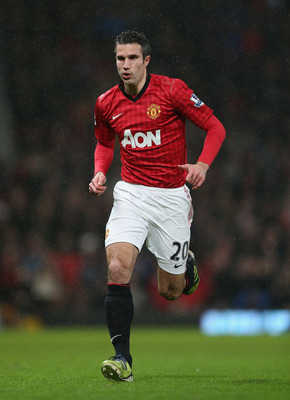 Robin Van Persie
Clive Brunskill/Getty Images
Club(s): Arsenal, Manchester United
Age: 29

However much you want to stay away from the most obvious choices when compiling these lists, it is impossible to say that Robin van Persie has not been the standout striker of 2012 in the Premier League.
He has finally, seemingly, shaken off his injury problems, and has been available to start every Premier League for either Arsenal or Manchester United in the Premier League. He is a goal scorer, and a scorer of great goals. He can also drop off and create.
It takes a special, special player for Sir Alex Ferguson to spend £24 million on a 29 year old. But it already feels like he has got more than his money's worth.
Special Mentions
Luis Suarez: Excellent since August, his form at the end of last season probably wasn't quite good enough. If he maintains his form throughout 2013 he will almost certainly appear on this list next year. Special player, he has destroyed teams this so far this season in a way no other striker has.

Nikica Jelavic: He has been a fantastic buy for Everton. While he has not quite lived up to his excellent start to 2012 so far this campaign, he is still a solid performer, and he could have been a lot worse (Papiss Cisse).
He leads the line for Everton very well and always looks a threat even when he's not scoring. He has adjusted very well to the Premier League in a way that a lot of players coming over from Scotland before have not managed.

Sergio Aguero: He has not been at his best since this season began, but just for THAT goal on the final day of last season warranted a mention on this list.
MANAGER: David Moyes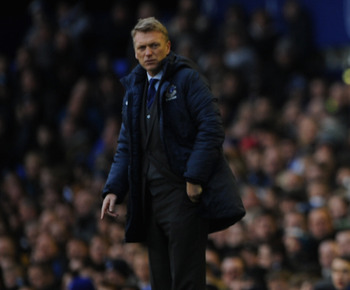 David Moyes
Michael Regan/Getty Images
Club: Everton

Only the two Manchester clubs have amassed more points than Everton in 2012. He has got the best out of a limited squad, and done some excellent transfer business.
Apart from a disappointing Semi Final FA Cup exit to Liverpool in a match they were more than capable of winning, it has been a very good year for Everton. Expecting big things in 2013.
Starting XI
Manager: David Moyes
GK: Begovic
RB: Walker
LB: Baines
CB: Kompany (c)
CB: Williams
DM: Toure
CM: Dembele
CM: Fellaini
RW: Mata
LW: Pienaar
ST: Van Persie
The formation is 4-3-3. Fellaini plays just ahead of Dembele, and Mata cuts into the middle from the right to provide that creative spark that he is so brilliant at.
Looking my central midfield of Toure, Dembele and Fellaini, I've realised that they are all flipping massive, showing that despite a mild shift towards more technical football in the league, power in midfield is still extremely valuable.
Keep Reading

Manchester United: Like this team?