8 Big Name NHL Players Who Will Be Traded If There Is a Reduced Salary Cap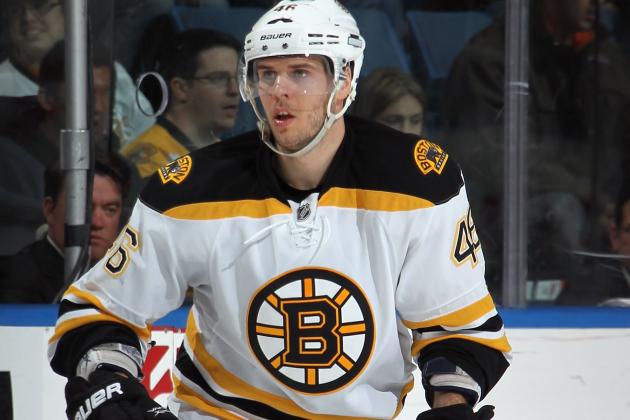 Bruce Bennett/Getty Images
David Krejci of the Boston Bruins may have to be traded for salary-cap purposes when the lockout ends.
The business of negotiations is likely to reach a fever pitch over the next few days.
If the NHL and the NHL Players Association are going to successfully work out a new Collective Bargaining Agreement and save the season, it will have to happen shortly.
In the latest proposal that was offered by the league, the salary cap will be adjusted to $60 million for the 2013-14 season (source: New York Daily News).
That means that 16 teams will have to make moves with their roster to get within the salary-cap limits. Big-name, highly-skilled players will have to be traded if teams are going to become compliant with the new salary cap.
Here's a look at eight players who may have to go based on their salary and their team's payroll.
All salary figures are courtesy of CapGeek.com.
Begin Slideshow

»
The Boston Bruins have just under $69 million committed in salary for the 2012-13 season. That's more than any other team in the league.
With a reduced salary cap in the future, general manager Peter Chiarelli will have to pare talented players from the roster for the Bruins to become compliant.
Chiarelli will have a number of players to choose from, but one of the most marketable players could be center David Krejci. The Bruins will have to get him to OK a trade since he has a no-movement clause in his contract.
He has been a valuable Bruin who possesses great skills with the puck. He is a sharp passer and quite consistent. He has scored 62 points each of the last two seasons and sees the ice extremely well.
Krejci is on the books for a salary of $5.25 million for each of the next three seasons.
He is a luxury that the Bruins are not going to be able to keep on their roster
The Minnesota Wild lived up to their team name with their offseason spending in free agency.
The Wild, tired of being an also-ran in the Western Conference, made a huge splash by signing free-agent superstars Zach Parise and Ryan Suter.
As a result of both of those players signing contracts that will pay them $7.5-plus million per season, the Wild are going to have to make changes with the rest of their roster.
One of the obvious moves may be cutting disappointing Dany Heatley. They may also get involved in the trade market by moving Mikko Koivu.
Koivu is scheduled to earn $6.75 million over the next six seasons. He is a skilled player, but the Wild will have a hard time managing their payroll if they keep him on the roster.
Koivu has a no-trade clause, so the Wild will have to get his permission to trade him.
The Canucks have been rumored to be trading goalie Roberto Luongo since the end of last season.
However, they may end up buying out Luongo.
When it comes to trading salary, look for the Canucks to move David Booth. The former Florida Panther was acquired last year, and he scored 16 goals and 29 points in 56 games. That's not what the Canucks thought they were getting.
Booth is scheduled to earn $4.25 million in each of the next three seasons. He has scored a career-high of 31 goals.
The Canucks would be best served by trading him and ridding themselves of his salary.
The Calgary Flames keep trying to put out a winning team that can challenge the best teams in the Western Conference.
Instead, they have not even made the playoffs in each of the last three seasons.
That's the kind of team the Flames have. If they believe they have the talent to contend for a championship, they are merely kidding themselves.
They should be considering a full tear-down and rebuild anyway. The reduced salary cap may force their hand.
While trading a superstar like Jarome Iginla could bring prospects and draft picks, trading Mike Cammalleri seems more realistic. Cammalleri is scheduled to earn $6 million each of the next two seasons.
Cammalleri is going to have to give his permission to any trade because he has a no-trade clause in his contract.
General manager Jay Feaster must find a dance partner and move Cammalleri, who scored 11 goals in 28 games last season after being acquired from Montreal.
The time has come for the Philadelphia Flyers to say goodbye to forward Danny Briere.
He has plenty of speed, quickness and creative instincts, but his production fell to 16 goals and 33 assists last season.
He is scheduled to earn $6.5 million each of the next three seasons. General manager Paul Holmgren knows he is not getting a great return on his investment, and he should try to get Briere's permission to move him since he has a no-trade clause in his contract.
He has to find a way to move Briere for the overall good of the franchise.
The San Jose Sharks have a lot of big-name and big-salary players on their roster, including Joe Thornton, Patrick Marleau and Martin Havlat.
Havlat might be a good bet to be traded. He is scheduled to earn $5 million in each of the next three seasons. His permission will be needed since he has a no-trade clause in his contract.
Havlat is a highly-skilled player who was troubled by injuries last year. He has played for three teams in the last four years and seems likely to get moved.
Chicago general manager Stan Bowman is going to have more work to do.
He was required to get rid of excess salary after the Blackhawks won the Stanley Cup in 2010, and those moves probably prevented the Hawks from contending for the NHL title the following year.
However, when the salary cap gets reduced again, he may have to think about getting rid of superstar Marian Hossa, who is scheduled to earn $5.275 million per year through the 2020-21 season.
That's going to be a difficult package to move, but Bowman may feel compelled to trade Hossa to get the team to fit within the salary cap.
Hossa does not have the freedom to veto any trade, and his approval is not needed to move him.
If you look at some of the moves the Buffalo Sabres have made over the last several months, it's clear that head coach Lindy Ruff wanted to bring in more grit and toughness to the lineup.
Drew Stafford is a highly-skilled player with an excellent shot. He tends to play on the outside, and he scored 31 goals in 2010-11 and 20 goals last season.
Stafford is scheduled to earn $4 million each of the next three seasons. Look for the Sabres to attempt to trade him so they can take his salary off the books.