Winners & Losers as Chiefs Fire Romeo Crennel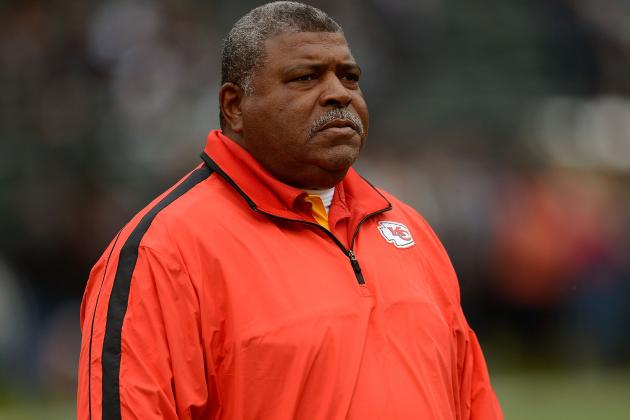 Thearon W. Henderson/Getty Images
Romeo Crennel hasn't been a successful head coach in the NFL.
Romeo Crennel is reportedly out as head coach of the Kansas City Chiefs.
The Kansas City Chiefs have fired coach Romeo Crennel but will retain general manager Scott Pioli, at least for now.

In a statement released Monday morning, the Chiefs lauded Crennel's time with the franchise but said the results were unacceptable.

"The entire football operation will remain under review, and there may be additional changes to come," [Clark] Hunt said. "No final determination has been made at this point on the future of General Manager Scott Pioli."
This comes as no surprise, because Crennel has been consistently unsuccessful as a head coach in pro football. Considering that the Chiefs went 2-14 this season and failed to win one game in the AFC, K.C. needs to move in a new direction.
And as a result of Crennel's departure, there are winners and losers from the change.
Begin Slideshow

»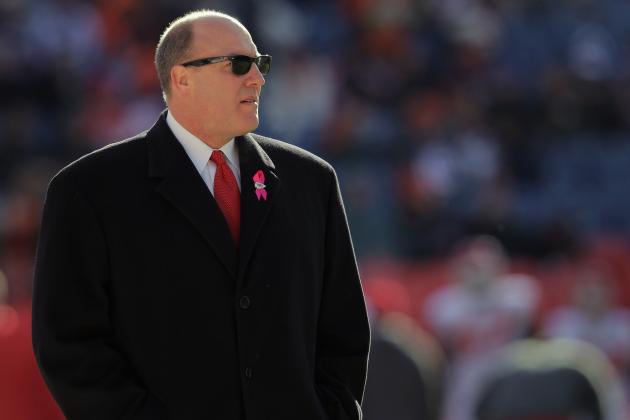 Doug Pensinger/Getty Images

As mentioned in the report by ESPN, Scott Pioli is still around for the moment.
We do, however, have to look ahead regarding this situation.
It's reasonable to consider this as Pioli's last chance, because that's certainly what it feels like after another dismal season. Given the entire set of circumstances Kansas City had gone through in 2012, though, another opportunity isn't the worst of ideas.
Just with injuries alone did Kansas City struggle mightily on the field.
At the same token, the Chiefs weren't getting totally obliterated week in and week out. They had five losses by 10 points or less and had a few other contests where it was just as close in the second half.
Finishing was definitely an issue, so Pioli does need to find a more demanding head coach and game-changing players via the draft and free agency this offseason.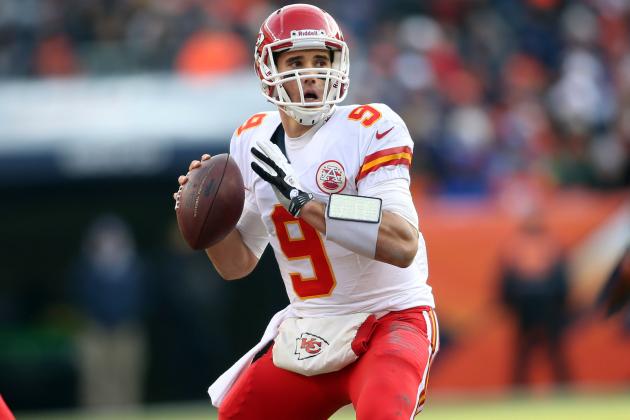 USA TODAY Sports

Brady Quinn has played a large part of his career with Romeo Crennel as his head coach.
When with the Cleveland Browns, Quinn got drafted out of Notre Dame in 2007.
During his first two seasons Quinn didn't receive much playing time, but reunited with Crennel prior to 2012 kicking off.
Quinn then proceeded to appear in 10 games this season and logged a victory over the Carolina Panthers in Week 13.
Despite the overall shortcomings for K.C. at the quarterback position, Quinn's current best odds of receiving playing time are when Crennel is his coach.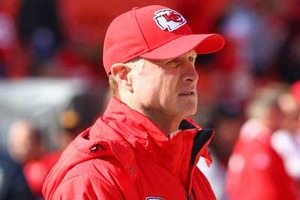 Photo Credit: Kansas City Chiefs Official Website
Through the first eight games of the season, Gary Gibbs watched the Chiefs give up 24-plus points seven times.
Once Crennel stepped down, Kansas City's defense immediately improved.
Now yes, the improvement was minimal. Nevertheless, K.C. found itself playing with a bit more consistency on the defensive side.
Beginning with the Pittsburgh Steelers in Week 10, the Chiefs defense allowed 24-plus points only three times in 2012's second half.
The pass defense finished ranked No. 12 and allowed a 60.1 completion percentage for the season.
Although that's not overly dominant, it's something Gibbs and the Chiefs can build on for next season should he stay on board.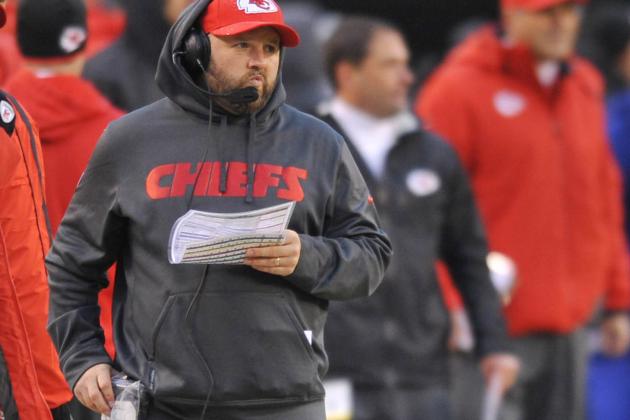 USA TODAY Sports

Typically when the head coach departs, regardless of level, a group of assistants is let go as well.
As for Kansas City, coaches the organization should retain are Gary Gibbs and Maurice Carthon. Each was already with the Chiefs prior to Crennel for starters.
Gibbs got the defense to improve in the final eight games, so he deserves a full season to see where this defense can make strides. And Carthon is the assistant head coach, which solely by Jamaal Charles' production alone does he deserve to remain.
It would not be surprising, though, if other assistants such as Brian Daboll and Jim Zorn departed with Crennel. The passing game was horrendous and better play-calling is needed to get this offense back on track.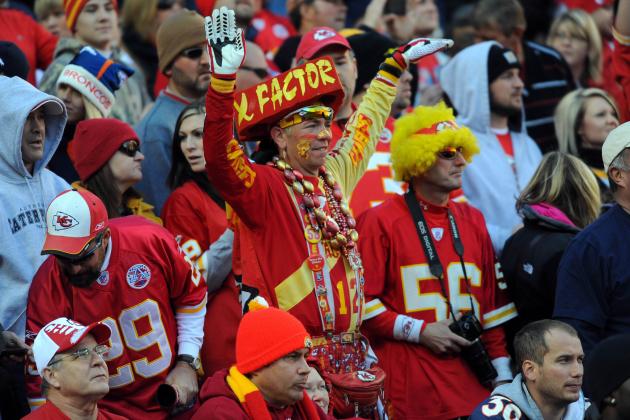 Denny Medley-USA TODAY Sports

Any time a team plays this poorly, the fans suffer through it just as much as the organization.
When change does occur, though, another fresh beginning always offers up a glimmer of hope.
For one, Kansas City can look ahead to the 2013 NFL draft and see plenty of options. Possessing the No. 1 selection, the Chiefs could land the best prospect available, reach for the best quarterback or trade down to stock up on future picks.
Factor in a new coach and there's legitimate reason to already be excited for the 2013 campaign. And especially so when you consider the offense still managed to finish No. 5 in rushing; Jamaal Charles averaged 5.3 yards per carry.
Get a better quarterback and K.C.'s offense will excite the fans leading into next fall.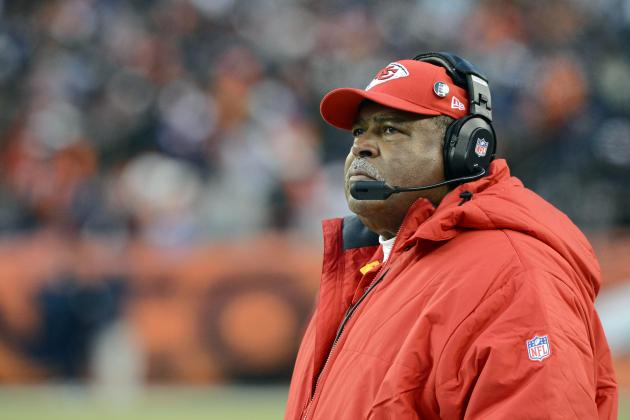 Ron Chenoy-USA TODAY Sports

It's quite obvious, but the guy who actually loses the job can't be thrilled.
Romeo Crennel's brief tenure as the Chiefs head coach was eerily similar to his first stint.
Despite finishing 10-6 with the Browns in 2007, Crennel went 14-34 in his other three seasons in Cleveland. Taking over for K.C. late in 2011, a 2-1 finish offered some promise entering 2012.
Not to mention, the Chiefs finished last season 7-9 despite an abundance of key injuries. So, more was expected with a full offseason to implement a plan and philosophy.
Kansas City instead goes 2-14 under Crennel and he sees a fourth losing season in five full years at the position. At this juncture it would be extremely surprising to see Crennel receive another head coaching job in pro football.
Follow John Rozum on Twitter.