Major League Baseball: 5 Things That Have to Change Today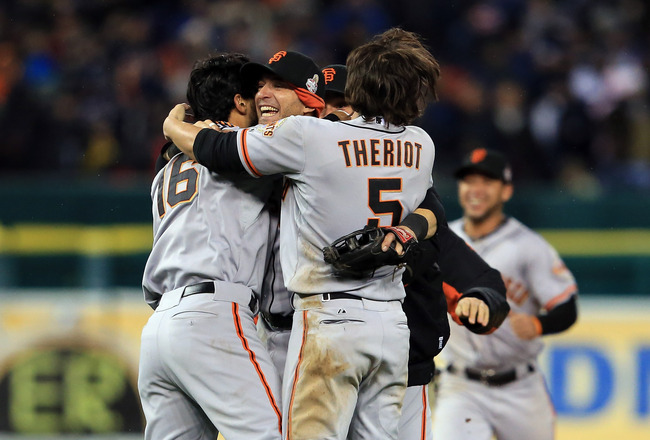 Doug Pensinger/Getty Images
With the end of the year upon us and the NFL season moving into their run for the Lombardi Trophy, our attention naturally turns to...baseball?
Well, basketball is months away from their playoffs. There is no hockey. Why not talk about America's pastime?
Baseball season is fewer than 100 days away. (90 days as of this writing, but who's counting?) So let's have a look at what baseball can do to match the NFL's prestige and popularity.
Here are five things MLB can do to help the game (but won't get done due to greed or shortsightedness by the people who run baseball).
Salary Cap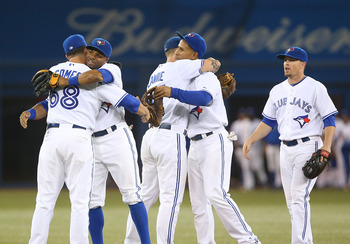 Tom Szczerbowski/Getty Images
In baseball, unlike other sports, money rules.
Please don't give me that tired old "every year a Cinderella team makes a run" crap.
If money didn't buy winning teams in baseball, then why do the Yankees, Red Sox, Angels and Rangers spend astronomical amounts of money signing free agents to deals worth in excess of $200 million?
You might not be able to buy a championship in baseball, but you can certainly buy a spot in the playoffs.
Teams like the Royals, Pirates and, until last year, the Orioles, are stuck fighting for second- and third-tier players or trying to find diamonds in the rough in the minors because they simply cannot afford to pay players what the Yankees, Angels and Red Sox pay.
Catching lighting in a bottle is not a valid method for long-term success. No, it's well-known that if you want to be a perennial contender in baseball, you have to spend money.
A salary cap would change that instantly. Teams would have to learn to do what NFL teams have learned to do. They would have to manage their talent and often would have to make tough decisions, parting with players whom they can no longer afford. And it would keep teams from raiding other team's rosters and farm systems.
This one simple thing would give people in Kansas City, Milwaukee, Pittsburgh and Baltimore a reason to hope come opening day.
"Shot" Clock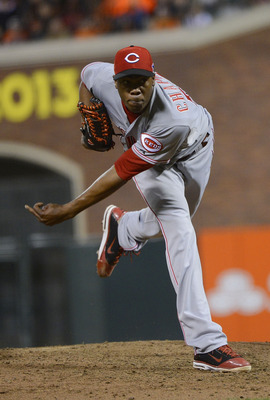 Thearon W. Henderson/Getty Images
One of the knocks on baseball that I hear all the time is that the pace of the game is too slow. There is too much time spent doing nothing.
Clearly, the people saying that have never watched an NFL game. There's more time spent doing nothing in the NFL than in a doctor's waiting room. And this is coming from a rabid fan of the NFL.
So, to combat the slower pace of play, why not institute a "shot" clock in baseball? The pitcher has, let's say, 15 seconds to deliver a pitch or a ball is awarded to the batter. Plus, you get one timeout during a half-inning. These constant visits to the mound have to go.
On the other hand, if the batter steps out of the batter's box during a plate appearance, he collects a strike. You don't need to fix your batting gloves in between every pitch, Nomar. Get in there and swing your bat.
Electronic Balls and Strikes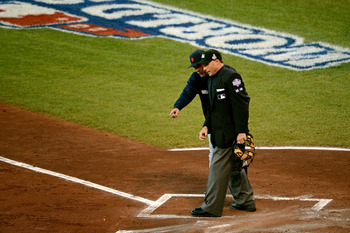 Thearon W. Henderson/Getty Images
One of the things I love about baseball is the history of the game. One of the things I love about living in the 21st century is the amazing technology we have to improve the quality of our lives.
I'm all for tradition, but the problem with balls and strikes in baseball is beyond ridiculous. Every umpire calls them differently, and if that weren't bad enough, every umpire's strike zone seems to change during the course of a game.
Let's take this one thing out of human hands and have a machine identify balls and strikes. That way, every person on planet Earth knows that if the ball passes you at the knees over the plate, it is a strike.
Pitchers and hitters always say they want a consistent strike zone. What can be more consistent than a machine, that is impartial to the crowd and the outcome of the game, calling pitches?
The call can be displayed on the scoreboard in an instant. I know it can because I can see it on my television from three time zones away.
This critical part of the game simply cannot be left to chance or the whims of some of these guys behind the plate.
Instant Replay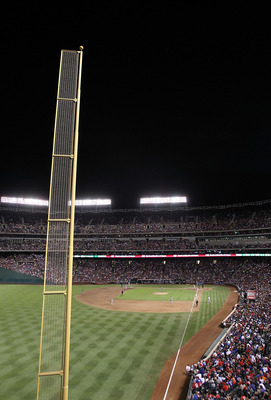 Ronald Martinez/Getty Images
Would someone, anyone, please explain to me what is the big deal with instant replay in sports?
I've been watching sports for a long time and if there is one thing I know, I hate seeing a team win or lose or game because a call was botched and there was no system in place to correct it.
It always leaves a sour taste in my mouth when a bad call goes in favor of my teams, and I absolutely despise when bad calls go against my teams.
Why can we not have a second look at some of these plays and know in our hearts that if the call is still wrong, at least we made our best effort to get it right.
Do you think umpire Jim Joyce and pitcher Armando Galarraga would have liked to have had someone who could look at a video and clearly see that Galarraga recorded the 27th out at first, which would have given him a perfect game?
If I'm an umpire, I would love to know that even if I mess something up (which I'm bound to do because I'm only human), someone will have my back.
This may not prevent all incorrect calls, but it would certainly prevent some of the more egregious ones.
One Rule for Everyone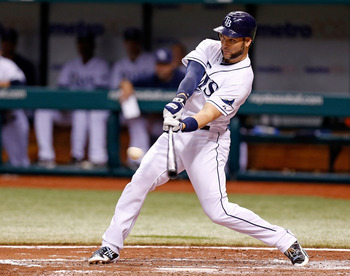 J. Meric/Getty Images
Whether you are a fan of the designated hitter or not (and I am not), you have to admit that having two sets of rules in Major League Baseball is laughable.
The two games are completely different from one another.
What other major professional sport anywhere has two different rules for each half of the league? None that I'm aware of.
I would love to see the designated hitter go away. I think pitchers should bat. I think if you play in the field, you should have to swing a bat. And if you can't play in the field, you shouldn't get to bat. I'm sorry if you can't field your position, but you can still knock the cover off the ball.
There are plenty of guys who can hit a golf ball 350 yards but aren't on the PGA Tour because they can't putt.
Major pro sports are not for everyone and they are not easy. Why are we making it easier for guys to stay in the game and not giving younger players a chance? You should have to be a complete player to stay in the game.
That having been said, I would support a unified designated hitter rule in both leagues just to make the game the same for every player.
Keep Reading