NFL Playoff Picks 2013: Complete Wild Card Weekend Breakdown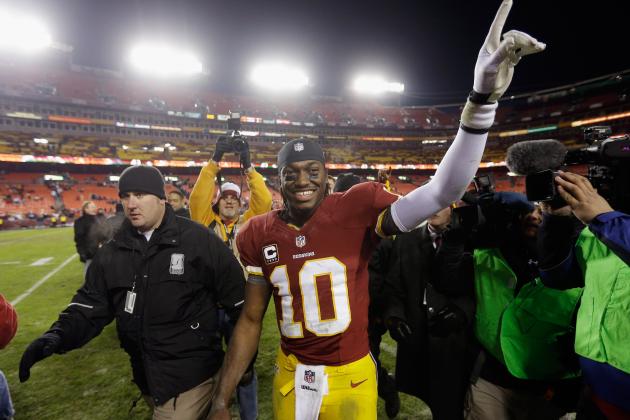 Rob Carr/Getty Images
RG3 and the Redskins win the NFC East.
The 2013 NFL playoffs are finally set and Wild Card Weekend is going to be ridiculous.
Arguably the most anticipated matchup will be a rookie quarterback duel between Robert Griffin III and Russell Wilson.
RG3 led the Washington Redskins to their first NFC East title since 1999, while Wilson got the Seattle Seahawks to the No. 5 seed by finishing 11-5.
In this battle of pro football's future under center, Griffin faces the toughest defense he and the Redskins have seen thus far. Wilson, though, leads Seattle into our nation's capital with a five-game win streak and having outscored opponents 193-60 during this span.
As you can imagine, the hype continues to build.
So, to satisfy our postseason craving let's preview 2013's Wild Card Weekend.
Begin Slideshow

»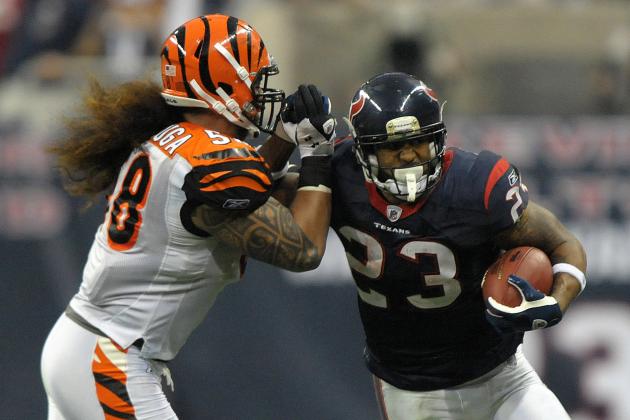 Kirby Lee-USA TODAY Sports

Once again the Cincinnati Bengals and Houston Texans meet in the AFC Wild Card Round.
The only difference compared to 2012's postseason meeting, though, is Cincy's much improved defense.
The Bengals are led by Geno Atkins, who has recorded 12.5 sacks and forced four fumbles. Cincinnati may give up 4.1 yards per rushing attempt, but the Bengals also finished with 51 sacks—third in the league.
As for Houston's offense, the Texans must remain balanced and attack the Bengals downfield. Generating turnovers has been a slight concern for Cincinnati, and Andre Johnson will be the best receiver the Bengals have seen this season.
Defensively for Houston, Wade Phillips must double coverage A.J. Green and force Andy Dalton to target elsewhere.
Running the ball also isn't Cincy's offensive forte.
In turn, Houston's defense controls the line of scrimmage and Arian Foster impacts enough on the ground to set up Johnson downfield. The Texans are simply too efficiently balanced for the Bengals to shut them down.
Texans 27, Bengals 17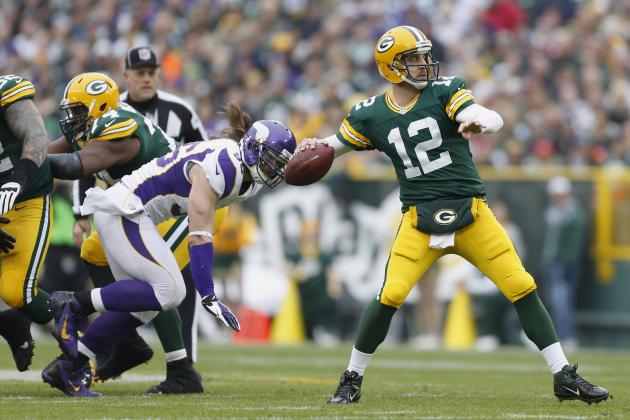 Wesley Hitt/Getty Images

Without question does this third meeting between the Minnesota Vikings and Green Bay Packers revolve around Adrian Peterson.
The Packers obviously have to prove they can slow down the NFL's best back, but win at the same time.
Well, heading back to Lambeau Field is one advantage because Christian Ponder won't dominate off play-action in outdoor weather. Green Bay also needs to keep eight or nine guys around the box and play man coverage elsewhere.
Completely focusing on Peterson will certainly make them vulnerable to the pass; however, forcing Ponder to outplay Aaron Rodgers is to the Pack's advantage. Minnesota has allowed a 63.9 completion percentage and has recorded only 10 picks this season.
Rodgers must control the pace to get Minnesota off balance early, as Week 17 was evidence of Peterson's ability to dictate the tempo. Fortunately for Green Bay, Mike McCarthy's rushing attack is also gradually improving.
On Sunday the Packers averaged 4.5 yards per carry, and that kept Minnesota honest all game.
Despite Peterson's capabilities, Green Bay is the more balanced offense. And Rodgers outside at home is a distinct advantage in the Packers' favor.
Packers 24, Vikings 21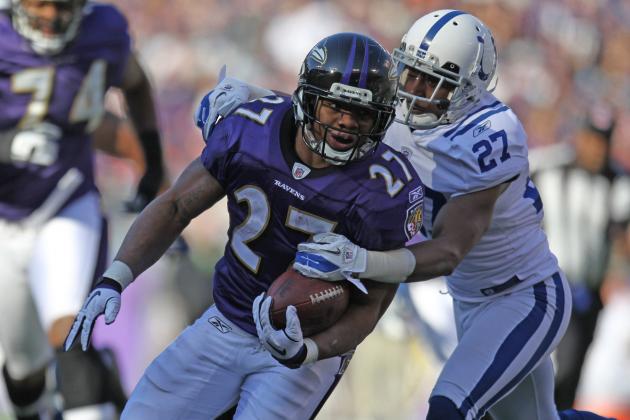 Mitch Stringer-USA TODAY Sports

The key to the Indianapolis Colts and Baltimore Ravens?
The defense that steps up.
Clearly the Ravens are more experienced, but the Colts can apply decent quarterback pressure and provide lockdown coverage when backed inside the red zone.
As for the offenses, Indianapolis continues to see improvements on the ground with Vick Ballard.
We know Andrew Luck possesses the talent to dice up Baltimore, so the Colts will move the ball and score. On the contrary, Joe Flacco and the Ravens already field an established balance to their attack.
Ray Rice is among the best backs in the league and enters the game with an average of 4.4 yards per rush. Indianapolis still struggles against the run, allowing 5.1 yards per carry this season.
That impact forces Indy to put an extra defender in the box.
Well, Flacco brings a strong arm and a reliable receiving corps to stretch the Colts and consistently make it into the red zone. For certain we can expect Luck to keep it close, but Baltimore's defense is more well-versed at creating turnovers and limiting the bigger plays.
Ravens 28, Colts 20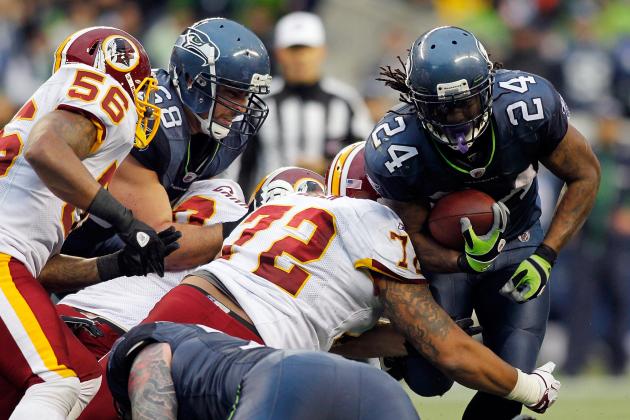 Jonathan Ferrey/Getty Images

The Seattle Seahawks and Washington Redskins will be one fun matchup.
Each team presents excellent offensive balance, but still differs in strategic ways.
Seattle is more pro-style with Marshawn Lynch and Russel Wilson setting up play-action. His mobility, however, cannot go overlooked for it is just as reliable as that of Robert Griffin III.
Washington utilizes RG3's mobility for read-option and getting him out in space. At the same token, Alfred Morris will punish between the tackles and win the short-yardage situations.
So, because the offenses are quite similar, the disparity switches to defense.
Here, the Seahawks are at an immense advantage. Capable of playing man coverage all game long, Seattle can also stuff the run with its front seven and get quarterback pressure from the defensive line.
The Redskins are not as dominant. Although Washington can be opportunistic, it has given up 31 passing touchdowns and an average of 282 pass yards per game.
After Lynch slams up the gut, Wilson will pick apart Washington's coverage to outscore RG3.
Seahawks 38, Redskins 20
Follow John Rozum on Twitter.