Ranking Boston Red Sox Offseason Moves Thus Far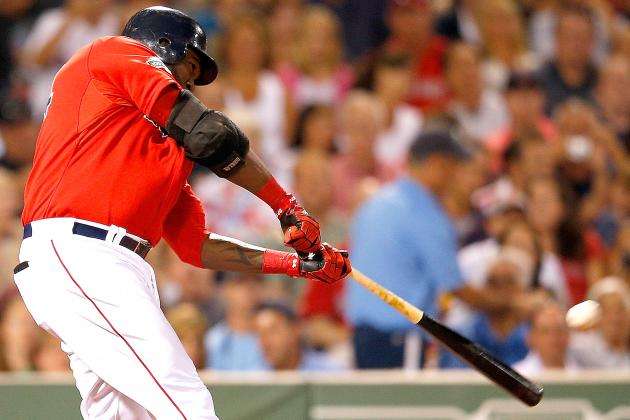 Jim Rogash/Getty Images
The Red Sox were wise to bring back Big Papi.
After suffering their worst season since 1965, the Boston Red Sox have tried to repair their many holes this offseason by taking the quantity over quality approach.
Kicking things off by re-signing David Ortiz, Boston has inked several quality veterans to some fairly pricey deals. But, will they pay off?
Ryan Dempster has been a solid starter for the Chicago Cubs, but it remains to be seen whether he can adjust to the ultra-competitive American League East. Jonny Gomes and Shane Victorino are veteran outfielders, but are both 32-year-olds. Are they on the verge of entering the decline phase of their careers?
Let's take a look at my rankings for the Red Sox's offseason moves so far.
Begin Slideshow

»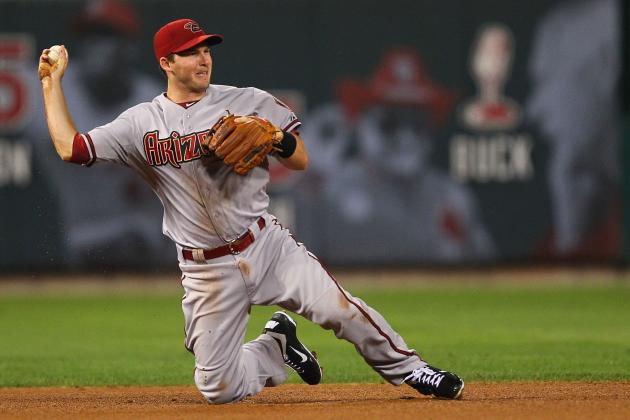 Dilip Vishwanat/Getty Images
Stephen Drew is a solid fielder but struggled at the plate in 2012.
The Red Sox have had a revolving door at shortstop for almost a decade, and the latest piece to the puzzle is former Arizona Diamondback and Oakland Athletic Stephen Drew.
Regarded as a solid fielder, the six-year veteran put up one great offensive season in 2008. He hit .291 with 21 home runs, 44 doubles and 91 runs scored. However, his offensive numbers have fallen sharply in recent years, culminating in a career-worst .223 average last season.
For a team that's dealt with too many health issues, signing a light-hitting shortstop, who's played just 165 games over the past two seasons and has declining defensive ratings, just doesn't seem like good business.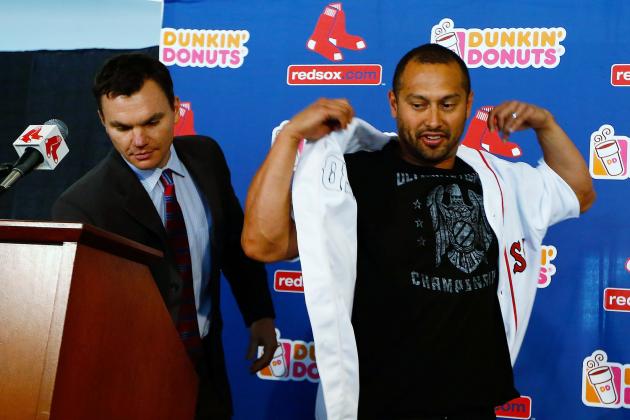 Jared Wickerham/Getty Images
Shane Victorino is on the decline.
The trade that sent Carl Crawford, Adrian Gonzalez and Josh Beckett to the Los Angeles Dodgers left a hole in the Red Sox outfield, so what better way to fill it than with a 32-year-old coming off his worst season.
By inking Shane Victorino to a three-year, $39 million contract, that's exactly what Boston did.
A few years ago, Victorino was one of the better outfielders in the game and an exciting guy to watch both in the field and on the base paths. But, that time looks to be nearly over.
The former Philadelphia Phillies center fielder has never been a good on-base guy (.341 career OBP) and has failed to score 100 runs since back-to-back years in '08 and '09.
For a team that was supposed to exercise fiscal caution, the thought of paying Victorino $13 million a year is downright scary.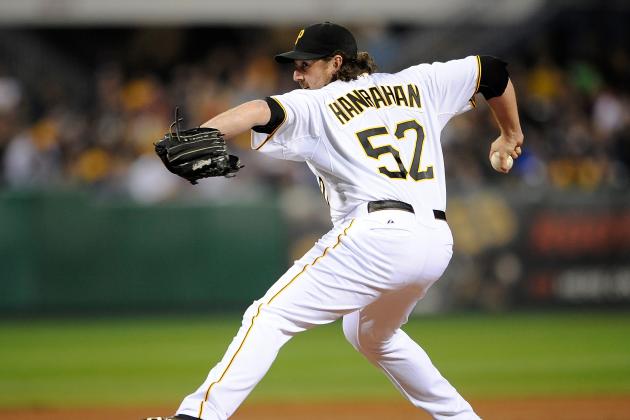 Joe Sargent/Getty Images
Joel Hanrahan is coming off back-to-back All-Star campaigns.
At one point Andrew Bailey was supposed to be the closer for the Red Sox. Then it was Daniel Bard. Now it looks like, Joel Hanrahan will be John Farrell's go-to guy in the ninth.
Based on pure numbers and his recent success, Hanrahan should be higher on this list.
However, this one just doesn't make a whole lot of sense for a club that just acquired an All-Star closer in Bailey a year ago.
Granted Bailey missed most of the year with a thumb injury, but you would've thought Boston would still give him the chance to be the guy in crunch time. Instead, Boston traded four players, including Jerry Sands and Mark Melancon, for a closer whose strikeout-to-walk ratio was just 1.86 last year.
Hanrahan certainly gives Boston better bullpen depth, but at what cost to the psyches of Bailey and Bard?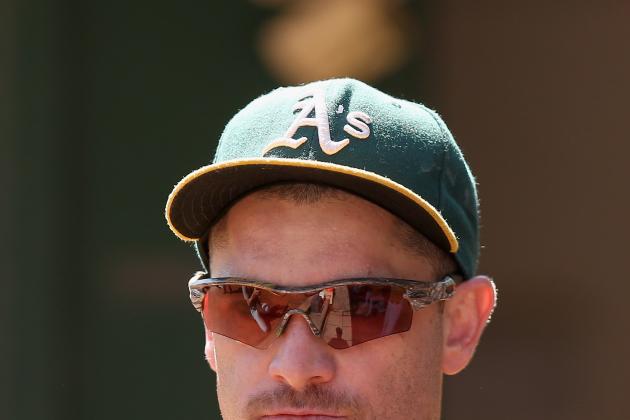 Ezra Shaw/Getty Images
Jonny Gomes has some decent pop but doesn't hit for a good average.
Instead of bringing back Cody Ross and his 22 home runs, Boston elected to go slightly cheaper and replace Ross with Jonny Gomes.
Bad move, Boston.
Ross is a career .262 hitter, who really shined in his only season in a Red Sox uniform, putting up 81 RBI and an .806 OPS.
While Gomes is coming off a good campaign of his own (.262/18/47), he lacks the consistency that warrants such a significant pay raise from his $1 million salary in 2012. Prior to last season, the former Tampa Bay Ray had posted a Wins Above Replacement value above 0.4 just twice in his nine-year career.
The Red Sox would have been better off bucking up and paying Ross—who signed with the Arizona Diamondbacks for three years, $26 million—than paying $10 million for two years of Gomes.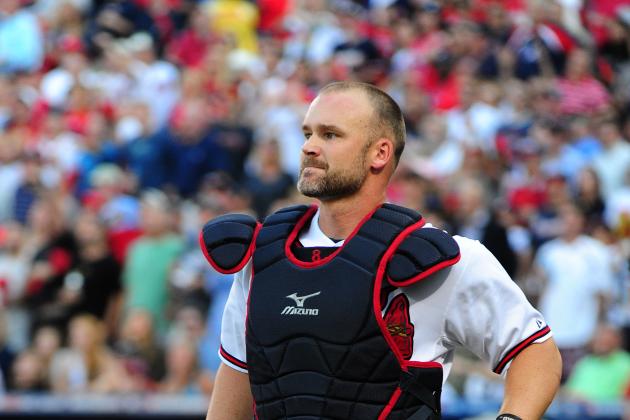 Scott Cunningham/Getty Images
David Ross should draw a number of starts in 2013.
No one will confuse David Ross for an All-Star, but the veteran backstop was a consistent player for the Atlanta Braves over the past four years.
Although his batting average has dipped each year since 2009, Ross displayed some pop in his bat in 2012, hitting nine homers in just 62 games.
However, what should make him a good fit in Boston is his defense. Possessing one of the better arms in the game, Ross nabbed 44 percent of potential base stealers in 2012. It would be a big upgrade from the power-hitting Jarrod Saltalmacchia, who posted a putrid rate of 18 percent.
Ross should carve out a nice role and develop a close working relationship with the pitching staff as he makes the list as an underrated signing.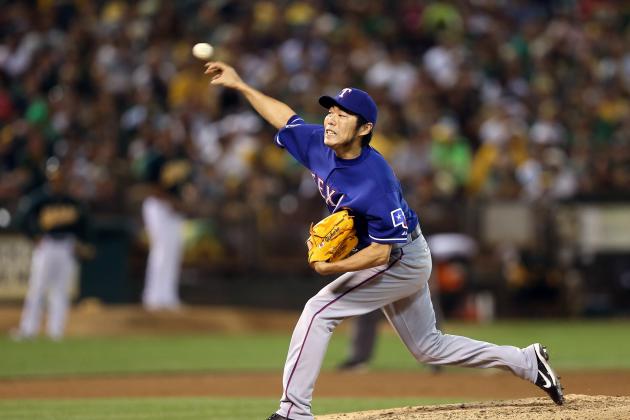 Ezra Shaw/Getty Images
Koji Uehara was one of the top relievers in baseball in 2012.
In another attempt to solidify their bullpen, the Red Sox inked former Texas Ranger Koji Uehara to a one-year contract worth about $4.25 million.
After posting an ERA of 4.00 in 2011, Uehara came roaring back last year, tallying a cool 1.75 ERA and striking out 43 in 36 innings.
Adding Uehara on a short-term deal to a bullpen that already features Daniel Bard, Andrew Bailey, Alfredo Aceves and now Joel Hanrahan, the results could be downright lethal.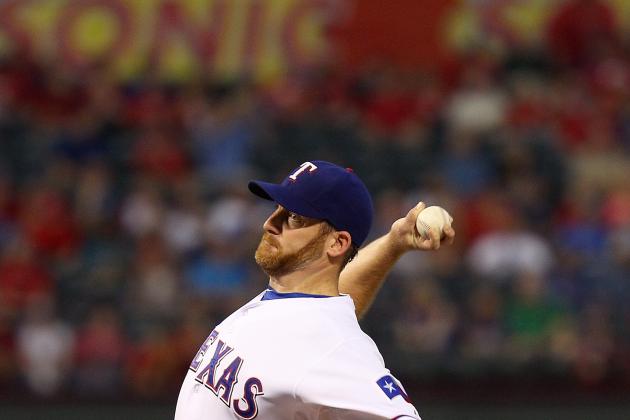 Rick Yeatts/Getty Images
Ryan Dempster is the definition of a work horse.
While the Red Sox had to up the price a bit, they ultimately landed one of the top free agent starters in Ryan Dempster.
A longtime veteran of the Chicago Cubs, the righty was traded to the Texas Rangers before the trade deadline last season and went 7-3 with the Rangers despite posting an ERA of 5.09.
Last season the Red Sox were decimated by injuries to their pitching staff. Bringing in a trusted, capable work horse like Dempster will pay big dividends on nights where the bullpen needs to take a back seat.
While he probably won't post an ERA anywhere near the mid-to-low three's, Dempster will eat up innings and battle every time he toes the rubber.
Chalk the Red Sox up as a winner in this signing.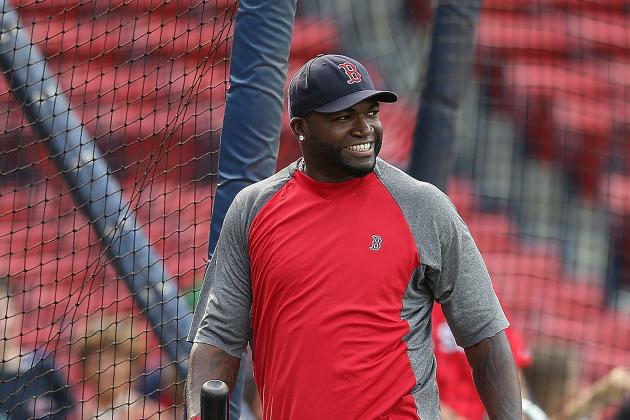 Jim Rogash/Getty Images
David Ortiz is one of the greatest sluggers of his generation.
In the best move of their offseason, the Red Sox made sure David Ortiz finishes his career in Boston.
Early in November, the club's franchise player inked a two-year, $26 million deal that could escalate to $30 million with incentives.
Locking up the eight-time All-Star was critical for a team in desperate need of power in the lineup. When Ortiz went down with an Achilles injury, Boston sorely missed his powerful bat.
Coupled with the trade that sent Adrian Gonzalez out west, losing Ortiz this offseason would have been a critical blow to Boston's already thin lineup.
By bringing him back, Boston ensures that its best power hitter will continue wreaking havoc on the AL East for at least two more years before he hangs 'em up.
For now, the Ortiz signing looks like a home run in what's been a solid offseason for the rebuilding Red Sox.