Orange Bowl 2013: Florida State vs. Northern Illinois Live Scores and Analysis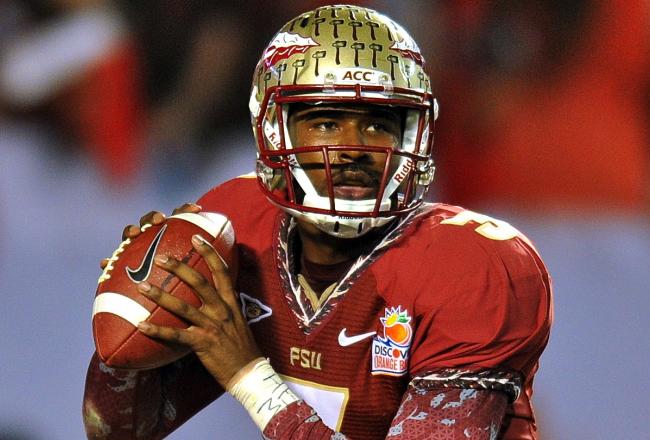 Northern Illinois Huskies 10, Florida State Seminoles 31 — Final
Northern Illinois just lost to the Florida State Seminoles 31-10.
NIU's Jordan Lynch had a terrible game going up against the best defense he had played all season. He went 15-for-41 (36.6 percent) for 176 yards, one touchdown and one interception. He also had 23 runs for just 44 yards.
FSU's Lonnie Pryor was the player of the game as his five runs for 134 yards yielded two huge touchdowns. E.J. Manuel also had a great game to finish his career as just the second quarterback in NCAA history to be 4-0 in his bowl games
All stats used are either from Pro Football Focus's Premium Stats, ESPN.com, CFBStats.com or NFL.com.
Scott Carasik is a Featured Columnist for Bleacher Report. He covers the Atlanta Falcons, NFL and NFL Draft. He is also the Falcons analyst at Drafttek, runs the NFL Draft Website ScarDraft.com and hosts Kvetching Draftniks Radio.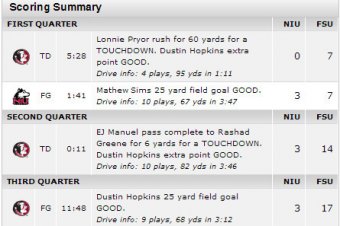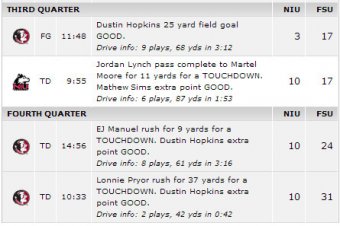 Graphic courtesy ESPN.com
A pair of runs give FSU a 3rd-and-5, where E.J. Manuel hit Davonta Freeman for a 4-yard gain. The 4th-and-inches run was converted for the first down. FSU slowly ran the clock out to finish the game.
Northern Illinois Huskies 10, Florida State Seminoles 31 — FINAL
Having played the closest Orange Bowl in three years, it's clear to say NIU proved they belonged here.

— Hustle Belt (@HustleBelt) January 2, 2013
An incompletion on first down was followed by a pass to Martel Moore down to the 25-yard line. However, a pass interference call brought the ball back to their own 7-yard line. After a run brought it to the 14-yard line, a 15-yard roughing the passer brought it around the 30-yard line.
Another penalty on Jimbo Fisher brought it to the FSU 47. After a pair of incompletions made it 3rd-and-10 from the 47, Jordan Lynch got sacked behind the line. On 4th-and-13 from the 50, Jordan Lynch got sacked for a turnover.
No gain on the first down play was followed by a 4-yard run.
A 3rd-and-6 run by E.J. Manuel gained only one yard to force a 4th down punt.
NIU takes over at their own 13 with 6:16 left in the game down 21 points.
A run and a poor pass set up a 3rd-and-4 play that was missed. On 4th-and-4 from the FSU 45, Jordan Lynch couldn't get it past the first down marker.
I'm openly rooting for NIU and I still can't believe that unsportsmanlike penalty. Guys do more than that after every sack!

— Adam Jacobi (@Adam_Jacobi) January 2, 2013
No fullback has had a better day than Pryor is having in 20 years. It's like a VCR making a 3 pointer.

— Rick Muscles (@RickMuscles) January 2, 2013
After taking over at their own 25, Akeem Daniels got a great run for 12 yards. He then got stuffed behind the line for a 6-yard loss. FSU then had an unsportsmanlike conduct for the taunting after a big hit.
Pooch punt, fake punt, onsides kick ... with a head coach in his first game? i can see why the Orange Bowl wanted no part of this team.

— Eric Edholm (@Eric_Edholm) January 2, 2013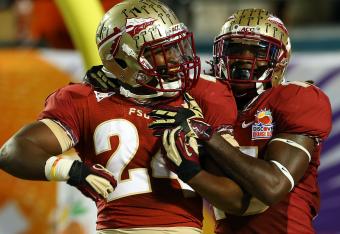 A short run by FSU set up a huge run by Lonnie Pryor right up the middle for 37 yards gave FSU a three touchdown lead.
Northern Illinois Huskies 10, Florida State Seminoles 31 — 10:33 4th Quarter
After a pair of runs, Northern Illinois shot themselves in the foot with a poor end-around play. It looked to have been fumbled, but it looks like he was down. However, the call on the field stood and Northern Illinois looks done.
Fumble? Looked like he was down. #NIUvsFSU

— ESPN ACC (@ESPN_ACC) January 2, 2013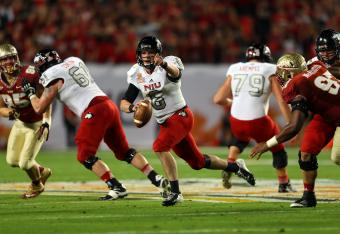 Tommylee Lewis brought it to the 30-yard line on the initial kickoff of the quarter. An incompletion was followed by a short run on the inside. On 3rd-and-8, Jordan Lynch hit Perez Ashford for the first down.
Lynch has been getting great pass blocking all day but can't figure out who to throw to. After a sack and a throw away, Northern Illinois had to try and convert a 3rd-and-12. Lynch made a bad pass, but Carlos Williams got called for face guarding.
A pair of runs set up a 3rd-and-1 at the FSU 40 for the Huskies. The run brought it to 4th-and-inches. Northern Illinois went for it. Lynch got the first down at the FSU 39.
E.J. Manuel opened the 4th quarter with a quick run for a touchdown on a draw play.
Northern Illinois Huskies 10, Florida State Seminoles 24 — 14:56 4th Quarter
Greg Dent gets the reverse on the first play after the punt and only gains a yard. Then, on the quick option, Florida State got just three yards, but a huge 15-yard penalty by NIU puts FSU in Husky territory.
A short first down run was followed by a great catch by Kenny Shaw for the first down and gain to the NIU 26. After a bad pass and a short run set up a 3rd-and-7 before the end of the quarter, E.J. Manuel brought it to the 10-yard line right before the quarter ended.
Northern Illinois Huskies 10, Florida State Seminoles 17 — End 3rd Quarter
Even Matt Millen knows what Florida State should do (but is not doing) on offense. That's pretty embarrassing Jimbo.

— Will Brinson (@willbrinson) January 2, 2013
Taking over at their own 11-yard line, Jordan Lynch tried to go deep and overthrew the pass. Then the WR screen went for 6-yards to Tommylee Lewis. On third down, Lynch got slammed by the FSU defense after he missed the throw.
FSU takes back over at their own 40.
You can clearly see that Lynch is a thrower not a passer

— Emory Hunt (@FBallGameplan) January 2, 2013
E.J. Manuel got a quick first down pass to Davonta Freeman. That was quickly followed with a Freeman 9-yard run. A pair of runs set up a 3rd-and-5 just past midfield for the Noles, but they could not convert and were forced to punt.
I think I am only non-FSU fan not rooting for NIU. I want the Seminoles to step on their necks. #youdontbelong

— Curt Popejoy (@nfldraftboard) January 2, 2013
FSU vs NIU shows why a postseason CFB playoff needs to include all conf champs. Threat of big upsets are what college sports are about

— Ben Gunby (@gumby61184) January 2, 2013
Jordan Lynch missed Martel Moore on the first down pass from the FSU 42. A 4-yard run on second down was followed by a pass on 3rd-and-6 to Tommylee Lewis for another first down at the FSU 25. And Xavier Rhodes got injured there.
A short run on first down and a short pass on second set up a third down interception by Terrance Brooks of Florida State. Opportunity lost.
Wow! Northern Illinois is using huge special teams plays to create their own momentum. They got an onside kick at their own 47-yard line.
A knocked away pass an an 8-yard run set up a 3rd-and-2 from the FSU 44. Jordan Lynch then ran it the required two yards for the first down.
NIU doing what they have to to try and pull this upset.First a fake punt and now onside kick (and recovered it).

— Sal Capaccio (@SalSports) January 2, 2013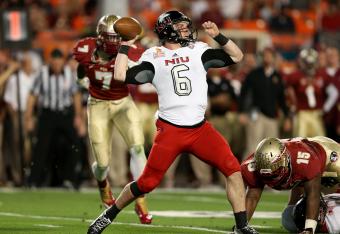 A 4-yard Jordan Lynch run showed the Huskies were driving, but DT Timmy Jernigan of FSU got injured and play was stopped.
On 2nd-and-6, Lynch brought it to the FSU 11. On 1st down, he hit Martel Moore for the quick 11-yard touchdown strike.
Northern Illinois Huskies 10, Florida State Seminoles 17 — 9:55 3rd Quarter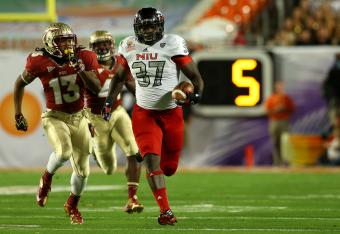 Tommy Lee Lewis got planted by a Florida State player at the NIU 26, but the flag on Northern Illinois' Perez Ford gave the Huskies the ball at their own 13. A false start gives the Huskies a 1st-and-15 from their own 8 to start the quarter off.
A no-gain pass followed by an incompletion set up a 3rd-and-15. Then, Jordan Lynch hit Akeem Daniels for 55 yards for the first down at the FSU 37.
James Wilder Jr. has a couple big fans. It's interesting that he was recruited as a DE. And he does have some work to do as a player.
Funny part is that some schools recruited Wilder as a DE

— Emory Hunt (@FBallGameplan) January 2, 2013
James Wilder Jr. has some much natural strength and if he can ever learn to run behind his pads, he will be so much better. #Advice

— DRAFTNASTY (@DraftnastyCom) January 2, 2013
James Wilder Jr. took it three more yards to the NIU 41. Then another three yards on a short Lonnie Pryor play-action pass to force another third down. FSU completed just their second third down of the game and brought it to the 20. Another Wilder Jr. run brought it to the NIU 5 for a goal-to-go situation.
On 1st-and-goal, Wilder Jr. got just one yard. Manuel missed his receiver on second down, but there was a flag on the play that let them repeat 2nd down. However, there was a false start on the very next exchange to give FSU 2nd-and-goal from the 7.
An incompletion on second down was followed by great pressure to force yet another incompletion and a field goal attempt. Dustin Hopkins set a new NCAA record after he hit a 25-yard field goal to end the drive.
Northern Illinois Huskies 3, Florida State Seminoles 17 — 11:48 3rd Quarter
Starting at their own 25 to open the quarter, FSU opened with a Lonnie Pryor run for just over 30 yards.
From the comments section:
Lynch is up to 4 for 15 passing and 52 yards. He has 24 yards in 12 carries. One other NIU player has carred the ball once. It is under two minutes to half.

So, could someone please tell me why NIU is in this game?
It's pretty simple really. Their defense has been excellent versus Florida State. Allowing just two scores in the first half is huge.
FSU right now is playing "I'm Individually Better than You" football. NIU's offense needs to come out with some pride in 2nd Half.

— Emory Hunt (@FBallGameplan) January 2, 2013
This article is
What is the duplicate article?
Why is this article offensive?
Where is this article plagiarized from?
Why is this article poorly edited?