The Definitive Blueprint to the Lions' Perfect Offseason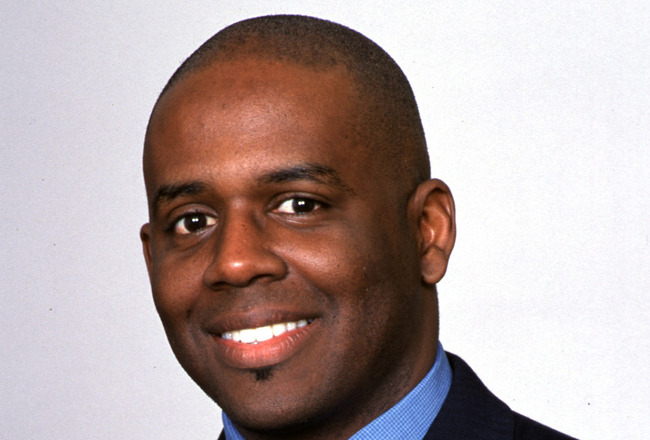 Handout/Getty Images
With the Detroit Lions' 2012 season coming to a merciful close, we're back to looking forward to the offseason more than the regular season.
This offseason is probably the most important in the careers of both Jim Schwartz and Martin Mayhew at this point in their respective careers. The "rebuilding" honeymoon is over. Now it's time for Lions management to show that they can maintain a team over the long term.
For Mayhew and Schwartz, it's even more complicated than that. They need to recover from an incredibly disappointing 2012 season and deal, potentially, with major turnover in the defense and with a nightmarish cap situation. They also have to start making the call on potential draft busts like Amari Spievey and Titus Young.
This is the point where we have enough data to start making determinations on the first crop of Schwartz/Mayhew players, and make some calls on the success of those early personnel decisions.
But that's not what I'm doing here. That's what Mayhew and Schwartz themselves have to do with the decisions they make in the coming months.
And here's a roadmap to how they could make this offseason a successful one.
Coaching Carousel?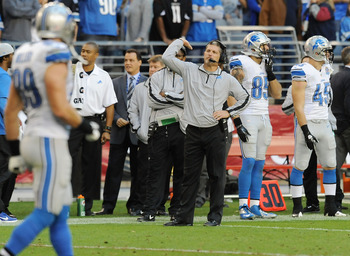 Norm Hall/Getty Images
When a seemingly talented team underperforms to the extent that the Lions did this year, it's tempting to come down hard on the coaches.
In fact, it's expected.
But unless the Lions want to set themselves back by trying to install completely new systems in the offseason, they need to stay the course with their core of Jim Schwartz, Scott Linehan and Gunther Cunningham.
Those might not be the three most popular people to speak out in support of right now, but the Lions were actually statistically improved in nearly every area on both offense and defense. Where they stalled was in areas like turnover ratio and touchdowns in the red zone.
That comes down on the coaches to an extent, but are things so drastic as to make the Lions start over entirely?
This coaching unit has some shortcomings, as does the team itself. But we've seen this team have success under this coaching staff, and we're seen them actually improve even as the team's record declined.
Jumping on the coaching carousel every three years or so was a hallmark of Millen-era teams. It would be a step in the wrong direction to go back to those days.
This group may not be the long-term answer for the Lions, but they've earned at least another year with the team to get things straightened out. If they get things fixed, everything's good. If not, they can deal with it when they know for sure. In the meantime, these guys have earned some benefit of the doubt.
Free Agency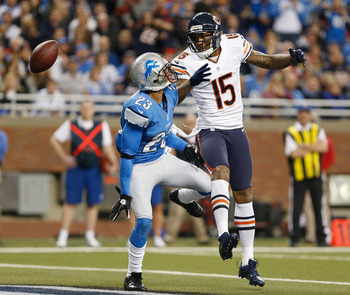 Gregory Shamus/Getty Images
As usual, the Lions are going to be unable to spend a great deal of money in free agency.
Frankly, even if they had the money, spending big in free agency is a fool's errand. Andy Reid and the Philadelphia Eagles are the most recent cautionary tale in that regard.
But the Lions have an awful lot of their own players headed to free agency, and their focus at this point should be on determining which of their own players they want to keep, and for how much. According to Spotrac.com, the Lions have 17 impending defensive free agents, including several starters and key reserves.
Cliff Avril, Chris Houston, DeAndre Levy, Justin Durant and Louis Delmas could all command serious cash in the offseason, and it's unlikely at best that the Lions will be able to pay all of them.
This is where Martin Mayhew is going to have to live up to his thrifty reputation and figure out who's worth the money and who can be replaced on the cheap.
Ultimately, the Lions will likely look to re-sign as many of their key players as possible, but considering how much of their salary cap is being taken up by a handful of players, they need to do what they can to man the team with affordable players until the salary cap increases.
One thing the Lions might try this offseason is to do with Matthew Stafford what they did with Calvin Johnson: sign him to a contract extension to lower a $20M cap hit in 2013.
Stafford has certainly earned himself an extension, despite only really playing two of his four years in the NFL, but the amount may not be as easily decided on as when the Lions went all "shut up and take my money" with Johnson.
Still, the Lions could lock in their franchise quarterback and manage some more negotiating room this offseason in one fell swoop. Seems like a decent move at this point.
The 2013 NFL Draft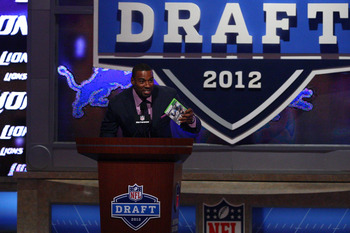 Chris Chambers/Getty Images
The Lions (and all well-run NFL teams) use the NFL draft as their primary vehicle for team building.
And not since 2009 have the Lions needed so desperately to hit big in the draft. They have issues on both sides of the ball, and they can't afford to squander a top-five pick.
There will be plenty of talk about Notre Dame phenom Manti Te'o going to the Lions, but the Lions would also benefit from a talented pass-rusher at defensive end and help in the secondary.
The Lions are in an advantageous position, as they have a top-five pick without the need for a quarterback or left tackle. It's likely that they will get just about whoever they want at whatever position they want.
Nobody wants to hear this, but the Lions' 2012 season proved that Martin Mayhew's drafting philosophy of "talent, not need" is actually still viable in 2013.
When the Lions picked Ryan Broyles in the second round in 2012, many questioned the pick because really, why were the Lions picking yet another receiver when they needed so many other things so much more drastically?
And by the end of the season, what was one of the Lions' most glaring needs? Wide receiver. In the last game of the season, Matthew Stafford threw touchdown passes to Kris Durham, Brian Robiskie and Will Heller.
And it wasn't just injuries that did it. Titus Young seemed poised to step into a big role in 2012, and he ended up stepping into the doghouse. Sometimes draft busts and player issues sneak up from otherwise talented players, and if that's all it takes to decimate a position, then maybe it really could have benefited from an upgrade in the draft.
That said, the one area of their draft strategy the Lions might consider revising is the idea that the talent trumps character. It's that outlook that got Titus Young on the team in the first place, and got the Lions in the news repeatedly with legal issues in the offseason.
If anything, the Lions might want to err on the side of high-character guys this year. Guys like Kyle Vanden Bosch and Nate Burleson are reaching the ends of their viability with the team, and the Lions are going to need new leadership to come from within.
Now might be a good time for the Lions to start looking for those guys, regardless of their positions.
The Trading Block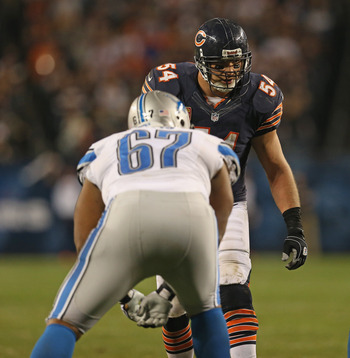 Jonathan Daniel/Getty Images
Martin Mayhew made a name for himself in his first few years by bringing in starting-quality players from rebuilding teams for effectively bottom-dollar.
That got a lot more difficult to do as the average talent level on the Lions roster increased, but it might be worth it for Mayhew to start scouring for trades again. After all, if the Lions' talent level has increased, then so has the caliber of player Mayhew can trade away.
It is fruitless to create any sort of speculation about who Mayhew might engineer a trade for, because it's always a backdoor-type move for a player nobody has really heard of outside his home market.
But where Mayhew might really succeed in using trades this year is not necessarily to increase the Lions' talent level, but rather to help with the salary cap number. Mayhew might find himself trying to save a million or two in salary by making lateral moves for bargain-priced players.
The only real obstacle to the Mayhew being able to manage trades this offseason is that there are so few players actually on long-term contracts, there might be too few players for Mayhew to work with.
So maybe Mayhew will end up trading away from 2014 draft picks, rather than the roster.
Stay the Course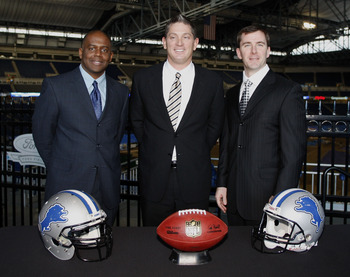 Gregory Shamus/Getty Images
The temptation for the Lions and their fans is to over-correct on their errors, kind of like how New York Giants fans were ready to fire Tom Coughlin in 2011 a few weeks before he led them to the Super Bowl.
But ultimately, there is very little difference, personnel-wise, between the team that went 10-6 in 2011 and the team that went 4-12 in 2012.
There is a reason the formula didn't work in 2012, but likewise, there is a reason it did work in 2011. The Lions' task in the offseason is to zero in on what the difference was between those two seasons and fix it, without completely dismantling the rest.
That may be easier said than done, of course, but pinpointing where the issues are on this team (aside from badly placed mental errors) is key to making this a successful offseason for the Lions.
Given the relative similarity between the last two seasons, it's likely that the Lions are not as far away as their 4-12 record would suggest. The Lions need more fine-tuning than total rebuilding, but it's up to Schwartz and Mayhew to figure out what needs to be tuned and how.
It's very possible that their jobs depend on it.
Keep Reading

Detroit Lions: Like this team?