WWE Retrospective: 2012 Smarky Awards Results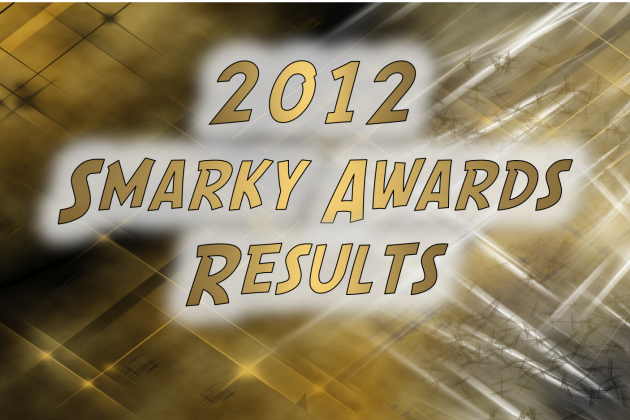 The WWE community of Bleacher Report has spoken and the votes have been tallied.
2012's edition of the Smarky Awards received over 350 ballots, proving the strength and willingness to be heard by the IWC. And from these votes many questions have been answered.
Did Punk dominate the votes once again? Did The Rock's victory over John Cena top the End of an Era? And did The Miz's dreadful "your mom" remark come out as the WWE's top fail in 2012?
So without further fluff or delay, here are the results of the second annual Smarky Awards...
Begin Slideshow

»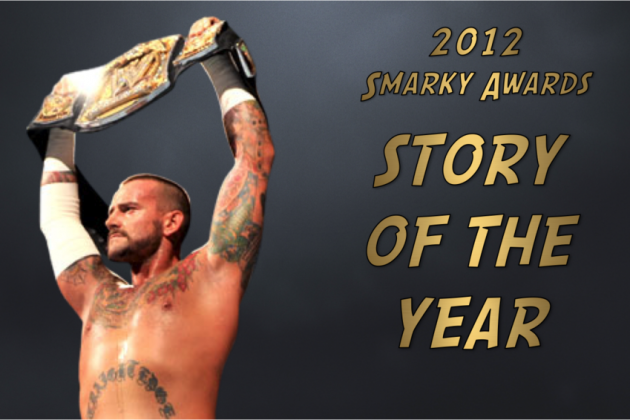 On November 20, 2011, CM Punk defeated Alberto Del Rio to become WWE Champion. And now over 400 days later, the straight edge superstar still has a firm grasp on the crown jewel of the industry.
As the reigning, defending WWE champ, Punk has beaten some of the best the company has to offer. Chris Jericho, Daniel Bryan, Kane, John Cena and Ryback have all come up short of knocking the champion off his throne.
Punk's title reign became the longest such streak in the modern era.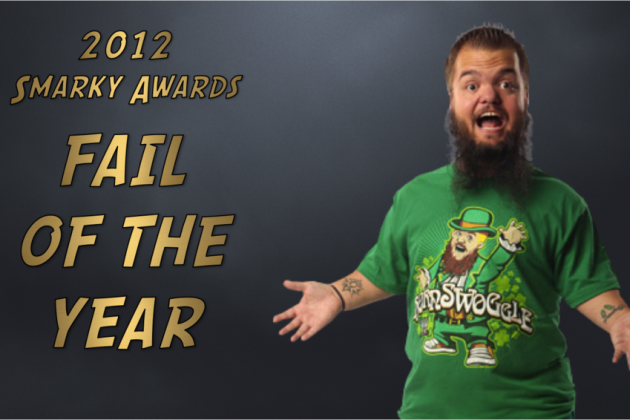 Throughout the ominous reign of the "Anonymous Raw General Manager," we often speculated if the company knew where they were going with the angle. Did they really build up a long term plan for this relatively decent storyline.
And after Hornswoggle was revealed as the mystery man, we all got our answer.
Many names were thrown into consideration amongst fans. It could have been Ric Flair, Mick Foley or even Stephanie McMahon. Hell, William Regal would have sufficed. But instead, we took a slap in the face when that mischievous leprechaun was dragged from under the apron with a laptop.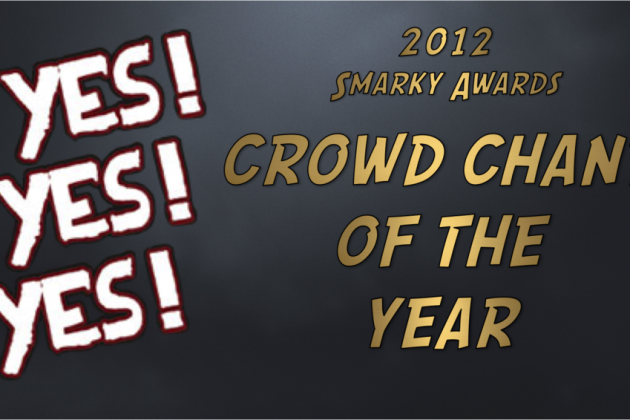 When we saw upwards of 25 "YES!" signs behind the ring at WrestleMania, there was no doubt that Daniel Bryan's battle cry would become the next big crowd fad. And almost ten months later, the WWE Universe's "YES!" chants are stronger than ever.
There's no doubt the exchanges of yes and no between the audience are incredible. Let's just hope this doesn't become the next "What?"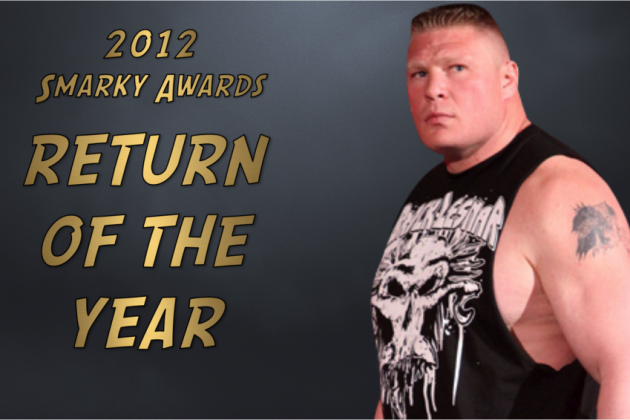 To close out the post-WrestleMania Raw, John Cena closed out the show in hopes of congratulating The Rock on his victory. Luckily for us, we got something much different.
As soon as that creepy riff of Lesnar's theme hit, the energetic Miami crowd nearly blew the roof off the place. And even though the dirt sheets leaked the possibility, Brock's return was a true mark out moment.
From the producer almost missing the F-5, to the laying out of Cena and to the awkward man-child flexing his muscles, this was easily one of the greatest surprises in WWE history.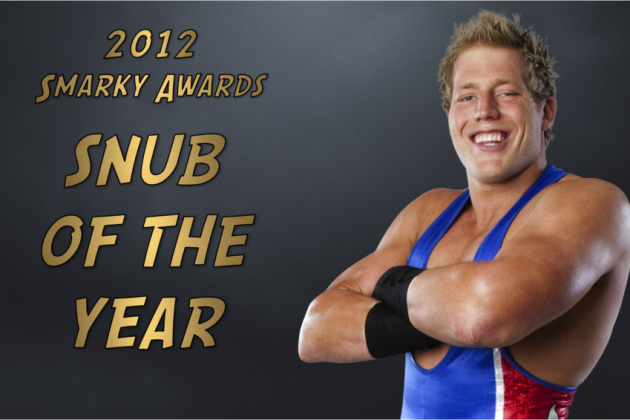 Even though there were some pretty interesting write-ins for this category, the All-American American takes the honor home.
Jack Swagger, who we've just about forgot, is apparently invisible at this point. The former World Heavyweight and ECW Champion hasn't been featured in any relevant story lines of late.
He isn't your best in-ring worker and certainly isn't your best talker. But perhaps creative could have found some way to include a potentially solid talent somewhere in the program. Hopefully for Swagger, 2013 will turn out much better.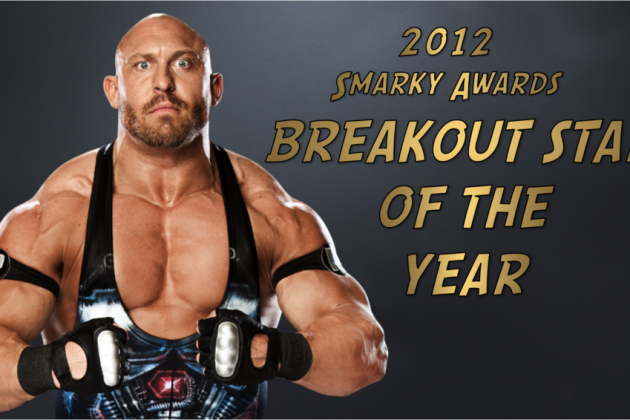 Skip Sheffield really wasn't jiving enough for Mr. McMahon and company. So in an extensive repackaging project, we got Ryback.
Quite honestly, his character was rather refreshing. In a company where just about every wrestler has to have a first and last name, Ryback emerged.
Anyway, this monster's quest to the top is a matter of when, not if.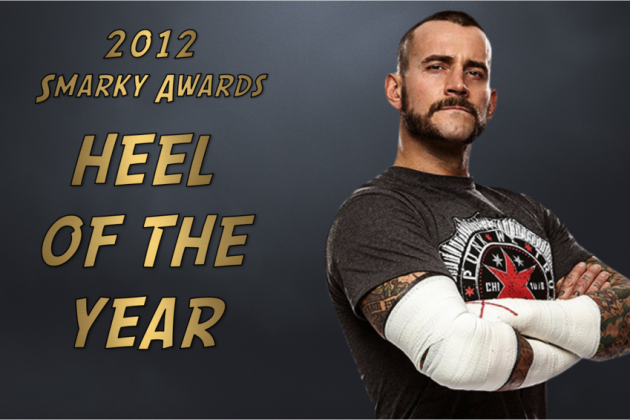 In what is his second honor so far, CM Punk picks up the distinction for best heel.
Punk's surprising turn came at the end of Raw 1000, when he planted The Rock with a clothesline mid-People's Elbow. The WWE Champion walked off to a deadening silence to close out the show and open up his status as the company's top bad guy.
Highlighted by his usual snide remarks and a bonus manager in Paul Heyman, Punk quickly went from John Cena No. 2 to cookie-cutter heel No. 376. Regardless, he is still your WWE champ and your top heel of the year.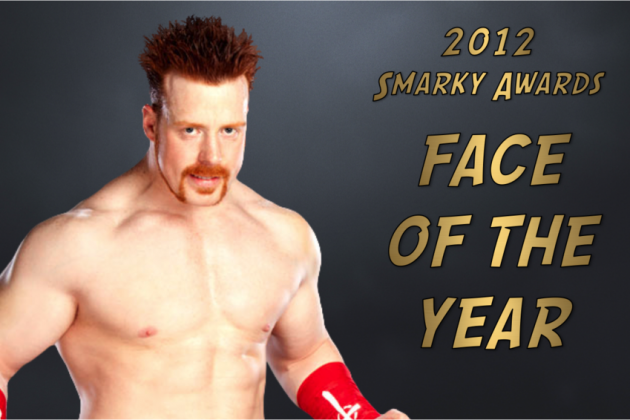 Sorry kiddies, John Cena couldn't pull this one off. Instead, the smarks give the top face honor to Sheamus.
The Celtic Warrior had a great 2012. He won the Rumble match in January, won the World Heavyweight title at WrestleMania in 18 seconds and solidified himself as one of the WWE's top stars.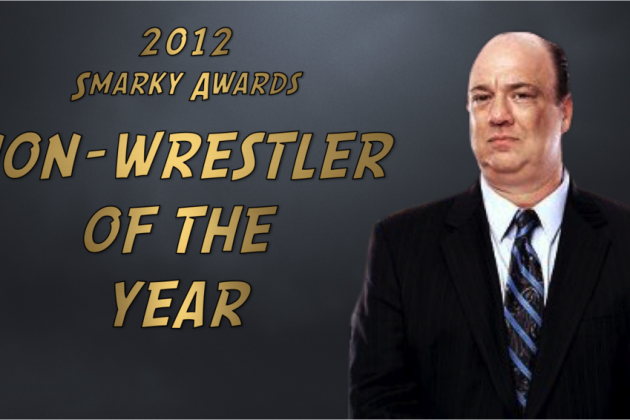 Obviously, most of those who voted are Paul Heyman guys.
Whether you know him as the genius behind ECW, that annoying guy in the Alliance, the web producer of HeymanHustle.com or a walrus, no one can doubt how effectively the WWE has utilized Heyman this year.
He did his usual admirable job, serving as the mouthpiece for Brock Lesnar and the manager for WWE Champion CM Punk.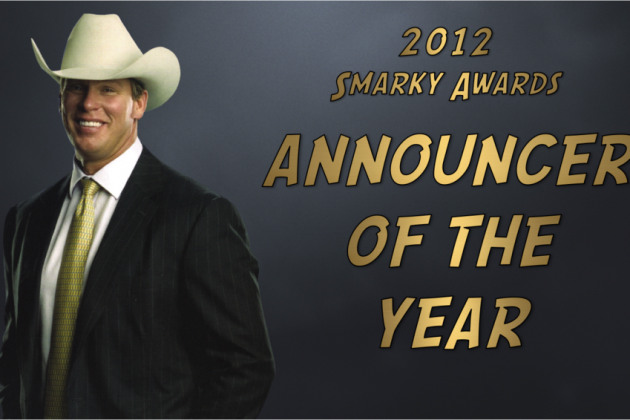 He did come to the party a tad late, but John Bradshaw Layfield earns the distinction of the company's best announcer.
Whether its his weird analogies, his numerous pop culture references or one of his emotional rants, JBL is pure entertainment at the commentator's table.
This should come as no surprise. CM Punk chalks up another with the mic worker honor.
We may be tired of hearing praise, but the guy is just extremely talented with a microphone in his hand. 2012 wasn't as entertaining from last year's various pipe bombs from Punk. But then again, how can anyone really have followed that epic display of jabber up?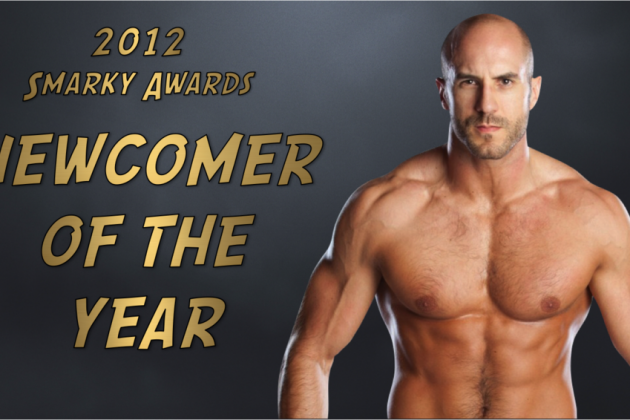 Let me preface this upcoming statement by saying that I really enjoy the work and opinions of B/R's WWE community. But you couldn't have gone through the wrestling homepage this year without seeing an Antonio Cesaro article.
And rightfully so, you guys let your voices be heard by voting Cesaro as this year's top newcomer.
When you look at Cesaro you see a future main event heel. He's got the in-ring ability, solid mic skills and the overall appearance of such a character. Hopefully, we'll get an improvement on his bland gimmick in the very near future.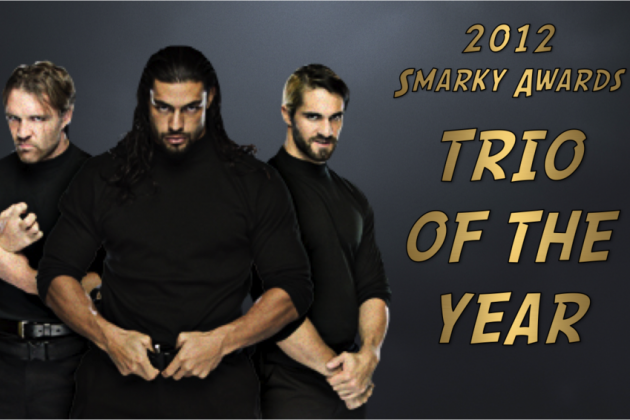 I refused to dub this as the top stable category. Since the WWE doesn't really have five stables, i figured the term "trio" would work.
Anyway, The Shield win this one in a landslide.
The team of Dean Ambrose, Seth Rollins and Roman Reigns hit the WWE with force. The youngsters and future stars vowed to uphold justice in the company, taking down the likes of Ryback and Team Hell No.
The Shield's coming out party came at TLC when they put on an incredible match with the aforementioned superstars. The trio was able to maintain great storytelling throughout the bout while adding in some memorable spots in a surprising victory.
I'm sure I'm speaking on behalf of all smarks when I say that I can't wait for more from these three in 2013 and beyond.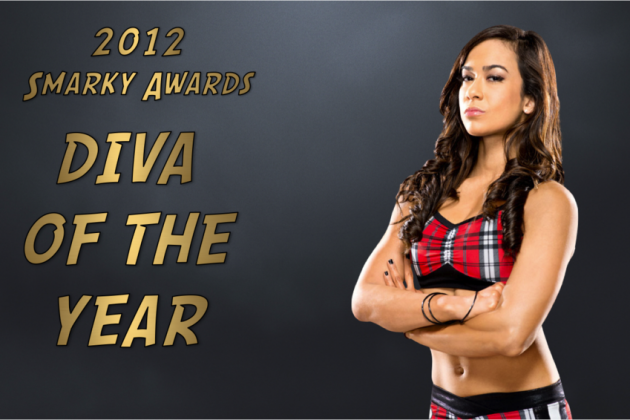 AJ Lee was featured rather heavily in 2012—perhaps too heavily.
The spunky Diva pulled off flings with Daniel Bryan, CM Punk, Kane, John Cena and now Dolph Zigger. She was even appointed General Manager of Raw by Mr. McMahon on Raw 1000.
She rarely padded up for ring action, as she was thrust into many speaking roles during the year. Either way you see her, AJ is your top female superstar of 2012.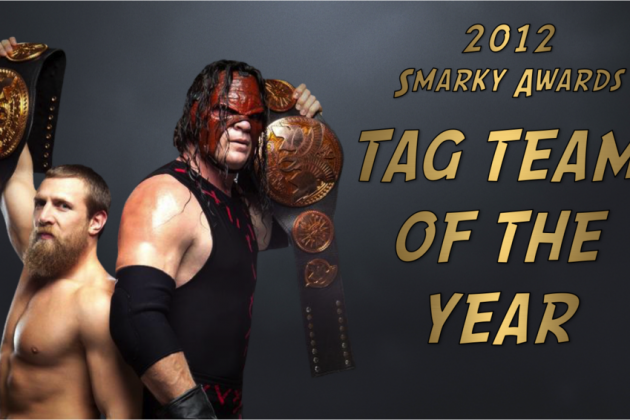 In addition to their horrific use of the English language (I'm the Tag Team Champions), Team Hell No was one of the company's bright spots in 2012. Kane and Daniel Bryan teamed up, despite their countless differences, to head the revamping of the tag team division.
The two earned tag gold back in September and have sparked some much needed interest in the area. Through their hilarious disagreements and numerous on-scene segments, Team Hell No brought back a little Attitude Era vibe in 2012.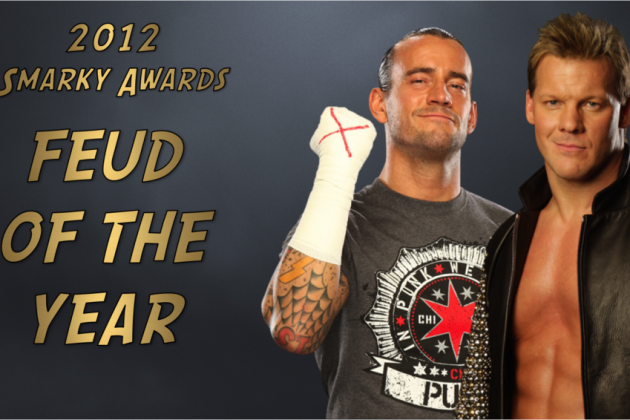 Admittedly, this feud could have been a little better. Regardless, the CM Punk-Chris Jericho angle was pretty much a textbook example of how a feud should go.
We got a solid WrestleMania championship bout, a nice follow up at Extreme Rules and a passing of the torch of sorts from Y2J to Punk. In addition to that, Jericho and Punk did cut off some good promos as expected.
And even though his "End of the world as we know it" claims came up extremely short, Jericho in a WWE ring for another run was undoubtedly a smart move by the company.
This was special.
Watching three of the industry's giants walk each other up the ramp on the grandest stage was imply amazing.
After ending their classic WrestleMania XXVIII match, Undertaker, Triple H and special referee Shawn Michaels all paused in front of thousands to soak in what had just happened. This was a touching salute from the three to the WWE Universe as an era (not sure exactly what era) came to an end.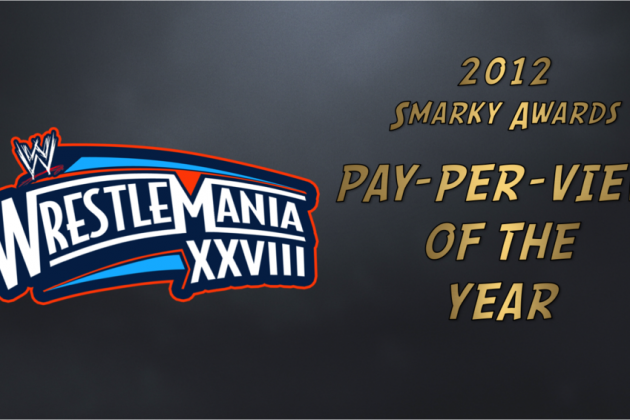 The industry's biggest event was this year's top pay-per-view show.
WrestleMania XXVIII, headlined by numerous stars in The Rock, John Cena, Undertaker, Triple H, Shawn Michaels, Chris Jericho and CM Punk, certainly delivered.
It definitely surpassed the 'Mania that preceded it and can be considered one of the best in the past five or so years.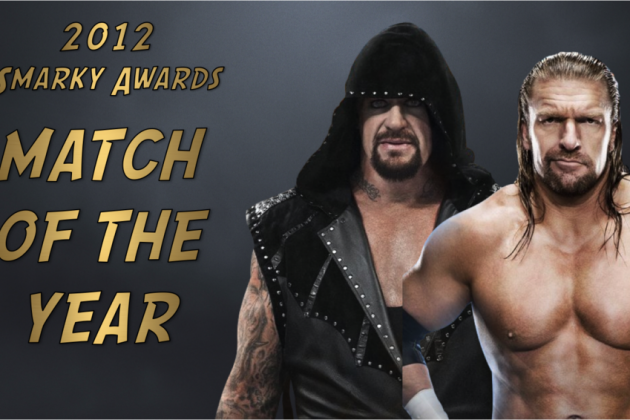 Coming off their distinction for best moment, Undertaker and Triple H also capture the top match of the year honor. And how couldn't they have?
This match had everything, and I mean everything. Two wrestling icons, huge intrigue, incredible storytelling, big time moments and very memorable spots. Hell, they even had the best performer in the history of the business officiate the match.
And admit it, how many of you thought Taker's streak was doomed after the Sweet Chin Music-Pedigree combo from HBK and The Game?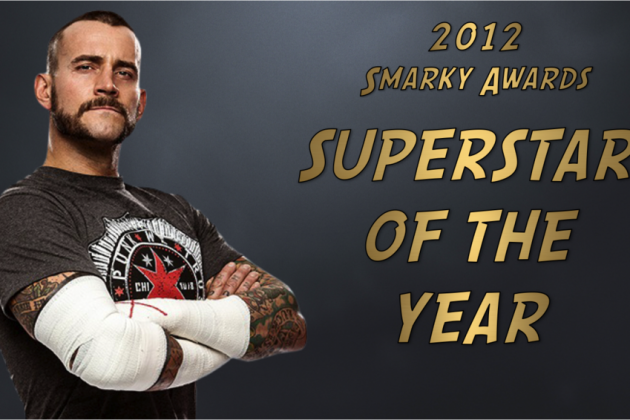 Who did you think it would be?
Unsurprisingly, CM Punk was voted by you guys as the WWE's top superstar of 2012. And although many smarks are attacked for their incessant love of indy darlings such as Punk, the honor was obviously well-earned. (Unlike that stunt pulled off at the Slammy's, where Cena won the award.)
Anyway, Punk followed up an epic 2011 with a nice 2012. He is still your WWE Champion after 400-some odd days and is still going strong.