New Year's Resolutions for Serie A in 2013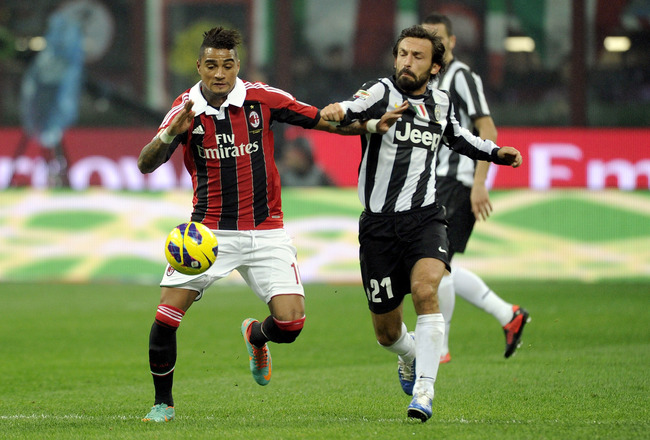 Claudio Villa/Getty Images
It's a new year. With so many new possibilities, it's time to reflect on the year that passed, and look ahead to the everything the new year can bring.
Serie A ended 2012 with Juventus on top and an eight point lead over the rest of the league. With the start of the new year, let's look at some resolutions for all 20 teams as fans around the country hope their teams have a better go at things in 2013.
AC Milan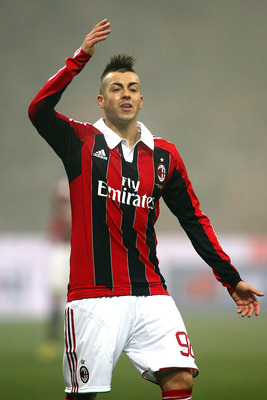 Paolo Bruno/Getty Images
AC Milan's resolution is as obvious as it gets.
Resolution in 2013: Get some help for Stephan El Shaarawy.
He's been a one-man wrecking crew this season, but with uncertainty surrounding Pato and Robinho, it's safe to say the Rossoneri are sure to be active this January in order to bolster their club's chances.
There are rumors that Didier Drogba could land in Milan. Though you know how rumors can be. Ultimately some sort of addition seems necessary for them. What do you think fans, who do you have your eye on in January?
Atalanta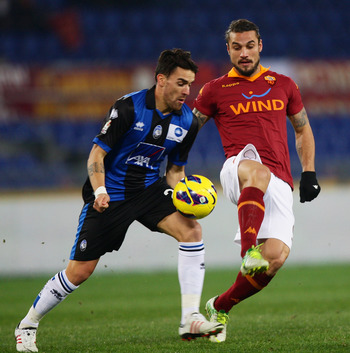 Paolo Bruno/Getty Images
Atalanta finished 2012 on a bit of a low note. They lost four of their last six games.
Resolution in 2013: Erase that negative goal differential.
It's a simple sentiment. If you want to win, score more than you concede. Atalanta are in 11th place in the table with a -9 goal differential.
There's a lot Atalanta needs to do to get better. With resolutions though, it's about small steps, nothing too extreme.
So for 2013, here's to Atalanta keeping their goal differential even or better.
Bologna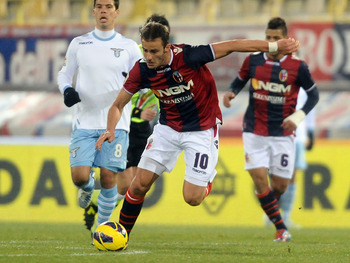 Mario Carlini / Iguana Press/Getty Images
If Bologna could erase the month of October in 2012, they'd be a great team this season.
They lost all four of their Serie A matches in October this past year. To be fair though, their opponents in October were Fiorentina, Cagliari, Inter Milan, and Juventus. Other than Cagliari, that's not a real friendly slate of games.
Resolution in 2013: Score more goals.
They haven't given up many, but they don't score many either. If Bologna could harness some young scorer, or an older disgruntled one, things could turn around quite quickly for them.
They are on the right track though. Headed into the new year, Bologna scored six of their season total 21 goals in December.
Cagliari
Claudio Villa/Getty Images
I'd like to have more positive things to say about Cagliari. Unfortunately, this team leaves a lot to be desired.
Cagliari's last win was on Halloween. Since, they've drawn two and lost the rest. Their goal differential sits at -17, and they've only scored 16 goals all season.
Resolution in 2013: Get someone who can score.
Nenê has shown flashes of brilliance this season. In their last win, on Halloween, he had two goals and one assist in 74 minutes of play.
Maybe getting some consistency out of him could be a short-term solution to avoiding that awful "R" word at the end of this season.
Catania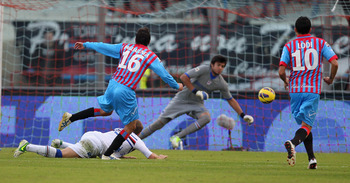 Maurizio Lagana/Getty Images
This is a good team. In 2013, maybe they can take that next step.
Resolution in 2013: Get another keeper.
It sounds a little wild, as they have quality defenders, but this club is conceding way too many goals this season, 27 total. That's the sixth most in the league.
The problem appears to be Mariano Andújar; he concedes on average a goal and a half a game. The defenders for Catania all carry strong ratings, so perhaps Catania should consider signing someone who has a better save percentage than 71 percent.
Chievo Verona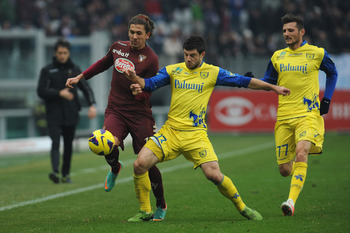 Valerio Pennicino/Getty Images
Chievo Verona got off to an incredibly ugly start. They didn't win a game in September. Their losses came at the hands of Parma, Lazio, Juventus, Inter Milan, and Palermo.
The Palermo loss is so egregious, not just because Palermo is so bad, but also because Palermo's Franco Brienza was sent off for his second yellow card in the 62nd minute. Down a man, Palermo scored two more times to crush Chievo Verona 4-1.
Resolution in 2013: Get off to a good start.
Fiorentina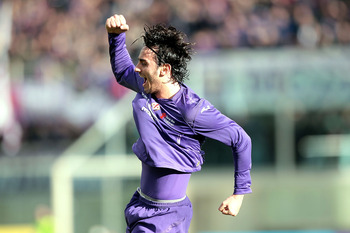 Gabriele Maltinti/Getty Images
Fiorentina has a lot to be thankful for. Sitting in third place and only one point behind second place Lazio, the theme for this team should be to keep up the good work.
If they can avoid losing anyone in January, and can continue their form, they could find themselves in Champions League next year.
Resolution in 2013: Qualify for Champions League.
Genoa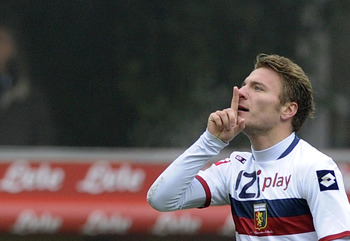 Claudio Villa/Getty Images
This team probably won't play in Serie A next year.
It's not just because they never win. They, along with Palermo, have the fewest wins on the season with three a piece. Primarily it's because there's not any hope for them to turn it around.
Ciro Immobile can't do it all on his own, and more than likely someone will try to lure the 22-year-old away at some point.
Resolution in 2013: Stay in Serie A.
Internazionale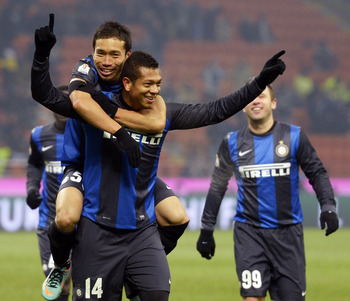 Claudio Villa/Getty Images
Catching Juventus this season isn't likely, but a good consolation would be beating them again.
They meet on March 30, in Milan. If the rest of Serie A wants to start casting doubt on Juventus as the kings of Italy, having a team beat them both times they played would help a lot.
Resolution in 2013: Don't lose to Juventus.
Juventus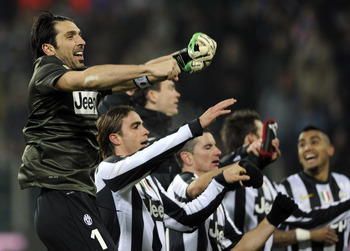 Claudio Villa/Getty Images
The scudetto is almost a foregone conclusion. What more could the bianconeri ask for in 2013?
Resolution in 2013: Don't lose a game in Serie A.
That's about the only way they could have done better in 2012...
Lazio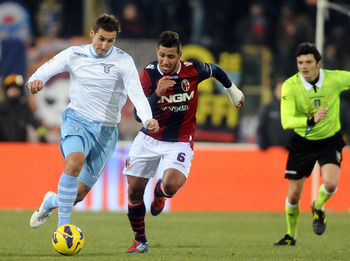 Mario Carlini / Iguana Press/Getty Images
This is an incredibly gifted team. Their only weakness, if there is one, is that they don't score as much as the teams around them. If they could get another consistent scoring threat to compliment Klose and Hernanes, this team could do even better in 2013.
Resolution in 2013: Get another goal scorer.
Napoli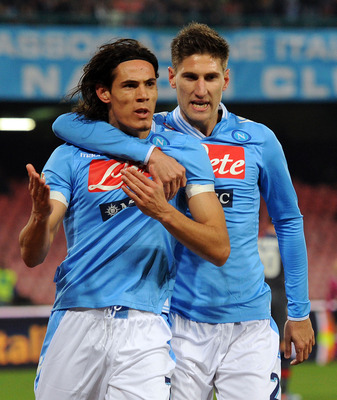 Giuseppe Bellini/Getty Images
The best way for the Partenopei to improve in 2012 is to get back to the Champions League. It won't be easy. With the deduction of two points as well as the ban of captain Paolo Cannavaro, things could get off to a rocky start in 2013.
In order to avoid that, Napoli must solidify their back line and find a potential replacement for De Sanctis. He's getting older, and was a bit shaky toward the end of 2012.
Resolution in 2013: Get some new defenders in January.
Palermo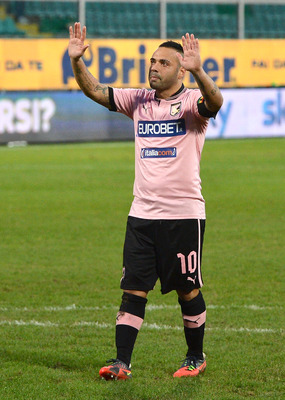 Tullio M. Puglia/Getty Images
Palermo shouldn't be relegated this season, but that doesn't mean they won't be.
They have a lot of good pieces in place, most notably Josip Ilicic and Fabrizio Miccoli, but they need more to stay in Serie A in 2013.
It's not that they give up an insane number of goals (27 conceded); it's a bigger problem that they have the lowest team total of goal scored in the league (15).
Resolution in 2013: Get someone else who can score.
Parma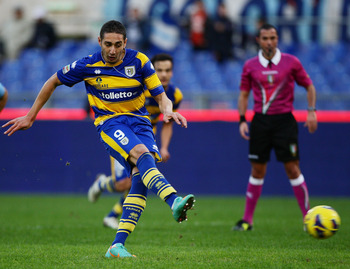 Paolo Bruno/Getty Images
If you don't follow Serie A you may not know who Parma is. If that's the case, it might surprise you to find out they sit just one point behind AC Milan in the league standings.
The problem for Parma is that they're remarkably mediocre.
They've won seven, drawn five, and lost six. They have a goal differential of plus one.
Resolution in 2013: Be better than just okay in the new year.
Pescara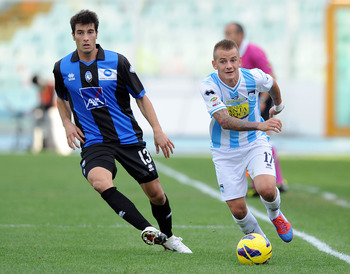 Giuseppe Bellini/Getty Images
Unfortunately, depending on who you are, the Dolphins in Italian football are just as bad as the Dolphins in America's NFL.
They've lost the most games in the league (11), and they are one of two teams tied for the lowest goal total in the league. Because they've only scored 15 times, they have a negative 20 goal differential, which is also the lowest in the league.
The crazy part is, if the season ended today, they wouldn't be relegated. Remarkably, the sit in 16th place.
Resolution for 2013: Hold on to 16th place.
Roma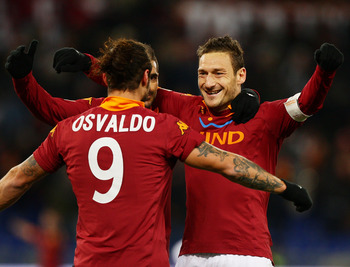 Paolo Bruno/Getty Images
If you watched Roma's last game in 2012 against Milan, you saw a team who looked like they could score ten goals if they wanted to.
Something really stuck out in that win though: Michael Bradley.
And not in a good way. He looked remarkably out of place on a team moving the ball effortlessly.
It may not be time to leave him off the first team, but it's getting close.
Roma spent their winter break in Orlando at Disney World, and you have to wonder if this new American ownership is starting to have too much of an effect.
Resolution in 2013: Don't become too American.
Sampdoria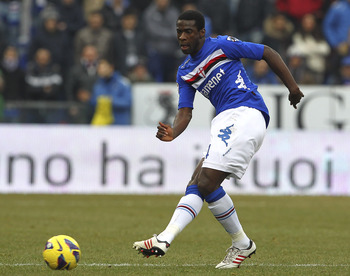 Marco Luzzani/Getty Images
Sampdoria's story is similar to Pescara's and Palermo's; they're just trying to stay alive.
In the first half of the season, their star midfielder Pedro Obiang was able to do enough to keep their heads above water.
Unfortunately, other clubs have been paying attention, and he may not be around in 2013 to keep his side above water. You know how rumors are this time of year, but it's certainly clear other clubs are interested.
Resolution in 2013: Get your money's worth.
Siena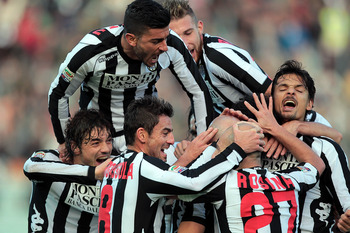 Gabriele Maltinti/Getty Images
They're dead in the water, but not from a lack of trying.
The defense and this side's keeper have played well this season. They've kept eight clean sheets so far, the most in the league.
One of those clean sheets was against Inter if you can believe it. If they could muster up more goals on a regular basis, they'd be a force in this league.
Resolution for 2013: Score more.
Torino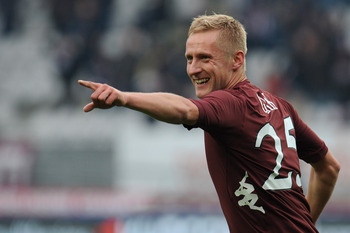 Valerio Pennicino/Getty Images
They haven't beaten a truly good team all season.
Seriously.
Their four wins this season are against Pescara, Atalanta, Bologna, and Chievo Verona. That's not going to cut it.
Resolution in 2013: Beat a quality team.
Udinese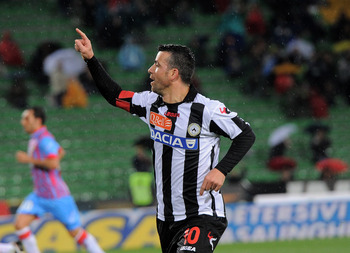 Dino Panato/Getty Images
Antonio Di Natale has the third highest goal total in the league with ten.
This team has some talent, but overall needs some work if they want to finish better. Unless they're going to try and buy some players in January, they should probably just stick with the status quo.
That status quo being their league-high nine draws. It's propelled them into tenth place.
Resolution in 2013: Continue to play for the draw.
Keep Reading