Eagles vs. Giants: What We Learned from Big Blue's 42-7 Blowout over Philly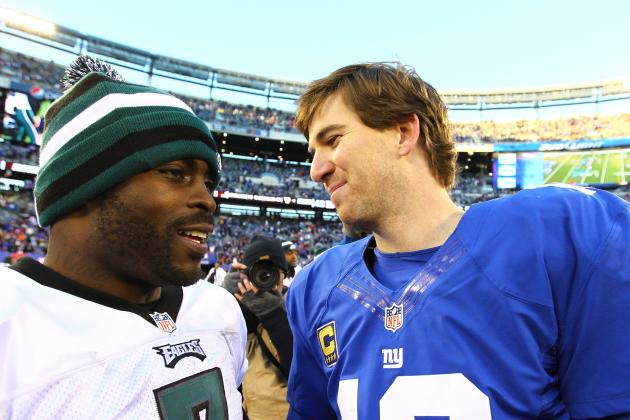 Al Bello/Getty Images

The 2012 season is officially in the books for the New York Giants.
The good news after Week 17 was that they finished on a winning note by demolishing the Philadelphia Eagles 42-7 at MetLife Stadium on Sunday.
The bad news was that just after the game, the Chicago Bears defeated the Detroit Lions 26-24, which ended the Giants' quest to get back to the playoffs and defend their Super Bowl title.
Even if the Lions had prevailed in their game, the Minnesota Vikings had defeated the Green Bay Packers 37-34, so that would have blocked the Giants anyway from getting to the playoffs.
The Giants finished again at 9-7, but in second place in the NFC East. The Washington Redskins won the NFC East for the first time since 1999 with a record of 10-6.
What did we learn from the Giants' 2012 season finale against the Eagles?
Begin Slideshow

»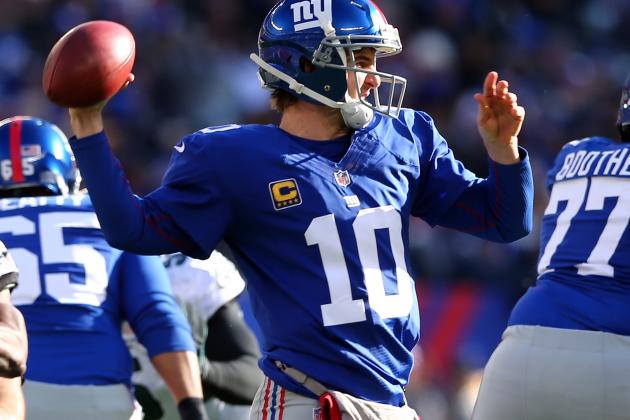 Elsa/Getty Images

If there was one player who wanted to get back to the postseason, it was definitely Eli Manning.
The Giants quarterback took his last two disasters of games and shrugged them off by having an outstanding game against the Eagles.
Manning went 13-of-21 with five touchdown passes and no interceptions.
Three of those touchdowns came in the first quarter, and it was 21-0 Giants at the end of the quarter.
By halftime, Manning had four touchdown passes and added a fifth one to Henry Hynoski in the fourth quarter to put the final nail in the Eagles' coffin.
Philly's defense had no chance of stopping the two-time Super Bowl MVP on Sunday, as Manning reverted back to the elite quarterback we are used to seeing play late in the season.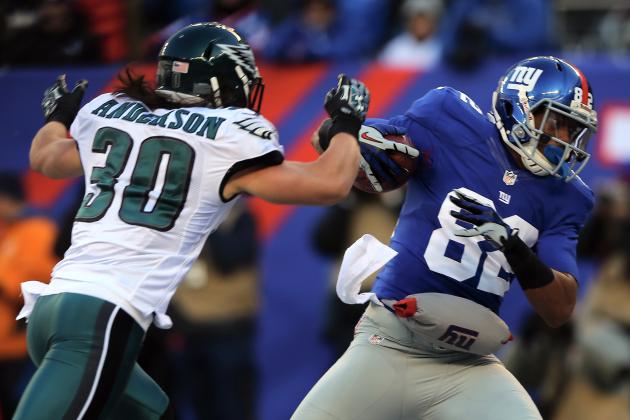 Elsa/Getty Images

Rueben Randle's rookie season with the Giants wasn't anything that would win him an award.
But on Sunday, he showed exactly why he will have a big part in the offense going forward.
Randle caught a three-yard touchdown pass from Eli Manning that helped make the game 7-0 Giants early in the first quarter.
Just a few minutes later, Manning found Randle again on a 38-yard strike for their second straight touchdown, and it was 14-0 in the first quarter.
Randle ended the game with four catches for 58 yards and two touchdowns.
For the season, Randle finished with 19 catches for 298 yards and three touchdowns, which again, aren't exactly eye-catching stats.
But we've seen glimpses of what Randle can do on an NFL field. Eventually, I think he will develop into a solid wide receiver for the Giants and be another great weapon in the offense.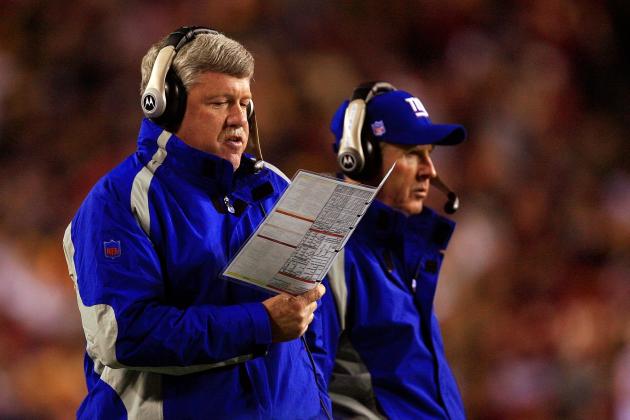 Jamie Squire/Getty Images

Over the last six years, nobody has killed Giants offensive coordinator Kevin Gilbride more than me.
And over the last few weeks, he really earned his nickname "Killdrive."
Yet on Sunday, he called a great game for the Giants offense, and I must give him the credit for it.
When the Eagles committed an early turnover in the game, the Giants offense capitalized on it, and they didn't have to kick a field goal.
Instead, Gilbride mixed up the play-calling and his offense got into the end zone.
In fact, there was no need for Lawrence Tynes on Sunday, as Gilbride's offense found the end zone six times.
The running game worked, and Gilbride stuck with it.
And when he wanted to, Gilbride called great passing plays that shredded the Eagles secondary.
For a guy who usually gets heavily criticized for being too predictable, Gilbride looked very sharp calling plays Sunday.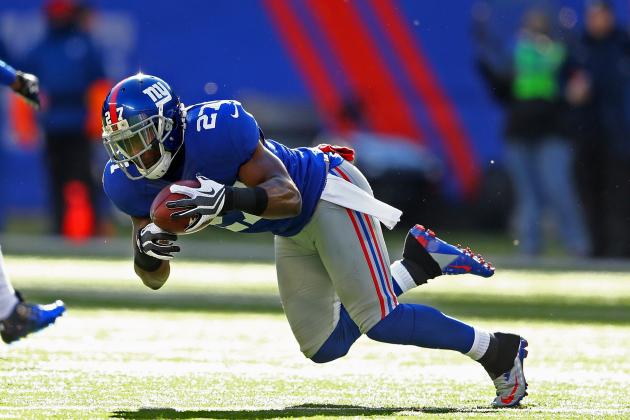 Al Bello/Getty Images

Who knew Tyler Sash's early four-game suspension would be a blessing in disguise?
Why, because the Giants were able to use an unknown free agent they brought in by the name of Stevie Brown.
All Brown did was lead the team with eight interceptions and had 76 total tackles for Big Blue.
Brown recorded his eighth interception in Week 17 against the Eagles by picking off Michael Vick early in the first quarter.
Brown's pick led to the Giants scoring four plays later with an Eli Manning-to-Rueben Randle touchdown pass.
The Giants already have two solid safeties in Kenny Phillips and Antrel Rolle. They now have a third in Brown, who has turned into a ball hawk for them.
And he'll definitely have a job in 2013 for the Giants.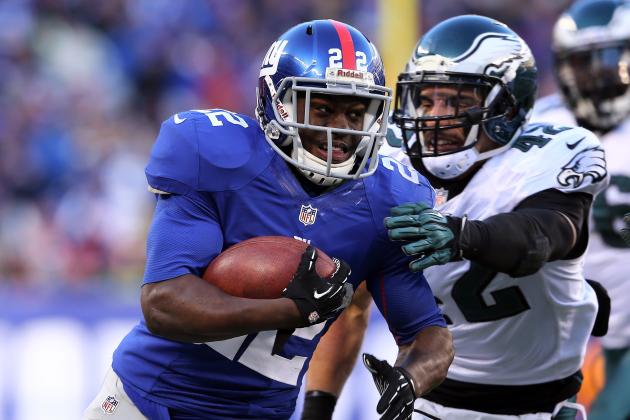 Elsa/Getty Images

During the season, a lot of people were wondering if David Wilson was a mistake as a draft pick.
I had kept telling them he wasn't, and there are games like Sunday's that showed exactly why he wasn't a mistake.
Wilson used his blazing fast speed to get 90 total yards of offense (75 rushing, 15 receiving), and had a touchdown as well.
Wilson caught a 15-yard touchdown from Eli Manning in the first quarter that helped make the game 21-0, which was his first receiving touchdown of his NFL career.
When Andre Brown went down with an injury a few weeks back, the Giants needed Wilson to step his game up, and at times, he did.
His best game of the 2012 season was against the New Orleans Saints when he racked up over 300 total yards of offense and showed everyone how he can dominate with his speed.
I think all he needs is some seasoning from coaching and playing experience, but I like where Wilson's NFL career is going.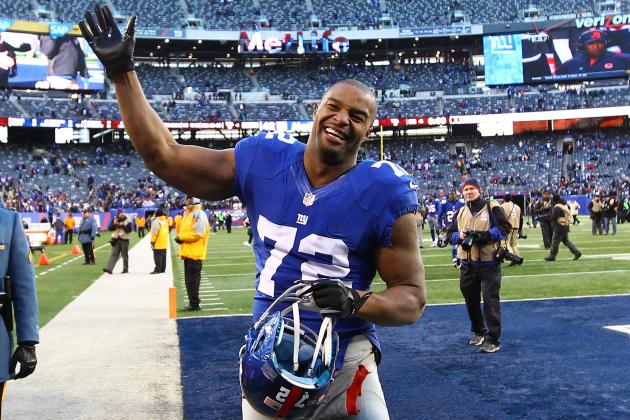 Al Bello/Getty Images

The writing is on the wall concerning Osi Umenyiora's future with the Giants.
He was given a pay raise during the offseason to stay in 2012, and he really underperformed.
Umenyiora only had six sacks in 2012 and is now a pending free agent as a 31-year-old.
Ever since being drafted in 2003, Umenyiora has played his entire career with the Giants, but on Sunday against the Eagles, I think it's safe to say he played his last game with the team.
In the past, Umenyiora ruffled the feathers of the Giants' upper management about his contract, which I'm sure didn't sit well with guys like Giants GM Jerry Reese.
The Giants need to get younger with some of their players, and with Umenyiora now getting up in age (I guess 31 in the NFL is old), the Giants need to find some new blood to take his spot.
Reese will likely look to draft another pass-rusher in the place of Umenyiora, just like he did with Jason Pierre-Paul two years ago.
It's been a nice ride in New York for Osi Umenyiora, but in 2013, he'll be wearing a new uniform come September.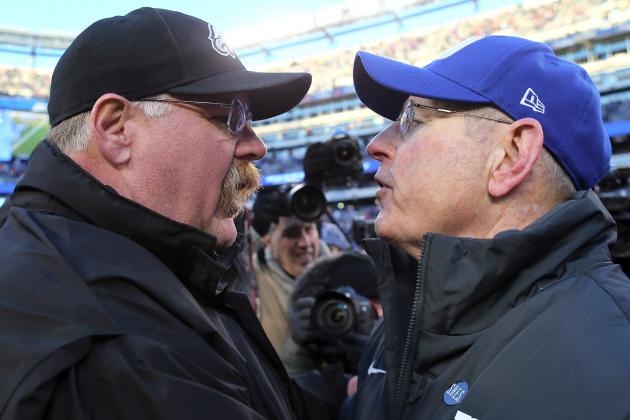 Elsa/Getty Images

It's fitting how the 2012 season finale went down for the Giants against the Eagles.
Everyone had a feeling that Sunday's game would be the final one for Andy Reid as the head coach of the Eagles, as they will likely move in another direction.
And for five years, his Eagles had tortured Tom Coughlin's Giants when they played in New Jersey.
Going back to September 2007 when the Giants embarrassed the Eagles, Reid's team had won five straight games, including the 2008 NFC Divisional Round game.
But on Sunday, it was Coughlin's group that gave Reid's team an absolute beatdown in their own building.
And it was Coughlin's team that wrote the final chapter in Reid's 14-year tenure with the Eagles.
It'll be interesting to see if a new chapter of Giants-Eagles begins with whomever Philadelphia chooses as their next head coach.
But after five long years of losing at home, the Giants put this horrid streak to rest with a decisive victory.