4 Top Candidates to Replace Ken Whisenhunt as Arizona Cardinals Head Coach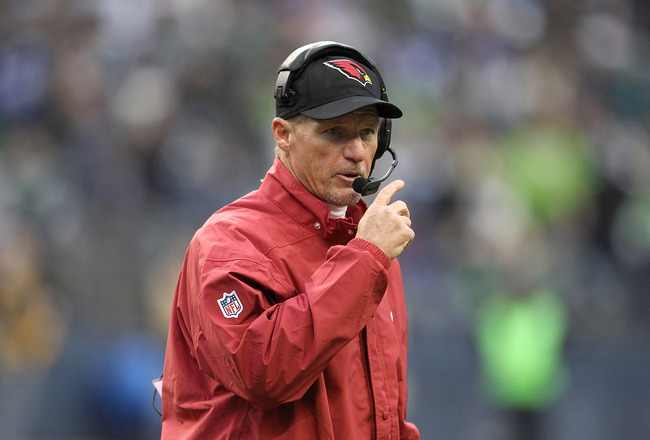 Kevin Casey/Getty Images
Black Monday is here, ladies and gentlemen.
While there is still a month of football to be played, the offseason begins today for 20 of the 32 NFL teams.
One of those teams is the Arizona Cardinals, who dropped 11 of their last 12 games after winning four-straight to start the 2012 season.
This is a team that still has a lot of talent, but they looked disoriented over the final months of the year.
There is a lot of blame to go around, but the majority of it falls on the coaching staff. Arizona has not had a winning season since the Warner era and it is time for change at several coaching positions.
One of the men who is likely gone this offseason is Head Coach Ken Whisenhunt. He has been on the hot seat for most of the season and it is time for him to move on.
Over the next few slides, we will take a look at the top candidates to replace Whisenhunt and become the head coach of the Cardinals.
Jay Gruden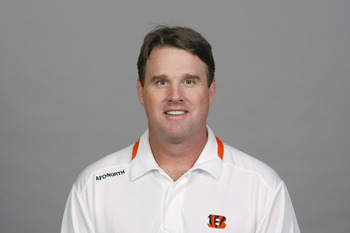 Handout/Getty Images
In terms of coaching options for next season, the talk around the league seems to be focused on former big name coaches.
Tony Dungy, Brian Billick and Jon Gruden are names being thrown around. I have seen a lot of fans who would like to put the Monday Night Football announcer on the sidelines in Arizona.
While that would not be a bad option, the one that is more likely is little brother Jay Gruden. He is currently the Cincinnati Bengals offensive coordinator.
Jay has had a huge role in the Bengals success, helping them to the playoffs in both seasons. He has done a great job working with Andy Dalton and AJ Green and would have even more talent to work with in Arizona.
The Cardinals have not had a functional offense for more than a few weeks since Kurt Warner retired and signing Jay Gruden would help bring them back up to par.
Todd Haley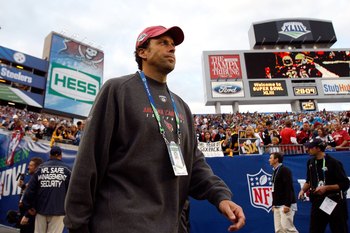 Chris Graythen/Getty Images
One of the most intriguing coaching options for Arizona this offseason is Todd Haley, who is currently the offensive coordinator for the Pittsburgh Steelers.
Haley served as the offensive coordinator for Arizona when they went to the Super Bowl back in 2008 and his success landed him a head coaching job in Kansas City.
Despite being fired with a few weeks left in the 2011 season, Haley did great things for the Chiefs. He took a team that was 2-14 in 2008 to the playoffs in 2010.
With higher expectations in 2011, Kansas City faltered due to several injuries. Eric Berry, Tony Moeaki and Jamaal Charles went down early on, leaving them in a hole.
Haley was unfairly criticized for the Chiefs downfall and really did not do that bad when he was there. He is someone that is familiar with the team and should definitely be considered for the job.
Russ Grimm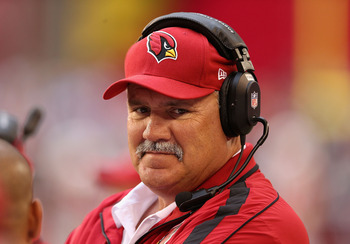 Christian Petersen/Getty Images
By no means am I a fan of this pick, but like it or not, Russ Grimm is a candidate for the head coaching spot.
A former guard for the Washington Redskins, Grimm has been coaching for 20 years and has been the Cardinals offensive line coach since 2007.
As a friendly reminder...2007 was the year Arizona took Levi Brown in the first round when Adrian Peterson was still on the board.
We have seen some atrocious play from the offensive line over the past five years and Grimm is the easy target. You can make a pretty good case for him, however.
The Cardinals offensive line was terrible early in the season, but even with all of the injuries they have played much better since the bye week and Grimm's players have come through for him.
This is not your ideal pick. In fact, some people would like him removed from his current role. Considering what he has done with the line this year, Russ Grimm will be thought of for the head coaching job.
Ray Horton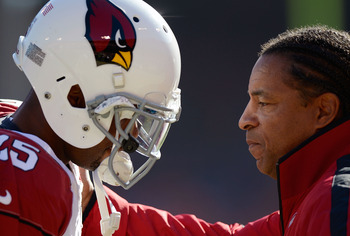 Thearon W. Henderson/Getty Images
There are not enough words to describe what Ray Horton has been able to do for this Arizona Cardinal defense.
He has taken a squad that finished near the bottom of the league in every major category, added a few players, established a system and has turned them into a top 10 unit.
Even though the team finished 5-11, his job is safe heading into the offseason. He may end up getting a few interviews elsewhere.
Losing Horton is not something the Cardinals can afford. If they want to bring someone else in to be the coach, then they better be sure that he is still staying with the team.
With other opportunities out there, Arizona needs to start talking with Horton as soon as they can to prevent him from leaving.
He is the candidate most likely to become Head Coach.
Keep Reading

Arizona Cardinals: Like this team?