Ohio State Football: Projecting Buckeyes' 2013 Defensive Depth Chart
Jamie Sabau/Getty Images
The Ohio State Buckeyes have a ton of holes to fill on their defense going into the 2013 season as the team loses seven defensive starters, including the entire defensive line.
Gone are John Simon, the heart and soul of the OSU defense the last two seasons, and Johnathan Hankins, who will likely be a top-10 pick this April, among others.
The list may go up to eight starters gone if redshirt sophomore DB Bradley Roby decides to leave early. For the purposes of this list, he is still on the roster.
With so much turnover, who is expected to take each of the starting jobs?
Here is an early projection at the defensive depth chart, featuring the starter(s) listed first and the rest of the two-deep for each position.
Defensive End: Noah Spence, Michael Bennett, J.T. Moore, Steve Miller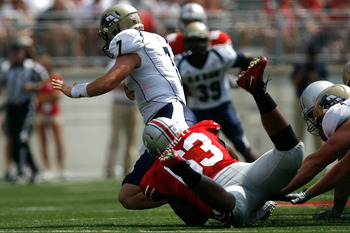 Kirk Irwin/Getty Images
Reloading an entire defensive line will mean that former Under Armour All-American Noah Spence will all but be the main guy off the edge.
Spence did not rack up big numbers in his first season, but he played almost every game and was heavily involved in the rotation. He should look to add some strength and continue to refine his pass-rush moves to become a dangerous player off the edge.
On the other side, 2013 could be Michael Bennett's year. Bennett is more of a balanced end than a pure pass-rusher, and he has a great motor off the edge.
After playing behind Simon and Nathan Williams, Bennett has earned the right to step in and start next season.
J.T. Moore and Steve Miller may likely be in the two-deep, but don't discount any of the potential freshmen like Joey Bosa and Tyquan Lewis from finding the field.
Defensive Tackle: Adolphus Washington, Joel Hale, Tommy Schutt, Billy Price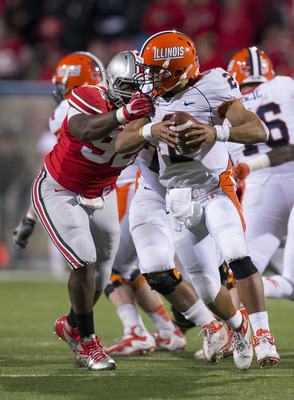 Greg Bartram-USA TODAY Sports
Replacing Johnathan Hankins is no easy task, but sophomore DT Adolphus Washington looks like the next big star on defense for the Buckeyes.
Washington came to OSU as a DE, but moved inside, bulked up and started playing tremendous football late in the season, especially in the win over Michigan. He should continue to learn the nuances of the position as well as growing into his body, which will only make him much better.
The second starting job will likely be decided between junior Joel Hale and sophomore Tommy Schutt, each of whom bring a good amount to the table.
Hale is the more experienced of the two by far, but Schutt may have more potential and got more action as his freshman season went on.
Outside Linebacker: Ryan Shazier, Josh Perry, Camren Williams, Jamal Marcus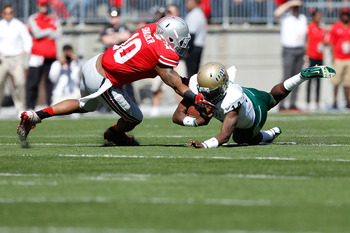 Kirk Irwin/Getty Images
Ryan Shazier is the only returning starter in the Ohio State front seven and will be asked to be the main guy for a group of linebackers that is very green.
Sophomore Josh Perry, who saw the most action at outside linebacker of the young returners, may be the favorite to start opposite Shazier this season.
Linebackers Camren Williams and Jamal Marcus, among others, may be in the two-deep next season, especially after making some good plays on special teams in 2012. Those plays can get players noticed by coaches and help their cause moving up the depth chart in the years to come.
Inside Linebacker: Curtis Grant, Connor Crowell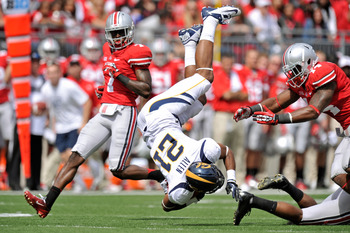 Jamie Sabau/Getty Images
Ohio State's middle linebacker problem was so dire that it asked fullback Zach Boren to switch sides, and he helped to somewhat stabilize the defense.
The initial starter from 2012, Curtis Grant, is likely to be the guy at the top of the MLB depth chart for 2013. He looked invisible when he was on the field and will need to learn during the spring and fall how to make an impact in the middle of the defense.
Connor Crowell has been battling injuries since he stepped foot on OSU's campus, but he will likely be the backup.
Should talented freshman Mike Mitchell indeed commit to Ohio State, odds are he could jump into the two-deep very quickly.
Cornerback: Bradley Roby, Doran Grant, Adam Griffin, Devan Bogard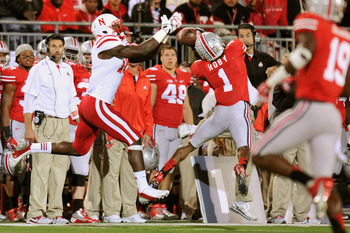 Jamie Sabau/Getty Images
Should Bradley Roby return to Ohio State in 2013, he may very well be the best defensive back in the Big Ten coming back next year. He's proved to be a very reliable shutdown corner with great speed and ball skills.
On the other side of the field should be junior corner Doran Grant, who was the nickel corner last year and did a decent job.
Grant will need to fill in for Travis Howard and provide solid coverage on the other teams' No. 2 WRs since Roby will follow the No. 1s all game long.
The Buckeyes have several talented corners committed for 2013, including Eli Apple—formerly Eli Woodard—and Cameron Burrows, who could possibly move to safety.
Safety: Christian Bryant, C.J. Barnett, Corey Brown, Najee Murray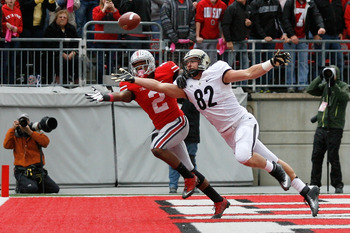 Kirk Irwin/Getty Images
Ohio State's safeties were maddeningly inconsistent last season as starters Christian Bryant and C.J. Barnett were both very good and very bad throughout the year.
The hope is that the duo finds some happy medium, but they had quite a few problems keeping the lid on the defense as the Buckeyes struggled to prevent the deep ball at times.
The other problem OSU has at that position is there is little to no depth, and former 5-star Corey Brown has looked like a recruiting bust to this point. OSU has a few safeties in its recruiting class, including Darron Lee and Jayme Thompson, both in-state kids.
Follow me on Twitter @bielik_tim for the latest college football news and updates.
Keep Reading

Ohio State Football: Like this team?