Barcelona Transfers: 7 Players Fans Would Love to See Arrive in January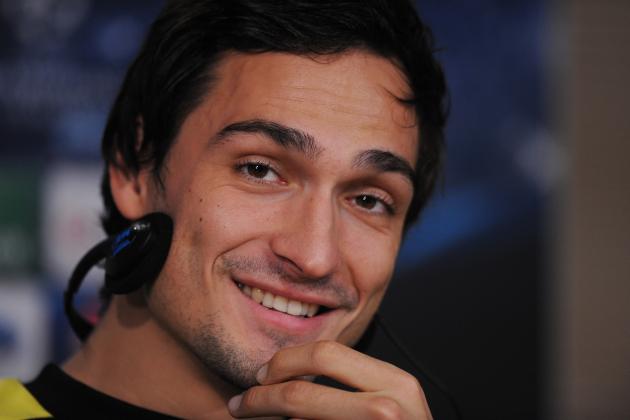 Denis Doyle/Getty Images

While Barcelona might not be having to make way for any new players this January, that doesn't mean supporters can't dream of new players at the Nou Camp.
As good as La Masia is, that doesn't mean that Barcelona can go without bringing in some outside reinforcements.
As one of the biggest clubs in the world and the most successful at present times, the Catalan giants are linked to seemingly every talented player across the world.
Most of the speculation never amounts to anything, otherwise the squad list for Barca would number in the hundreds. Occasionally one or two big names will make the move, but it's not too often.
You could argue that Barcelona don't need much help considering the club sits already nine points ahead of second-place Atletico Madrid in La Liga. The Catalans have also finished at the top of Group G in the Champions League.
However, the team sputtered a bit in the early season, and a loss to Celtic in Europe showed Barcelona has some weaknesses.
Listed ahead are seven transfers that would greatly benefit Barcelona. The players listed were possibly linked to a move at one time, but it's unlikely any of them will make the move in January. It's more of a dream scenario for Barca supporters.
Begin Slideshow

»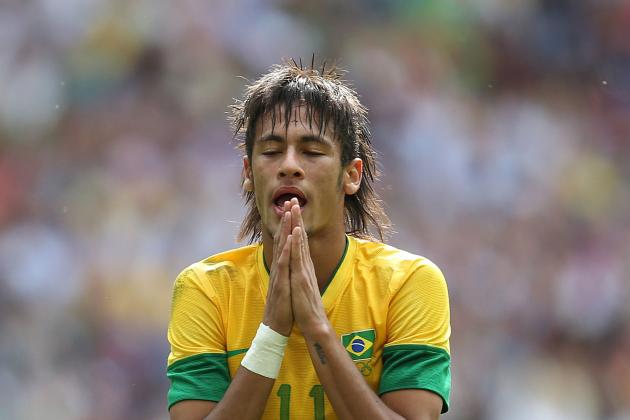 Julian Finney/Getty Images

This is arguably the most protracted transfer in world football. Few would be surprised to see Neymar move to Barcelona.
It seems only a matter of time before he puts on a Blaugrana shirt.
After Barca's demolition of Santos in the Club World Cup, there were rumors, denied by Santos, that Barcelona had negotiated the right to make the first bid for Neymar's signature (via ESPN FC).
Sky Sports reported that Neymar will move after the World Cup, which is what many believe, and that Barcelona is the club to which he'll move.
His father was quoted as saying:
"I believe Barcelona is the best path. Barcelona's football is like that of Neymar. They score from inside the penalty area like Neymar.

"We have to wait. Maybe Barcelona won't want Neymar in 2014.

"How can I say now that Neymar wants to go to Barcelona? The club can't say anything either. It's better that everyone stays quiet for now."
Signing the Brazilian isn't a necessity for Barca, but it would improve what is already one of the world's best attacks.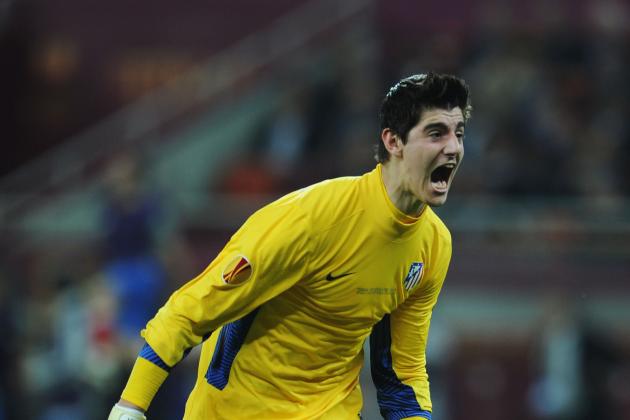 Michael Regan/Getty Images

Thibaut Courtois is one of the best young keepers in the world—perhaps the best.
It was a bit surprising that Atletico Madrid were willing to bring him in on loan last year, considering Courtois was largely untested at Genk.
The young Belgian turned out to be one of the best keepers in La Liga within a few months. Courtois is still a little rough around the edges, but that's to be expected considering he's only 20 years old.
According to the Daily Mail, Barcelona is interested in securing Courtois' services on a permanent basis.
It's a move that makes perfect sense.
Victor Valdes may be 30 years old, but he's looked a bit shaky at times. He's made some great saves. On the whole, though, his overall quality is overrated by many. Valdes has benefited from a great Barca back four.
He could continue to be Barcelona's keeper for the next three or four years. On the other hand, Courtois could stay between the sticks for the next decade.
And with his La Liga experience, there would be very little learning curve for Courtois.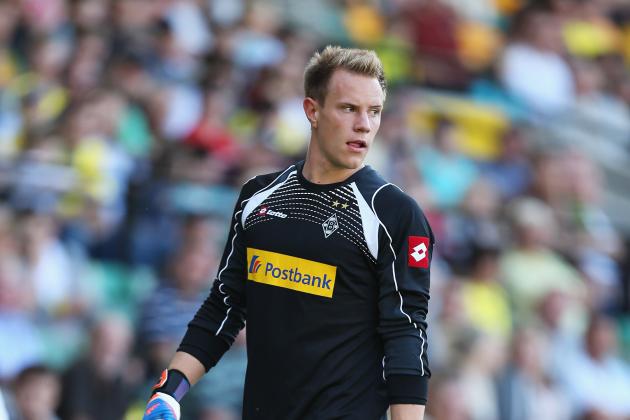 Pete Norton/Getty Images

If a move for Thibaut Courtois doesn't work out, then Marc-Andre ter Stegen is a more than solid second option.
Going into this season, some might have rated ter Stegen ahead of Courtois in terms of young goalkeepers.
Things have changed quite a bit. Ter Stegen's stock has dropped a bit considering Borussia Monchengladbach's massive defensive struggles this season.
The club's performance has improved as of late, but the 26 goals Monchengladbach has conceded in the Bundesliga is already more than it gave up for the entirety of last season's campaign.
Last spring, Barcelona was linked to a move for the young German, but Goal.com reported that ter Stegen's agent denied any such move was in the works.
With ter Stegen's slight drop, his price tag won't be as high as it was at the end of last year. And at 20 years old, his best years are clearly ahead of him.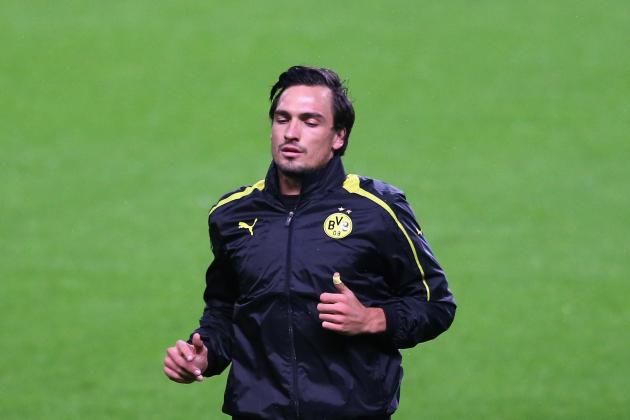 Alex Livesey/Getty Images

Injuries have shown that Barcelona can be a bit weak at times at the back.
Carles Puyol and Gerard Pique have both been affected by injury for parts of the 2012/13 season. As a result, Tito Vilanova was forced to line up Alex Song at centre-back.
At 34 years old, you have to wonder how many years Puyol has left.
Barcelona could have arguably the best centre-back combination in the world should the club try and move for Mats Hummels.
Hummels is only 24 years old yet one of the best in the world.
He's also very talented on the ball. Hummels has the ability to start an attack at the back with a key pass up ahead to the midfield.
Song and Javier Mascherano have done well when put in the center of defense, but Barcelona would be best served by trying to get Hummels.
Julian Finney/Getty Images

When you think about it, Barcelona is presently a little thin when it comes to the defensive midfield.
Sergio Busquets is one of the best in the world, without a doubt. After him, though, the quality drops off a bit.
Javier Mascherano has become more of a centre-back since making the move from Liverpool.
Alex Song was bought this past summer, but his defensive ability has been a bit of a question mark. He's always felt like more of a central midfielder rather than a DM.
Jonathan dos Santos hasn't quite reached the heights it would have appeared he would by this stage.
Etienne Capoue of Toulouse is the kind of midfield destroyer the club could use right now. Busquets is a good tackler, but Capoue could also bring the kind of intimidation that Busquets might lack.
His game might not transfer over to La Liga, as his physicality could lead to picking up needless cards.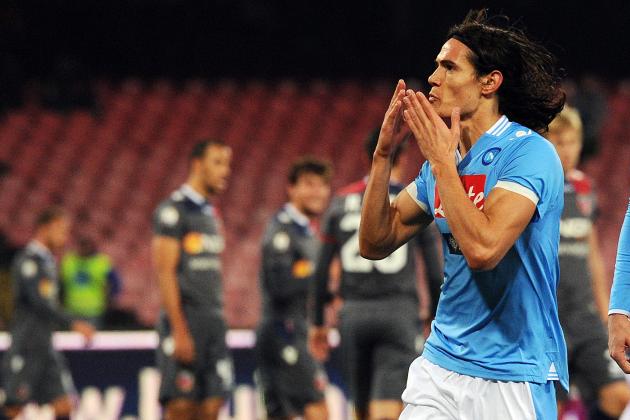 Giuseppe Bellini/Getty Images

Lionel Messi might be the best player in the world, but Barcelona lacks an extra dimension in the attack at times.
Champions League losses to Chelsea and Celtic have illustrated that Barca need a Plan B when it comes to the attack.
When teams park the bus, the Catalans' strategy of working the ball up the pitch isn't always the best way to go. Sometimes they simply need a player to sit in the box, receive the ball, turn around and put the ball in the back of the net.
That's where Edinson Cavani comes in.
Zlatan Ibrahimovic would be in this spot, but he's already spent one season in the Camp Nou before being moved out to cater to Messi.
Cavani is still a world-class striker who is one of the best pure finishers in the world. He's not known for his heading ability, though he has enough that he could make the most of balls delivered in over the top.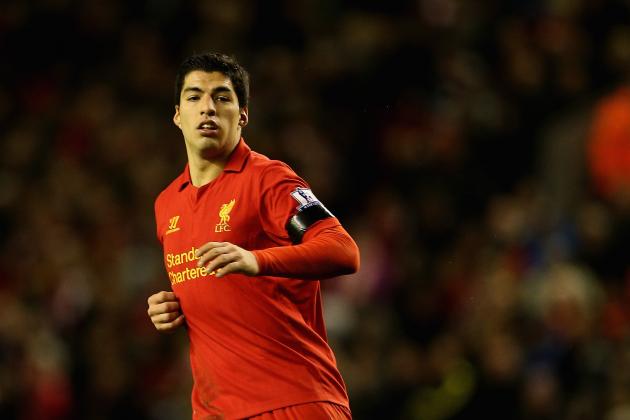 Clive Brunskill/Getty Images

When he's at his best, Luis Suarez is one of the most unplayable strikers in the world. The converse is, of course, a striker who has racially abused and bit opposing players.
The Uruguayan is well worth the baggage, though.
Making a case of Suarez is much the same as his compatriot, Edinson Cavani. Barcelona need a pure striker to overcome when a team sits back and defends for 90 minutes.
Suarez might also be a much more attainable option.
You have to wonder how long he'll stay at Liverpool should the Reds fail to qualify for the Champions League once again. In addition, he's already said that he "dreams" of playing for Barca (via ESPN FC).
Suarez can sometimes frustrate supporters by trying to do too much when he has the ball, but his slaloming runs are at times second to none in the world, including Messi.