The Top 5 Single-Season Rushing Performances in NFL History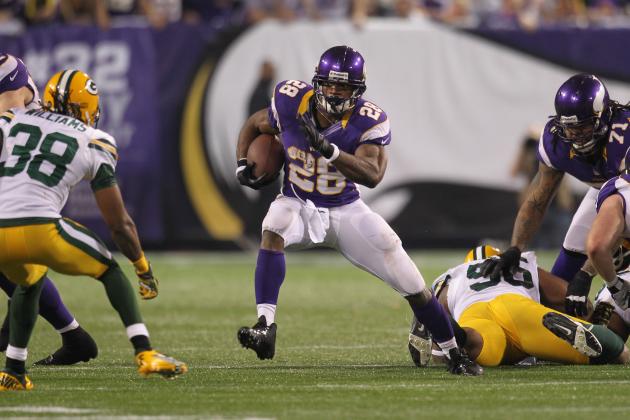 Brace Hemmelgarn-USA TODAY Sports

Adrian Peterson had a season of a lifetime in 2012, running for 2,097 yards and 12 touchdowns.
Is he the MVP? He should be, considering that in an era where the passing game is king, he has ruled the ground—which is especially impressive coming off of a torn ACL just a little more than one year ago.
But where does Peterson's season rank among the greatest seasons by a running back in the history of the NFL?
Here's a look at the top five most impressive single season rushing performances in NFL history. You will notice it's not a list of the five best rushing seasons in NFL history (you could see the full list here via pro-football-reference.com). Instead I'm ranking these based off of how impressive the back was in his amazing season.
Begin Slideshow

»
One common theme with all of the running backs on this list is the fact that defenses KNEW they were coming, yet couldn't find a way to stop them.
Barry Sanders in 1997 was no exception.
Sanders 2,053 yards in '97 would wind up leading the Lions to a 9-7 record and a playoff berth. This despite the fact that Scott Mitchell was an average quarterback at best, while Detroit's defense underachieved, ranking 14th in the league in total defense.
Sanders would finish running for an average of 128.3 yards per game, with his longest run coming for 82 yards.
It was an impressive season for Sanders, who would wind up finishing just 52 yards short of Eric Dickerson's record, good for second all-time at the time.
Now Sanders is in fourth place all time, thanks in part to Adrian Peterson and Jamal Lewis.
Yes, I put the leading single season rusher of all time at number four.
Sue me for thinking that Jim Brown, Adrian Peterson and O.J. Simpson were better in their greatest seasons. For the record, I also consider the three of them to be better running backs than Dickerson, along with a few others from history (Walter Payton, Emmitt Smith and Barry Sanders come to mind).
But that's not to sell Dickerson's record-setting season short. He carried the rock a lot for the Rams, which is also kind of the reason why I have him ranked so low (he had 404 carries that season, which is ranked fourth all time; for comparison's sake, Adrian Peterson had 348 carries this season).
He also probably had the best technique out of any of the running backs on the list, which you can see on the video. It almost looks effortless how he runs with the ball, and did throughout his career.
The 1984 season is probably one of the greatest NFL seasons of all time, as it gave us perhaps the greatest quarterback season of all time from Dan Marino and the greatest team of all time with the 1984 San Francisco 49ers.
But Dickerson's rushing season, while being the best of all time statistically and one of the most impressive of all time, isn't quite up to par of Peterson's 2012.
This is one of the most impressive seasons by any player in NFL history, regardless of position.
Peterson had his doubters coming into the season; I'm sure he even doubted himself. He suffered his knee injury on Christmas Eve, and actually had surgery on December 30th, 2011.
Check the dateline on this story, as well as the date of the final day of the regular season.
Now look at Adrian Peterson's statline, along with the fact that teams knew what the Vikings were going to do, yet he still ran over the opposing defenses.
Simply incredible.
He may not have broken Dickerson's record, but he did have a better overall season than him.
Plenty of NFL running backs have rushed for more yards in a single-season than Jim Brown did in 1963.
However, all of them (save for O.J.'s 1973 season) had 16 games to do it in, and none of them averaged the 133.1 yards per game that Brown put up, nor the 6.4 yards per carry that he amassed.
Brown had every tool needed in a running back, as he had brute force that could knock defenders into tomorrow to go along with his graceful speed.
He was the rare specimen who looked like he was born to play running back in the NFL, and one of the rare athletes that could've dominated at any point in the NFL era.
Is there any wonder why he's considered one of the greatest to ever play the game?
Brown's 1963 season was an outstanding one, however it's not the best one of all time, as there was one player (mentioned earlier on this slide) who ran for more yards in the same amount of games.
O.J. Simpson is known for many things, and none of those things in the last two decades can be considered good.
But before becoming one of the most infamous and controversial figures in pop culture (and indirectly responsible for spawning Kardashians), Orenthal James Simpson was known as one of the greatest running backs in NFL history.
The running back who put up the greatest single season rushing effort of all time, in fact.
The Juice (along with the help of his offensive line, which had the nickname of "The Electric Company"), ran for 2.003 yards, which broke Jim Brown's single-season record set in 1963.
He also became the first running back to run for 2,003 yards, something only six other running backs have done since.
And all of them did this in 16 games, Simpson is the only one to do it during a 14-game regular season. He averaged 143.1 yards per game, which is still the most yards per game ever gained in NFL history.
By far, this proves O.J. was guilty: of setting up this lame pun of mine and for putting together the best season by a running back.