Who's Hot, Who's Not Heading into NFL Playoffs?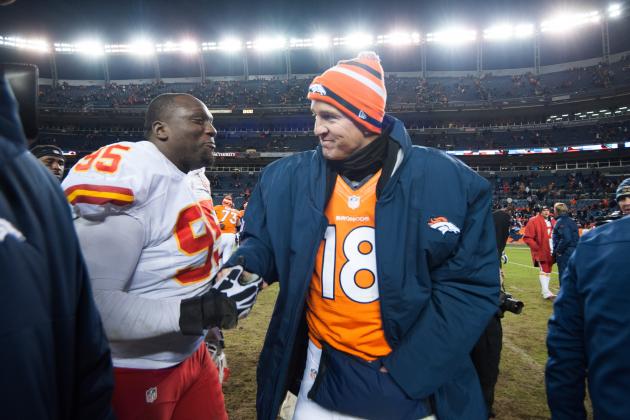 Dustin Bradford/Getty Images
Good luck with the No. 1 pick, buddy. I used to be one of those, once.
In the same way that teams can get hot entering the NFL playoffs, players can do the same by stepping up their games to reflect a heightened level of productivity and ability.
Players can slip up as the weather gets cold, too, but if a slide is too drastic or takes place over too long a period of time, their teams can drop right out of the playoff hunt—just ask the Chicago Bears.
Because of that, there seem to be more players performing at a high level entering the playoffs than players who are floundering.
Begin Slideshow

»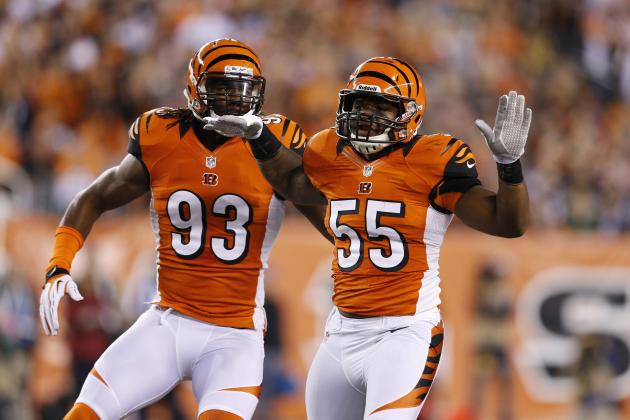 Joe Robbins/Getty Images

Vontaze Burfict's Cincinnati Bengals have been up-and-down this season. They won three of their first four games, lost all of their next four and proceeded to win seven of their last eight.
Burfict was all over the field in Week 17 against the Baltimore Ravens, as the rookie linebacker racked up a season-high 18 total tackles.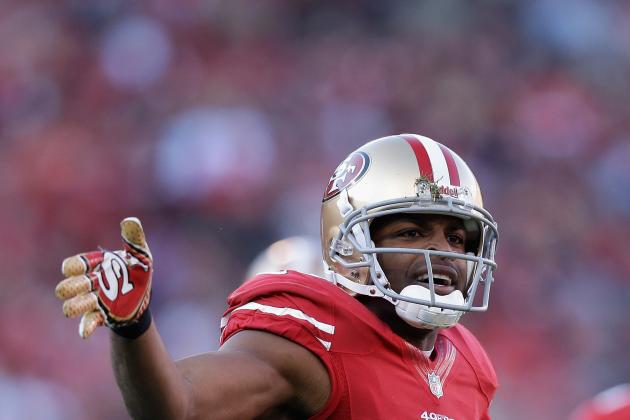 Ezra Shaw/Getty Images

Don't look now, but Michael Crabtree is a 1,000-yard receiver. The fourth-year wide receiver for the San Francisco 49ers finished 2012 with 85 catches for 1,105 yards and nine touchdowns. His season totals are due in large part to a surge in the production of his last five games.
Crabtree was targeted at least nine times in each of his last five appearances. He saw 11 or more passes thrown his way in four of those games.
His receiving totals during that span: Thirty-five catches, 538 yards and four scores.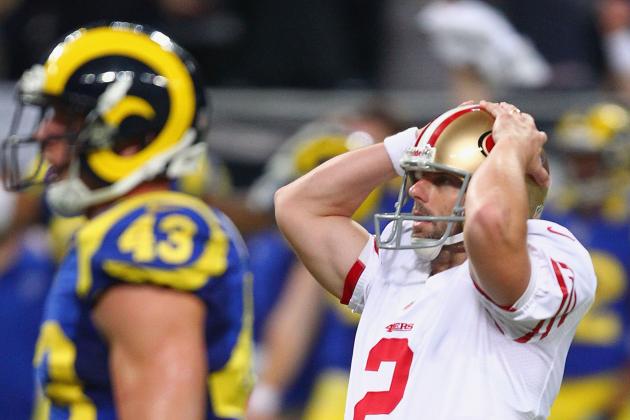 Dilip Vishwanat/Getty Images

David Akers has missed a field goal in six of his last eight games, including at least one in the last three games. He has only hit one 50-plus-yard field goal since Week 1, when he tied the NFL record for longest made field goal (63 yards).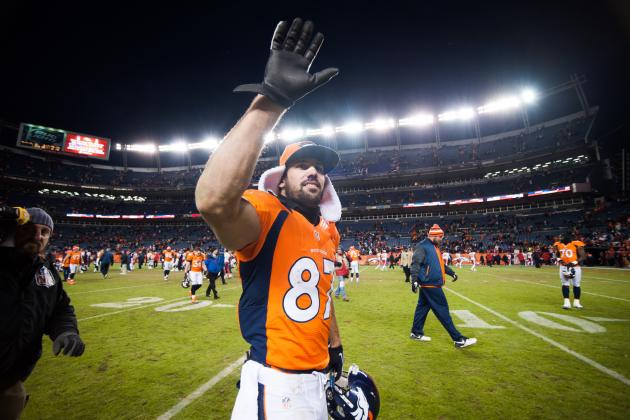 Dustin Bradford/Getty Images

In his last four games, Eric Decker caught 29 passes for 362 yards and five touchdowns. He had at least six catches 65 yards in each contest and scored a touchdown in each of his last three—including two in each of his last two games, both of which were home games.
The No. 1-seeded Denver Broncos will have home games for the rest of the year, unless (or until) they reach the Super Bowl.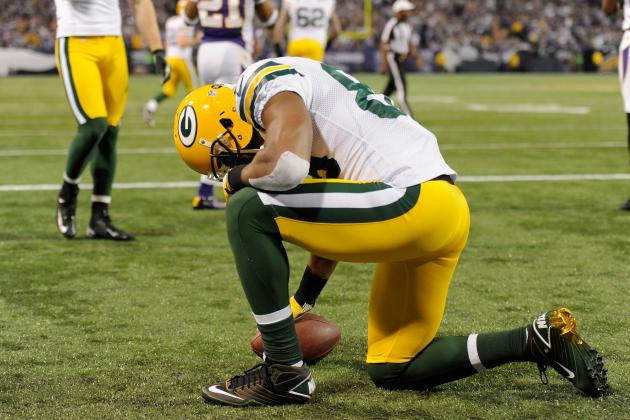 Hannah Foslien/Getty Images

Greg Jennings is finally starting to rack up the stats after his season has been marred by injuries.
His Green Bay Packers have put up 89 points in the last two weeks, as Jennings scored three touchdowns and gained 165 yards on 15 catches.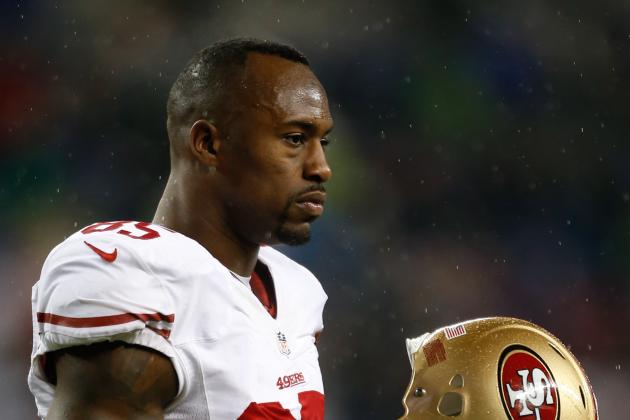 Otto Greule Jr/Getty Images

Vernon Davis has caught exactly one pass in each of his last four games. He has averaged 1.0 grabs per game over his last six, totaling just 61 receiving yards with no touchdowns. Davis has visited the end zone once since Week 3.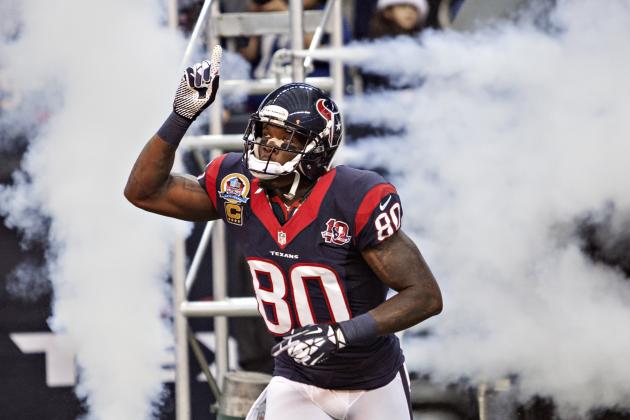 Bob Levey/Getty Images

Andre Johnson's last seven games resemble some players' full seasons.
The Houston Texans' veteran WR went for 1,001 yards receiving and two touchdowns on 66 catches between Week 11 and Week 17. In his last three games, Johnson hauled in 30 passes for 389 yards and a score.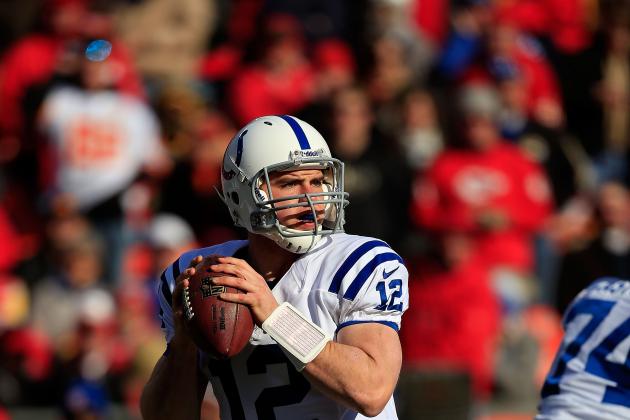 Jamie Squire/Getty Images

It has only been three games, but Andrew Luck's turnover struggles have subsided for the time being. His Indianapolis Colts went 2-1, as Luck completed 48.9 percent of his passes and threw for 582 yards and five touchdowns without turning the ball over at all.
That's a step forward for a guy who committed 23 turnovers in his first 13 games.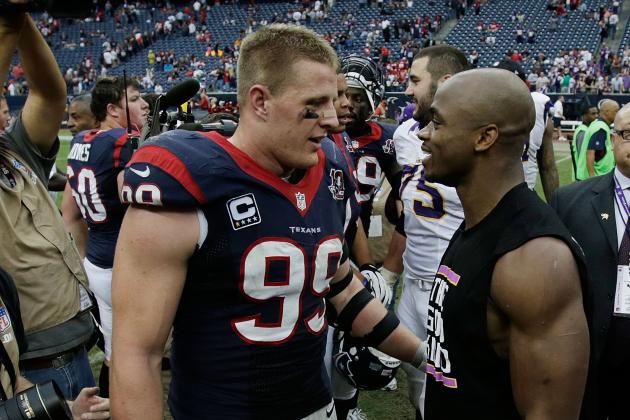 Scott Halleran/Getty Images

The Houston Texans have gone 1-3 over their last four games, and their defense is limping into the playoffs, as it allowed 31.0 PPG in the three losses and got throttled by the New England Patriots in Week 14.
The unit has only forced three turnovers since forcing six Tennessee Titans miscues in Week 13.
In its recent losses, Houston has allowed no less than 23 points to an opponent. The Minnesota Vikings tallied that in Week 16, as they held the Texans to six points.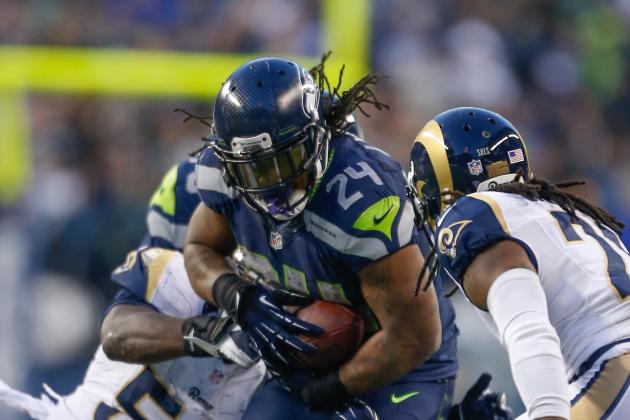 Otto Greule Jr/Getty Images

Marshawn Lynch's last four games have all been 100-yard outings despite him being limited to 18 carries or fewer in all but one of them.
He ran for 452 yards and five touchdowns as the Seattle Seahawks dismantled the last quarter of their season's schedule—and it only took him 65 carries to do it.
That's an average of 7.0 yards per carry.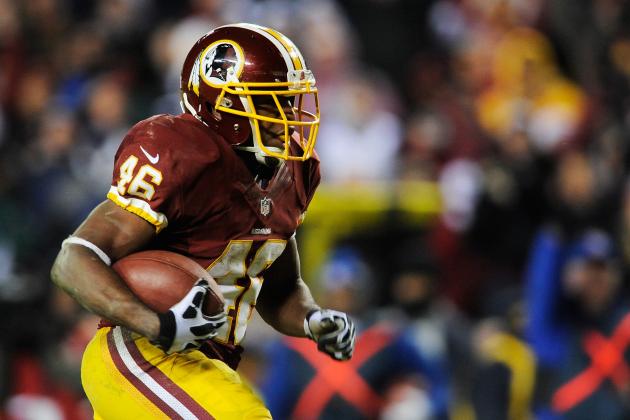 Patrick McDermott/Getty Images

Does Alfred Morris know what a rookie wall is?
Since the Washington Redskins' Week 10 bye, Morris has been handed the rock at least 20 times in every game. He has gained an excess of 110 yards in four of his last six, never falling below 87 yards in any of those games.
Morris' best game of the year solidified Washington's NFC East crown as the rookie took 33 carries for 200 yards and three touchdowns in Week 17. He has totaled 744 rushing yards and eight TDs since Week 12.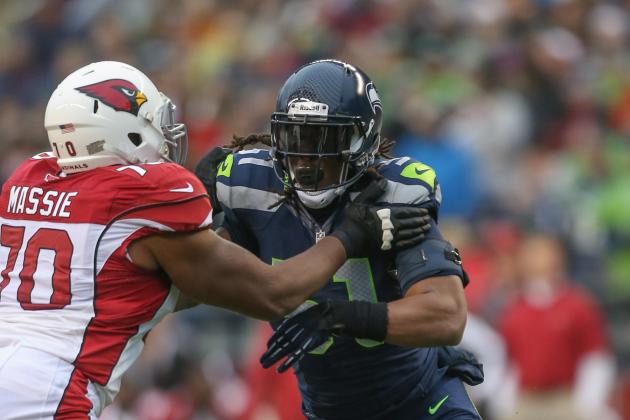 Otto Greule Jr/Getty Images

Bruce Irvin has had just one sack in his last six games. It's a disappointing total, considering that his Seattle Seahawks blanked the Arizona Cardinals, 58-0, in the game where he got his sack.
Other prime opportunities were in an overtime win against the Chicago Bears, blowouts of the Buffalo Bills and San Francisco 49ers and a Week 17 home win over the St. Louis Rams.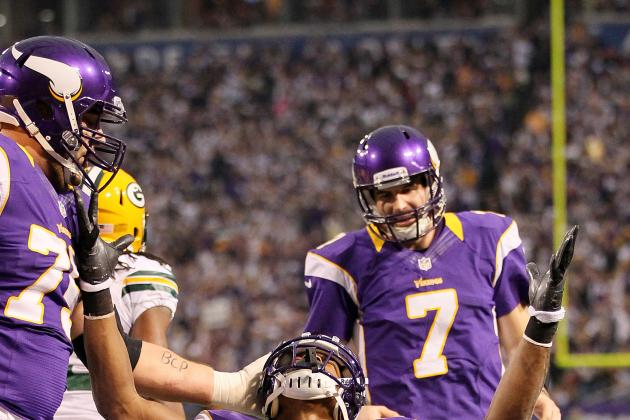 Andy King/Getty Images

This guy has had 2,097 rushing yards in 2012, and 1,598 of those came in his last 10 games, accompanied by 11 total touchdowns.
Adrian Peterson rushed for 199 yards or more and a score in three of his last five games—and the Minnesota Vikings are in the playoffs.
All Day should be the NFL MVP.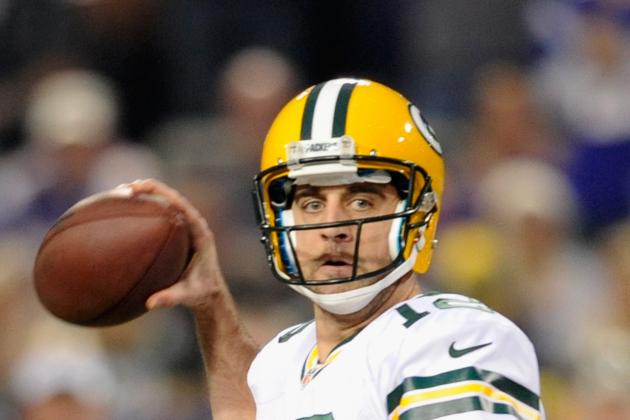 Hannah Foslien/Getty Images

Over the last quarter of the Green Bay Packers' 2012 season, Aaron Rodgers avoided throwing a single interception.
In his last three games, the former NFL MVP came two yards short of tossing for 1,000, adding 10 scores through the air and one on the ground.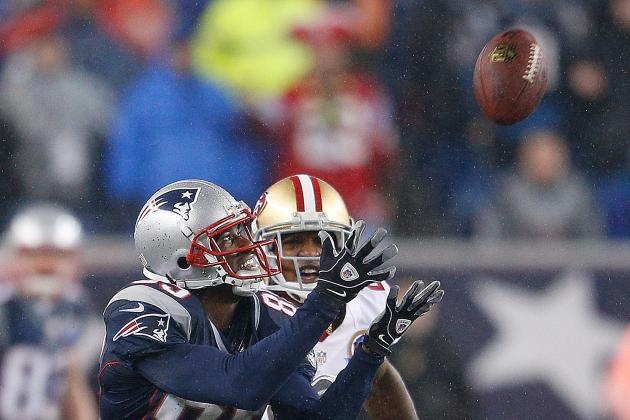 Jim Rogash/Getty Images

Brandon Lloyd had a couple of nice games for the New England Patriots in Rob Gronkowski's absence. Lloyd totaled a 17 receptions for 279 yards and a TD combined against the Houston Texans and the San Francisco 49ers in Weeks 14 and 15.
In 2012's regular-season closeout game against the Miami Dolphins, however, he caught just one ball for nine yards.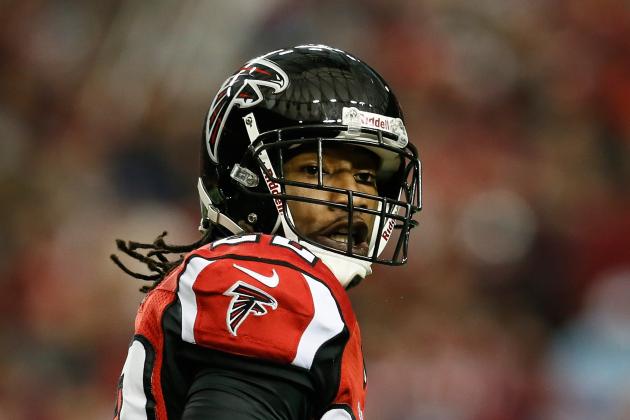 Kevin C. Cox/Getty Images

The Atlanta Falcons will need Asante Samuel to keep up his stellar play of late: The cornerback recorded his third, fourth and fifth interceptions on the year in three consecutive games to end the regular season.
Five is far off his career-high of 10 picks (set in 2006 with the New England Patriots), but it eclipses Samuel's most recent season-interception total with the Philadelphia Eagles (three).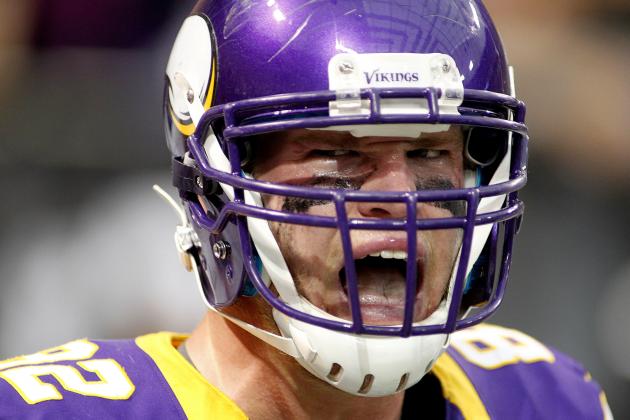 Andy King/Getty Images

Kyle Rudolph has totaled eight receptions for 81 yards and a touchdown over his last four games. He hasn't gone over 39 receiving yards in any of them and outright failed to catch a pass against the Chicago Bears in Week 14.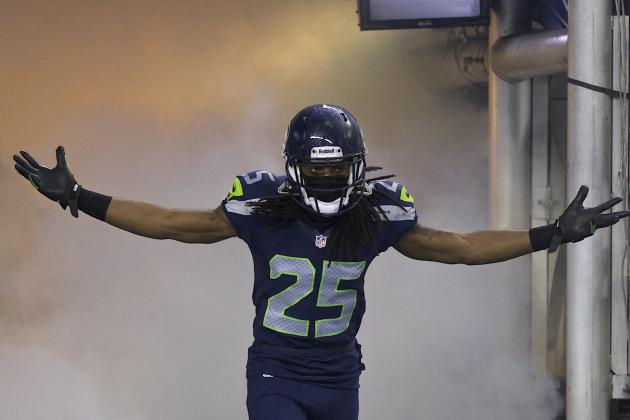 Stephen Brashear/Getty Images

Richard Sherman's stock is rising and not just because his NFL suspension went unenforced—he has been balling as well.
The Pro Bowl snub has had four interceptions in his last four games—all of the picks came against division rivals—and he has scored two touchdowns in the same span.
Sherman's numbers are more impressive when you consider that he has been playing without the Seattle Seahawks' other starting cornerback, Brandon Browner. Teams haven't completely avoided throwing at Sherman in Browner's absence, and Sherman has made them pay.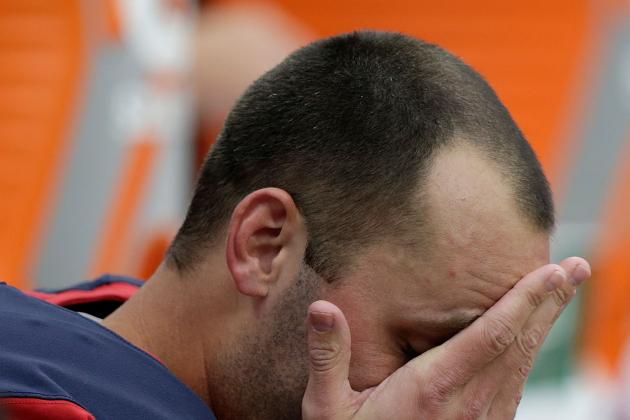 Scott Halleran/Getty Images

Matt Schaub has thrown a grand total of 946 yards and one touchdown in his last four games. He has also thrown three interceptions during the 1-3 span.
It is, therefore, no surprise that his Houston Texans have averaged 16.3 points per game during that time, with a low of six points against the Minnesota Vikings in Week 16—at home.
Jonathan Daniel/Getty Images

Blair Walsh had only made one field goal from Week 12 to Week 14. He attempted just three, but from Weeks 15 to 17, the Minnesota Vikings counted on him to kick three or more field goals per game.
He came through by going 11-of-11 as Minnesota won its final four regular-season matchups and secured a playoff spot.
Chris Graythen/Getty Images

Aldon Smith was a complete terror to opposing offenses for the first 13 games of the season, registering 19.5 sacks and positioning himself to break Michael Strahan's single-season sack record (22.5 in 2001)…until he didn't.
Smith registered his first career interception of the New England Patriots' Tom Brady in Week 15.
However, his last sack in Week 14 was his last sack of the 2012 regular season, despite playing against the porous Arizona Cardinals offensive line in a game that San Francisco needed to win to secure the NFC West division.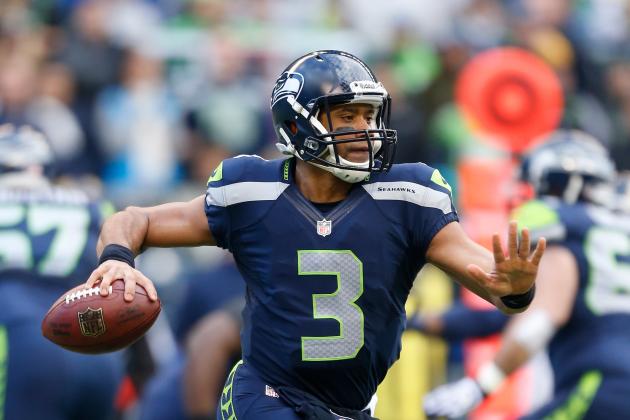 Otto Greule Jr/Getty Images

Russell Wilson has thrown two interceptions in his last eight games while chucking 16 touchdowns and throwing for 1,652 yards.
On top of that, the Seattle Seahawks rookie rushed for 361 yards and four touchdowns on 58 carries.
Seattle went 7-1 over the second half of the season.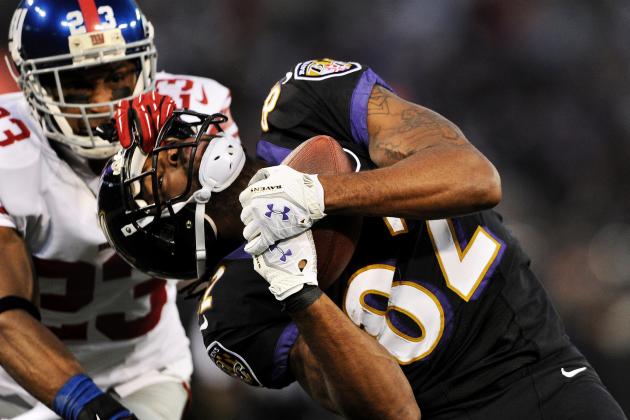 Patrick Smith/Getty Images

In three of his last four games, Torrey Smith has been unable to catch multiple passes. While the Baltimore Ravens lost to the Cincinnati Bengals in Week 17, Smith didn't catch any balls at all. He was only targeted once and received a rushing attempt that netted negative-four yards.
His last 100-yard game came in Week 12 against the San Diego Chargers. Since then (five games), Smith has totaled 10 catches for 156 yards and a TD.
For more NFL analysis, follow Jamal on Twitter: Follow @StatManJ