Packers vs. Vikings: Minnesota's Biggest Winners and Losers from Week 17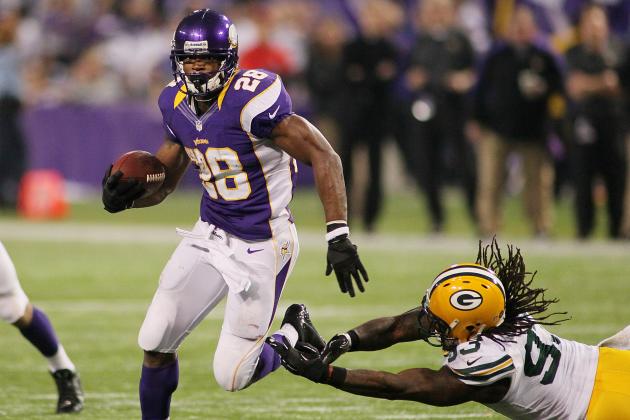 Andy King/Getty Images

In perhaps one of the most improbable runs in recent history, the Vikings' 37-34 last-second victory was one of the most exhilarating games fans have seen this team play.
As with any game, performances of note sang loudly while others couldn't keep in tune with the rest of the team. Even in the best games the Vikings have played, there are clear winners and losers.
It would be saying too much to argue that there were too many egregious performances not to revel in the win, but good teams constantly improve and critique.
Here are your winners and losers.
Begin Slideshow

»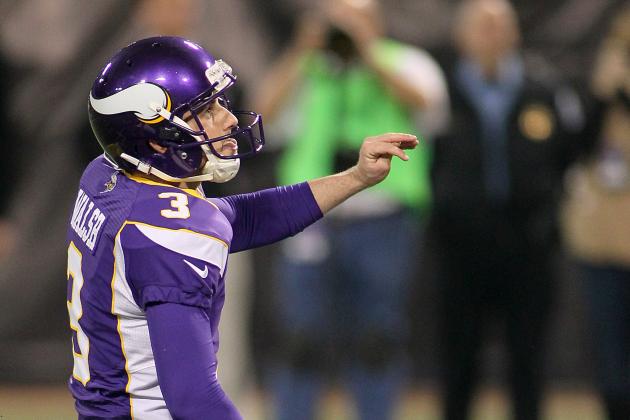 Andy King/Getty Images

What better way to start off an NFL career than by bookending your rookie season with last-second victories and setting an NFL record in between?
The knowledge that the Vikings were well within field-goal range once they crossed the 40-yard line has been something fans didn't know they missed. A threat to score from nearly anywhere in the opponent's territory, the Vikings are nearly assured of points, barring a turnover.
This sort of security was critical as the Vikings played their final regular-season game of 2012, with Blair Walsh comfortably scoring 13 of the Vikings' 37 points.
Replacement kickers may have been able to put up quite a few of those points, but it's a rare talent that can kick the game-winner in a loud stadium after hitting a 54-yard field goal to start the game.
Walsh proved that he belongs in the Pro Bowl and might be on his way to several more records over the course of his career. His performance against the Packers caps off a record-setting season, and it proved that Walsh can play with ice in his games in some of the most important matches he'll be in. Definite winner.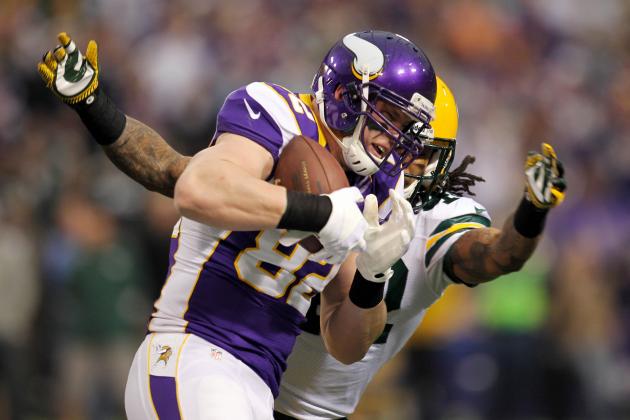 Brace Hemmelgarn-USA TODAY Sports

It might not sit well with fans to call Rudolph a loser, but just like Peterson's performance against the Texans was disappointing, so too was Rudolph against the Packers. Limited to two receptions on six targets, Rudolph was covered well by the improved Packers defense.
While it's true that Rudolph drew a pass interference penalty in the red zone that likely would have resulted in a touchdown, the bigger problem was that Rudolph's best route—a route into the flat on a play-action rollout—had no success.
Rudolph is a matchup nightmare for a depleted Packers linebacker corps, and the fact that he couldn't take advantage of it will force him to do some homework for a rematch the next week.
More than that, his blocking in the run game was adequate, but his containment on passing plays was terrible, allowing the only sack the Packers were able to manage—a blistering move by Clay Matthews. Pressure released on pass protection caused a few miscues, and Rudolph will be looking to better himself for next time.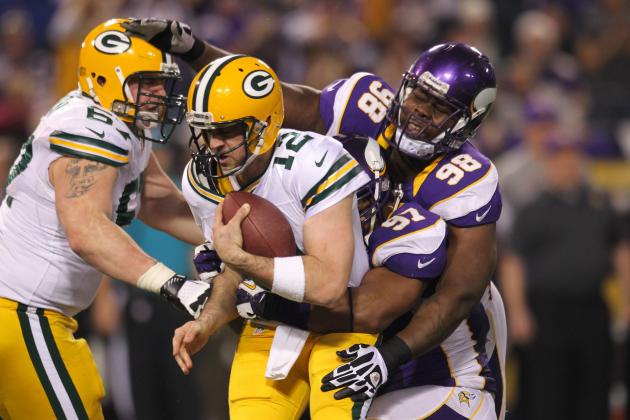 Brace Hemmelgarn-USA TODAY Sports

While the entire defense performed well, selecting a single defensive winner was easier than one would think. Henderson finished with seven tackles, but also missed a few and committed key penalties. Kevin Williams deflected a pass, but only finished with one tackle despite disruption. Chris Cook played well, but not at an outstanding level—and blown coverage on a touchdown should rightly force him to evaluate what went wrong.
Everson Griffen, on the other hand, was fantastic. Finishing with three sacks and an additional quarterback hit, Griffen was the single most effective player at shutting Aaron Rodgers down. Constant pressure from Griffen moved Rodgers around the pocket out and of his comfort zone, allowing Vikings defenders the cushion and leeway they needed to pull out the win.
Griffen's emergence gives credit to the preseason emphasis on finding space for Griffen on the field, even if it is just as a situational pass-rusher. Everson looks to have found his place and is making a big impact.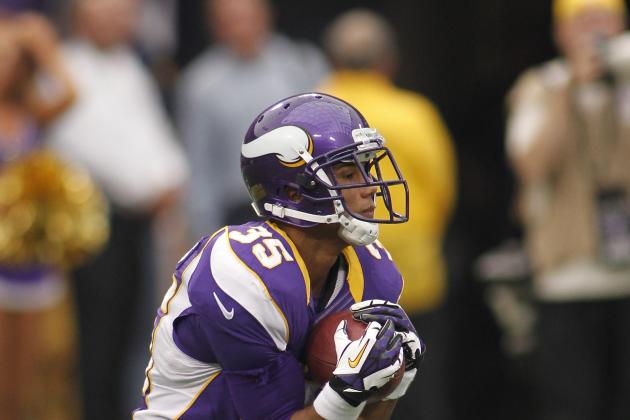 Andy King/Getty Images

Sherels's primary job is to return punts, while also backing Harvin up on kick returns. He performed both duties admirably and was a big part in winning the field position battle, but he more than lost ground with his performance as a member of the defense.
With veteran slot cornerback Antoine Winfield out because of his hand injury, Sherels found himself pressed into service again over the slot, often covering excellent pass-catchers like Greg Jennings or Jermichael Finley.
Unfortunately, there wasn't much Sherels could do to stop the ball from reaching his receivers' assignments. Jennings finished with 120 yards and two touchdowns on eight receptions.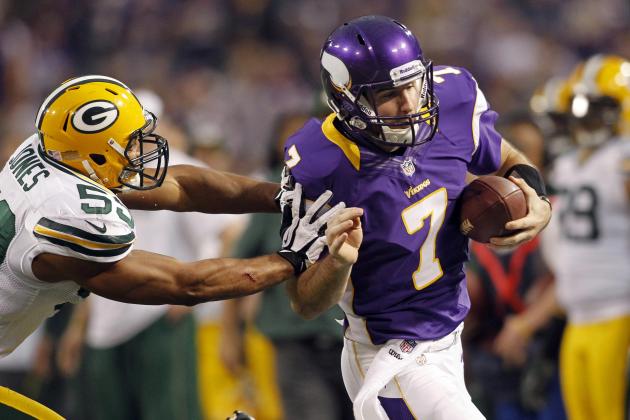 Bruce Kluckhohn-USA TODAY Sports

It's become a bit of a cliché to say that a quarterback—and Christian Ponder in particular—played better than or worse than his stats. Here, however, Ponder clearly played to his 120.2 passer rating and 8.4 yards per passing attempt—the most yards per attempt he's had since the first game of the season.
Throwing for three touchdowns and no interceptions, a mistake-free game by Ponder could have headlined the final game of the regular season had it not been for another stellar performance by a record-chaser. Ponder looked efficient, poised and paid particular attention to context, like field position, time on the clock and down markers.
Even when he found himself in a somewhat muddy pocket, he found a way to make positive plays—or at the very least avoid negative ones.
A clutch pass to Michael Jenkins on 3rd-and-11 capped a performance that included a beautiful arc to Jarius Wright, a near touchdown lob to Rudolph and 13 passing first downs.
The young signal-caller seemed to transcend his traditional weaknesses, playing boldly, calmly and with strength. It seems fitting that his highest rated game came at the most important time.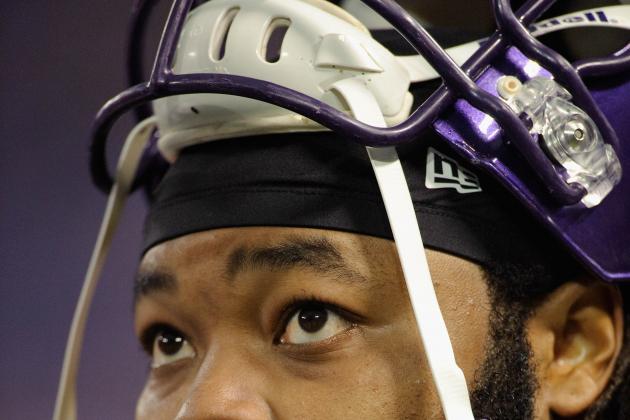 Hannah Foslien/Getty Images

Loadholt did a fine job in the basics of his duties, blocking Dezman Moses and Erik Walden well enough, with only one or two miscues in the running game. As a pass-blocker, neither outside linebacker was able to get much, and Loadholt communicated well with guards Brandon Fusco and Geoff Schwartz to pick up the correct blocking assignment.
But the style of football Minnesota seems to be playing has the smallest margin of error, that anything that could consistently upset the rhythm or rhyme of the offense should be scrutinized heavily.
By himself, Phil Loadholt accounted for 30 lost yards in penalties, not including plays that were called back or could have been gains from Loadholt triggering the penalty. Some of these drives stalled, including a six-game drive that included three penalties—one on Loadholt and two on Rhett Ellison, the rookie tight end/fullback the Vikings drafted in the fourth round.
Allowing Green Bay back into the game is deadly because of the potency of the Green Bay offense, and penalties are a perfect example of the type of carelessness that loses games.
Loadholt's performance on tape was fine. It was simply his discipline that landed him in the dog house this week.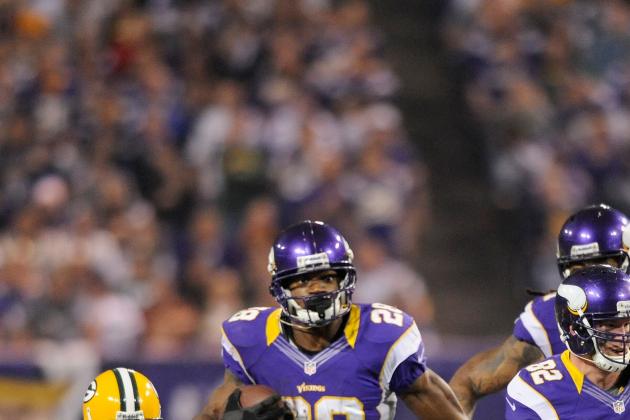 Hannah Foslien/Getty Images

Adrian Peterson has forcefully thrust himself into the Most Valuable Player discussion with a bevy of impressive performances in the second half of the season, and he did nothing but bolster the talks with his astounding game against the Packers.
With 199 yards on 34 carries, Peterson ended with 5.9 yards per carry and a rushing touchdown. More than that, Peterson produced yards when it mattered the most: third downs and crucial long-distance situations.
Adrian "All Day" Peterson, for example, converted a run on 2nd-and-27 to get the down marker in a way that Vikings fans have learned to appreciate. No other player inspires the type of impossible confidence that Peterson does, and he rewarded the fans by driving the ball from just inside Blair Walsh's range to a near chip-shot while gunning for the single-season rushing title.
Peterson consistently performed against stacked boxes, and he was critical as both a decoy to get receivers open on play action and as the deadliest ball-carrier in the league.
Moving the chains on important downs made him a winner just as much as his yardage total or his two touchdowns did.
It's clear that the Vikings aren't much without Peterson, and they'll always give themselves opportunity to mold their offense around him. With continued performances like this, it looks to be a winning strategy.
Peterson was clearly one of the most intriguing running backs to hit the league in a long time, and he has played like it.