13 Bold Predictions for Liverpool in 2013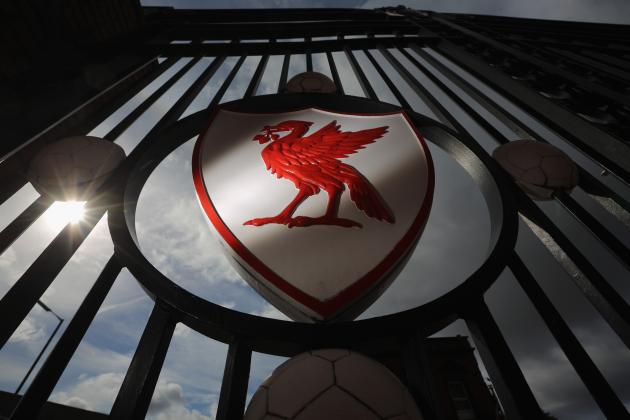 Christopher Furlong/Getty Images

Liverpool brought the curtain down on 2012 with a win over Queens Park Rangers, and Brendan Rodgers and his troops will now look forward to a more successful year.
Having spent six months settling into the job, re-educating the players to play his system and assessing which areas of the side needs to be improved, Rodgers heads into the transfer window looking for reinforcements—and into the second half of the season looking to move up the Premier League table.
The Reds have certain realistic objectives for the remainder of this season and the beginning of the next one that they will try to achieve—but there are some which the most optimistic of fans might hope for too.
Here are 13 such predictions that the Reds could go on to make good on—but with the emphasis on the bold nature of them (and yes, tongue in cheek for certain ones), don't worry too much if Liverpool aren't close to all of them in the next 12 months.
Enjoy the new year, enjoy the progress of the club and keep your fingers crossed that some of these end up in touching distance!
Begin Slideshow

»
Claudio Villa/Getty Images

While Wesley Sneijder is a move even too bold for this list to contemplate, Liverpool do certainly need reinforcements this winter.
Daniel Sturridge and Thomas Ince might be moves No. 1 and 2, and Jack Butland remains a possibility, but there's a sneaking suspicion there might be a surprise big move headed to Anfield in January too.
Perhaps this is a planned move for summer hastened by injuries or lack of consistency, perhaps the man Brendan Rodgers has identified as central to his plans is suddenly available.
Whatever the reason, Liverpool will end up with four new players on their squad list for the remainder of this season as they bid to reach the upper echelons of the Premiership.
Shaun Botterill/Getty Images

Liverpool suffered a complete cup reversal of fortunes last season; they won the League Cup final by beating Cardiff City on penalties but disappointingly lost the FA Cup final to Chelsea.
Come May 2013 the Reds will put right the poor ending of the last cup campaign by lifting their second trophy in two seasons.
While victory in the cups might not be the crowning glory all fans want, it would cap a great first year for Brendan Rodgers as Reds boss and would send both fanbase and players into the summer break in optimistic mood ahead of next season.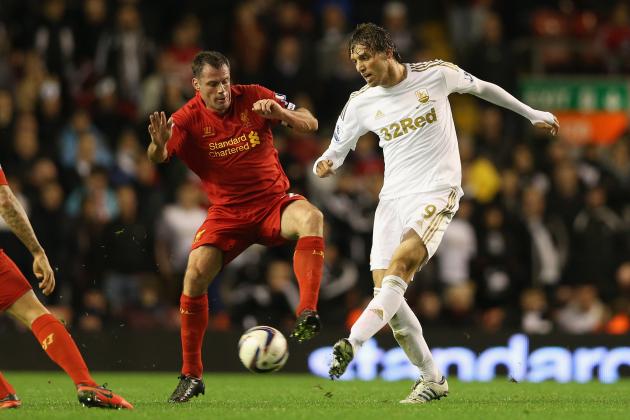 Clive Brunskill/Getty Images

Second in the all-time Liverpool first-team appearances list, Jamie Carragher is coming to the end of his career.
The veteran centre-back is out of contract in the summer and has already admitted that no talks have taken place with regards to a new one—of course, with Carra already having said he will not play for another club, it makes sense for the Reds to wait until the end of the season to decide their needs.
Carragher has played over 700 games for the Reds and, though he is not the same force he once was, Liverpool will lose a true great when he calls it a day.
1074 - Jamie Carragher was the only Premier League outfield player to play more than 1,000 minutes in 2012 and not have a shot. Shy.

— OptaJoe (@OptaJoe) December 31, 2012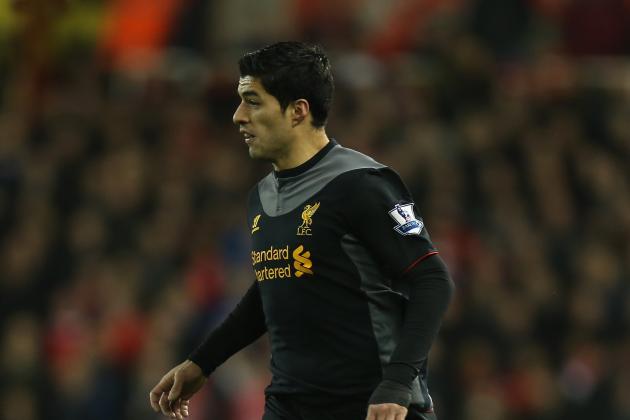 Bryn Lennon/Getty Images

Currently joint-second in the race for the Premier League's Golden Boot award with 13 strikes to his name, Luis Suarez is in with a great chance of ending the season as the best goal scorer in town.
Suarez, along with Michu of Swansea City and Demba Ba of Newcastle United, is just one goal behind Manchester United's Robin van Persie.
If the Uruguayan can retain the level of finishing he has shown this season, then there is every chance of him hitting 25 goals for the entire league campaign—which could be enough to take the crown of top goal scorer.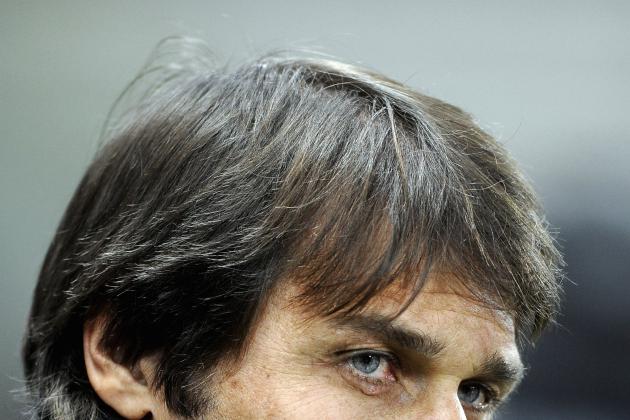 Claudio Villa/Getty Images

Such terrific form coming from the mercurial boots of Luis Suarez will no doubt intensify interest in him over the summer.
Liverpool's No. 7 showed good commitment in the summer just past to sign a new long-term contract with the Reds, which will put the club in a position of power.
The Reds sold Fernando Torres to Chelsea for £50 million two years ago; since then Suarez has been equally important for the club so it would not be unreasonable to expect an even higher transfer offer, perhaps from Juventus.
Importantly, the Reds will be able—or will be persuaded—to reject the offer.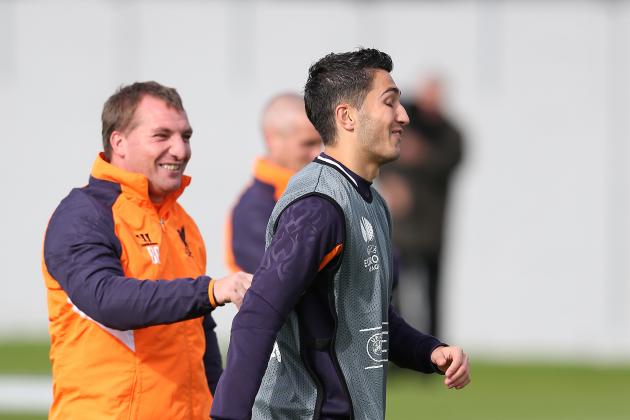 Clive Brunskill/Getty Images

After a couple of years spent investing in talent from around the British Isles, it might be fair to say that the experiment hasn't quite worked out for the best with a number of players.
Jordan Henderson and Stewart Downing have enjoyed good form of late but have not justified their price tags to this point, while Andy Carroll was sent out on loan, Danny Wilson has had no impact at all and Charlie Adam was sold after just one season.
Next summer Liverpool will turn back to the continent for the majority of their signings—though in truth it matters not in the slightest where players come from; the fact is that the simple numbers imply there is a greater amount of available quality outside of the UK than within it.
And that's what Liverpool will be after in the summer sales.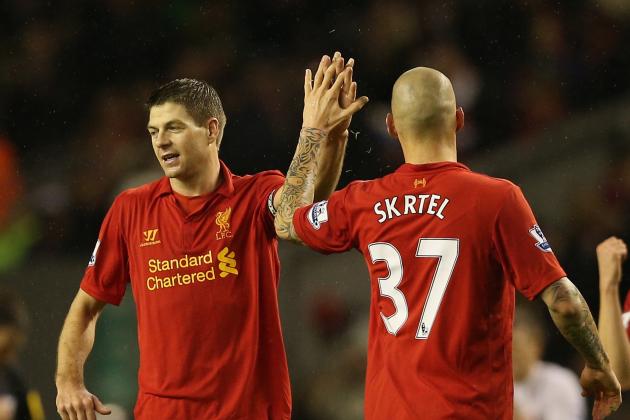 Clive Brunskill/Getty Images

Of course, no summer transfer window is complete without players departing as well as arriving.
The successful team of the mid- to late-2000s has been broken up piece by piece, and to fund a revamp of the current squad, it is entirely feasible that one of the current established first-team players will have to make way.
Whether that is a transfer borne of necessity and finance, the potential to upgrade and make a profit or a simple switch of technical or tactical preference remains to be seen—but at least one "big name" Red will be headed out of Anfield for the final time.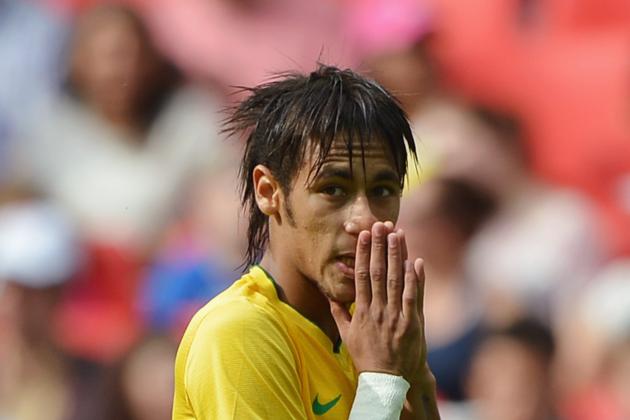 Jeff J Mitchell/Getty Images

With a summer of transfer activity always an exciting (or excruciating, depending on your point of view) period in the preseason calendar, equal attention should be paid to the publication of the fixture list.
Hopefully the Reds will be handed a kinder start to the campaign than either of the last two, but either way the team should be headed into the season with optimism and, in the case of a successful transfer window, some new faces.
Of course selection will be determined by quality and preseason form and fitness—but it is to be hoped the Reds prepare adequately for success in all three areas.
To that end, we can expect a host of new faces in Liverpool's first league lineup of the season.
*Caveat: Neymar will NOT be one of those wearing Red for the first time!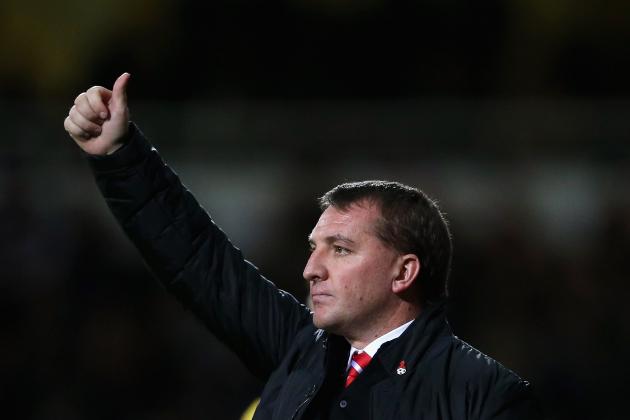 Scott Heavey/Getty Images

So far after 20 league matches in 2012-13, Liverpool have amassed seven victories, enough to only see them in ninth place.
Next term the Reds will hit the ground running in far better shape and can look forward to boosting their points tally considerably; in the 14 or so matches that they will play in the Premier League before the end of November, Rodgers will guide his team to at least eight victories.
If they can add a two or three draws and only have three defeats, it would give them a total of 27 points by the end of November.
For comparison, this season third-place Chelsea and fourth-place West Brom both had 26 points at the same stage—and trailed league leaders Manchester United by seven points.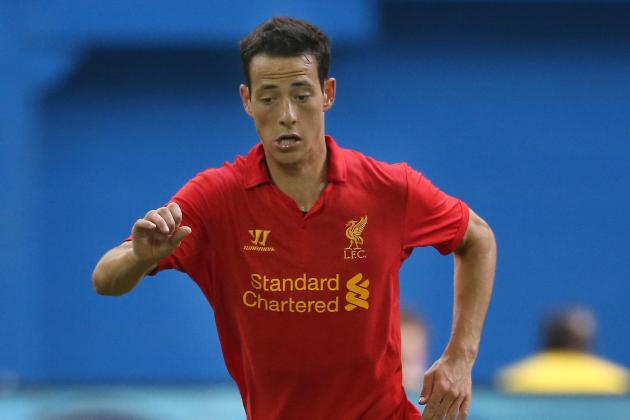 Tom Szczerbowski/Getty Images

Following in the footsteps of Jerome Sinclair, Suso, Andre Wisdom and Conor Coady are a whole host of young, talented players in the Liverpool under-18 and under-21 setups.
Over the course of the next 12 months several of these will have the opportunity to be involved in the Reds' first-team squads for competitive games, as well as of course the all-important preseason fixtures in the summer.
Krisztian Adorjan, Ryan McLaughlin, Stephen Sama and Jordan Ibe might head the list of those who could get a chance, but there are plenty more besides who could be selected.
Michael Ngoo, Lloyd Jones, Kris Peterson and Yalany Baio are others who could make their bow—as well as regular squad member Peter Gulacsi, who has yet to play competitively despite much time spent on the bench.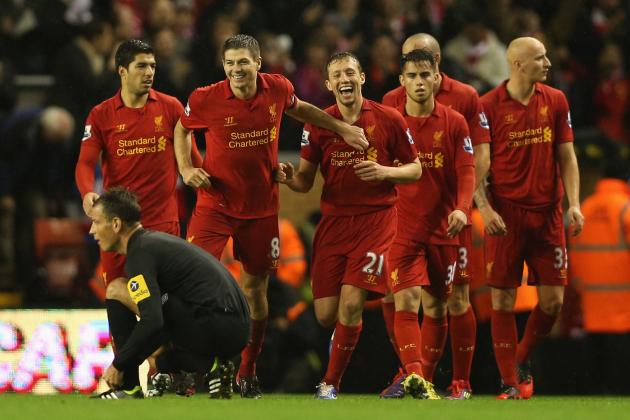 Clive Brunskill/Getty Images

Here's the biggie.
Liverpool fans will demand that, come the end of the next season, Liverpool are back up toward the top end of the league and in with a chance of qualifying for the 2014-15 UEFA Champions League.
That's Brendan Rodgers' job remit, that's what every player wants in the squad, and that's what will keep the likes of Luis Suarez from leaving, at least initially.
A great start to the campaign for Liverpool will be a help, and if they can end the year in the top four places, then the opportunity to strengthen further—or simply to maintain a regular team and consistent form—should help push the team over the line.
Liverpool's big aim for next season must be a top-four place above all else. Twelve months from now, Rodgers needs to be looking at the league table and see his team there.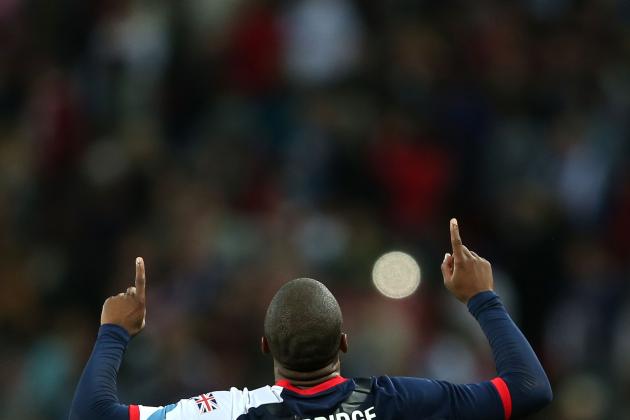 Julian Finney/Getty Images

Liverpool look set to complete the first of their January 2013 signings within hours or days of the window opening, with Chelsea forward Daniel Sturridge the man to whom the Reds will look for goals, pace, no shortage of creativity and, erm, more goals.
Joining in January can take a little bit of time to get into full swing, especially as the player in question has not had too much game time yet this season, but the Reds will hope Sturridge hits the ground running as soon as possible.
As he's likely to play every game for the Reds, it would not be untoward to expect a return of eight or nine goals from him from January to May.
Next season, hopefully with a couple more quality additions to the squad, Sturridge will be expected to be one of the main goal threats for Liverpool and he can look to emulate Suarez from this season, netting around 15 or 16 for the half-season.
A haul of 25 for the calendar year would represent a good first 12 months in red for the England international.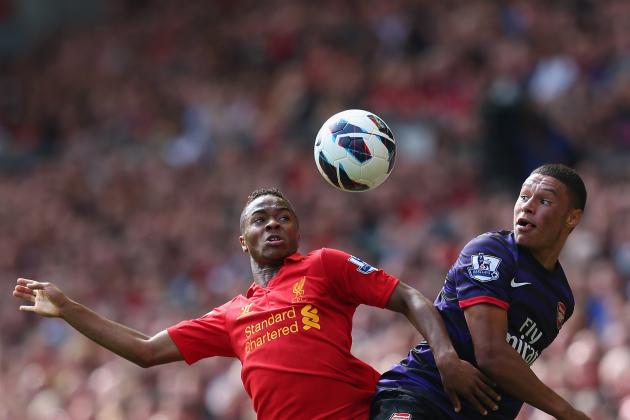 Alex Livesey/Getty Images

Demba Ba, Jack Butland, Tom Ince, Wilfried Bony.
The names have their own strengths and weaknesses, but they are also a far cry from the days when Liverpool were linked with some of the biggest names in football.
Sure, Daniel Sturridge plays for a team in the Champions League (the reigning-but-knocked-out champions, no less) and Wesley Sneijder (terrific rumour-mongering) was at one time one of the continent's finest, but these are both players out of form or favour.
Next season if Liverpool have strengthened in summer and show top four form over the first half a season they will be once more able to attract some of the biggest names in the game as they push for a Champions League spot finish and, perhaps, more silverware in 2014.
Here's hoping!