Chick-fil-A Bowl: 10 Things You Need to Know for LSU vs. Clemson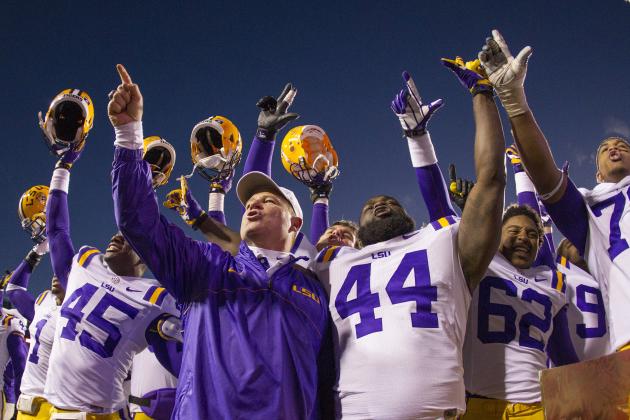 Wesley Hitt/Getty Images

The wait is officially over, ladies and gentlemen.
The LSU Tigers and Clemson Tigers will square off Monday (Dec. 31st) in the 2012 Chick-fil-A Bowl at the Georgia Dome.
The game will feature LSU's suffocating defense going up against Tajh Boyd and Clemson's electric offense.
Something has to give in this matchup, but what will it be?
Let's go ahead through some final preparations leading up to the big game and list 10 things you need to go before this contest kicks off.
Right here, right now.
Bleacher Report Style!
Begin Slideshow

»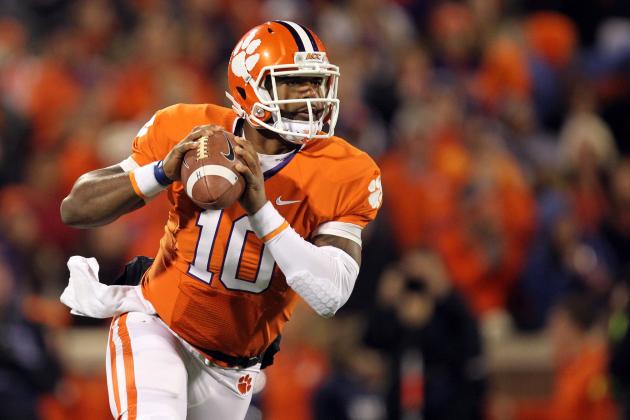 Streeter Lecka/Getty Images

LSU certainly features one of the top defenses throughout college football, but this unit is going to have its hands full with Clemson star quarterback Tajh Boyd.
The junior standout passed for more than 3,500 yards and 34 touchdowns this season. That mark ties Philip Rivers' ACC single-season record for the most TD passes thrown by a quarterback in the conference.
But what makes Boyd so special is that he is not just a passer. This kid has elite speed and can pick up big yards on the ground as well. He rushed for 492 yards and nine touchdowns on the ground as well.
LSU head coach Les Miles shut down Heisman Trophy winner Johnny Manziel back in late October, but can the Mad Hatter put together a game plan to shut down Boyd as well?
It would be darn impressive if he can, put it that way.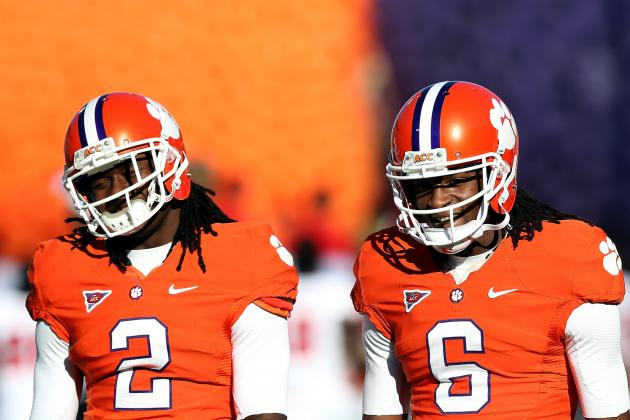 Streeter Lecka/Getty Images

In addition to having a dominant quarterback in Tajh Boyd, Clemson also features arguably the top wide receiver duo in the nation with Sammy Watkins and DeAndre Hopkins.
Don't get me wrong, that duo of Lee and Woods is pretty darn impressive down in Southern California, but there's no argument here that this duo is just as dangerous.
Both Watkins and Hopkins caught more than 55 passes and each surpassed the 700-yard receiving mark.
Watkins did all that, despite missing three games this season, while Hopkins picked up the slack, totaling an eye-popping 1,214 yards receiving and 16 touchdown receptions.
But that's not it.
It would be foolish not to mention do-it-all running back Andre Ellington, who is another spark for this offense. The talented senior running back rushed for 1,031 yards this season and eight rushing touchdowns.
As a whole, this Clemson offense has averaged more than 42 points per game.
Pretty darn impressive, if you ask me.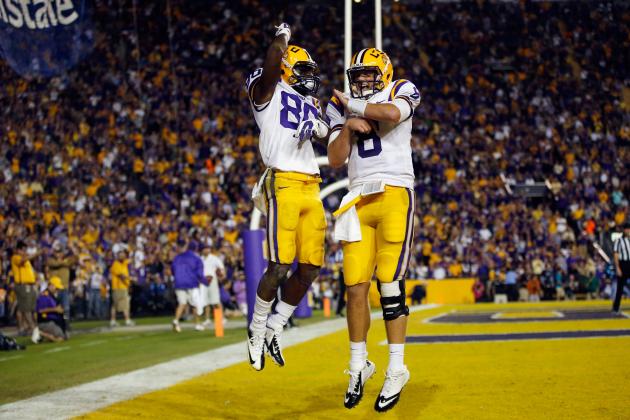 Chris Graythen/Getty Images

When you think of LSU football, the term " high-scoring offense" isn't exactly the first thing that comes to mind.
But make no mistake about it, this LSU offense can put up points...a lot of them.
The Tigers averaged more than 30 points per game this season, and a lot of that can be credited to the balance with the effective passing game and dominant rushing attack.
As a whole, the Tigers averaged just under 400 yards of total offense per game, which is pretty darn good for a team that got shutout in the last bowl game it played in.
If Clemson wants to try to turn this thing into a shootout, Les Miles' team will be ready.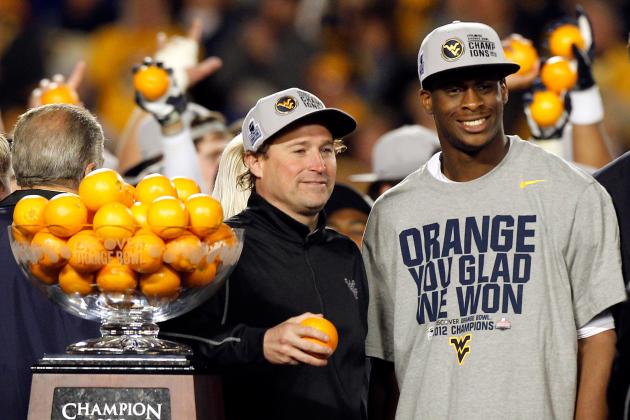 J. Meric/Getty Images

Both LSU and Clemson want to do everything in their power to forget about last year's bowl games.
LSU, the SEC regular-season champion last year, got shutout by Alabama in an embarrassing showing at the National Championship Game.
On the other hand, Clemson was arguably even more embarrassed after a 70-33 shellacking by West Virginia in the Orange Bowl.
A great showing here can make last year's bowl season a distant memory for one of these two college football teams.
Wesley Hitt/Getty Images

These are two very good college football teams that really don't have much history playing against each other.
The last time these two programs met in a bowl game was back in 1996 when LSU screeched out a 10-7 win over Clemson in the Peach Bowl.
Other than that, you have to kick it way back in time to 1959, where LSU beat Clemson 7-0 in the Sugar Bowl and capped a perfect season.
Something tells me that we are going to see some more points put on the scoreboard this time around.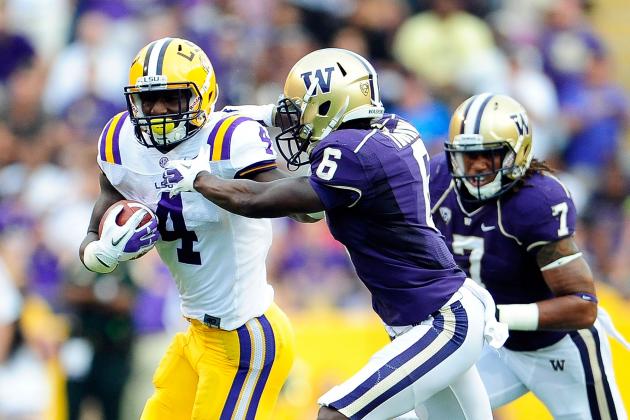 Stacy Revere/Getty Images

Many people forget that LSU completed a 10-2 season this year without the man who many believe is the most talented and complete running back on this team, junior Alfred Blue.
Blue suffered a season-ending injury three weeks into the season and forced the Tigers to turn to a freshman running back to take over the role as "lead back," which turned out to work pretty good.
In his first three games before getting hurt, Blue totaled more than 300 total yards of offense and was averaging a team-best 6.8 yards per carry.
Freshman Jeremy Hill has picked up the slack in the meantime.
Hill finished with a team-high 631 rushing yards despite being near invisible throughout the first half of the season.
It's impressive how dominant this run game has been in Blue's absence, nonetheless.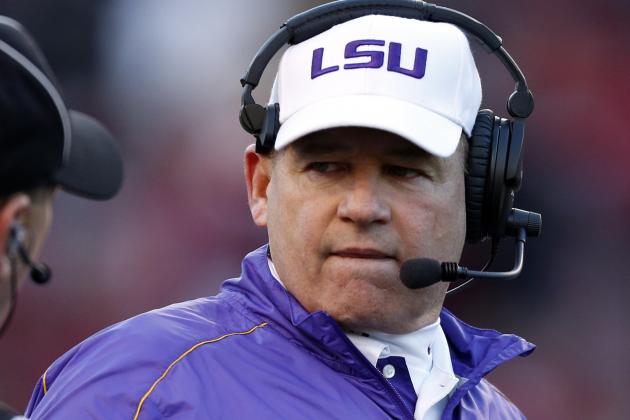 Wesley Hitt/Getty Images

LSU finished the regular season an impressive 10-2, but perhaps the most intriguing part of that record is how close some of the Tigers' wins were.
Of LSU's 10 wins, five of those wins were decided by seven points or less.
In fact, LSU beat Auburn, South Carolina and Texas A&M by a combined nine points.
But that stat can go both ways.
LSU's two loses, to Florida and Alabama (both playing in BCS games), were decided by a total of 12 points.
That stat right there points to this matchup against Clemson potentially being a real barn burner that will come down to the final possession.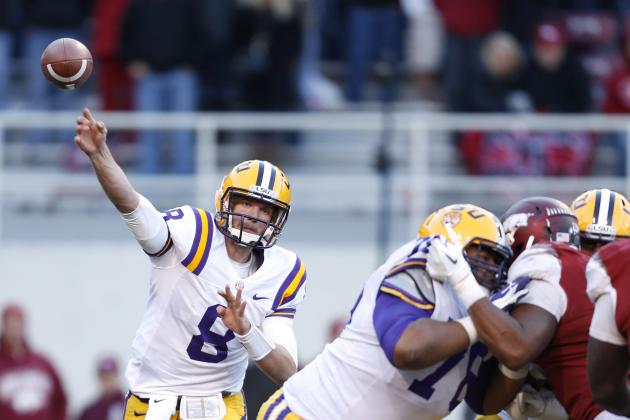 Wesley Hitt/Getty Images

No one is arguing the fact that Tajh Boyd is the best quarterback playing in this football game.
But the guy throwing passes on the other side of the ball isn't to bad himself, especially as of late.
After starting off the season a little shaky, Zach Mettenberger showed tremendous improvement throughout the second half of LSU's schedule.
Through his final four games, Mettenberger threw for more than 1,000 yards and four touchdowns.
Perhaps more importantly, he completed more than 55 percent of his passes in all four of those games, which was a huge improvement for the junior signal-caller.
If the trend continues, then Mettenberger could be in for a huge day in this matchup against an average Clemson defense.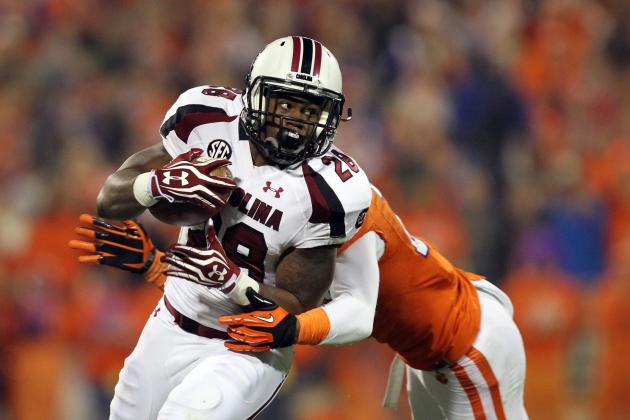 Streeter Lecka/Getty Images

Speaking of defense, Clemson doesn't exactly feature the ol' steel curtain on the defensive side of the football.
When looking at the numbers, this is a defense that allows just around 25 points per game and has given up 27 or more points on six separate occasions this season.
In fact, this defense gave up 31 points to both Boston College and Georgia Tech, which certainly isn't something to boast about by any means.
Then again, neither is giving up 70 points to West Virginia in last year's Orange Bowl BCS game.
As we said earlier, LSU doesn't feature the most electric offense in the country, but the Tigers can score the ball, and from the looks of it, they should be doing plenty of that in this matchup against an average Clemson defense.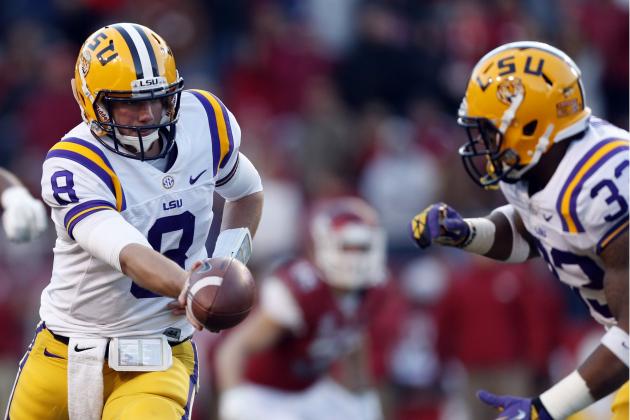 Wesley Hitt/Getty Images

I'm not one to bet on sports, but if I was, I would probably take the over in this matchup.
As it stands right now, the over/under is set at 58.5, according to sportsbook.com.
Clemson is averaging over 42 points per game, while LSU is averaging over 30 points per game. It doesn't take a math major to realize that total is well over 58.5 points.
If Clemson is able to score the ball early on, LSU can match them on offense, and if that is the pace we see early on, this baby is going over all day.
Let it ride.