The 7 Most Drastic Effects of the NHL Lockout on the New Jersey Devils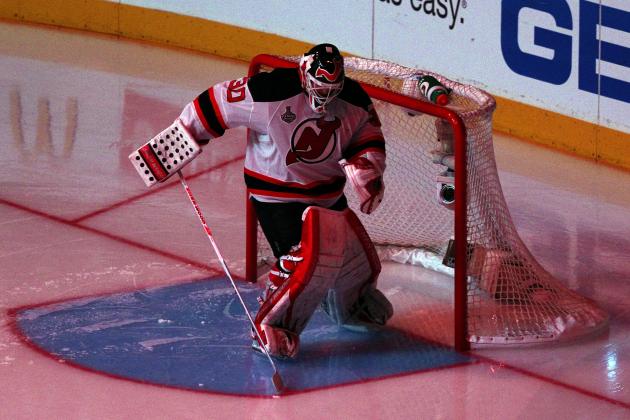 Christian Petersen/Getty Images

In an ideal world, the New Jersey Devils would be preparing for a New Year's Eve matchup with the New York Islanders right now. At this point everyone and their grandmother knows why that is not happening. The NHL is on the verge of losing a full season for the second time in nine years. By now we are all weary of the esoteric jargon. We are all tired of hearing about collective bargaining, cap benefit recapture and decertification disclaimers. We just want hockey.
Whether an agreement comes this year or the next, nobody can say. Regardless of the length of this stoppage, plenty of damage has already been done. Some repercussions are good, but most are negative. Players have already lost paychecks and the fans have lost the sport they love. There are not many people who sympathize with the owners, but franchises are just as affected by this mess as all other parties involved.
The Devils are a club in a peculiar position, eager to build off a Stanley cup run and at the same time refurbish an identity in the wake of Captain Zach Parise's departure for Minnesota. Let's dig deeper and outline all the ways the lockout reverberates in New Jersey.
Begin Slideshow

»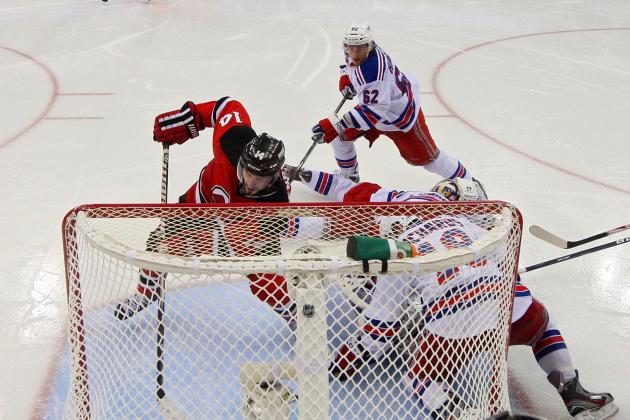 Jim McIsaac/Getty Images
Adam Henrique scoring the series winning goal against the Rangers
The Devils surprised everybody last spring when they made it all the way to the Stanley Cup finals, only to lose to the equally-surprising L.A. Kings. It began when the team won its final six games heading into postseason play.
As the sixth seed, New Jersey barreled through the Florida Panthers, Philadelphia Flyers and New York Rangers in consecutive rounds. What was most impressive was the style of play with which they did it. Using a ferocious, physical forecheck, New Jersey was able to impose its will on the opposing team—and it fueled their deep run.
This area of the game, the forecheck, is one which relies heavily on the intangible element of chemistry. The team benefits just as much from time spent together off the ice as it does on, and the lockout prevents both.
The Devils are missing the chance to build off a special end to last year.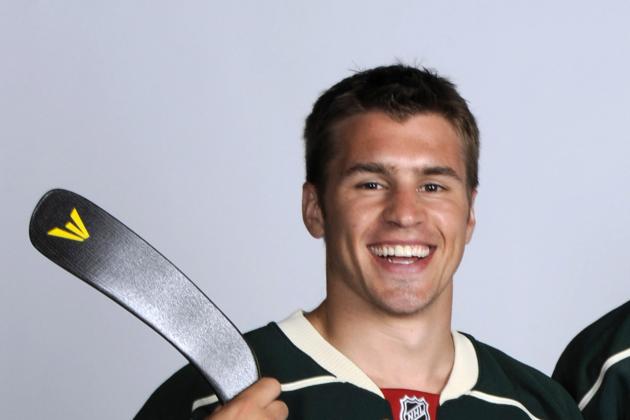 Hannah Foslien/Getty Images
Team Captain Zach Parise Bolted for his Hometown Team
Throughout the 2011-2012 campaign, the biggest question surrounding the franchise was whether captain Zach Parise would stay or leave via free agency.
Well, he left, and you can not really hold it against him.
There were rumors he would return home to Minnesota from the start, and then the Wild offered him a whopping 13-year, $98 million contract. Once the Godfather offer was on the table, New Jersey was bound to lose their guy.
There are several good candidates to replace Parise on this team. Ilya Kovalchuk and Patrik Elias have captained teams before (the latter with the Devils). But a full training camp would have been the best place for coach Pete DeBoer to make that decision.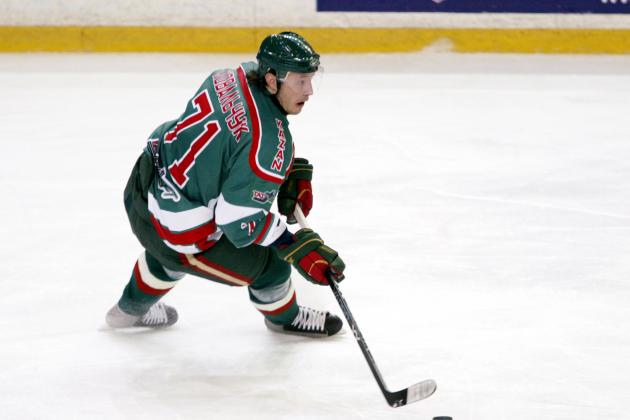 Oleg Nikishin/Getty Images
During the Lockout Ilya Kovalchuk has taken his talents to SKA Saint Petersburg
During a lockout, players have every right to sign with teams in other leagues to keep the rust off. Hockey is unique in that the global market features a legitimate competitor to North America in Russia's Kontinental Hockey League.
Defenseman Anton Volchenkov already broke his ankle playing for Torpedo Nizhny Novgorod in early October, as reported on by Tom Gulitti.
Lets not forget about Ilya Kovalchuk's surgically-repaired back. The same injury that hindered him so mightily against the Kings last June. The lockout could have been an opportunity for the Devils' $100 million-man to get a little extra rest and be assured that he is fully healed. But Kovalchuk has been in Russia playing for SKA Saint Petersburg. He has played well, which probably means the back is fine. One can not help but worry, though.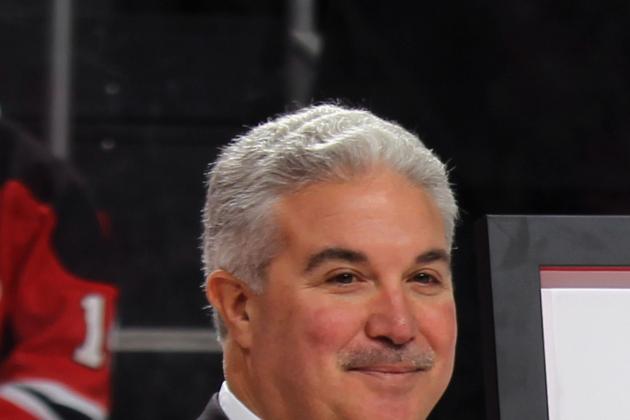 Bruce Bennett/Getty Images
Principal owner Jeff Vanderbeek is missing an opportunity to build off a small profit margin last season.
This lockout is not just bad timing from a hockey perspective, but a business one as well. According to Forbes, the franchise saw a small uptick in worth this past season, probably thanks to their playoff success. Owner Jeff Vanderbeek—already walking on financial eggshells as it is—would like to keep the gates open and the people happy.
One has to wonder how many season ticket holders won't be renewing their packages with a second lockout in nine years.
There are rumors that Vanderbeek has restructured the team's debt with a mystery partner, but we will not get any word on that as long as the arena remains dark.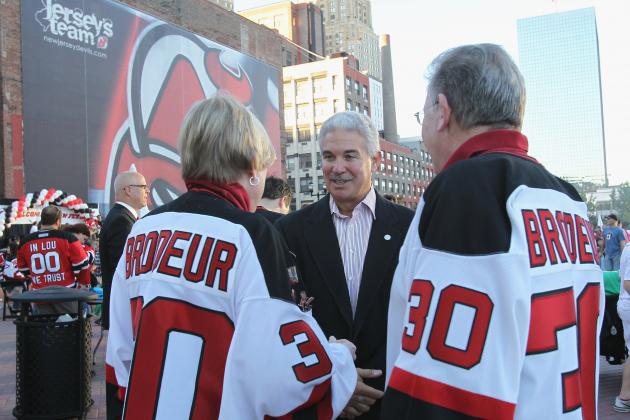 Bruce Bennett/Getty Images
Vanderbeek outside of the Prudential Center, which employs hundreds of people during hockey season.
We know about the injustice to the fans, but lets not forget about the Prudential center employees who do not have a job to go to as long as the players and owners are at each other's throats.
While improving, the socioeconomic climate of Newark is not exactly robust. Devil games not only employ people, the affects can be felt throughout the neighborhood in restaurants, bars and parking garages as well.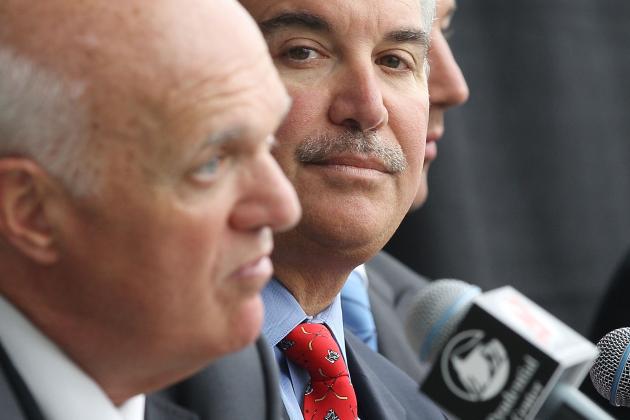 Bruce Bennett/Getty Images
General Manager Lou Lamariello has a big offseason ahead of him, hockey or not.
Even if the entire season were lost, expiring contracts would still, well, expire.
This offseason shapes to be big for the Devils whether there is hockey or not. Patrik Elias, Dainius Zubrus, David Clarkson, Marek Zidlicky and Mark Fayne are all set to come off the books this July.
We are talking about a huge chunk of the team's core here. If you are Lou Lamoriello, it is easier to negotiate contracts with a season fresh in the back of your head. Sure, Lou expects to retain most of these players, but an entire season remiss leaves veterans like Elias and Zidlicky only older and creakier.
With the owners refusing to budge on a lowered salary cap, the situation only becomes more complicated.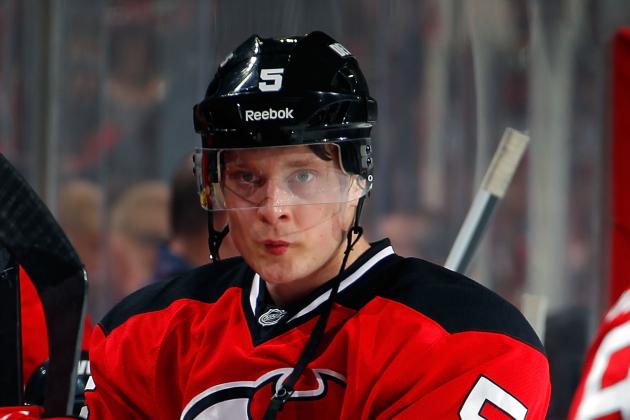 Paul Bereswill/Getty Images
The Devils have high hopesfor the 20 year old Swede
In this Christmas season, I don't want to sound too much like Ebenezer Scrooge, so I'll end on a positive note.
Obviously the NHL is not active, but the minor league American Hockey League is. This gives the younger guys a chance to continue their development, namely Swedish defenseman Adam Larsson.
While he showed promise last year, the fourth overall pick of the 2011 draft looked a tad wide-eyed at times and ultimately did not get much playing time in the playoffs. Time in the minors is absent of much of the pressure and spotlight of the big stage, and Larsson should be able to develop his game and reach the potential he has.