Dolphins vs Patriots: Miami's Biggest Winners and Losers from Week 17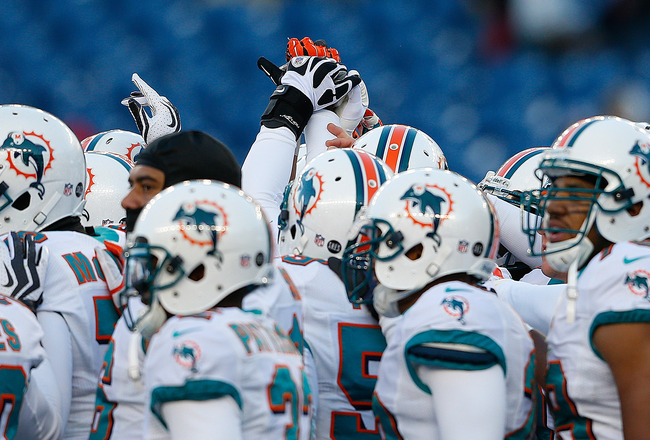 Jim Rogash/Getty Images
In the last game of the regular season for the Miami Dolphins, they looked uninterested and uninspired throughout. They fell to the Patriots 28-0 in a game that seemed to be over from the start. They were overwhelmed on both sides of the ball from the very start and were unable to get anything going offensively.
Usually when I pick out winners and losers, I try to pick five of each. However, after this last performance, it is real easy to pick losers and real hard to pick winners.
The team was not good on offense or defense and it showed in their performance and on the scoreboard. This wasn't the way the Dolphins wanted to finish a season that had a lot of ups and downs. It looks to be a long offseason for Miami, who will be looking towards free agency and the draft to get a lot of help.
Here are the many losers from Miami's blowout loss.
Loser: Offensive Line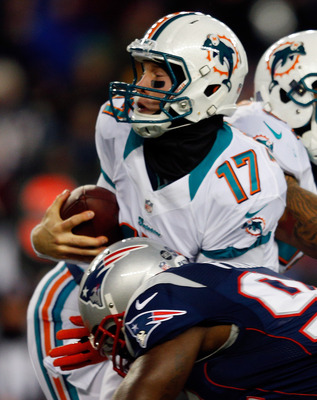 Jim Rogash/Getty Images
It's hard to imagine how Ryan Tannehill was able to walk off the field at the end of the game. He was harassed throughout the entire game and was not given any time to throw the ball. This group gave up seven sacks and allowed New England's defense to beat up Tannehill.
Aside from Mike Pouncey, who had a decent game, every member of this line was completely non-existent. Nate Garner and Jonathan Martin did a terrible job keeping Tannehill upright and were unable to prevent any sort of pass rush.
Richie Incognito and John Jerry were unable to open up any running lanes and also failed to keep the pressure away from Tannehill. Once again, the Dolphins are going into the offseason with questions along the offensive line. With all the money and time they have put into this line, it's hard to imagine how it's still this poor.
Loser: Defensive Line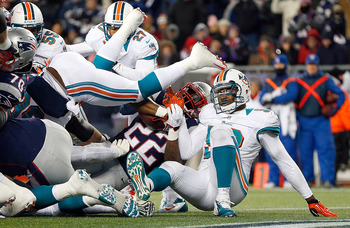 Jim Rogash/Getty Images
The defensive line, which usually is one of the groups you can count on every game, failed to generate any pressure on Tom Brady.
With the time Brady had to throw the ball, there was no way the secondary would be able to cover receivers for that long. The pocket was clean on almost any throw and Brady was able to step into his throws on almost every throw.
They were also taken out of the game when trying to stop the run. When the Patriots started a drive after a Miami fumble inside the 1-yard line, Miami allowed them to run for 12 yards on a simple run to the outside.
It was the worst game of the season for this group. They should really consider bringing in a pass-rusher that can help Cameron Wake generate pressure on the quarterback.
Loser: Dolphins Record for the Fourth Straight Year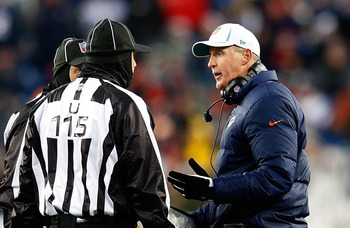 Jim Rogash/Getty Images
For the third time in the last four seasons, the Miami Dolphins finished the season with a 7-9 record and have now finished with a losing record in four straight years. They improved from a 6-10 record, but they have stilled failed to make the playoffs since 2008.
From what we have seen this season, this team looks to be going in the right direction with this new regime. Joe Philbin has brought in a new culture to the team and the players seem to be buying in.
With strong free agency signings and a well executed draft, the Dolphins will be vying in for a playoff spot next season. The Dolphins have been an average team for the last four years and they look to be turning the corner.
Loser: Reggie Bush's 1,000 Yard Season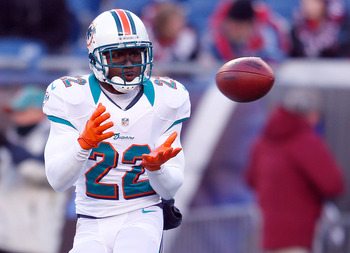 Jim Rogash/Getty Images
Reggie Bush needed just 48 yards to eclipse his second consecutive 1,000 yard season. Unfortunately for him, he was awful and was only able to rush for 28 yards after an 18-yard run with less than a minute left in the game.
Coming into the season, Bush publicly stated he wanted to lead the league in rushing this season.
Well, so much for that.
Playing in a contract year, Bush was expected to step up his play and become one of the better running backs in the league. Now, Miami will have a long, hard look at Bush's future with the team. He will be looking for a big payday and with Daniel Thomas and Lamar Miller under contract, I doubt the Dolphins would pay Bush big money.
As of now, it's unclear if we have seen Bush's last game as a Miami Dolphin, but if it is, what a bad way to go out.
Winner: Draft Positioning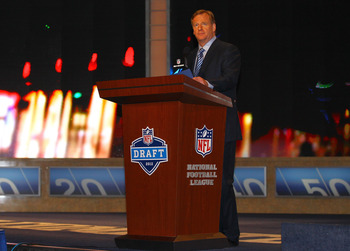 Al Bello/Getty Images
With the way the entire team played today, it is nearly impossible to peg someone as a winner. Miami was atrocious on offense and defense and where shutout for the first time this season.
The only positive we can take from this loss is that Miami will have better positioning in the 2013 draft. Miami was predicted to be picking around the 12-15 range before this game. With the loss, the Dolphins might now be looking to pick in the 11-13 range or might even sneak in to the top-10.
It is evident Miami needs a lot of help offensively and in the defensive secondary. With a higher draft pick, they will be looking to pick an elite prospect at basically any position and will be rooting for the Indianapolis Colts to lose in the first round of the playoffs.
Keep Reading

Miami Dolphins: Like this team?