Giants vs. Eagles: New York's Biggest Winners and Losers from Week 17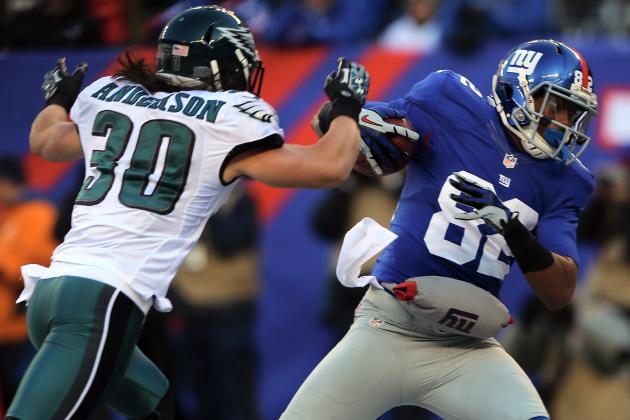 Elsa/Getty Images
WR Rueben Randle had two TDs vs. PHI.
On Sunday afternoon, the New York Giants rectified their two-game losing skid versus the Philadelphia Eagles, toppling their division rivals by a score of 42-7. With the win, New York finished its 2012 season with a 9-7 record.
It was only the second time in the past 10 matchups that the Giants emerged victorious over the Eagles. In Week 3 of this season, Philadelphia was able to pull out a 19-17 win.
Still, New York's blowout win was bittersweet, as the Chicago Bears' victory over the Detroit Lions eliminated the Giants from postseason contention only minutes later.
Click through the slideshow to review New York's winners and losers from Week 17.
Begin Slideshow

»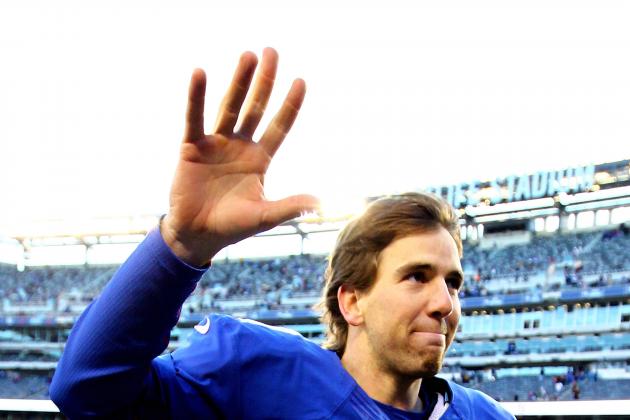 Al Bello/Getty Images
QB Eli Manning threw five TDs against PHI.
If there was one player who clearly wanted to win on Sunday, it was Giants quarterback Eli Manning. He started the game out on fire, torching the Eagles secondary for three touchdowns in the first quarter.
After building a comfortable lead, Manning rolled to a career day, completing 13 of his 21 attempts for 208 yards and five touchdowns. The offensive explosion was a defiant response to those who criticized his production versus Atlanta and Baltimore in Weeks 15 and 16, respectively.
Manning ultimately fell 52 yards short of what would have been his fourth consecutive 4,000-yard season. His 26 touchdown passes in 2012 is his lowest total since the 2008 season, when he only threw for 21.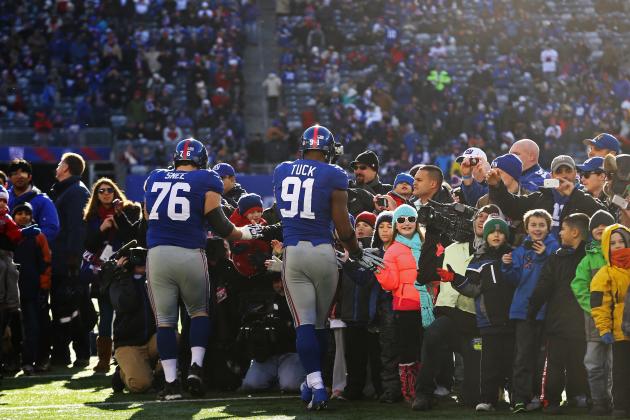 Al Bello/Getty Images
DE Justin Tuck played through injury vs. PHI.
On the defensive side of the ball, defensive end Justin Tuck looked like he was just as hungry for a postseason berth. After sitting out against the Ravens last week, Tuck made sure he was on the field for his team's final contest of 2012.
His stat line was nothing legendary; Tuck only had two tackles (one solo, one for a loss), but he also recorded two QB hits and the Giants' only sack of the game. The sack was only his fourth of the season, which is a far cry from the 11.5-sack performance Tuck had in 2010.
Although Tuck's production has dwindled in recent seasons, he is the unquestioned leader of the New York defense, and he showed that versus the Eagles. After bringing down Eagles quarterback Michael Vick in the first half, Tuck was slow to get up, wincing in pain from a shoulder injury that has limited his practice time lately.
It was a telling indication that the defensive captain is willing to fight through pain for his team. Tuck's future with the Giants—along with several other defensive veterans—is in question.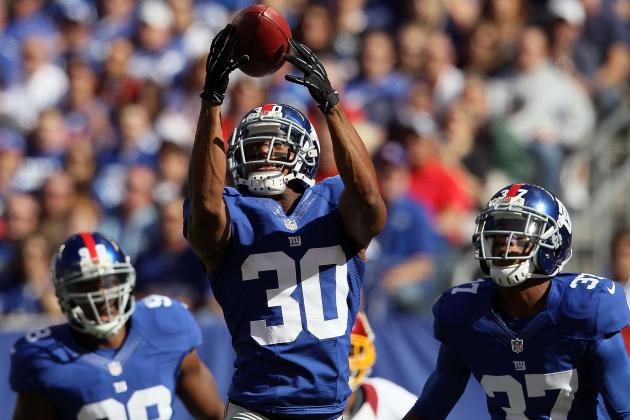 Alex Trautwig/Getty Images
CB Justin Tryon mishandled PHI's opening kickoff.
There weren't many losers in the Giants' 42-7 rout of the Eagles, but cornerback and special teamer Justin Tryon was an easy target. On the opening kickoff, Tryon made what could have been a critical mistake.
The Eagles caught New York's receiving team off-guard, opening the game with an onside kick. Eagles kicker Alex Henery executed the kick beautifully, but the unsuspecting Tryon was still in position to make a play on the ball.
Instead, the ball bounced off his hands, and Philadelphia successfully recovered the kick. In a contest that New York desperately needed, Tryon surrendered the momentum on the game's very first play.
Luckily, Giants safety Stevie Brown bailed Tryon out, stopping the Eagles' opening drive short with an interception followed by a 48-yard return. New York capitalized on the short field thanks to a Manning touchdown toss, giving the Giants a seven-point advantage and making Tryon's mistake an afterthought.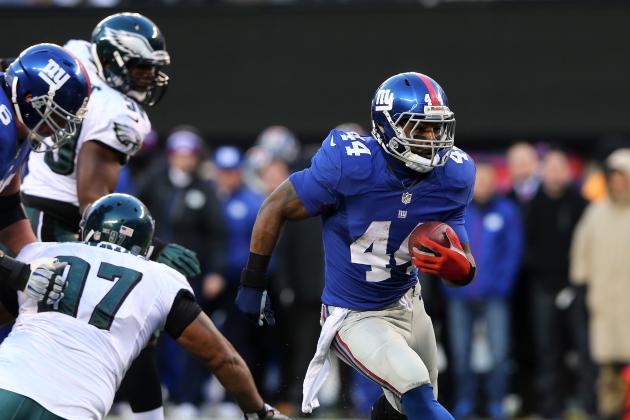 Elsa/Getty Images
RB Ahmad Bradshaw broke 1,000 yards rushing vs. PHI.
Veteran running back Ahmad Bradshaw came into the game needing less than 100 yards to break 1,000 for the 2012 season. But with rookie David Wilson starting, it looked like the milestone would be just out of reach.
However, Bradshaw assumed his third down role admirably, running hard and with a purpose when he got into the game. He made the most of his 16 touches, racking up 107 yards and a touchdown on the ground. Bradshaw also added a key 41-yard catch.
Bradshaw concluded the season with 1,015 yards, which is the most he's had in a single season since 2010, when he rushed for 1,235 yards. Sunday marked Bradshaw's fourth 100-yard performance of the 2012 season.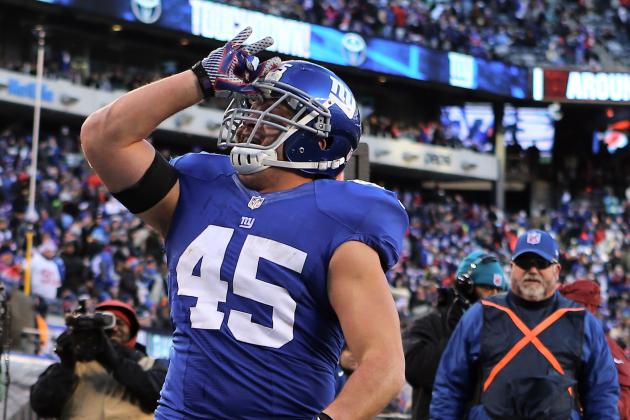 Elsa/Getty Images
FB Henry Hynoski scored his first career TD vs. PHI.
It was fitting that Giants fullback Henry Hynoski hauled in Manning's fifth and final touchdown toss of the game. The battering ram of a back is incredibly important to the Giants offense, but rarely celebrated.
Hynoski paved the way for a Giants rushing attack that piled up 185 yards on Philadelphia's shaky defensive unit. Both Wilson and Bradshaw used him as an effective lead blocker, taking out linebackers and defensive backs and allowing New York's rushers to reach the second level.
His work in the trenches finally paid off on a one-yard touchdown reception in the fourth quarter, the first of his career. After scoring, Hynoski broke out a touchdown dance he had surely been saving, a tribute to his nickname: the Hynoceros.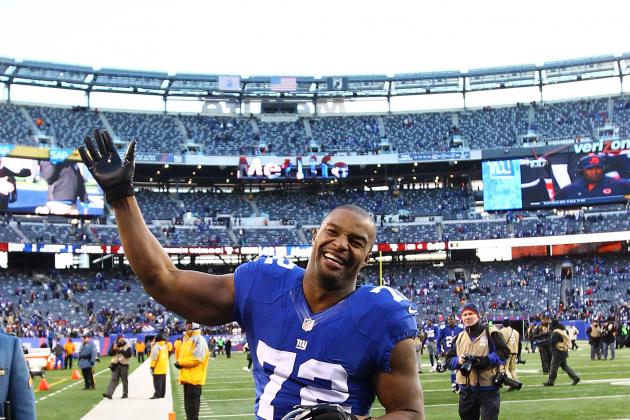 Al Bello/Getty Images
DE Osi Umenyiora finished the 2013 season with only 6 sacks.
New York's one-trick pony, defensive end Osi Umenyiora, was one of the few disappointing players from Sunday's throttling of the Eagles. The Giants' so-called sack master, who only collected six sacks in 2012, could not bring down Vick in Week 17.
Despite Umenyiora's history of big games versus Philadelphia and his ongoing war of words with Eagles running back LeSean McCoy, the veteran defensive end was not much of a force in New York's season finale. He only recorded three tackles (one solo).
Not to sound like a broken record, but Umenyiora did not set the edge, and McCoy was able to run wild to his side. In a game in which most of Philadelphia's offense was held in check, McCoy led the Eagles in both rushing and receiving, totaling 106 all-purpose yards.
Earlier this week, Umenyiora acknowledged that Sunday's game would likely be his last as a Giant. He did not provide much on film versus the Eagles to warrant the big-money contract he has been searching for since his All-Pro season in 2005.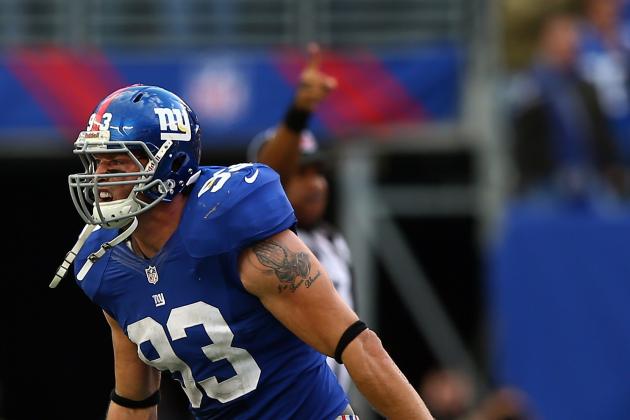 Elsa/Getty Images
LB Chase Blackburn played well vs. PHI.
All throughout the 2012 season, Giants linebacker Chase Blackburn was criticized for his lack of athleticism. Many believed that, despite his adept understanding of defensive coordinator Perry Fewell's scheme, New York's defense would never thrive with Blackburn at middle linebacker.
Against the Eagles, Blackburn took one last opportunity to silence his doubters. The Giants' starting middle linebacker led the defense with seven tackles (six solo, one for a loss), one pass defended and two QB hits. It was an outstanding performance for the former undrafted free agent and middle school math teacher.
Blackburn finished the season with 98 total tackles, three sacks, five forced fumbles and an interception. Statistically, he was the Giants' most productive member of the defense in 2012.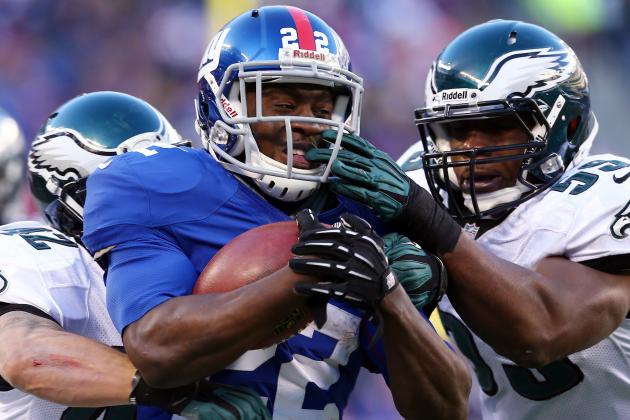 Elsa/Getty Images
RB David Wilson breaks a tackle vs. PHI.
The Giants really opened the door for their young stars in Week 17. Back-to-back 2012 draft selections, Wilson and wide receiver Rueben Randle took advantage of their last-minute chance to shine, combining for three scores against the Eagles.
Randle led the Giants receivers with four catches for 58 yards and two touchdowns. His first touchdown was a three-yarder in the back of the end zone after Manning was deftly able to get the Eagles defense to bite on the play-action fake. On his second score, Randle out-leaped Philadelphia's pricey cornerback, Nnamdi Asomugha, for a 38-yard strike.
Wilson started the game at running back, and he carried the ball 15 times for a total of 75 yards. The once distrusted back showed versatility by hauling in a 15-yard touchdown pass as well.
The 2012 season may have come to an abrupt end in MetLife Stadium on Sunday, but the Giants fans in attendance caught a first-hand glimpse of a couple future offensive weapons.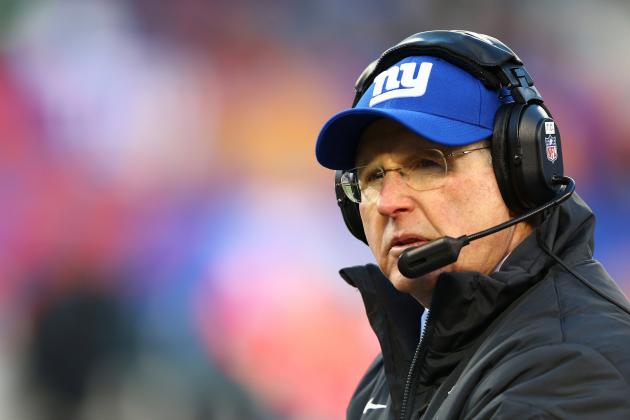 Al Bello/Getty Images
HC Tom Coughlin's team has missed the playoffs in 3 of the past 4 seasons.
Yes, the Giants finished the 2012 season on a decisive high note, but it doesn't change the fact that New York fell short of its ultimate goal: to build a bridge to another Super Bowl season.
The Giants' 9-7 record in 2012 is identical to the one they sported through 16 games of their 2011 Super Bowl-winning season. The outcomes, however, could not be further apart.
The '12 Giants will be remembered for their unpredictability. At times, they flexed their muscles, blowing out teams like Carolina, Cleveland, San Francisco, Green Bay and New Orleans. Other times, they looked completely helpless, falling miserably to Cincinnati, Atlanta and Baltimore.
Under head coach Tom Coughlin's guidance, New York has missed the playoffs in three of the past four seasons, yet the franchise has claimed two Lombardi Trophies since 2007.
This team is impossible to figure out.