Notre Dame Football: Projecting the Irish's 2013 Defensive Depth Chart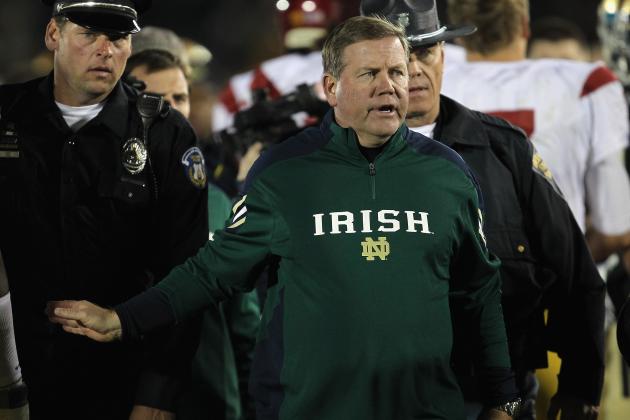 Jonathan Daniel/Getty Images

Notre Dame's improbable run to the BCS National Championship Game was spurred by its ferocious defense, which head coach Brian Kelly has built to be a fortress for seasons to come.
Per the current depth chart, the Irish defense will have eight returning starters next season, with the only losses being defensive end Kapron Lewis-Moore, linebacker Manti Te'o and free safety Zeke Motta.
While the leadership and tremendous play provided by Lewis-Moore, Te'o and Motta will be missed, Irish fans needn't be worried, for the coaching staff has been hard at work on the recruiting trail during the past three seasons coalescing a core of elite defensive talent.
How will that core stack up in 2013?
Let's have a look.
Enjoy.
Begin Slideshow

»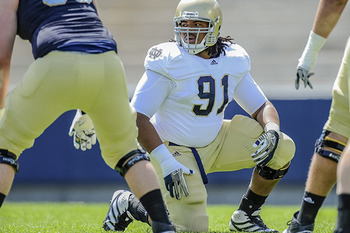 uhnd.com
With Kapron Lewis-Moore's eligibility clock set to expire following Notre Dame's matchup with Alabama in the BCS National Championship Game, Sheldon Day will assume his starting role in 2013.
Day, a former 4-Star prospect out of Indianapolis' Warren Central High School, was an immediate contributor along the defensive line as a freshman this season, racking up 20 tackles and two sacks.
Depth at Day's position won't gain clarity until fall camp, though it's fair to assume that redshirt freshman Jarron Jones, as well as current 2013 commit Isaac Rochell, could be listed beneath Day on the preseason depth chart.
Starter: Sheldon Day (6'2", 286)
Backups: Jarron Jones (6'5", 299), Isaac Rochell (6'5", 260)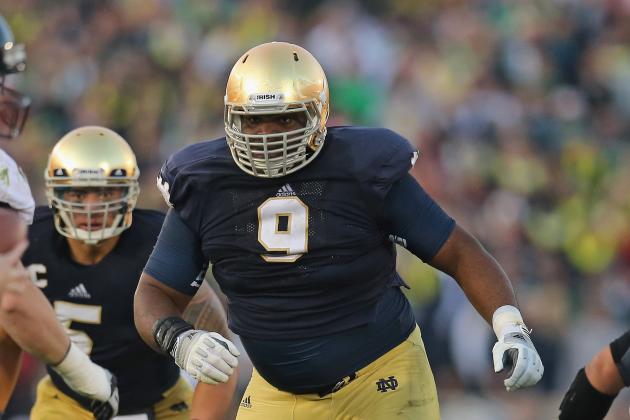 Jonathan Daniel/Getty Images

The Irish defense received an instant boost when nose guard Louis Nix III announced his intention to return to school for his senior season, rather than pursue his NFL dreams.
Nix, who shoots, directs and produces his own show titled Chocolate News that reveals his playful side away from the game, means serious business on the field. He's a space-eater along the interior, and presents headache-inducing matchup problems for opposing offensive lines.
Nix's presence along the Irish defensive line next season reaffirms the notion that Notre Dame will, once again, boast one of the nation's elite defenses.
The only worrisome aspect of the nose guard position is the lack of depth, as Kona Scwenke is the only true nose guard listed beneath Nix on the depth chart.
Starter: Louis Nix (6'3", 326)
Backup: Kona Schwenke (6'4", 290)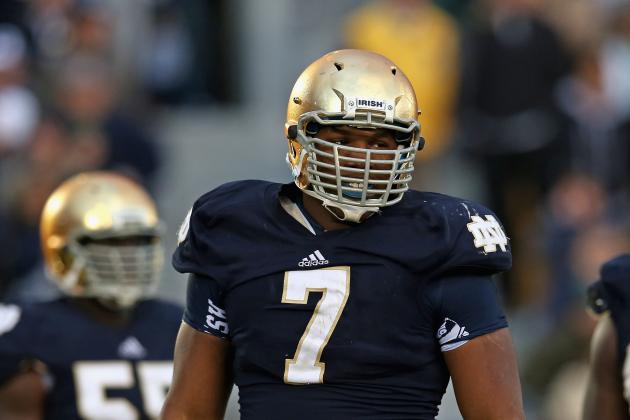 Jonathan Daniel/Getty Images

When current Notre Dame linebacker Manti Te'o graduates, the most attractive defensive player to NFL scouts on the Irish roster will be defensive end Stephon Tuitt.
Plucked right out of SEC country by the Irish coaching staff—Tuitt hails from Monroe, Ga.—the 6'6", 303-pound monster will likely be a consensus first-team All-American by end of the 2013 season, barring injury.
What should strike fear in the minds of the opponents on Notre Dame's 2013 schedule is that Tuitt led the Irish in sacks (11) and tackles for loss (11) this season.
What the options behind Tuitt—Tony Springmann and Chase Hounshell—lack in overall talent, they make up for experience, as both players have legitimate playing time under their belts.
Starter: Stephon Tuitt (6'6", 303)
Backups: Chase Hounshell (6'4", 275), Tony Springmann (6'6", 300)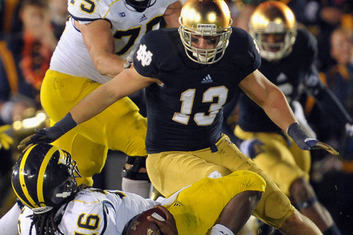 uhnd.com
One day, Danny Spond's picture may just appear next to the word "determination" in the dictionary.
Spond dreamed of starting for the Irish after committing prior to the 2010 season as a high school senior in his hometown of Littleton, Colo., but wasn't able to do so until overcoming a concussion scare in the early stages of the current season.
Spond missed the Irish's first two games this season—a 50-10 win against Navy and a 20-17 win against Purdue—but returned in the third week of the season, and made his first career start against Michigan.
Physical enough to set the edge, but quick enough to cover receivers, Spond's versatility has quietly been a key piece of the Irish defense.
Ben Councell, who started in Spond's place against Navy and Purdue, will serve as Spond's backup. Freshman Romeo Okwara will also battle for playing time.
Starter: Danny Spond (6'2", 248)
Backups: Ben Councell (6'5", 240), Romeo Okwara (6'4", 239)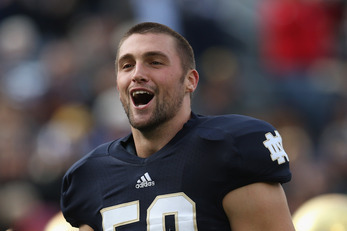 Filling the shoes of the most decorated college football player of all time is an extremely unenviable task, but one that must be done.
Tasked with fulfilling that deed is sophomore Jarrett Grace.
A native of Cincinnati, Grace will likely step into the starter spot at right inside linebacker, though, obviously, his production won't come anywhere close to that of Te'o's. And that's not a slight to Grace, for Te'o is impossible to simply replace.
The starting job won't simply be handed to Grace, though. Current 2013 commit Alex Anzalone will give him all the competition he can handle.
Seldom-used Kendall Moore will also be in the mix, though he will likely be jumped by Anzalone.
Starter: Jarrett Grace (6'3", 240)
Backups: Alex Anzalone (6'3", 229), Kendall Moore (6'1", 242)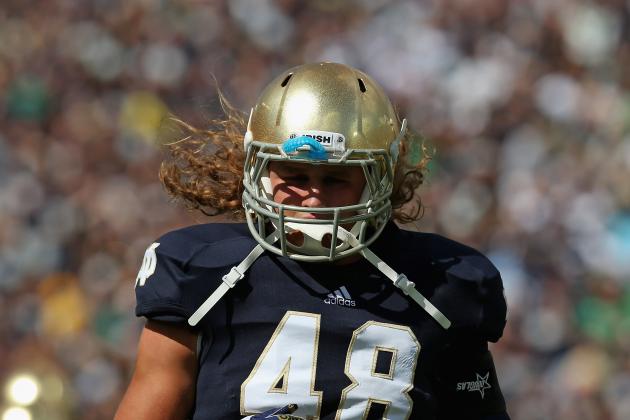 Jonathan Daniel/Getty Images

This right inside linebacker position has, perhaps, the murkiest future of any position on the defensive depth chart.
Pending the offering of fifth-year invitations to eligible candidates, current starter Dan Fox and his backup, Carlo Calabrese, could return next season. Until then, nothing is certain.
However, it's widely assumed that Fox will be asked to return, which, if true, provides the Irish with yet another returning starter on defense.
Fox finished the current regular season tied for fourth on the team with 57 total tackles, including two tackles for loss and one sack.
For now, I'll assume that Calabrese will not be invited back for a fifth season, meaning that Kendall Moore could slide over from the other DOG linebacker position to provide depth. Current 2013 commit Michael Deeb will also compete for playing time.
Starter: Dan Fox (6'3", 240)
Backups: Kendall Moore (6'1", 242), Michael Deeb (6'2", 237)
Jonathan Daniel/Getty Images

Perhaps the most feared pass rusher on the Irish roster, Prince Shembo will return for his final season at Notre Dame in 2013.
Shembo finished the 2012 regular season ranked sixth on the team in tackles with 48, though he finished ranked second in tackles for loss with 10.5.
The Charlotte, N.C., native also recorded 10.5 sacks, which was good for second on the team behind Stephon Tuitt's 11.
What may be even more fearsome than Shembo himself is the depth at his position: Former 5-Star prospect Ishaq Williams has been right on Shembo's heels all season.
To add to the fun next season, current 2013 commit and 5-Star prospect Jaylon Smith will enter the fray with Shembo and Williams.
Starters: Prince Shembo (6'2", 250)
Backups: Ishaq Williams (6'5", 255), Jaylon Smith (6'3", 212)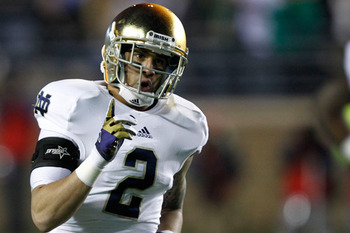 uhnd.com
Bennett Jackson has experienced quite a rapid transformation during his career at Notre Dame.
Originally recruited as a wide receiver by the former coaching regime, Jackson remained at his natural position during Brian Kelly's first season as head coach at Notre Dame, but was moved to cornerback during fall camp 2011.
The moved proved to be a wise one, for the Irish were, and continue to be, thin at cornerback.
Since moving from wide receiver, Jackson has become quite a consistent defensive back, as NFLDraftScout.com rates him as the sixth-best cornerback available for the 2014 NFL Draft.
Having another season to develop as a defensive back may vault Jackson up those draft boards.
Jalen Brown, an untested redshirt freshman, will be Jackson's backup once again in 2013, though current 2013 commit Cole Luke will battle for an opportunity at the backup spot.
Starter: Bennett Jackson (6'0", 185)
Backups: Jalen Brown (6'1", 199), Cole Luke (6'0", 165)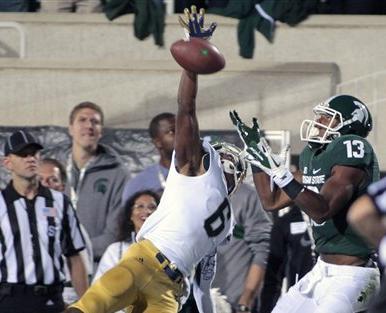 collegefootball.ap.com
Six months ago, KeiVarae Russell never would have assumed that he'd be starting at cornerback for Notre Dame this season.
Well, fast forward to present day, and Russell finds himself preparing to play in the BCS National Championship Game as a starting cornerback for the most storied program in college football.
Forced into a starting role by presumptive starter Lo Wood's season-ending tear of his Achilles tendon, Russell had no choice but to learn on the fly. He took his lumps early, and faced the most significant challenge of the season against USC's Marqise Lee on Nov. 24 in Los Angeles.
Russell limited the dynamic receiver to 75 yards on five receptions, a far cry from his season-best performance of 345 receiving yards.
With one full season of experience under his belt, expect Russell to be a vastly improved cornerback in 2013.
Starter: KeiVarae Russell (5'11", 182)
Bakups: Elijah Shumate (6'0", 198), Josh Atkinson (5'11", 185)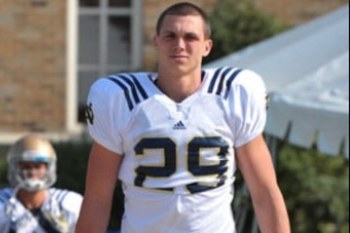 Losing Zeke Motta won't help the Irish defense, but his free safety spot will be in good hands with either Nick Baratti or Austin Collinsworth.
Collinsworth, a standout special teams player in both 2010 and 2011, was expected to be a backup safety this season before suffering a torn left labrum that held him out for the duration of the 2012 season.
How Collinsworth bounces back from surgery will determine his chances at claiming the starting spot, but if his shoulder continues to bother him, Nick Baratti is a viable option as the starting free safety.
Baratti spent the past season as Motta's primary backup, which was a valuable learning experience for the Klein Oak, Tex., native.
The battle for the starting job would become threefold should the Irish secure a commitment from 5-Star prospect Max Redfield, a former USC commit, making his recruitment a must-watch.
Starter: Nick Baratti (6'1", 206)
Backup: Austin Collinsworth (6'1", 202)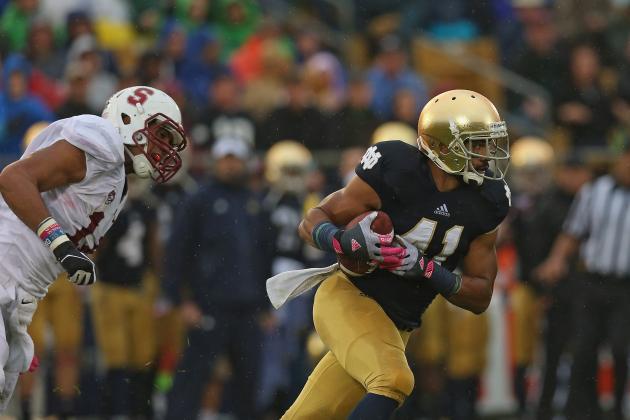 Jonathan Daniel/Getty Images

Matthias Farley was never expected to be a major contributor during the 2012 season, but injuries always spark unexpected events.
When Jamoris Slaughter suffered a torn Achilles tendon on the first snap of the Irish's 20-3 victory against Michigan State at Spartan Stadium, Farley was forced into a starting role that he would remain in until present day.
A former receiver who didn't begin playing organized football until his junior year of high school in Charlotte, N.C., Farley has given Notre Dame stability at strong safety, and appears to have a firm hold on the starting job for the next three seasons.
With Farley's backups, Dan McCarthy and Chris Salvi, graduating in the spring, depth will be an issue that the coaching staff must address during spring practices.
As of now, redshirt freshman Eilar Hardy appears to be the most viable option as Farley's backup.
Starter: Matthias Farley (5'11", 200)
Backup: Eilar Hardy (5'11", 185)