5 NFL Players Whose Legacies Are on the Line in the Postseason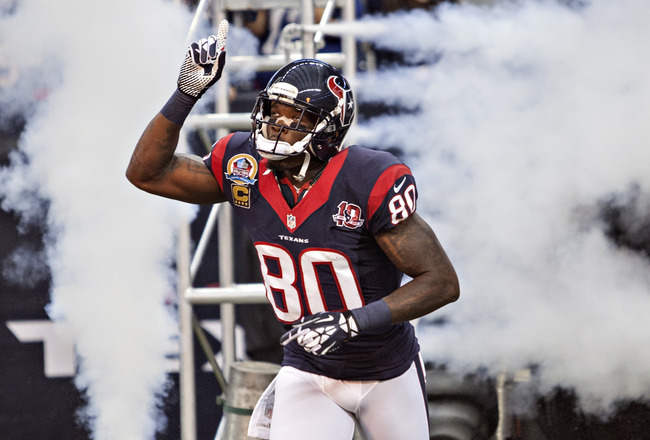 Bob Levey/Getty Images
The 2012 NFL playoffs are here, and there are five NFL superstars entering the postseason with their legacies in question.
No matter how great a player may be over the course of his career, NFL players will always be measured by their postseason performances and whether or not they have a Super Bowl ring.
There are several players entering the postseason in 2012 who have had stellar careers but have yet to elevate their play and win the big one.
In the following sideshow, we will identify five players who need to win a Super Bowl while performing well, or risk tarnishing their already stellar legacy.
Let's take a look.
5. Andre Johnson, WR, Houston Texans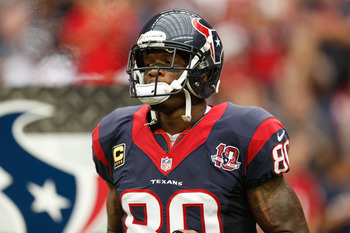 Thomas Campbell-USA TODAY Sports
Andre Johnson is now 31 years old in his 10th NFL season. Through those 10 years, Johnson has been one of the best at the wide receiver position.
Johnson has over 1,400 yards on 100 receptions this season alone as his team prepares for the postseason.
That is nothing new for Johnson, who has over 800 receptions for over 11,000 yards in his career.
Unfortunately for Johnson, he is approaching the age of no return, especially for that position. He has yet to make significant noise in the playoffs, but needs to this year.
For all we know, this is the last shot Johnson has at the postseason. He needs to make the most of it to cement his legacy.
4. Justin Smith, DE, San Francisco 49ers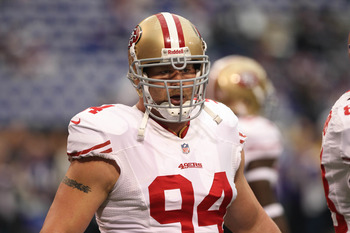 Brace Hemmelgarn-USA TODAY Sports
Justin Smith is quietly one of the NFL's dominant forces on the defensive line, and he has been doing that for the past 12 seasons.
After spending his first seven seasons with the Cincinnati Bengals, Smith went to San Francisco. The 49ers now have a serious shot at a Super Bowl, and Smith needs it badly.
Smith has had serious issues with a triceps injury this season, but says he is ready for the playoffs no matter what (h/t Mark Barrows via Twitter).
What Smith has done over the course of his career as a defensive lineman is staggering. He has almost 800 total tackles and 75.5 sacks.
The final piece to solidifying Smith's legacy is simple—win a Super Bowl.
3. Brian Urlacher, LB, Chicago Bears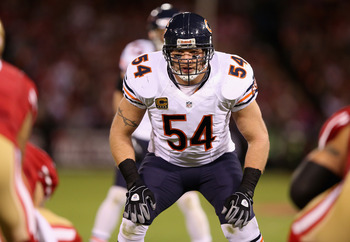 Ezra Shaw/Getty Images
Brian Urlacher is approaching the end of his outstanding NFL career and needs a Super Bowl ring to avoid the never-ending questions about how great he truly was.
Of course, this all depends on if the Chicago Bears can make the playoffs. If they cannot, Urlacher may retire without receiving one last shot at a ring.
Urlacher has battled injuries all season long, which has placed the longevity of his career in doubt. He missed the final game of the season, but appears to be ready for the playoffs, should the Bears make it (h/t Albert Breer via Twitter).
Now a 13-year veteran, Urlacher has compiled over 1,200 tackles in his career and has made one Super Bowl appearance, which the Bears lost to the Indianapolis Colts.
This is Urlacher's last shot to to solidify his legacy.
2. Ed Reed, S, Baltimore Ravens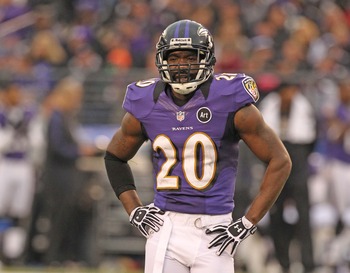 Mitch Stringer-USA TODAY Sports
Once again, Ed Reed has been battling injuries all season long. He is approaching the end of his stellar 11-year career thanks to said injuries.
Reed is one of the NFL's best. He's racked up over 600 tackles, defensed over 100 passes and recorded 61 interceptions—seven of those have been returned for touchdowns.
The career numbers and highlights are staggering, but they do not make up for the lack of a Super Bowl ring.
The Baltimore Ravens are once again in the postseason as the AFC North champions. Reed needs to elevate his play on the way to the Super Bowl.
If he cannot, Reed will be yet another elite player in NFL history that failed to win the big one when it mattered most.
1. Tony Gonzalez, TE, Atlanta Falcons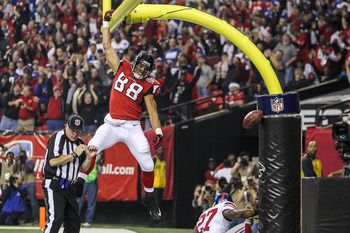 USA TODAY Sports
Tony Gonzalez has been in the NFL for an astounding 16 seasons, 12 with the Kansas City Chiefs, the most recent four with the Atlanta Falcons.
Despite being 36 years old, Gonzalez continues to be one of the NFL's best at the tight end position. This year alone, Gonzalez has almost 900 yards receiving and eight touchdowns.
Overall, Gonzalez's numbers are eye-popping. He has caught over 1,200 passes for well over 14,000 yards. He has scored 103 times.
Before the 2012 season, Gonzalez claimed it would be his last year before retirement. He remains adamant in that claim, according to SI.com.
If this is truly Gonzalez's last season, he better win a Super Bowl. The last thing Gonzalez wants to do is end up being the greatest tight end of all time to never win a Super Bowl.
Keep Reading