Notre Dame Football: Players Who Will Force Nick Saban to Change His Game Plan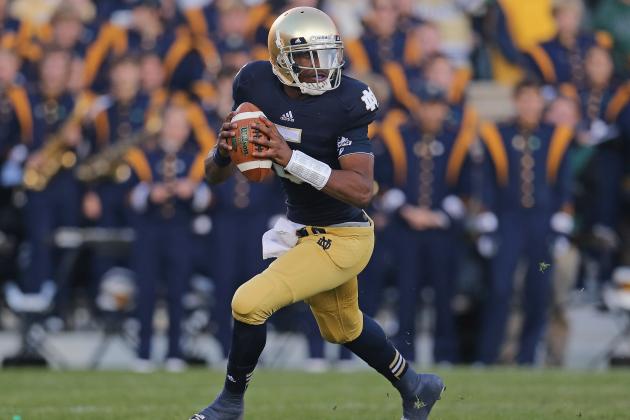 Jonathan Daniel/Getty Images

We are a week away from the national championship taking place, and about this time is when the coaches are putting the final touches on their game plan. Notre Dame and Brian Kelly are trying to figure out how to stop a power running game, while Alabama and Nick Saban are wondering if they can be the first team to really take it to a tough Irish defense.
In a game as big as this one is going to be, there are certain players you want to game-plan for. Sure, it is going to take a team effort to come out of this battle victorious, but there are a handful of guys who could absolutely destroy you if you can't figure out how to defend them.
Saban is the type of coach who doesn't change much from game to game, as he believes his squad has the advantage at the crucial positions. But in a battle for all of the marbles, you know the veteran head coach is going to have a few tricks up his sleeve.
Here are five players for whom Alabama must tweak the game plan, as they will be key for the Irish in bringing home the hardware.
Begin Slideshow

»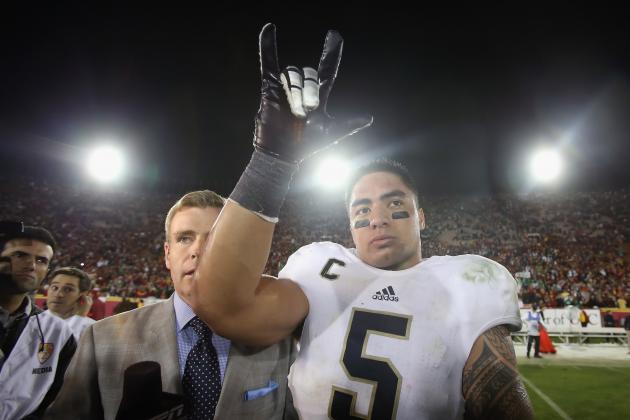 Jeff Gross/Getty Images

Let's get Manti Te'o right out of the way when starting a list like this. It is no secret that he is the best player on the defensive side of the ball. He's a Heisman Trophy finalist, and he is a difference-maker on the football field.
Alabama has already faced a quality linebacker in Jarvis Jones in the SEC Championship Game. Saban didn't shy away from the Georgia superstar, often running toward his side and almost picking on him in the running game.
Crimson Tide right tackle D.J. Fluker said they will likely take the same approach toward Te'o, according to Andrew Gribble of AL.com.
"Everybody has their own way of (challenging) us," Fluker said. "We're going to go right for him. He's what they call the best of the best, gotta go take it to him."
No matter how you want to prepare for somebody like this, Saban and his players will know where the senior linebacker is on the field at all times.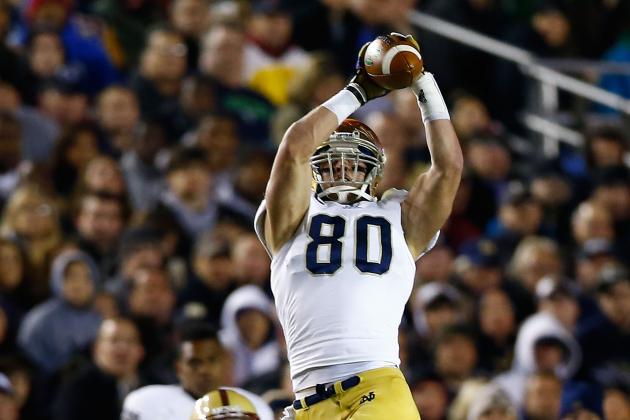 Jared Wickerham/Getty Images

If there was a weakness in this Alabama defense, you would probably start pointing fingers toward the secondary.
With only one reliable player in Dee Milliner, this is a unit that can be taken advantage of at times.
LSU quarterback Zach Mettenberger was able to throw for nearly 300 yards and complete almost 70 percent of his passes. Heisman winner Johnny Manziel had a career day with his arm, completing 77.4 percent of his passes and throwing two touchdowns. The Crimson Tide has also allowed 15 passing plays of more than 30 yards, which are eight more than a season ago.
Things will get tricky having to cover tight end Tyler Eifert who is easily the best player at his position in the country. Notre Dame's big-play target is more like a receiver who runs terrific routes and has great hands. He will be too quick for Alabama's linebackers and could create issues with the smaller and inconsistent secondary.
It will be interesting to see how Kirby Smart and Saban game-plan for this guy.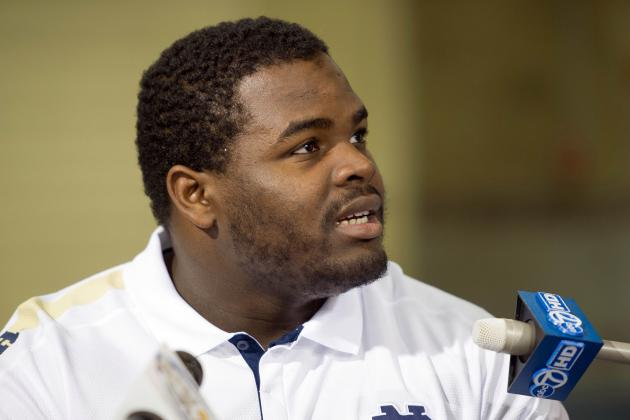 USA TODAY Sports

Although Alabama plays in the SEC, I'm not so sure the offensive line has seen a guy with the skill set that Louis Nix has at the nose tackle position.
While the junior is 6'3", 326 pounds, he moves quite well for a guy his size and usually explodes off the ball, giving the guy in front of him a difficult task for 60 minutes.
The Alabama player who will be responsible for blocking this beast is senior center Barrett Jones. He has racked up many awards throughout his successful career, but players such as Nix aren't guys that even Jones are used to seeing every week on the gridiron.
How do you keep Nix in check?
Do you ask Jones to handle all of the dirty work by himself? Do you slide over one of the accomplished guards to help out the senior who will have his hands full? Would leaving a big running back such as Eddie Lacy in the backfield help slow things down?
This may be the most crucial battle of the title game, and the decision on how to block Nix will leave Alabama asking another question.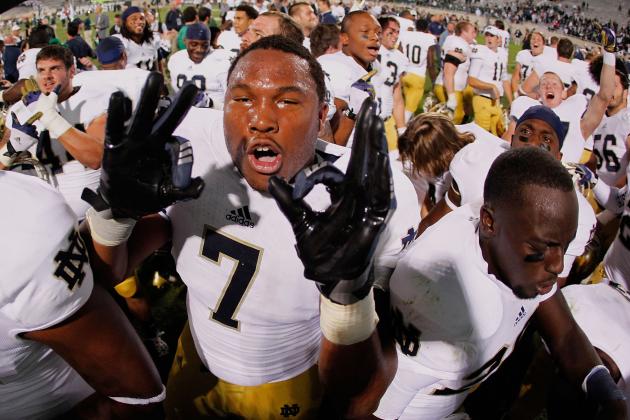 Gregory Shamus/Getty Images

The next question Alabama has to answer is how to keep defensive end Stephon Tuitt in check. Everybody knows about Te'o and has learned a little about other Notre Dame players over the last couple of weeks, but Tuitt is somebody any college football fan can appreciate.
Tuitt leads the Irish with 11 sacks and seems to always be in the backfield creating plays for his team. Like Nix, Tuitt is a big guy at 6'6", 303 pounds, but he is a very athletic player and should be considered a true pass-rusher with his combination of speed and quickness off the ball. He is somebody who could get his hands on quarterback A.J. McCarron quite often.
Speaking of the Alabama quarterback, he knows that his offensive line is in for a battle, according to Andrew Gribble of AL.com.
"They're big up front," McCarron said Thursday. "Really good at stopping the run, so it's going to be a challenge for our offensive line, but you know, they're up for it, so just got to come out a play well."
Depending on how the line decides to handle Nix may make things that much easier for Tuitt to become the playmaker that he has been all season long.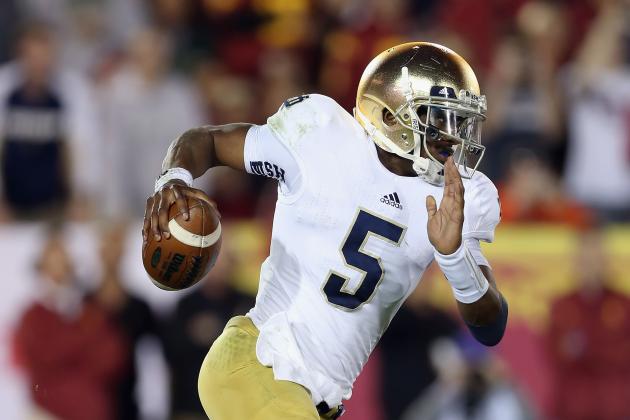 Jeff Gross/Getty Images

Everett Golson isn't nearly the quarterback he can eventually become as early as next season. However, he does have the dual-threat skill set that could give this Alabama defense some issues throughout the game.
With Golson and his ability to move around in the pocket and make plays with his legs, Notre Dame has to be confident with what he brings to the table. After all, the Crimson Tide is the same team that lost to a dual-threat quarterback in Johnny Manziel against Texas A&M. Because he was able to buy himself extra time when throwing the football, Manziel was able to expose the Crimson Tide defense.
Alabama lineman Damion Square told Alex Scarborough of ESPN that creating pressure on Golson is the key to defending the Notre Dame quarterback.
"It's big for our secondary," he said. "You never want a quarterback to get a five-step drop and have a guy be wide open with no pressure in his face. That's what you do as a D-lineman. You get your hands up and pressure the B-gaps."
Golson hasn't run as much as most Irish fans would probably like throughout the year, but with the ability to make plays with his legs, it is going to be worth watching to see what Alabama learned after facing Manziel earlier in the year.