Buffalo Bills Winners and Losers: Bills/Jets Edition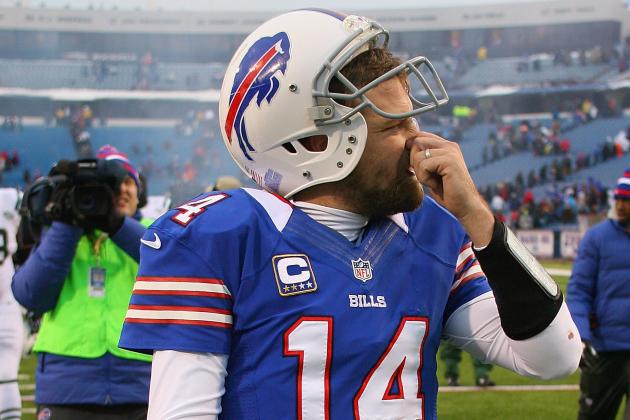 Rick Stewart/Getty Images
Ryan Fitzpatrick played decently in what may be his last game as a Buffalo Bill.
When the 2012 schedules first came out, many believed the Week 17 game between the Buffalo Bills and the New York Jets would have playoff implications. Instead, only draft implications and pride were at stake.
To the Bills' credit, they came to play on Sunday against the Jets and left Ralph Wilson Stadium with a 28-6 victory.
Both teams finished their disappointing seasons with 6-10 records and plenty of roster and personnel questions.
In the final game of the 2012 season, who came away as the biggest winners and losers? Let's find out!
Begin Slideshow

»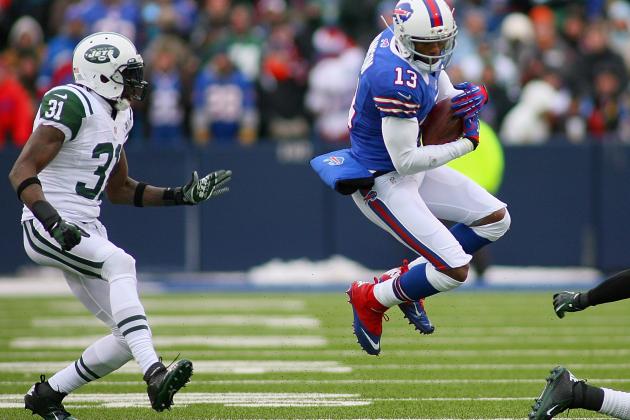 Rick Stewart/Getty Images
Stevie Johnson became the first Bills receiver with three consecutive 1,000 yard seasons.
Steve Johnson became the first Buffalo Bill to ever record three consecutive 1,000 yard seasons.That is a big accomplishment for any wide receiver.
Going over 1,000 yards in three consecutive seasons with Ryan Fitzpatrick as your quarterback? Well, that deserves some sort of award.
Johnson finished his 2012 campaign with 1,046 yards and six touchdowns.
My wish for 2013 and going forward is that Johnson gets a quarterback who can accurately throw him passes. There were many times where Johnson had the opportunity to break off big plays, but Fitzpatrick just couldn't throw the ball to him accurately.
While Johnson isn't a Megatron-type receiver, I feel confident saying he is one of the top three route-runners in the NFL, and with a decent QB, Johnson can consistently put up between 1,200 and 1,300 yards and 10 TDs a season.
Lofty expectations? Perhaps, but Johnson is one of the few Bills I believe in.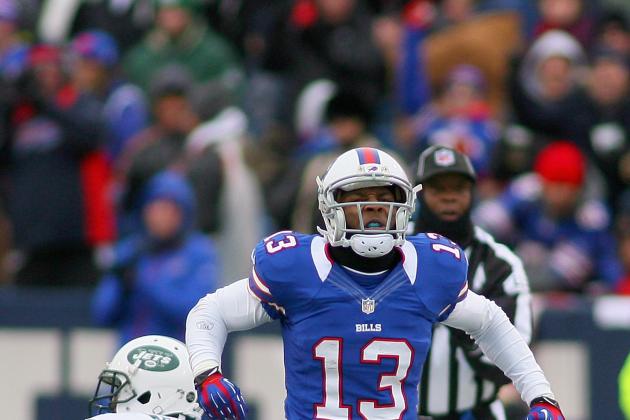 Rick Stewart/Getty Images
993 yards < 1,000 yards, guys.
Whereas the Buffalo Bills actually came to play in Week 17, their PR staff on Twitter did not.
The official Buffalo Bills Twitter account posted a note congratulating Stevie Johnson for being the first Buffalo Bill with three consecutive 1,000 yards receiving. The only problem? Johnson had 993 yards receiving at the time of the Bills tweet, seven yards shy of 1,000. The Bills deleted their tweet and replaced it with this.
CORRECTION: @steviejohnson13 is 7 yards shy of becoming the 1st WR in #Bills history with 3 straight 1,000 yard seasons.

— Buffalo Bills (@buffalobills) December 30, 2012
The Bills' lead journalist, Chris Brown, also made the same mistake, but he deleted his original and sent out this tweet shortly thereafter.
Sorry premature on the congrats for @steviejohnson13. He's still 7 yards short. Bad math. #Bills

— Chris Brown (@ChrisBrownBills) December 30, 2012
It's okay guys, math is hard. On a funny side note, shortly after this tweet a commercial was shown that talked about how poorly the US ranks in science and math.
Last, but not least...
Alex Carrington stops the Jest for a loss on 4th down! #Bills ball! #NYJvsBUF

— Buffalo Bills (@buffalobills) December 30, 2012
Perhaps the Bills meant to call the Jets the Jests. It was certainly fitting for their performance on the field on Sunday.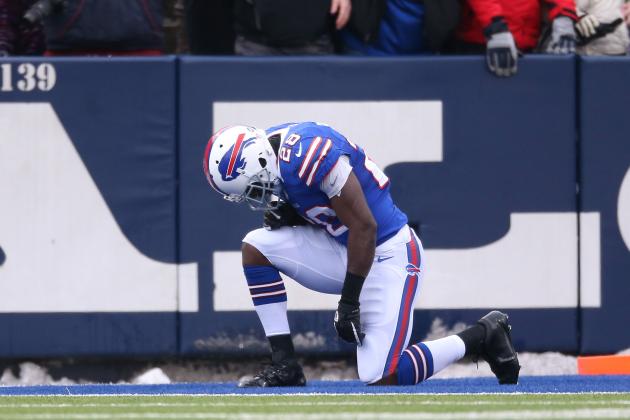 Tom Szczerbowski/Getty Images
Another game with a yard play of over 60 yards for C.J. Spiller.
C.J. Spiller's final game of the season wasn't anything special in terms of rushing. He picked up 59 yards on 26 rushes.
However, Spiller always seems good for at least one big play, and against the Jets, it happened in the pass game.
With three minutes and 21 seconds to go in the first half, Fitzpatrick hit Spiller with a short pass, and C.J. did the rest. In what became a foot race, Spiller turned it up a notch and took the pass 66 yards for a touchdown.
He finished the game with 72 yards receiving and 131 total yards.
Going forward, Spiller needs to be the go-to back for the Bills and will be an attraction weapon for whomever takes over as head coach.
Al Bello/Getty Images
The Bills fell down the draft board with their victory today.
It felt good to beat the Jets. The last time Buffalo defeated the Jets was in 2009, so sending Rex Ryan, Mark Sanchez and company home as losers was a nice way to finish the season.
However, the victory did cost Buffalo in terms of draft position.
Entering the game, Buffalo was slotted to pick sixth. The dust hasn't settled just yet, but Buffalo is expected to pick anywhere from 8-10.
In a draft that is weak in terms of talent compared to previous years, the higher the pick the better.
However, the Bills have done a nice job of picking C.J. Spiller and Stephon Gilmore in this range, so perhaps they'll be fine.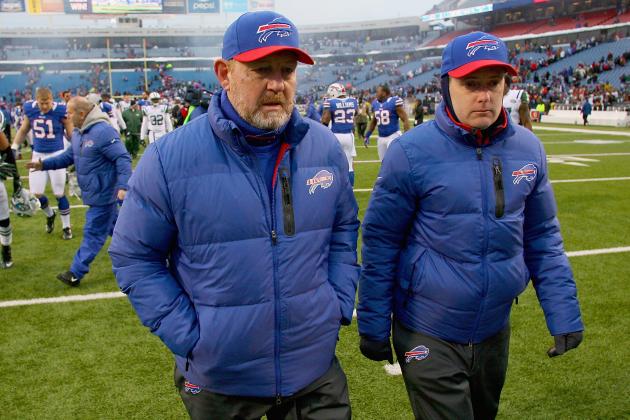 Rick Stewart/Getty Images
Happy trails, Chan.
It appears that the Buddy Nix/Chan Gailey era is officially coming to an end.
Gailey's record as Buffalo head coach was 16-32. Not nearly good enough in a three-year span to save your job.
Gailey joined the Bills at a time when many coaches turned down interview opportunities and the team had little talent.
Fast-forward three years and the team has improved from a talent standpoint. Gailey, however, is in over his head.
My genuine hope is that Gailey catches on somewhere in the league as an offensive coordinator. I feel he can be very competent in this role. However, as a head coach he comes off as flustered and incompetent.
As for Nix, I'm okay with him staying or going. When he became the Bills General Manager, he stated his first goal was to rebuild our lines. He was successful in this area. The Bills have one of the best offensive lines in the league and defensively, the line has plenty of talent.
Nix's biggest mistake was not drafting a QB early in any of his three years as GM. That and handing out a $59-million extension to Ryan Fitzpatrick.
The Bills need continuity at some point, but it should not be with Gailey and Nix.